August at a Glance
Vital Stats
ACLED records 182

organized political violence events

and 1844 reported fatalities in August.

Amhara region had the highest number of reported fatalities due to organized political violence in August at 816 reported fatalities. Oromia region followed at 388 reported fatalities.

In August, the most common event type was battles, with 152 events and 1350 fatalities reported.
Vital Trends
August 2021 was the deadliest month since November 2020 (accounting for organized political violence) in Ethiopia during Prime Minister Abiy Ahmed's time in power.

Battles involving the Tigray People's Liberation Front (TPLF) increased considerably in Amhara and Afar regions. 

Territorial changes, with either the TPLF taking control of new locations or the federal government regaining territory, were common throughout the month. 

Demonstrations slowed considerably, with most recorded demonstration events being pro-government and anti-TPLF or Oromo Liberation Front (OLF)-Shane marches.
In This Report
August Situation Summary

Monthly Focus: Prospects for Peace in Benshangul/Gumuz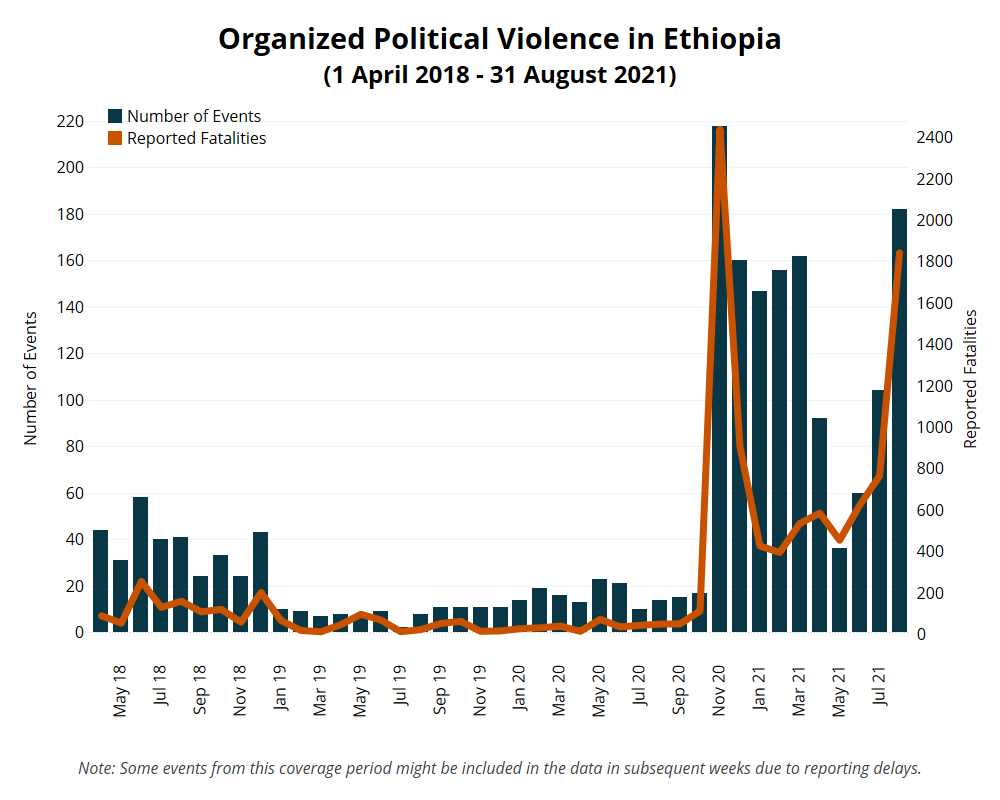 August Situation Summary
August 2021 was the deadliest month since November 2020 (accounting for organized political violence) in Ethiopia during Prime Minister Abiy Ahmed's time in power. Two active insurgencies — one in the Oromia region and one in the Tigray region — accounted for the majority of the recorded violence, although several concurrent conflicts were also active throughout the month (see map below).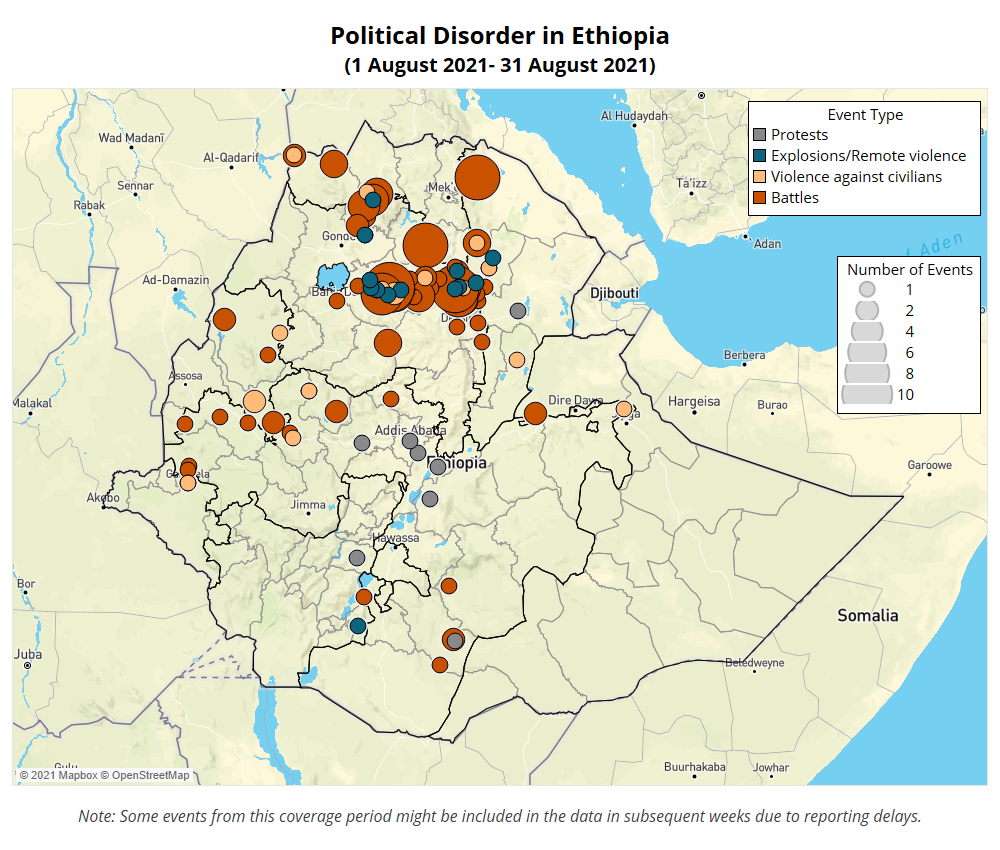 At the beginning of the month, TPLF continued to gain territory in Amhara and Afar regions. TPLF forces took control of large swaths of territory in the North Wello zone, including Gashena and Lalibela. TPLF fighters also took control of areas in South Gondar around mid-month but lost control of Nefas Mewcha, Mersa, and Debre Zebit towns shortly near the end of the month as federal troops and Amhara regional forces rallied in a fresh offensive. 
Along with territorial changes, shelling increased in August and both government forces and TPLF troops used heavy artillery. On 5 August 2021, TPLF forces shelled an IDP center in GaliKuma, Afar region, resulting in the death of at least 150 internally displaced people. TPLF forces likewise shelled Woldiya, Nefas Mawecha, and Debre Tabor. TPLF reportedly looted areas under their control throughout the week. 
Territorial changes likewise occurred in the Oromia region, with OLF-Shane claiming to have taken control of several small towns throughout the month. OLF-Shane was also active along several transport routes in western and southern Ethiopia. Militant activity increased significantly shortly after the group's leader, Jaal Marroo (Kumsa Dirriba), announced a military alliance with the TPLF on 11 August 2021 (VOA, 11 August 2021).
On 18 August 2021, OLF-Shane forces were accused of killing at least 150 people in an attack against Amhara settlements in Gida Kiramu in East Wollega, Oromia (Ethiopian Human Rights Commission, 26 August 2021). Federal forces later claimed to have killed 40 OLF-Shane militants and injured an additional 35 in an operation along the borders of the Southern Nations, Nationalities and Peoples Region (SNNPR) and West Guji zone of the Oromia region along the Guji-Moyale highway (VOA, 28 August 2021).
Meanwhile, violence resurged in Benshangul/Gumuz region in August, with several cross-border attacks and instances of violence against civilians. Conflict dynamics in the region will be discussed in greater detail below.
Prospects for Peace in Benshangul/Gumuz
While conflict between the TPLF and the central government has taken center stage in Ethiopia, smaller conflicts throughout the country have gained momentum despite the government's best efforts at solving conflict through peace initiatives and a boosted security presence. One of these conflicts is in Benshangul/Gumuz region. Local conflicts over contested land have intensified as other national and international actors become involved.  
Since Abiy took office on 2 April 2018, there have been nearly 60 attacks against civilians, resulting in over 640 fatalities in Benshangul/Gumuz region. There have also been over 40 battles that resulted in nearly 970 reported fatalities (see map below). The dynamics of conflict in the Benshangul/Gumuz region are discussed more in the Ethiopia Peace Observatory's region profile page (EPO- Benshangul/Gumuz Region).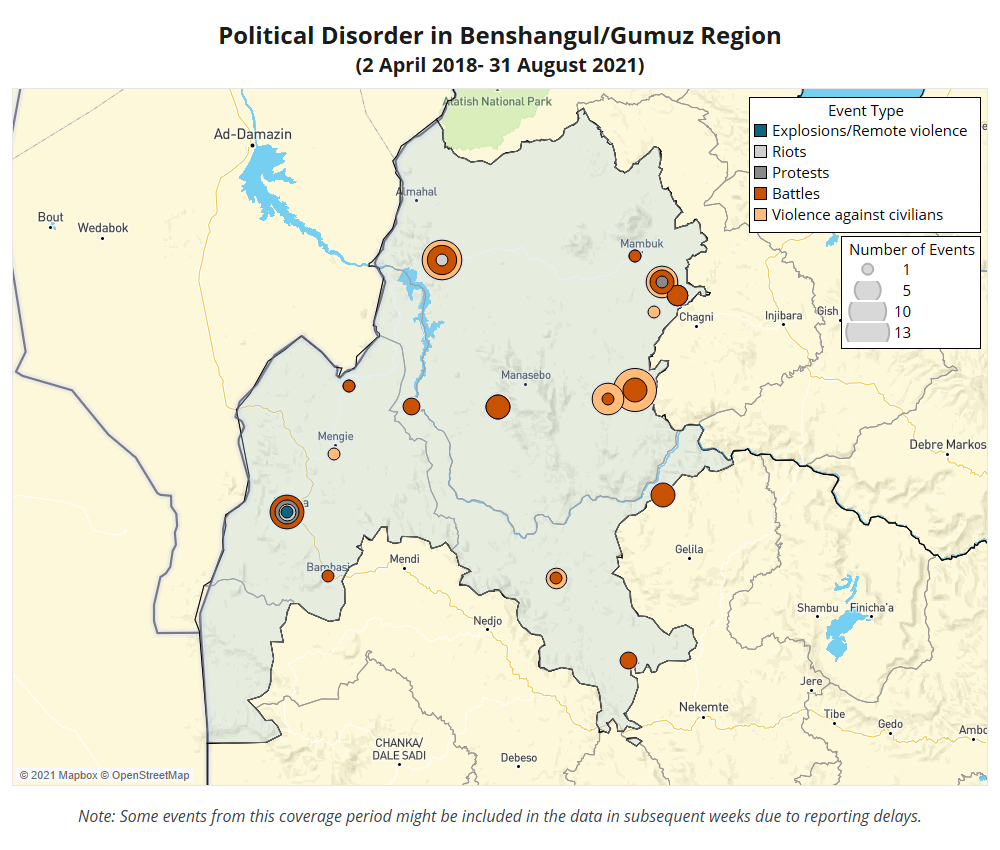 Due to security and logistical issues, voting in the June general elections did not take place in most constituencies in the Benshangul/Gumuz region. Instead, the elections will be held at a yet-to-be-decided date (AllAfrica, 24 August 2021).  As conflict subsided in May and June of 2021, the federal government closed IDP camps in Chagni (Amhara region) and returned thousands of people to their homes in the Metekel zone in Benshangul/Gumuz region (VOA, 28 June 2021). Many returnees were not happy to return to the new relocation center in the region. They either wanted to stay in Chagni or get back to their residences in Benshangul/Gumuz region when the violence subsided. Since their return, violence in the region has resurged. This is because the root causes of the conflict — including local drivers and pressure from surrounding regions — have not been resolved.
The groups involved in the violence reportedly have connections to the conflict occurring in the north of the country, although some government allegations linking Gumuz armed groups are unclear and over-simplifies the complex issues at play (Awash Post, 24 August 2021). However, authorities have cracked down hard on individuals with suspected links to the TPLF, and several high-profile battles were fought during the month.
On 10 August 2021, unidentified gunmen (identified by some sources as being ethnic Gumuz) attacked a bus traveling from Chagni to Gilgel Beles in Gidiga kebele in Mandura woreda in Metekel zone, Benshangul/Gumuz, killing at least six civilians and abducting 14 others (Ethiopia Insider, 11 August 2021). Days later, government forces claimed to have killed more than 170 members of an unidentified armed group, including 12 members of TPLF, as they attempted an incursion into Guba woreda through the Sudan border (Ethiopian Broadcasting Corporation, 14 August 2021). 
An additional 32 people with suspected links with TPLF have been arrested in Kurmuk woreda in the Asosa zone while trying to enter the region from Sudan (Ethiopian Broadcasting Corporation, 17 August 2021). Later in the month, security forces carried out a serious crackdown and hundreds of people were reportedly arrested in Benshangul/Gumuz region with suspected links to anti-government groups (DW Amharic, 19 August 2021). During the month, the Ethiopian Human Rights Commission expressed concern after an investigation found that 19 women, along with young children, had been arrested by the federal command post in an attempt to pressure armed actors into surrendering (EHRC, 4 September 2021). The 19 women were later released (EHRC, 5 September 2021).
The government has tried hard to enact lasting peace in Benshangul/Gumuz region, providing land and political positions to armed actors within the region who have participated in rehabilitative training (Addis Standard, 5 July 2021). In May 2021, an agreement was signed between representatives of the Benshangul/Gumz regional government and members of an armed group who are undergoing reintegration training in the region. According to government officials, those undergoing the training are members of the Gumuz People Democratic Movement (የጉሙዝ ሕዝብ ዴሞክራሲያዊ ንቅናቄ) (BBC Amharic, 19 May 2021). However, other armed groups, including the Gumuz Liberation Front, were not included in this peace agreement and training. Hence, these groups have continued to attack civilians and clash with government forces in the region. Further, the government's training does not appear to be having the desired effect. A report issued by Ethiopian Insight indicated that at least one of the attacks on civilians that occurred during August of 2021 was led by graduates of rehabilitation programs conducted by a locally established federal military command post (Ethiopian Insider, 11 August 2021).
As the election date for many electoral constituencies in Benshangul/Gumuz region approaches, the worsening security situation will have significant consequences for both the country and the region as a whole. Benshangul/Gumuz hosts the Grand Ethiopian Renaissance Dam, a $5 billion dollar project that could transform the lives of millions through the generation of electricity (Reuters, 25 August 2021). Building a dam on the Nile river is a hotly contested issue with downstream Sudan and Egypt. Sudan recently withdrew its ambassador after an offer to mediate between the TPLF and the Ethiopian government was rejected by the government (Reuters, 8 August 2021). The relationship between Sudan and Ethiopia further deteriorated after the Ethiopian federal government accused Sudan of supporting a cross-border attack by militants — an accusation denied by Sudanese authorities (Sudanese Armed Forces, 4 September 2021).
Stability in Benshangul/Gumuz region — or the lack thereof — will continue to be a key indicator of how well the government security apparatus is performing outside of the main conflict zone in the north. Until stability returns to Ethiopia as a whole, peripheral areas of the country like Benshangul/Gumuz are likely to continue to face a worsening security situation.