By the Numbers: Ethiopia, 2 April 2018-24 September 20211

Figures reflect violent events reported since Prime Minister Abiy Ahmed came to power on 2 April 2018.
Total number of organized violence events: 2,023
Total number of reported fatalities from organized violence: 12,075
Total number of reported fatalities from civilian targeting: 5,595
By the Numbers: Ethiopia, 18-24 September 20212
Some events from this coverage period might be included in the data in subsequent weeks due to reporting delays.
Total number of organized violence events:

10

Total number of reported fatalities from organized violence:

98

Total number of reported fatalities from civilian targeting:

15
Ethiopia data are available through a curated EPO data file as well as the main ACLED export tool.
Situation Summary
Last week, there were few clashes between the Tigray People's Liberation Front (TPLF) and federal forces. TPLF forces and Amhara militias clashed in East Belessa woreda in the Amhara region. It was also reported that TPLF forces damaged a bridge connecting Addis Zemen, Ebinat, and Amdework towns in the Amhara region.
Meanwhile, attacks on civilians continued to be reported. Reports emerged last week that TPLF forces reportedly killed between dozens to hundreds of civilians in areas around Kobo town in the Amhara region beginning around 9 September 2021, though the exact number of fatalities is still unconfirmed (AP, 25 September 2021; VOA Amharic, 24 September 2021). Moreover, TPLF forces looted and damaged houses, government institutions, and farms. 
Two demonstrations were held in Addis Ababa last week. On 20 September 2021, Eritrean refugees protested in front of the United Nations High Commissioner for Refugees (UNHCR) office against the TPLF, denouncing attacks and sexual violence against Eritrean refugees in Tigray (Ethiopian Broadcasting Corporation, 20 September 2021). The protesters asked the UNHCR to transfer the Eritrean refugees from the Tigray region to a safe place. This demonstration followed a recently released report by Human Rights Watch, which detailed killings, rape, and other grave abuses against Eritrean refugees by Eritrean government forces and TPLF forces between November 2020 to January 2021 (Human Rights Watch, 16 September 2021).
On 21 September 2021, residents from the North Wello zone in the Amhara region who live in Addis Ababa demonstrated in front of the World Food Programme (WFP) and United Nations Children's Fund (UNICEF) offices in Addis Ababa, asking that international organizations provide humanitarian assistance to victims of the conflict. Demonstrators called for organizations providing aid to Tigray to also provide humanitarian assistance to those displaced from the North Wello zone (ESAT, 21 September 2021).
Meanwhile, the Oromo Liberation Front (OLF)-Shane continued to clash with regional forces in the Oromia region (see map below). Around 22 September 2021, OLF-Shane forces reportedly clashed with government-associated forces and Oromia regional special forces in Salale, Degem, and Yayya Gulele woredas in the North Shewa zone (OMN, 22 September 2021). As well, on 17 and 18 September 2021, unidentified gunmen attacked civilians in Bok'a kebele in Kiramu woreda, East Wollega, killing 11 people over two days (EHRC, 24 September 2021). While the latest report did not identify the perpetrators, OLF-Shane militants have been active in the area.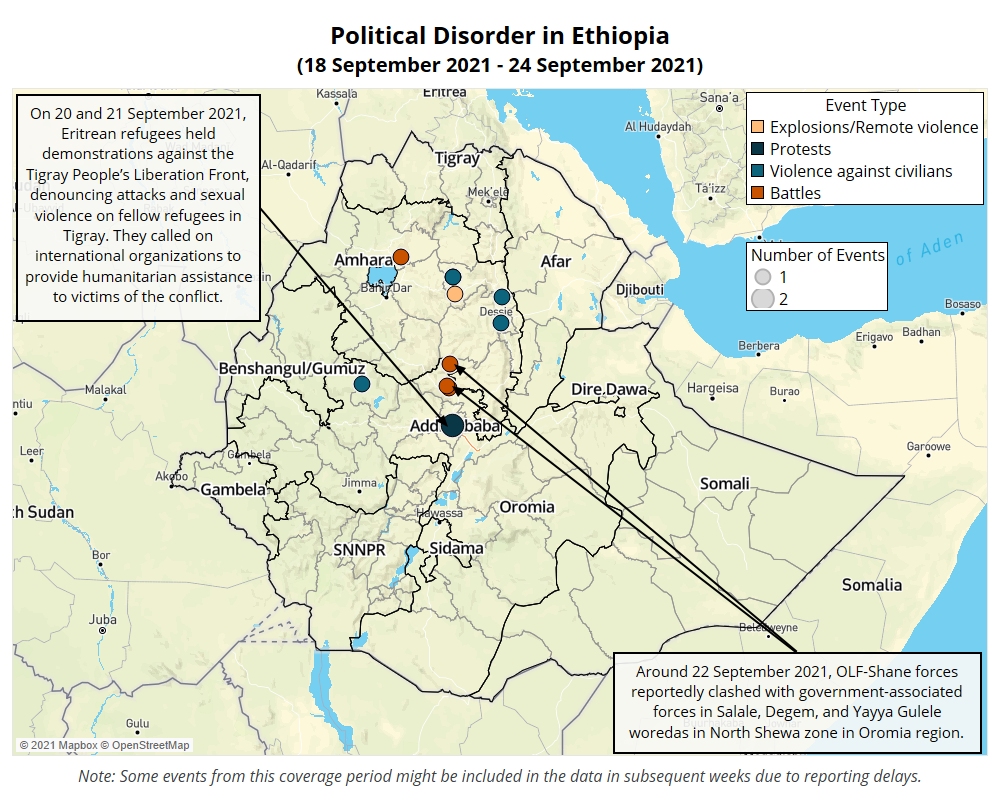 Lastly, the Ethiopian National Defense Force (ENDF) entered the Kamashi zone in Benshangul/Gumuz region last week, following weeks of the zone being under the control of the Benshangul People's Liberation Front. The move comes as the Benshangul/Gumuz regional security forces were unable to push back the Benshangul People's Liberation Front forces. The Benshangul People's Liberation Front is reportedly supported by OLF-Shane (VOA Amharic, 24 September 2021) and has looted and attacked civilians in the area.
Weekly Focus: Election Updates and a New Government
Before a new government led by Prime Minister Abiy Ahmed's Prosperity Party is formed on 4 October 2021, voting for the sixth general election (delayed in some areas of Ethiopia since June 2021) will be held in Harari, Somali, and Southern Nations, Nationalities and Peoples Region (SNNPR) on 30 September 2021. The election will also be held in four constituencies where Ethiopian courts have ordered election reruns (NEBE, 23 September 2021). Several opposition parties have removed themselves from the upcoming election, sparking concerns that violence could occur. However, it is still unclear when (or how) the election will be held in areas where ongoing security challenges make it impossible for election officials to operate. 
The boycotting of the elections by opposition parties has not resulted in widespread electoral violence in other regions, although the latest announcement by the Ogaden National Liberation Front (ONLF) that it will not participate in the upcoming elections certainly could return Somali region — historically one of the most violent locations in Ethiopia — to its status as a conflict zone (Addis Standard, 17 September 2021). ONLF fighters disarmed and were integrated into the Somali regional state's security apparatus in 2019 after being removed from Ethiopia's list of terrorist organizations in July 2018 (Africanews, 2 September 2019). According to the ONLF and three other opposition parties in the Somali region that boycotted the election, the National Election Board of Ethiopia (NEBE) "failed" to address pre-election disputes over voter registration (Ethiopia Insider, 17 September 2021). As a result, only the Prosperity Party and the West Somali Democratic party are participating in the upcoming election in the Somali region. The withdrawal of ONLF from the election will negatively affect its ability to peacefully participate in the Somali regional political space.
In other regions where the election was not held in certain areas, there have been further political developments. Last week, the Baro Democratic Party, which operates in the Benshangul/Gumuz region, called for the establishment of a transitional regional government instead of elections in parts of Benshangul/Gumuz where elections have yet to be held  (Ethiopia Insider, 22 September 2021). Baro Democratic Party leaders have stated that after 4 October 2021, the current regional government will not have the legitimacy to continue as a regional government. In Benshangul/Gumuz region, out of the 99 regional council seats, elections were only held for 34 seats. Elections were not held in Metekel and Kamashi zones. Out of these 34 seats, the Prosperity Party, the ruling party, won 28 seats. Meanwhile, the electoral results of six constituencies were annulled. While reruns were expected to be held on 30 September 2021, security concerns have delayed these elections further. The current administrator of the Metekel zone (and Prosperity Party official), though, has argued that the zone is now relatively stable and ready to hold the election (Amhara Media Corporation, 23 September 2021). However, without constitutional revisions to address governance concerns in the region, the possibility for continued violence remains high.
As voting in regions and other areas where the election was delayed begins, opportunities for electoral violence may present themselves. Boycotting officials may call for demonstrations in direct contestation of regional officials while the possibility of increased political violence in these regions remains a concern.