By the Numbers: Ethiopia, 2 April 2018-8 October 20211

Figures reflect violent events reported since Prime Minister Abiy Ahmed came to power on 2 April 2018.
Total number of organized violence events:

2,045

Total number of reported fatalities from organized violence:

12,123

Total number of reported fatalities from civilian targeting:

5,621
By the Numbers: Ethiopia, 2-8 October 20212

Some events from this coverage period might be included in the data in subsequent weeks due to reporting delays.
Total number of organized violence events:

9

Total number of reported fatalities from organized violence:

12

Total number of reported fatalities from civilian targeting:

0
Ethiopia data are available through a curated EPO data file as well as the main ACLED export tool.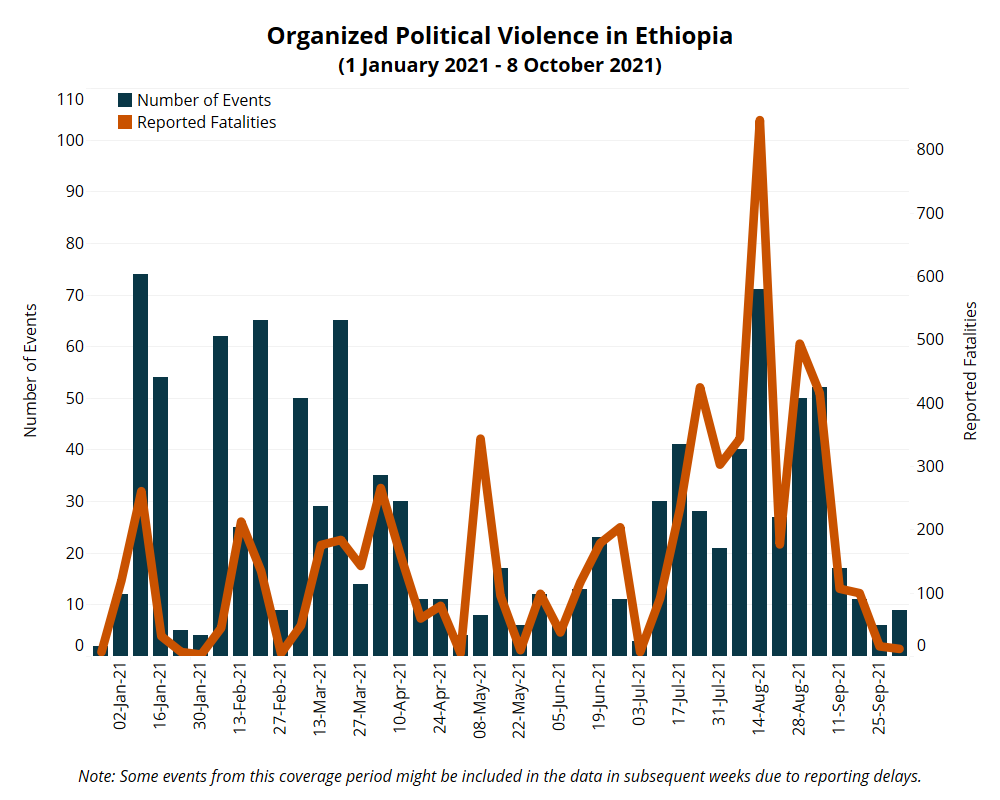 Situation Summary
After a brief lull in armed clashes in the north of Ethiopia at the end of September, clashes between the Ethiopian National Defense Force (ENDF) and Tigray People's Liberation Front (TPLF) reignited last week (see map below). On 7 and 8 October 2021, ENDF carried out multiple airstrikes against TPLF positions near the towns of Wirgesa in the North Wello zone, Wegeltena in the South Wello zone (both in the Amhara region), and on the road linking Afar region to the Amhara region (Reuters, 9 October 2021).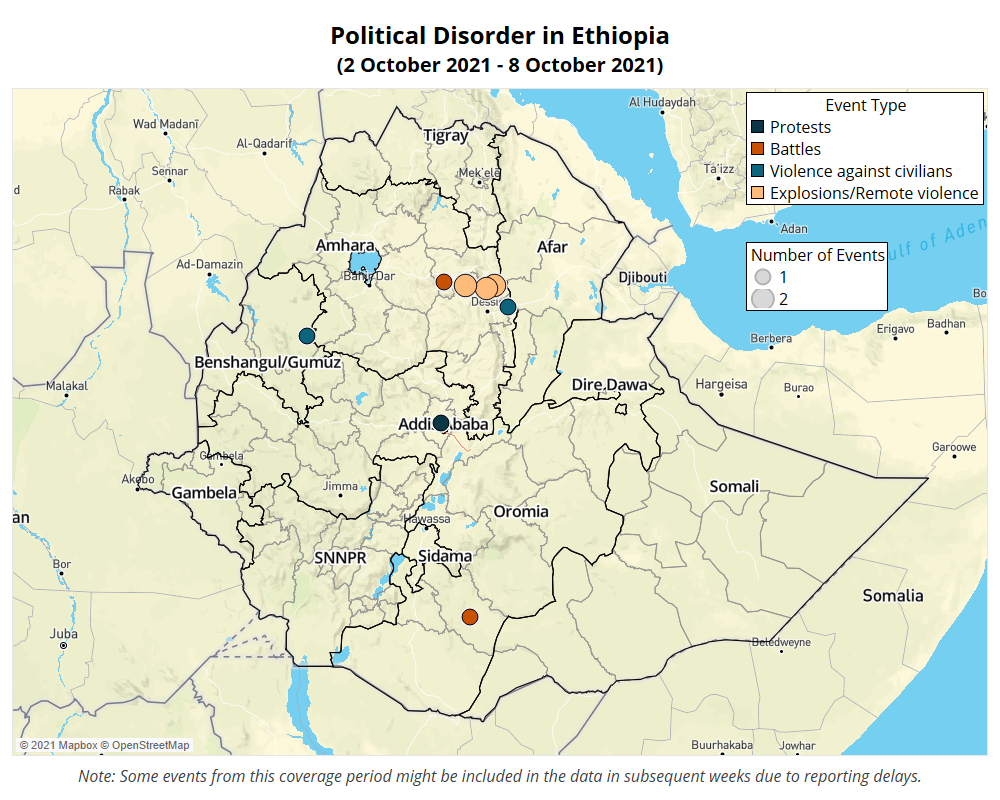 As clashes increased, on 4 October 2021, the European Parliament adopted a 17-point resolution on the Tigray conflict. In this resolution, among other issues, the parliament urged the European Council to "adopt an arms embargo halting the transfer and sale of arms and all other military equipment to Ethiopia and Eritrea" (European Parliament, Procedure: 2021/2902(RSP), 4 October 2021).
In the Oromia region, armed clashes between the Oromo Liberation Front (OLF)-Shane and government forces continued, with battles reported in the Mugayo area in Adadi kebele in Goro Dola woreda in Guji zone (Fana Broadcasting Corporate, 7 October 2021). Furthermore, last week, witnesses stated that OLF-Shane still controls 12 kebeles in Abe Dengoro woreda in the Horo Guduru zone (ESAT, 8 October 2021). OLF-Shane has reportedly looted the properties of ethnic Amaharas in these places. As a result, more than 10,000 internally displaced people from these kebeles are sheltering in Tulu Wayu town in Abe Dengoro woreda (ESAT, 8 October 2021). In addition, OLF-Shane also controls all except three kebeles in Erbu Gebeya in Denbi Deelo in the West Wollega zone (ESAT, 8 October 2021).
Last week, during the Irrecha festival celebration in Addis Ababa, some participants chanted anti-government slogans and demanded the release of Oromo political prisoners (Ethiopia Insider, 2 October 2021). Some protestors, including a journalist, were arrested. Irrecha festival is a thanksgiving day celebration held every year by Oromos. 
In the Benshangul/Gumuz region, after a recent ENDF incursion into the Kamashi zone following weeks of the zone being under the control of the Benshangul People's Liberation Front, more than 13,000 people were internally displaced from two kebeles in Kamashi zone (DW Amharic, 6 October 2021). According to the regional government, more than 490,000 internally displaced people are now in the region (DW Amharic, 6 October 2021). 
Weekly Focus: Challenges for the Newly Elected Government
On 4 October 2021, elected and appointed members of the new government took power. 
Forty-five opposition parties and 125 independent candidates had participated in the June 2021 election. Some parties, including the Oromo Liberation Front (OLF), the Oromo Federalist Congress (OFC), and the Ogaden National Liberation Front (ONLF), boycotted the election. Elections were held for 436 of 5473 For some of the remaining seats, elections were held on 30 September 2021. It is still unknown when elections will be held in areas where it was delayed due to security reasons. Areas where it was delayed include the Tigray region, Kamashi and Metekel zones in Benshangul/Gumuz, and some constituencies in Oromia and Amhara regions. seats of the House of Peoples' Representatives. Out of these 436 seats, the Prosperity Party, led by Abiy Ahmed, won 410 seats (NEBE, 12 July 2021). Three opposition parties — the National Movement of Amhara (NaMA), Ethiopian Citizens for Social Justice (EZEMA), and Gedio People Democratic Organization — won five, four, and two seats, respectively. Independent candidates won four seats. 
Elections in Harari and Somali regions, and in some election constituencies in Southern Nations, Nationalities and Peoples Region (SNNPR), were delayed until 30 September 2021. The outcome of these elections had not yet been announced by the National Election Board of Ethiopia (NEBE) by the time the new parliament held its first session. Thus, only 425 newly elected members of the House of Representatives were present.4 In July 2021, NEBE decided to redo the June 2021 elections for five election constituencies in the Amhara region and three election constituencies in SNNPR. These election reruns were held on 30 September 2021. The outcome of these elections has not officially been released. Thus, the remaining seats of the House of Representatives are not yet occupied. 
Last week, in line with the constitution, the new House of Representatives re-elected Abiy Ahmed to continue as the Prime Minister of Ethiopia. Abiy was first appointed by the House of Representatives on 2 April 2018 after Prime Minister Haliemariam Desalegn resigned following three years of unrest across both the Oromia and the Amhara regions. Prior to Abiy coming to power, the parliament was entirely controlled by the ruling coalition party, the Ethiopian People's Revolutionary Democratic Front (EPRDF). This term marks the first time Abiy has been appointed as prime minister following an election.
On 5 October 2021, Prime Minister Abiy introduced 22 ministries5Previously there were 20 ministerial institutions.The new government led by Abiy restructured these ministerial institutions into 22 ministerial institutions. Five of these 22 Ministries, namely the Ministry of Industry, Ministry of Tourism, Ministry of Work and Skills, Ministry of Irrigation and Lowland, and Ministry of Culture and Sport, are newly restructured. Furthermore, the Ministry of Trade now includes Regional Cooperation. The Ministry of Transport now includes logistics. The Ministry of Women, Children and Youth is now restructured as the Ministry of Women and Social Affairs. Similarly, the former Ministry of Planning is now restructured as the Ministry of Planning and Development. The Federal General Attorney is now renamed the Ministry of Justice. The institutions which kept their names are the Ministry of Agriculture, Ministry of Mines, Ministry of Revenue, Ministry of Finance, Ministry of Innovation and Technology, Ministry of Water and Energy, Ministry of Education, Ministry of Health, Ministry of Defence, Ministry of Foreign Affairs, and Ministry of Peace (EBC, 4 October 2021). and appointed ministers. Of the newly appointed ministers, three were appointed from different opposition parties, including OLF, NaMA, and EZEMA. The chairperson of EZEMA was appointed Minister of Education, while the chairperson of NaMA was appointed Minister of Innovation and Technology. The vice-chairman of the OLF party was appointed Minister of Culture and Sports. Similar appointments of opposition party members were also made during the establishment of different regional governments.
When making these appointments, Abiy stated that the appointments were made based on experience rather than ethnic-based quotas. He also claimed that through these appointments he had tried to diversify the candidates' "birthplace" and religious background (EBC, 4 October 2021). 
Three ministries are particularly important for facilitating peace and security in the country. These are the Ministry of Justice, Ministry of Defence, and Ministry of Peace. The Ministry of Justice has now been re-established after being dissolved in 2016 and replaced by the Federal Attorney General of Ethiopia. While the Ministry of Defence has not been restructured, the ethnic background of the Minister of Defence is notable: he is from Tigray and used to lead the Tigray transitional government established in November 2020. Meanwhile, the responsibilities of the Ministry of Peace, which was established in 2018 after Abiy was appointed prime minister, were restructured. Other significant changes include that key intelligence, security, and financial institutions will now be directly accountable to the Prime Minister's Office (Addis Standard, 6 October 2021).
In this government session, set to run for five years, there are likely to be significant changes in the structure of the constitution and the distribution of power across the country. Abiy's main framework for Ethiopian political reform is medemer (synergy), which is meant as a replacement for the revolutionary democracy — or Abyotawi democracy — of the EPRDF era. Abyotawi democracy is a concept adopted from Marxist-Leninist-Maoist thought (Jean-Nicolas Bach, 2011) which holds that elites must lead the masses to revolution, and guide the democratic process of the country. It "defends collective rights through the notion of Nations, Nationalities and Peoples(Jean-Nicolas Bach, 2011). In contrast, the objective of medemer is to build on Ethiopia's heterogeneity and rectify past mistakes (Abiy Ahmed, 21 October 2019). The concept's three pillars are national unity, the honor of citizens, and prosperity. The concept supports a pan-Ethiopian democracy, "tailor-made" for Ethiopian culture, consciousness, and thinking (Abiy Ahmed, 21 October 2019).
Abyotawi democracy had created contests at the administrative level and gave formal government positions to those who represented areas that are ethnically homogeneous. This led to border disputes, authority disputes, state repression, and attempts to ethnically homogenize areas that were of mixed ethnicity. Abiy has yet to articulate how authority at the subnational level will be organized, distributed, granted, or changed. This is creating uncertainty — and competition locally — to claim and hold on to power before any changes are made.
Outside of the Tigray region where the conflict is a constitutional issue around federalism and levels of central power compared to regional power, most of the conflicts in the rest of Ethiopia are related to local level administration and authority disputes. Some groups call for self-administration, while others request representation at the local administration level. As the institutions to resolve such disputes are weak, conflict in Ethiopia tends to be cyclical. Conflict across Ethiopia often begins as highly localized contests, and then grows outwards with new cycles. Local administrations are responsible for containing this violence, but they are often unable to do so or directly contribute to it. 
As ready examples of administrative conflict, there are frequent clashes between Somalis and Afars at the border of the Somali and Afar regions (see EPO's Afar-Somali Border Conflict page). There are also frequent clashes at the border of the Somali and Oromia regions. Benshangul/Gumuz region has experienced attacks on civilians and clashes as well, mainly between a Gumuz armed group and government forces. These disputes are partially related to the administrative borders and the demographic composition of the Metekel zone (as ethnic Amharas have settled in the area). In SNNPR, violence is frequent in Bench Sheko and Segen Area Peoples zones, and has intensified as new zones (e.g. Konso) were created in the region (see EPO's Bench Sheko (Bench Maji zone) Conflict and Segen Area Peoples Zone Conflict pages). Conflicts in both areas are related to administration and requests for more autonomy.
The lack of strong and trusted framework institutions is one of the biggest challenges of the newly established government, as is its relationship to the local authority. Though some changes have been made at the top level, the lower level of administration is still the same as it was in 2018. After the EPRDF dissolved, it became unclear how the government and party relate to each other and how decisions are made at the federal and the local level. Since 2018, some leaders of both the federal and regional government institutions have been arrested and accused of failing to exercise their duties in areas where unrest occurred. People affected by frequent attacks by armed groups question the failure of the government security sector to protect them. If the government continues to fail to protect civilians, there is a possibility that they will turn to armed groups for protection.  
It remains unclear how the new government will strategically implement change at the local level, or how it might push through constitutional changes with a parliament and cabinet that hold significant authority during a time of national crisis. The spirit of change witnessed at the top level has not been observed at the ground level among local administrations in direct contact with the people. The newly established government needs to cascade the changes witnessed at the federal level to the lower administration levels. It needs to reform the security sector and build trust towards dispute resolution institutions. The political and economic development of Ethiopia requires sustainable peace at the local level.