By the Numbers: Ethiopia, 2 April 2018-25 November 20221
Figures reflect violent events reported since Prime Minister Abiy Ahmed came to power on 2 April 2018.
Total number of organized violence events: 2,654
Total number of reported fatalities from organized violence: 15,102
Total number of reported fatalities from civilian targeting: 5,982
By the Numbers: Ethiopia, 19-25 November 20222
Some events from this coverage period might be included in the data in subsequent weeks due to reporting delays.
Total number of organized violence events: 21
Total number of reported fatalities from organized violence: 110
Total number of reported fatalities from civilian targeting: 37
Ethiopia data are available through a curated EPO data file as well as the main ACLED export tool.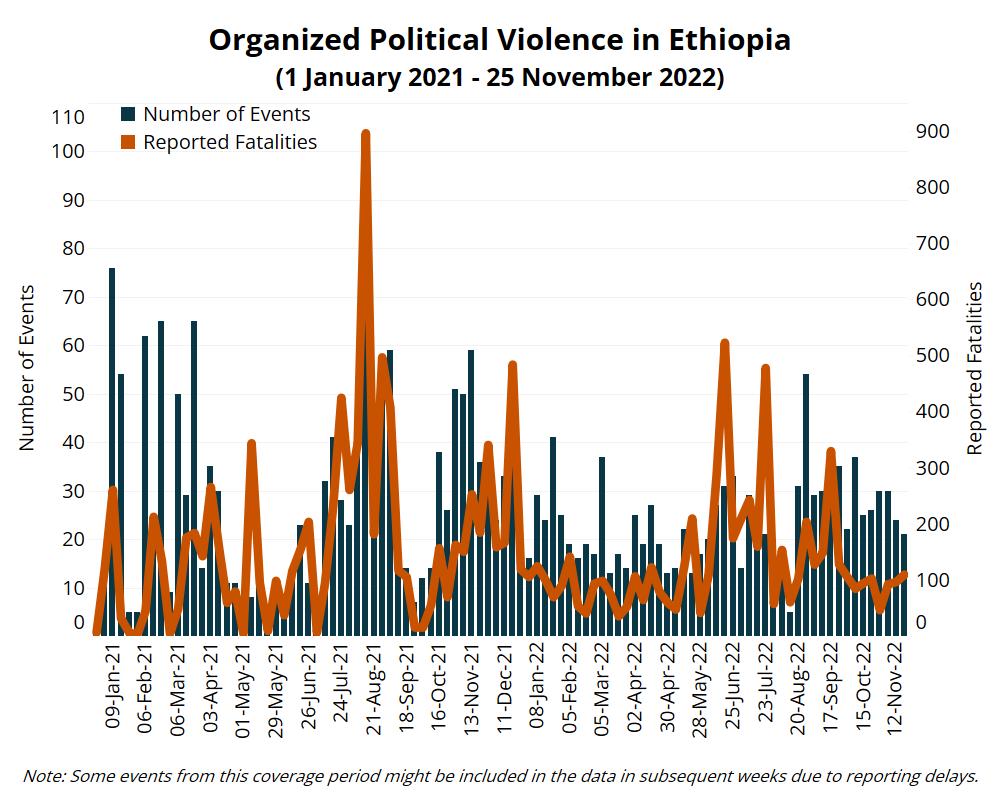 Situation Summary
Oromia region, which is the largest region in Ethiopia, continues to be the most unstable region in the country. Currently, West Wollega, East Wollega, Guji, and West Guji zones are the most volatile areas within Oromia region. Last week, 13 battle events between various actors were recorded in these four zones (see map below). The Oromo Liberation Front (OLF)-Shane clashed with the Oromia regional special forces and kebele militias in Aga Wayu woreda, Bore woreda, and Ejersa in Guji zone, and Melka Soda woreda and Deda Oda kebele in West Guji zone. Additionally, it was reported that the OLF-Shane clashed with the Ethiopian National Defense Force (ENDF) in Nejo, Mendi, Kiltu Kara, Gimbi, and Tole areas in West Wollega zone. Reportedly, the ENDF regained control of these areas. The Ethiopian Air Force also conducted three drone strikes targeting the OLF-Shane in Lophi in Begi woreda and Haru town in Haru woreda in West Wollega zone. The events in East Wollega zone are detailed in the following section.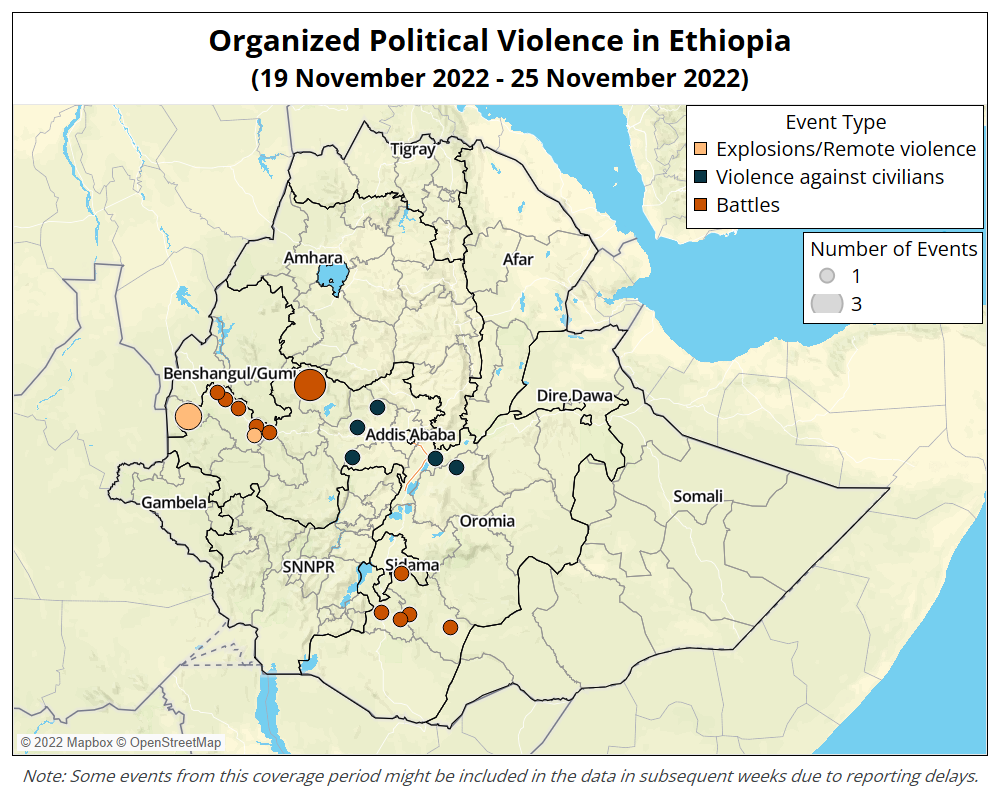 Meanwhile, violence against civilians also continued in Oromia region. Last week, five such events were recorded in the region. Government security forces – assumed to be members of the Oromia regional special forces – were involved in two attack against civilian events. On 19 November, they reportedly shot and killed three youths in Diki and Tule kebeles in West Shewa zone after accusing them of having links with the OLF-Shane. A few days later, government forces were also reported to have shot and killed 21 people in Kare Heto kebele near Lafto Belo in Meta Walkite woreda in West Shewa zone. The victims were prisoners in Meta Welkite woreda. The reason behind the killings in Kare Heto kebele is unknown.
The remaining three violence against civilian events were perpetrated by the OLF-Shane. On 21 November, the OLF-Shane abducted an unidentified number of men, including a driver and his assistant, in Aribon area in East Shewa zone as they were traveling from Adama to Metehara using a 'Dolphin' minibus. On the same day, the armed group reportedly killed five civilians, including a father and son, inside their home in Tehila area in Jeju woreda in Arsi zone. It was also reported that the OLF-Shane killed three people, injured an unidentified number of people, and abducted 18 people in Cheha Kesa area in Ameya woreda in South West Shewa zone last week.
In Tigray region, the Head of Tigray People's Liberation Front (TPLF) forces, also known as the Tigray Defense Forces (TDF), General Tadesse Werede, stated last week that as per the declaration signed in Nairobi, Kenya, the TDF commanders have briefed the members of the TDF about the peace agreement arrangements, and indicated that the forces have begun to enter selected locations and that "their disengagement will follow within the next two to three days" (Tigray TV, 22 November 2022). It is, however, unclear as of now whether the disengagement of the TDF has begun or not. He also mentioned that there are political and military forces within the TPLF that do not accept the peace agreement, and that could be an issue in the implementation of the peace agreement. During an interview with BBC HARDtalk, the Spokesperson of the TPLF, Getachew Reda, indicated that if the questions of the Tigray people are not resolved, the disarmament of the TDF might not happen (BBC, 24 November 2022). Moreover, the TPLF continued to accuse Eritrea of attacking civilians in the region. However, this accusation was not confirmed by other independent sources. Last week, the African Union (AU) High Representative for the Horn of Africa and the head of the AU-led peace negotiation team, Olusegun Obasanjo, and another member of the AU-led peace negotiation team, former South African Deputy President, Phumzile Mlambo-Ngcuka met with TPLF officials in Mekele, Tigray to assess the progress on the implementation of the peace agreement (Borkena, 24 November 2022; Tigray TV, 24 November 2022).
Lastly, the head of the Southern Nations, Nationalities and Peoples region (SNNPR) Peace and Security Office stated that starting from 24 November, Gurage zone will be administered under a command post led by the federal police and the regional special forces because "it is becoming difficult to administer and control the security issues in the zone through a normal process as a result of the request for the zone to be recognized as a region" (South Radio and Television Agency, 24 November 2022). According to this office, so far, more than 70 people accused of organizing and participating in activities opposing the proposed cluster arrangement in Gurage zone and requesting for the zone to be recognized as a zone have been arrested, while other sources put the number of arrestees at more than 200 youths (South Radio and Television Agency, 24 November 2022; VOA Amharic, 23 November 2022). This decision and wave of arrests came after youths burned tires and closed the main road in Welkite town in Gurage to demonstrate against the recently proposed 'cluster-based administrative structure' by the government on 18 November. The demonstrators threw stones at security forces, who fired bullets into the air to disperse the demonstrators.
Kiremu Violence and Difficulties Identifying Responsible Actors
In Kiremu woreda in East Wollega zone of Oromia region, four days of violence spanning from 18 November to 21 November were reported, with a high number of fatalities confirmed by multiple sources. According to reports, armed clashes began on 18 November when Amhara ethnic militias (identified as Fano) ambushed Oromia regional special forces in Tenkara area of the woreda. The regional special forces were transporting Amhara prisoners accused of cattle raiding and other criminal activities to Nekemte town. According to one Amhara witness interviewed by Deutsche Welle (DW) Amharic, the ethnic Amharas residing in this area did not trust the security forces because, reportedly, the security forces had released Oromo prisoners who were accused of similar crimes and were instead only transporting ethnic Amhara prisoners to Nekemte. Clashes continued until 21 November. More than 50 people, including government security forces, were reported killed due to these armed clashes. Thousands of Amharas fled the area to the neighboring Amhara region and accused government forces of ethnic-based attacks (DW Amharic, 24 November 2022).
The recent violence in Kiremu, East Wollega zone, has sparked a number of narratives. According to the Amhara Association of America (AAA), on 18 November, Oromia regional special forces shot and killed 13 unarmed civilians who were demanding that ethnic Amhara prisoners be prosecuted at the woreda level and not transferred to Nekemte. Violence continued for a second day, when Oromia special forces shot and killed at least eight ethnic Amhara civilians on the morning of 19 November (AAA, 20 November 2022). The AAA makes no mention of armed clashes or Fano militias.
In a polarized environment, establishing facts surrounding events like those that occurred in Kiremu is extremely difficult. Each event sparks rounds of accusations and counter-accusations accompanied by numerous theories about what really happened. Though many witnesses were available in this case, the polarized ethnic environment means that witnesses themselves can be subject to bias as the conflict places even non-combatants on one side of the dispute. Compounding this is Ethiopia's very challenging media environment (see EPO Monthly: September 2021 for more details).
In the example of the Kiremu attacks above, Fano militias were identified by some sources as being the perpetrator of attacks against government forces (OMN, 21 November 2022). Attacks by Fano militias against Oromo civilians were widely reported just days prior to Kiremu events in Alibo town in Jarte Jardega in Horo Guduru Wollega zone – located around 20 kilometers to the east of Kiremu woreda (BBC Afan Oromo, 19 November 2022). Other sources identified the armed Amhara militias as "Amhara extremists" (VOA Amharic, 24 November 2022). However, the informal nature of Fano militias and the presence of armed Amhara ethnic militias in Oromia region means that their identity, self-identified as Fano or not, is difficult to ascertain. Other locations where Fano militias have been identified as being active outside of Amhara region are Metekel zone in Benshangul/Gumuz region, East Shewa and Horo Guduru zones in Oromia region, and Western and Southern Tigray zones of Tigray region (see EPO Actor Profiles for more details on the origins and activities of "Fano Youth Militia").