By the Numbers: Ethiopia, 2 April 20181
Figures reflect violent events reported since Prime Minister Abiy Ahmed came to power on 2 April 2018.
-30 July 2021
2
ACLED's real-time data updates are paused through the end of August 2021. Data for the period of 31 July to 3 September will be released on 6 September, at which point real-time data publication will resume. All ACLED data are available for download via the data export tool and curated data files.
Total number of organized violence events: 1,735
Total number of reported fatalities from organized violence: 9,294
Total number of reported fatalities from civilian targeting: 4,944
Ethiopia data are available through a curated EPO data file as well as the main ACLED export tool.
Situation Summary
Last week, fighting between the Tigray People's Liberation Front (TPLF) and government forces continued in Fanti Rasu-Zone 4 in Afar region, North Wello zone in Amhara region, and Western Tigray zone. The TPLF advancement into Afar region appears to have been slowed for the past two weeks as government-associated forces have pushed back against TPLF units.
While the TPLF has been slowed in Afar, TPLF forces fighting in the northern areas of Amhara region have managed to capture new territory, including Lalibela in North Wello zone of Amhara region. According to residents, TPLF forces met little resistance from government forces as they swept into the ancient city (Reuters, 6 August 2021). In addition, armed clashes were recorded in areas surrounding Woldiya city, Raya Kobo area, Guba Lafto woreda and Habro woreda in North Wello zone. TPLF forces and government forces also clashed in Addi Arkey and May Tsebri in North-Western Tigray zone. The number of fatalities from these clashes is unknown.
Youth in the strategic crossroads city of Woldiya appear to be preparing for a large, urban battle. They have barricaded themselves in and managed to defend against aggressive attacks by the TPLF. Heavy shelling was reported late in the week (Woldia City Communications, 9 August 2021).
On 5 August 2021, TPLF shelled the internally displaced people (IDP) settlement area in Gali Kuma of Teru Woreda in Fanti Rasu-Zone 4. It is estimated that more than 200 IDPs, including 107 children, were killed due to this attack (UNICEF, 9 August 2021; ESAT, 6 August 2021). It is believed that around 30,000 Afar IDPs were settled in Galikuma area at the time of the attack (ESAT, 6 August 2021). Buildings storing humanitarian aid were also destroyed due to this shelling.
Meanwhile, last week, the government suspended the Norwegian Refugee Council and Doctors without Borders (MSF) Holland for three months (Fana Broadcasting Corporate, 4 August 2021). The government accused these organizations of disseminating false information and employing unauthorized foreigners. Furthermore, the government accused MSF Holland of using unauthorized satellite communication equipment. These organizations were involved in providing humanitarian aid in Tigray region. At the beginning of July 2021, MSF stopped providing aid in Tigray after three members of MSF were killed in the region by an unidentified armed group (France 24, 7 July 2021).

Weekly Focus: Humanitarian Access to Tigray Region
All warring parties in the Tigray conflict have used humanitarian concerns to justify their actions. As it stands, Tigray's population is teetering on the edge of starvation after conflict disrupted an entire planting season and farmers lost critical equipment to looting and destruction. The United Nations' Office for the Coordination of Humanitarian Affairs (OCHA) indicates that 100,000 children could suffer from acute malnutrition in the next 12 months if supplies do not reach the region (OCHA, 5 August 2021). Communities cut off from the world describe residents "falling like leaves" (AP, 30 June 2021).
On 28 June 2021, as the Tigray insurgency reached an "intolerable" point, the Ethiopian government hastily withdrew federal troops from parts of Tigray region, citing humanitarian concerns. Maintaining defensive positions along the borders of Afar and Western Tigray, the government enacted a unilateral ceasefire, which they claimed would allow the cessation of conflict for a peaceful farming season (Reuters, 29 June 2021). For a time, it appeared that things were indeed improving.
Since the withdrawal of federal forces from Tigray region, OCHA had reported that "humanitarian access within most Tigray is significantly improving" (OCHA, 9 July 2021). During the first week of July, 40 convoys of World Food Program (WFP) trucks arrived at Tigray through the Afar region (Ethiopian Broadcasting Corporation, 10 July 2021). Additionally, food and aid materials were delivered via plane (VOA Amharic, 19 July 2021). During the second week of July, over 200 convoys of WFP trucks were stuck in Semera, Afar region due to TPLF's attack on and territorial control of Yalo woreda in Fanti Rasu-Zone 4 in Afar region on 17 July 2021 (BBC, 23 July 2021). The WFP reported that on 18 July 2021, gunmen from an unidentified group attacked ten WFP's truck convoys at a location which is 115 km (70 miles) from the town of Semera in Awsi-Zone 1 in the Afar region (BBC, 23 July 2021).
Thus, any hopes that the unilateral ceasefire would result in widespread relief were quickly dashed as conflict spread beyond the borders of Tigray region and engulfed both neighboring Afar and Amhara regions (see map below). TPLF officials claim these advances were necessary, and were for the purpose of securing humanitarian access, accusing the government of enacting a blockade (France 24, 6 August 2021; BBC, 2 August 2021). The government has denied these allegations and instead accused the TPLF of blocking roads and provoking conflict in violation of the ceasefire.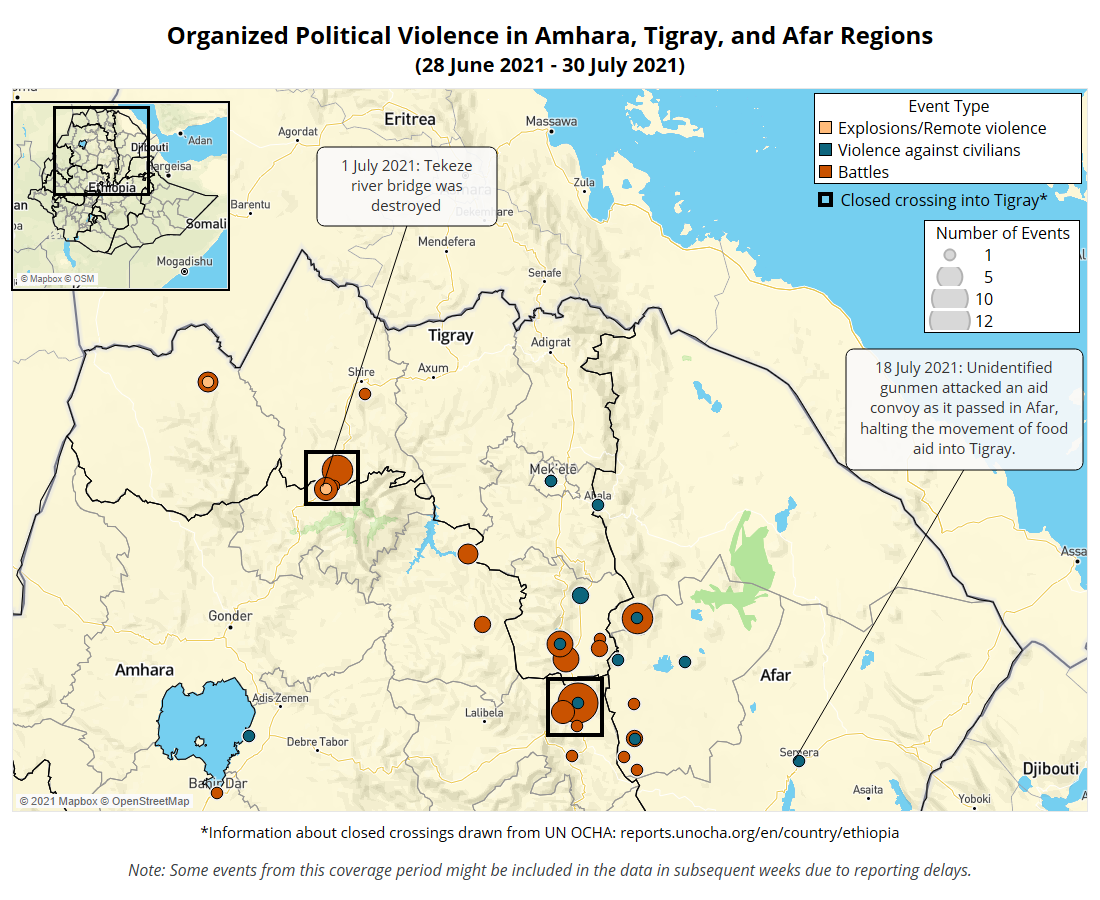 Many parties are responsible for the breakdown in transport routes into the Tigray region and assigning blame on any one party would be an oversimplification of a very complex and evolving conflict. Ongoing clashes pushed by provocation from multiple warring parties, infrastructure destruction, poor communication structures, a suspicious and stressed population, and diplomatic breakdowns at high levels have resulted in a worst-case scenario.
Continued Clashes
First and foremost, the threat of ongoing conflict and daily territory changes have resulted in an unpredictable environment that is too dangerous for aid convoys to pass through. As of writing, transport routes are the primary location of clashes, as opposed to rural locations as was the case three months ago. This is due to TPLF's attempts to seize additional territory. At the risk of loss of life or equipment, hundreds of WFP trucks were stuck in Semera (Afar) after intense fighting broke out after TPLF forces attacked Yalo Woreda in Fanti-Rasu Zone 4 region in Afar (BBC, 23 July 2021). TPLF forces expanding south into Weldiya and Lalibela areas have likewise made roads connecting Tigray and Amhara regions untraversable as they clash with local militia and forces from Amhara region.
The TPLF has stated that these offensives are to "break the blockade" against Tigray region (BBC Amharic, 2 August 2021; France 24, 6 August 2021). In its offensive to the east, TPLF forces want to control the vital rail and road line linking Ethiopia's capital,Addis Ababa, to Djibouti. Critically, the Djibouti-Addis Ababa highway and rail is the main route of transport for humanitarian supplies. The same road connects Addis Ababa to its main port in Djibouti (The Ministry of Foreign Affairs of Ethiopia, 5 August 2021).
Communication Breakdowns
Although aid convoys may have the support and permission of the federal government, passage into Tigray is complicated by a myriad of allied forces who are operating along transport routes into the region.
While federal forces are engaged on a limited basis in upholding defensive positions against the attacking TPLF forces, both Amhara and Afar regions have rallied thousands of youth and regional special forces to battle TPLF militants. These forces do not fall under the command of the federal army. They are loyal to regional officials, ethnically-exclusive, and generally considered to be under-developed and poorly trained. The presence of multiple armed groups who do not fall under a single command complicates passage attempts and has resulted in long delays. As noted, on 18 July 2021, gunmen from an unidentified group attacked a convoy of 10 trucks attempting to reach Tigray region as it passed 115 km (70 miles) from the town of Semera in Awsi-Zone 1 in the Afar region (BBC, 23 July 2021).
Suspicious that aid convoys were bringing weapons or food to rebel forces, regional special forces, local militias, and federal government troops routinely set up roadblocks and refuse to let convoys pass. Distrust of international organizations has been a key narrative of government-associated media, accusing some international organizations of siding with the TPLF in order to "resuscitate and use the terrorist group for their own agenda" (Office of the Prime Minister, 10 August 2021). Even though it had secured permission from the federal government, a 29-truck convoy carrying WFP aid was forced to return after being stopped by Amhara forces on 29 June 2021 (BBC, 30 July 2021). In late June, Ethiopian federal police detained seven Tigrayan convoy drivers overnight after impounding their vehicles (NYT, 29 June 2021).
Similar breakdowns concerning permission to deliver aid have occurred throughout the conflict in the Tigray region before the takeover by the TPLF. Although journalists had proper reporting permissions and had requested access well in advance, travel was regularly blocked by Eritrean forces who refused to recognize credentials given by the Ethiopian army (CNN, 13 May 2021).
Requests to open humanitarian corridors through Western Tigray zone via Sudan have been soundly rejected. Both the Ethiopian government and the Amhara state have accused TPLF of holding trainings for an unknown number of militias in Sudan (ESAT, 3 August 2021 EBC, May 2021). This is also confirmed by TPLF, who claim to have 30,000 Tigrayans on standby in Sudan who are ready to fight for the group (Financial Times, 5 July 2021). Reports indicate that in the last three weeks, TPLF forces have clashed eleven times with Amhara regional forces in Western Tigray in an unsuccessful attempt to open a corridor to Sudan (ESAT, 6 August 2021). In May 2021, the government claimed to have killed around 320 members of the TPLF who were trying to enter the Tigray region from Sudan along the western border (EBC, May 2021).
Destroyed Infrastructure
Infrastructure destruction has also been a major concern during the conflict in the Tigray region. Roads across the Tigray region have been damaged by fighting. TPLF forces razed the Axum airport shortly after losing control of the area last year (Reuters, 22 November 2021). Missiles were fired by the TPLF at both the Gondar and Bahir Dar Airports. Shortly after the withdrawal of federal forces from Tigray, the Tekeze river bridge (connecting Western Tigray to the rest of the region) was destroyed by an unknown group (Reuters, 1 July 2021).
Other critical infrastructure has suffered as a result of the conflict. Of 106 health facilities visited by Doctors without Borders (MSF) teams in Tigray from mid-December to early March, nearly 70 percent had been looted and more than 30 percent had been damaged (Doctors without Borders, 15 March 2021). Schools, government buildings, and warehouses in Tigray region have likewise been damaged in fighting.  Eritrean troops, who fought against the TPLF, are blamed for most of the looting that has occurred (AP, 28 May 2021).
Public Response
During the first week of July, crowds in Muqet woreda of North Wello zone of Amhara region blocked roads leading to Tigray region and refused to allow a convoy of 8 WFP trucks pass into Tigray region, insisting that aid instead be distributed to IDPs housed in their district instead (Ethiopia Insider, 8 July 2021).
These actions are a result of rhetoric that has been building for years – helped by Ethiopia's ethno-federalist system of governance that facilitates conflict along ethnic lines. As the TPLF has refused to accept the unilateral ceasefire declared by the government and instead chosen to continue military operations southward, populations suffering as a direct result of conflict will be increasingly unwilling to allow aid to pass. In examining areas outside of Tigray region, it is estimated that 150,000 ethnic Amhara people have been internally displaced from Raya Kobo area, as well as 18,000 from Abergele, Wag Hamra zone. More than 70,000 ethnic Afar from Abala, Dalol, Golba, Erebti, Megale and Afedere areas of Afar region are thought to be displaced as a result of recent conflict (ESAT, 3 August 2021).
Diplomatic Breakdowns at a High Level
Diplomacy and attempts at intermediate actions in the context of the war with the TPLF have failed completely. In a visit to the country in early August, USAID Administrator Samantha Power quietly left the country without meeting with Prime Minister Abiy Ahmed (Reuters, 30 July 2021). A recent offer by the Sudanese government to negotiate a settlement was rejected by the Ethiopian government, which accused Sudan of not being neutral in the conflict (Office of the Prime Minister – Ethiopia, 5 August 2021). As a result, the Sudanese government recalled its ambassador to Ethiopia (Reuters, 8 August 2021).
The international community has distanced itself from Abiy, unimpressed by his flat-out denial of Eritrean presence and insistence less than a month ago that there was "no hunger in Tigray" (AP, 6 June 2021). Abiy has hit back at the international community, accusing them of "meddling in Ethiopia's internal affairs" (Reuters, 24 May 2021). The government insisted that it has the right to assign its regional forces anywhere in the country, while the US has insisted on the withdrawal of Amhara regional forces from the Tigray region (The Ministry of Foreign Affairs of Ethiopia, 17 May 2021; Secretary of State Antony J. Blinken, 15 May 2021).
Nonetheless, all parties involved admit that the Tigray region has reached an unprecedented level of need and people are suffering from a lack of food or government services. In a deeply polarized environment characterized by war bravado and militarization, it appears that civilians will continue to be the victims of the conflict.