By the Numbers: Ethiopia, 2 April 2018-1 October 20211
Figures reflect violent events reported since Prime Minister Abiy Ahmed came to power on 2 April 2018.
Total number of organized violence events:

2,031

Total number of reported fatalities from organized violence:

12,093

Total number of reported fatalities from civilian targeting:

5,603
By the Numbers: Ethiopia, 25 September-1 October 20212
Some events from this coverage period might be included in the data in subsequent weeks due to reporting delays.
Total number of organized violence events:

6

Total number of reported fatalities from organized violence:

16

Total number of reported fatalities from civilian targeting:

6
Ethiopia data are available through a curated EPO data file as well as the main ACLED export tool.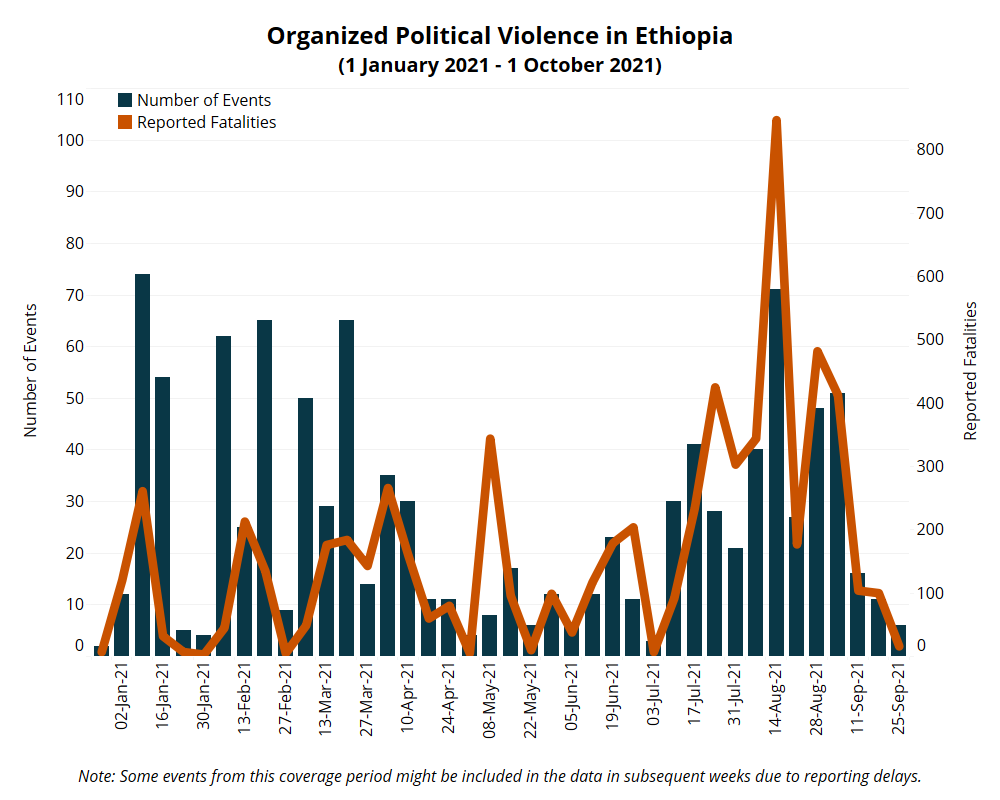 Situation Summary
Last week, fighting between Tigray People's Liberation Front (TPLF) forces and Amhara regional special forces, Ethiopian National Defence Force (ENDF) soldiers, and government-aligned communal militias continued in West Gondar, North Wello, and Central Gondar zones of Amhara region (see map below). Clashes between the warring parties in the Amhara region have slowed over the past two weeks, although there is evidence that government-allied forces are gearing up for a fresh offensive that will likely lead to increased conflict in the coming weeks (Sky News, 5 October 2021).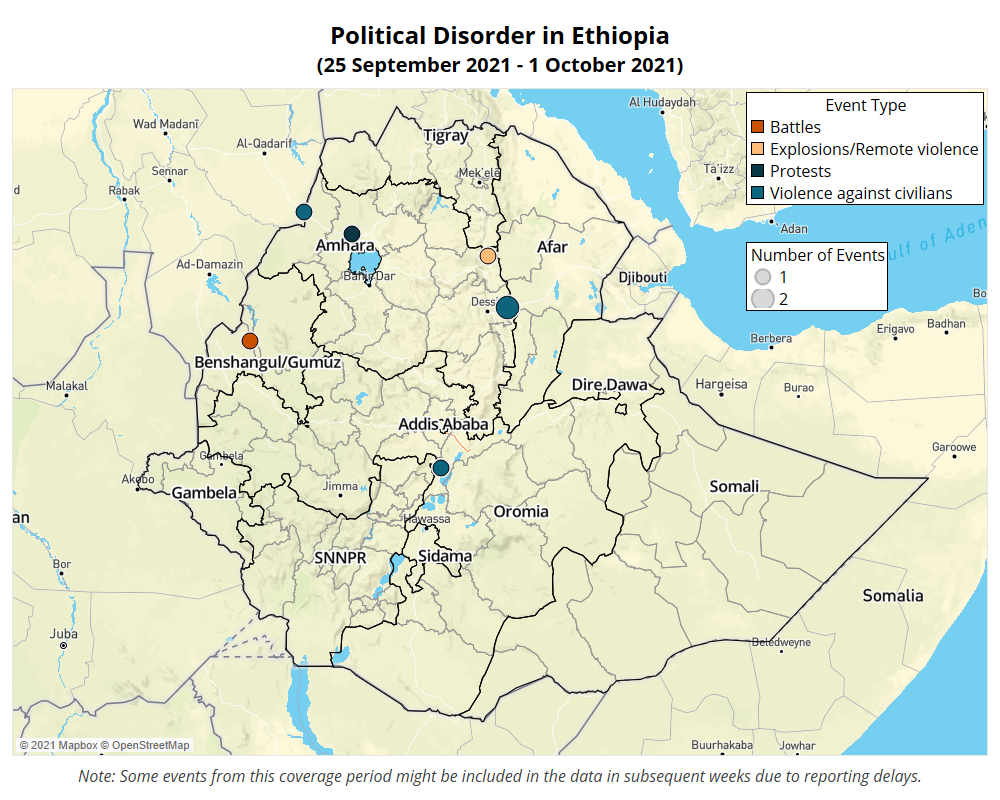 Also in the Amhara region, ethnic Afar militias reportedly attacked ethnic Oromo civilians near the Bati area in Oromia Special zone in the Amhara region. Clashes between pastoralist Oromo and Afar communities are common in the areas near Bati. Meanwhile, in the Oromia region's Arsi zone, unidentified militants assassinated the woreda administrator in Dugda woreda. Assassinations of government officials have been a common form of violence in parts of Oromia, especially in locations where Oromo Liberation Front (OLF)-Shane insurgents are active.
In Benshangul/Gumuz region, unidentified Gumuz militias attacked civilians in Mersha and Ekfet in Sedal district, kidnapping 145 ethnic Gumuz people and killing at least two. The group reportedly accused the kidnapped people of not supporting them. Security forces responded to the attack by clashing with the militants in a rural location nearby. Since 2018, Benshangul/Gumuz region has consistently been one of the more violent locations in Ethiopia. Overshadowed by conflicts seen as more politically relevant in Amhara, Tigray, and Oromia regions, the violent conflict in Benshangul/Gumuz region is often ignored. This is due to a lack of information about the situation, including specific information about the political militias active in the region. 
Weekly Focus: Ethiopia's Relationships with the International Community  
On 30 September 2021, Ethiopia's foreign minister announced the expulsion of seven senior United Nations (UN) officials, giving them 72 hours to leave the country (Reuters, 1 October 2021). High-ranking officials from both the United Nations Children's Fund (UNICEF) and the United Nations Office for the Coordination of Humanitarian Affairs (UNOCHA) have been expelled.
The latest diplomatic row represents a culmination of months of tension between the Ethiopian government and representatives of various UN organizations. UNOCHA's latest situation report, released shortly before the expulsions were announced, accused the government of Ethiopia of enacting a blockade in the Tigray region, preventing the delivery of fuel, currency, and medical supplies (OCHA, 23 September 2021). The Ethiopian government meanwhile has accused the expelled UN officials of diverting humanitarian materials to the TPLF, transferring communication to the TPLF, reticence in demanding the return of 400 trucks reportedly commandeered by the TPLF for military purposes, and the dissemination of misinformation and politicization of humanitarian assistance (The Ministry of Foreign Affairs of Ethiopia, 1 October 2021).
The decision to expel the officials was immediately denounced by the European Union (EU) and the United States (US), with both calling for a "reversal of [the] decision" (US Department of State, 30 September 2021). US President Joe Biden recently issued a new sanctions regime for Ethiopia on 17 September 2021, targeting Ethiopian officials for their role in perpetrating the conflict. EU officials cut Ethiopian budget support earlier this year. 
In contrast, Chinese officials urged officials from both Ethiopia and the UN to resolve their differences through dialogue (Reuters, 1 October 2021). An earlier statement by China's Deputy Permanent Representative to the United Nations in response to the announcement of US sanctions urged the international community to "fully respect the sovereignty and ownership of Ethiopia" in regards to the Tigray issue (Xinhua, 2 July 2021)
As Prime Minister Abiy Ahmed and his Prosperity Party (PP) form a new government, relations with the UN, the US, and the EU are at an all-time low. A combination of the conflict in Tigray (home of many important manufacturing and mining hubs), the global coronavirus pandemic, and struggles with inflation means that Abiy and other recently-inaugurated officials are also inheriting an economy with an increasingly negative outlook (Reuters, 24 September 2021). Challenges to the new regime are significant.
Regardless of tensions between the international community and Addis Ababa, African heads of state and African Union (AU) officials arrived in Addis Ababa to attend the inaugural ceremony of the new government of Ethiopia on 4 October 2021 (The Ministry of Foreign Affairs in Ethiopia, 3 October 2021). Planes landing at Bole International Airport on 3 and 4 October 2021 carried presidents and prime ministers from Somalia, South Sudan, Senegal, Uganda, Nigeria, Djibouti, Kenya, the Democratic Republic of the Congo, as well as the Algerian Minister of Foreign Affairs. Ethiopia has favored AU meditation in negotiations with Sudan and Egypt over disputes concerning the Grand Ethiopian Renaissance Dam (GERD). It will likely also favor AU-led initiatives in matters related to Tigray.  
In expelling UN officials, the federal government is indicating it believes it can militarily defeat the TPLF and will continue to be intolerant of any actions by foreign entities that may hamper their efforts to do so. These expulsions likely are just the beginning of a souring relationship. As long as officials in Addis Ababa truly believe that the UN is assisting the TPLF — despite the clear denials from the UN — efforts at providing humanitarian aid will be met with a hostile response.
Addis Ababa's ability to militarily defeat the TPLF is yet unproven. TPLF fighters are still holding significant territory throughout several zones in the Amhara region. Even if Ethiopian soldiers and Amhara regional forces are able to push the TPLF back into Tigray, governing the region has proven impossible in the past as seen in the failure of the federal government's appointed interim officials. A former interim official (and member of the Arena Tigray For Democracy and Sovereignty party, an opposition party that ran against the TPLF in Tigray) was charged last week with inciting violence in Addis Ababa (DW Amharic,  3 October 2021). As civilians in Tigray suffer in famine conditions, fighting between government forces and TPLF is likely to continue.
Election Update
Last week, on 30 September 2021, the sixth general election was held in Harari, Somali, and in some election constituencies in Southern Nations, Nationalities and Peoples Region (SNNPR) (specifically, 31 election constituencies in SNNPR for regional council seats and 22 election constituencies in SNNPR for House of Representatives) (NEBE, 16 September 2021). In addition, Konta Special woreda, West Omo zone, Bench Sheko zone, Dawro zone, and Sheka zone held a referendum deciding whether the aforementioned zones and special woreda would be allowed to form a new (eleventh) region of Ethiopia or continue to be administered under SNNPR. If the referendum passes when the outcome is announced on 10 October 2021, the new region will be called the South West region.
On election day and the following day, 42 election-day-related disputes were submitted to the National Electoral Board of Ethiopia (NEBE) (NEBE, 1 October 2021). Moreover, the Dukchi polling station in Moyale was closed due to security reasons (NEBE, 30 September 2021). Overall, the election day was peaceful in all three regions and there were no incidents of violence reported.
The sixth general election was not held in the Tigray region because of the ongoing conflict. Similarly, electoral activities did not take place due to security reasons in some areas like the Metekel and Kamashi zones of the Benshangul/Gumuz region. It is not clear when the election will be held in these areas. This, in turn, has created an obstacle to establishing a new government in Benshangul/Gumuz region because only 34 out of the 99 regional council seat elections have completed electoral activities. The ruling party only managed to win 28 seats while the outcome of six election constituencies was annulled. Starting on 4 October 2021, the mandate of the Benshangul/Gumuz regional government ends. It is disputed under which mandate the regional government will be able to continue governing the region.
Last week, Amhara, Afar, Sidama, SNNPR, and Gambela regional governments, as well as the Addis Ababa and Dire Dawa City councils, formed their new governments. Similarly, it is expected that Somali and Harari regions will establish their respective governments once the election outcomes from 30 September 2021 are announced by NEBE. The final election outcomes will be announced daily from 1 October through 10 October 2021. Any election-related disputes from voting on 30 September 2021 can be submitted to NEBE until 9 October 2021.