By the Numbers: Ethiopia, 2 April 2018-12 November 20211Figures reflect violent events reported since Prime Minister Abiy Ahmed came to power on 2 April 2018.
Total number of organized violence events:

2,204

Total number of reported fatalities from organized violence:

12,698

Total number of reported fatalities from civilian targeting:

5,816
By the Numbers: Ethiopia, 6-12 November 20212

Some events from this coverage period might be included in the data in subsequent weeks due to reporting delays.
Total number of organized violence events:

47

Total number of reported fatalities from organized violence:

140

Total number of reported fatalities from civilian targeting:

38
Ethiopia data are available through a curated EPO data file as well as the main ACLED export tool.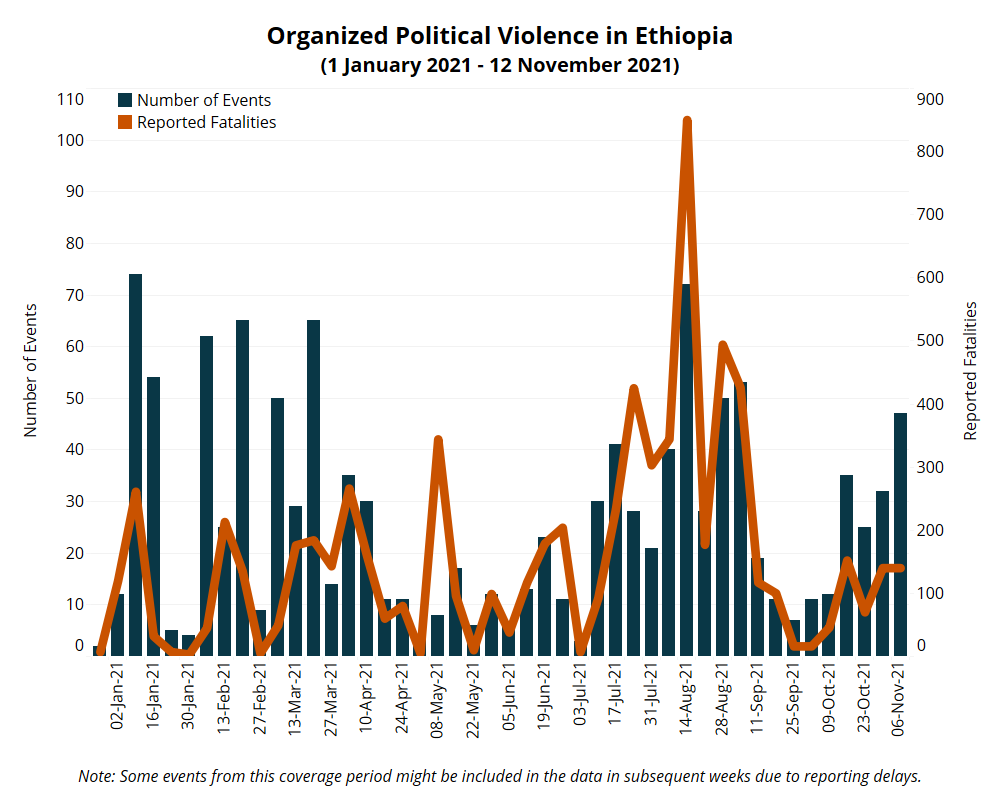 Situation Summary
Last week, intense clashes continued throughout the week between Tigray People's Liberation Front (TPLF) forces and the Ethiopian National Defense Force (ENDF) in the Oromo special zone of the Amhara region. Battles were fought in areas of Dewa Cheffa (Majete) and in areas surrounding Kemise (see map below). Oromo Liberation Army (OLA, also known as the Oromo Liberation Front (OLF)-Shane) militants were also reportedly present and fighting alongside TPLF forces against government forces. Additional fighting also occurred between TPLF forces and Amhara regional special forces and militias in the Wag Hamra zone (Qozeba Kebele). 
Fighting between TPLF forces and Afar militias and special police was also reported throughout the week. Despite several (false) claims that the strategic town of Mille had been taken, fighting is ongoing along the Kasa Gita/Burka front located east of Bati town (EBC, 14 November 2021). Fighting in the Afar region also continued throughout the Chifra area with little changes in territorial control on either side.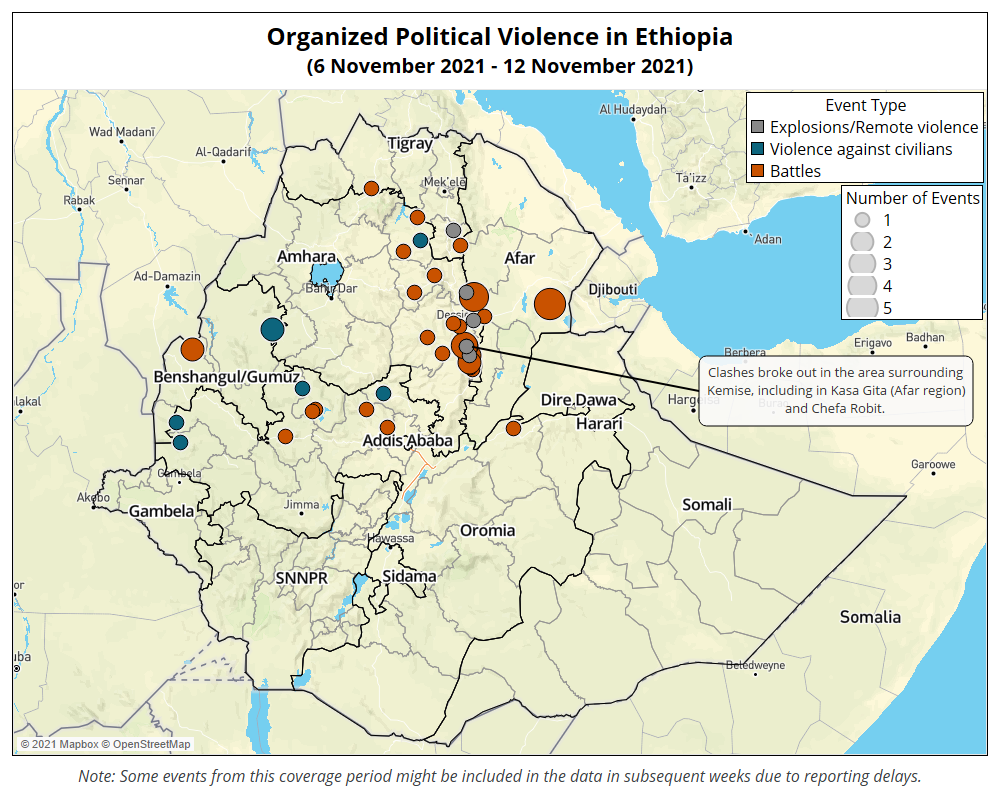 In Benshangul/Gumuz region, unidentified armed gunmen attacked civilians in Mandura town, Metekel zone, killing four people and wounding six others. According to reports, a subsequent security crackdown resulted in the deaths of 19 people. Significant violence against civilians and armed clashes have occurred in the area amid an armed insurgency led by the Benshangul People's Liberation Movement. According to government sources, last week, ENDF, Benshangul/Gumuz regional special forces, and local militias clashed with the Benshangul People's Liberation Movement in Sherkole woreda in the Asosa zone (EBC, 12 November 2021). Government sources often claim that the militants are being supported by the TPLF. 
Fighting intensified in western Oromia last week, with clashes reported between Ethiopian federal forces and allied Oromia regional special forces against OLF-Shane forces in East Wollega, West Shewa zone (Abuna Ginde Beret), and in Horo Guduru Wollega zone (DW Amharic, 13 November 2021). Civilians have reportedly fled due to fighting between OLF-Shane forces and government troops in Begi (West Wollega), seeking refuge in Benshangul/Gumuz region (EBC, 13 November 2021). 
Anti-TPLF protests throughout Ethiopia were reported during the week, with protests reported in Bule Hora (Oromia), Jigjiga (Somali), Arba Minch (Southern Nations, Nationalities and Peoples Region (SNNPR)), Worabe (SNNPR), Ambo (Oromia), Asela (Oromia), Hawasa (Sidama), and Bonga (SNNPR). Large pro-government rallies were held throughout the week in almost every major city, including the capital Addis Ababa. 
Weekly Focus: Arrests Reported Across Ethiopia as Conflict Intensifies 
As Ethiopia's State of Emergency laws have come into effect amid intensified fighting in Ethiopia's north and west, government police forces have cracked down hard on individuals with suspected links to the TPLF or OLF-Shane. While many support the government's aims in increasing security throughout the country, others are concerned that the government has targeted individuals based on identity and fear that anyone who expresses political differences could be targeted. Ethiopia's state of emergency laws allows authorities to arrest anyone without a warrant if there is "reasonable suspicion" of cooperation with "terrorist groups" (A State of Emergency Proclamation No 5/2021). Those arrested can be detained without judicial review for as long as the proclamation is in place, currently for six months (A State of Emergency Proclamation No 5/2021). 
In Harar city, 300 individuals with suspected links to OLF-Shane or the TPLF were arrested during the last week (DW Amharic, 11 November 2021). A significant number of arrests were also made in Hawassa (Sidama), Wolayta (SNNPR), Arsi Negele (Oromia), and Addis Ababa (EBC, 13 November 2021; Borkena, 14 November 2021; EBC, 16 November 2021). Seventy-two drivers working for the World Food Programme (WFP) were detained in Semera, Afar region (BBC, 10 November 2021). In Addis Ababa, accusations were leveled against the federal police of targeting ethnic Tigrayans in "ethnically motivated arbitrary arrests," an accusation that they deny (Amnesty International, 12 November 2021; Ministry of Foreign Affairs of Ethiopia, 12 November 2021). 
A crackdown on media agencies was also reported. In the Somali region, four journalists from Nabad TV were reportedly arrested shortly after the TV station was closed by government authorities (BBC Amharic, 13 November 2021). Nabad TV was founded by Filsan Abdullahi, the former minister of Women, Children, and Youth Affairs appointed in March of 2020. Filsan resigned from her position in the government in September 2021 citing "personal reasons" (Addis Standard, 28 September 2021). The Ethiopian Media Authority (EMA) issued a warning to private media last week asking journalists to consider the implications of reporting in Ethiopia's current environment (Addis Standard, 12 November 2021). The warning comes as journalists such as those from Ahadu Radio have been held in prison for weeks (Ethiopia Insider, 12 November 2021). 
Arrests of individuals and those associated with media outlets under Ethiopia's state of emergency laws represent a new tightening of political space. On one hand, Ethiopia's federal authorities are reacting to an ever-more dangerous security situation in which militants seek to overthrow the government. On the other hand, such actions may permanently damage the federal government's ability to be seen as a genuine partner in future democratic processes.