January at a Glance
Vital Stats
ACLED records 117 organized political violence events and 409 reported fatalities in January.

Oromia region had the highest number of reported fatalities due to organized political violence in January with 208 reported fatalities. Afar region followed with 60 reported fatalities.

In January, the most common event type was battles, with 73 events and 166 fatalities reported.
Vital Trends
Armed clashes between the Tigray People's Liberation Front (TPLF) and the Afar regional special forces and militias reignited in Kilbati Rasu-Zone 2 in the Afar region.

Armed clashes between TPLF forces and government forces continued at the borders of Tigray and Amhara regions.

Airstrikes conducted by the federal government in the Tigray region left several dozens of civilian fatalities.

Oromo Liberation Front (OLF)-Shane continued to clash with the Ethiopian National Defense Force (ENDF), Oromia regional special forces, and Oromia militias in different parts of the Oromia region.
In This Report
January Situation Summary

Monthly Focus: OLF-Shane Growth in Oromia Region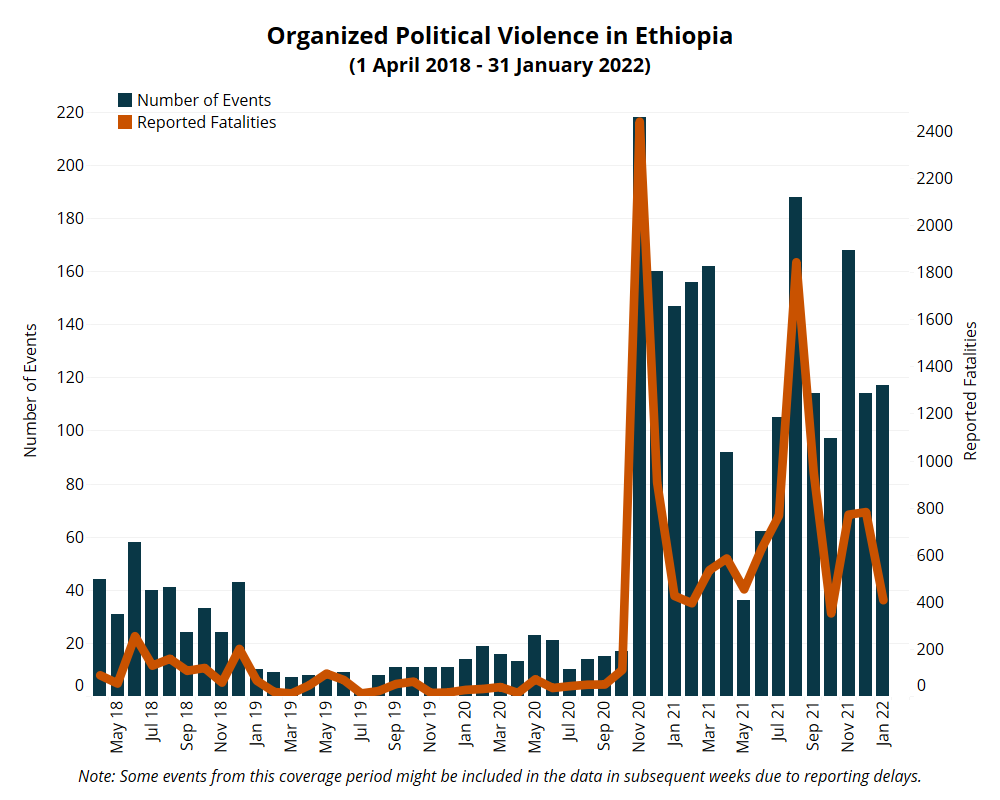 January Situation Summary
Last month, armed clashes continued throughout northern Ethiopia between the TPLF and forces associated with the federal government and the regional governments of the Afar and Amhara regions. On 13 January, TPLF forces shelled Abala town in Kilbati Rasu-Zone 2 in the Afar region. The shelling then expanded to the Magala area, and since 24 January, TPLF forces moved into the region and clashed with Afar regional special forces and Afar militias in Magale, Abala, Berahle, and Erebti in Kilbati Rasu-Zone 2. Regional administrators claim that more than 300,000 people have been internally displaced since the beginning of the armed clashes in January (DW Amharic, 7 February 2022; DW Amharic, 31 January 2022). TPLF leadership justified the ongoing conflict in Afar as "taking actions to neutralize the threat posed by the Red Sea Afar Force," which the TPLF believes is organized by Afar regional special forces and the Eritrean government (Tigray External Affairs Office, 25 January 2022). The Afar regional government has denied the existence of the Red Sea Afar force and Eritrean troops in the region (Ethiopian Broadcasting Corporation, 26 January 2022). 
Similarly, armed clashes between TPLF and government forces continued in North Gondar, North Wello, and Wag Hamra zones in the Amhara region. Most of these clashes are at the borders of the Tigray and Amhara regions. In January, armed clashes between TPLF and government forces were also recorded in the Western Tigray zone – Humera and Tsegede –, in the South Eastern Tigray zone – Milazat and Dandeia –, and in Southern Tigray zone – Timuga, Chercher, Korem, and Alamata (see map below). Moreover, the Ethiopian forces carried out airstrikes in the Mai-Aini refugee camp, Dedebit and May Tsemre in North-Western Tigray zone, Korem, and Maychew in Southern Tigray zone, Samre in South-Eastern Tigray zone, and in Mekele city. These airstrikes killed several dozen civilians, including internally displaced people and Eritrean refugees.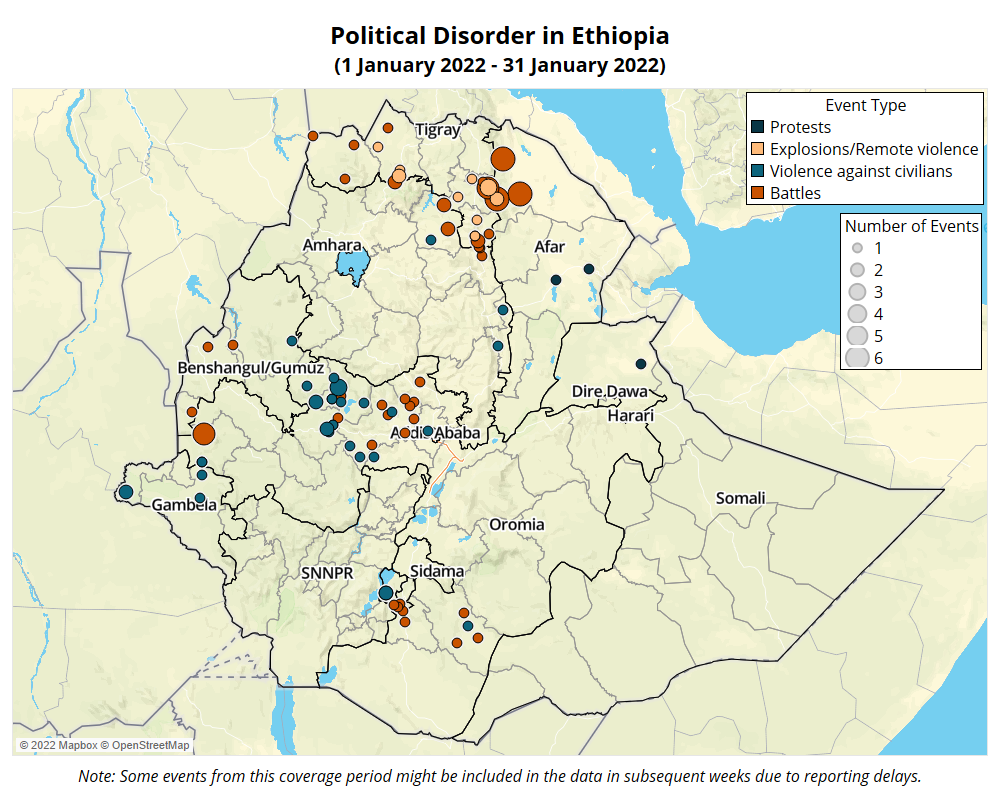 In the Oromia region, attacks against civilians and armed clashes continued throughout the month. In January, OLF-Shane and government forces clashed in East Wollega, Guji, West Guji, West Shewa, Kellem Wollega, Horo Guduru, and North Shewa zones in the Oromia region. Over 20 attacks against civilians were recorded in the Oromia region. Eleven of these attacks were conducted by OLF-Shane while six attacks against civilians were conducted by Amhara militias. Oromia regional special forces also shot and killed civilians in Burayu in Oromia special zone surrounding Finfinne, Geba Kemisa in Kellem Wollega zone, and Osole kebele in Jeldu woreda in West Shewa zone. Furthermore, on 13 January, ENDF soldiers shot and killed a member of the OLF party in Gindo kebele in Ameya woreda in South West Shewa zone after taking him out of public transport heading to Amaya from Woliso town.
In Benshangul/Gumuz region, two armed clashes and one attack against civilians were recorded in January. At the beginning of the month, forces associated with the TPLF clashed with ENDF, Benshangul/Gumuz region special forces, and militias around Gemed area in the Asosa zone. The same actors also clashed when TPLF-associated forces attempted to abduct civilians in Sadal woreda in the Kamashi zone, with over 30 fatalities reported in the clashes. On 18 January, an unidentified armed group clashed with federal police forces in Tongo in Mao-komo special zone. This group also looted and burned a refugee camp in the same town. Additionally, on 11 January, Amhara militias fired live bullets at four civilians in Dibate in the Metekel zone, killing one and wounding three women. The reason behind this attack is unknown.
Last month, members of the Murle militia from South Sudan conducted several attacks in the Gambela region, killing at least eight people, kidnapping children, and rustling cattle in Akobo woreda in the Nuwer zone. Militants also killed three people and wounded four civilians in the Agnewak zone. These attacks were recorded after almost one year of no reported activity by the group in Ethiopia. In another incident on 24 February 2021, the group clashed with a local militia in Bandera kebele in Dimma woreda in the Agnewak zone. The Murle militia members from South Sudan were mostly active in the region in 2017, with ACLED recording seven attacks targeting civilians in the Agnewak zone.
Monthly Focus: OLF-Shane Growth in Oromia Region
Activity by OLF-Shane – also known as Oromo Liberation Army (OLA) – has increased significantly over the past few months, culminating in January, when armed OLF-Shane forces took control of several locations in the south and west Oromia region. New territorial acquisitions in the month of January may indicate that the group is growing stronger and drawing on a wide base of support in rural and urban areas of the Oromia region. Although OLF-Shane does not control any major towns or highways, the taking and holding of territory by the group marks a new phase in the conflict in the Oromia region and could set the stage for more pronounced battles between government forces and OLF-Shane militants.
OLF-Shane fighters are currently aligned with other anti-government forces, including the TPLF and eight other groups as part of the United Front of Ethiopian Federalist and Confederalist Forces. Despite an overall reduction in activity by all its partners in the United Front, OLF-Shane forces continue to expand throughout the region. The OLF-Shane's relationship with other members of the United Front was explored in the EPO Monthly: November 2021 report.
In the last weeks of January, OLF-Shane forces took control of several woredas in the West Guji zone after battling local militias who were outgunned and quickly overwhelmed (VOA Amharic, 5 February 2022; Ethiopian Reporter, 23 February 2022). Furthermore, battles in the East Wollega zone during the month illustrated a previously unconfirmed depth of OLF-Shane control in areas like Nunu Kumba where 22 kebeles had been under the control of the group prior to a government offensive (EBC, 8 February 2022). In Gidami in the Kellem Wollega zone, Ethiopian government forces admitted they had lost control of the town over two months ago, only recently regaining control in a renewed offensive (DW Amharic, 14 February 2022). OLF-Shane forces are also in control of wide swaths of rural territory in West Wollega, Horo Guduru Wollega, and West Hararghe zones.
In January, the intense crackdown on OLF-Shane forces continued as security forces consolidated control over the Oromia special zone in the Amhara region after TPLF forces withdrew from the area in December 2021. Government officials state that at least 100 fatalities occurred and over 1,000 people were arrested as part of the crackdown in the zone. There were reports of abuses against the civilian population as well, with some reports indicating that dozens of civilians accused of supporting OLF-Shane were being shot and killed by security forces (Addis Standard, 15 February 2022). 
Information on territorial control is tightly restricted by government authorities, especially since a state of emergency was declared in connection to the northern conflict on 2 November 2021. According to the state of emergency, "[d]isseminating information on military maneuvers, war front updates and results via any medium is forbidden" (Reuters, 26 November 2021). Government resistance to reporting on OLF-Shane makes confirming events involving the group difficult, and poor infrastructure in rural areas where conflict is occurring contributes to difficulties faced by reporters in the area. On 1 December 2021, 14 members of the Kerrayyu Abbaa Gadaa – Kerrayyu traditional elders – were shot and killed by an unidentified armed group. An initial government report blamed their deaths on OLF-Shane militants, a claim contested by an early report released by Addis Standard (Addis Standard, 3 December 2021; BBC Amharic, 3 December 2021). An investigation carried out by the Ethiopian Human Rights Commission (EHRC) later found reasonable grounds to believe that the elders had been extrajudicially executed by members of Oromia regional special forces (EHRC, 2 February 2022). 
Intense battles were fought throughout the month as government forces attempted to regain territory controlled by the OLF-Shane. On 11 January, the administrator of the Horo Guduru zone claimed that forces under his command had killed 433 members of OLF-Shane, captured 115,  and arrested 623 people suspected of logistically supporting the group (Ethiopian Broadcasting Corporation, 11 January 2022).
A Propaganda War
Dominating the narrative surrounding the conflict is as important as military maneuvers for OLF-Shane's continued existence. Like other Oromo ethno-nationalist organizations, the OLF-Shane leadership seeks to capitalize on Ethiopia's many conflicts and challenges by pushing the original OLF party claims that Oromo independence and self-determination are the solutions to most of Oromia's political problems. In this sense, OLF-Shane leadership has successfully inherited the mantle of the OLF in gaining broad popular support among the Oromo population, especially in the west of the country. OLF values are so deeply embedded within Oromo society that any competition for political influence within the region must address issues of the Oromo language, culture, and land rights. Key to this narrative in Oromia today is the presence of state violence against civilians, which the OLF-Shane group frames as an extension of the oppression of Oromo culture under Ethiopia's past governments.
Prime Minister Abiy Ahmed highlighted this dynamic in a speech given to the House of People's Representatives in February, where he stressed that "the military strategy itself will not work by itself," pointing to the fact that ordinary civilians throughout rural Oromia were siding with the armed insurgency and giving OLF-Shane fighters refuge in their homes and farms (EBC, 22 February 2022). 
As OLF-Shane forces have expanded their operations, violence against civilians has become an increasingly common feature of the conflict between the OLF-Shane and government forces. In addition to the Kerrayyu Abbaa Gadaa elders killed by special forces, credible reports of extrajudicial killings by government forces have compounded public mistrust of government security forces. ACLED records over 40 instances of civilian targeting by security forces in Oromia in 2021. These, along with disappearances and lengthy detentions without charges have all played into OLF-Shane's narrative. Violence by security forces has been a focal recruitment point for OLF-Shane, who use these instances as evidence that the government will continue to seek out revenge on civilians (Twitter @OdaaTarbiiWBO, 8 January 2022). 
Violence is also a feature of government propaganda, which seeks to establish stability as a characteristic of a strong central government and opposite of what OLF-Shane forces have provided to populations under their control. OLF-Shane forces have also been accused of serious abuses of the civilian population, which are often featured in government-associated media outlets and particularly Amharic language news (ESAT, 27 January 2022). As part of the conflict, thousands of ethnic Amhara civilians have been killed and displaced by attacks carried out by the group. As instability has increased, Amhara militias formed in the Oromia region have fought back against attempts at displacement, attacking ethnic Oromo residents and destroying housing (OBN, 3 January 2022). In areas where the OLF-Shane operates, criminal activity is often rampant and ransom kidnappings, looting, and revenge killings have been reported. Government media point toward OLF-Shane for being responsible for security breakdowns that expose civilians to criminal behavior, both by members of the group and opportunistic criminals with no political agendas.
Political Dynamics: Playing Internal Divisions
The release of Jawar Mohammed, Bekele Gerba, and other members of the Oromo Federalist Congress (OFC) in January has the potential to change the dynamics of the conflict (New York Times, 7 January 2022). As highly respected members of the Oromo political elite that wield exceptional influence over the youth in the Oromia region, their release could indicate that ruling politicians are seeking to deprive the OLF-Shane of popular support by cutting deals with politicians that hold political sway. These deals could involve special conditions for participation in the upcoming national dialogue or negotiations with the TPLF and armed groups. Importantly, OLF party officials, from which the OLF-Shane officially separated in April 2019, remain in federal custody and are conducting a hunger strike in protest against their poor conditions in the prison (Addis Standard, 11 February 2022).
The extent to which this will succeed is difficult to determine. In 2018, Jawar Mohammed and other Oromo politicians now involved in the OFC failed to convince the OLF-Shane commanders to surrender to the Ethiopian federal government under Abiy Ahmed. Whether or not they could do so now is unclear.
While the political aims of many Oromo ethno-nationalist parties remain aligned with the OLF-Shane, the links that exist between the organizations appear to have been weakened. Factors involving the OLF-Shane's alliance with the TPLF and willingness to negotiate with the government for a political settlement will likely be difficult points to overcome should renewed relationships be established.