By the Numbers: Ethiopia, 2 April 2018-11 March 2022 1
Figures reflect violent events reported since Prime Minister Abiy Ahmed came to power on 2 April 2018.
Total number of organized violence events: 2,673
Total number of reported fatalities from organized violence: 15,150
Total number of reported fatalities from civilian targeting: 7,001
By the Numbers: Ethiopia, 5-11 March 2022 2
Some events from this coverage period might be included in the data in subsequent weeks due to reporting delays.
Total number of organized violence events: 20
Total number of reported fatalities from organized violence: 21
Total number of reported fatalities from civilian targeting: 15
Ethiopia data are available through a curated EPO data file as well as the main ACLED export tool.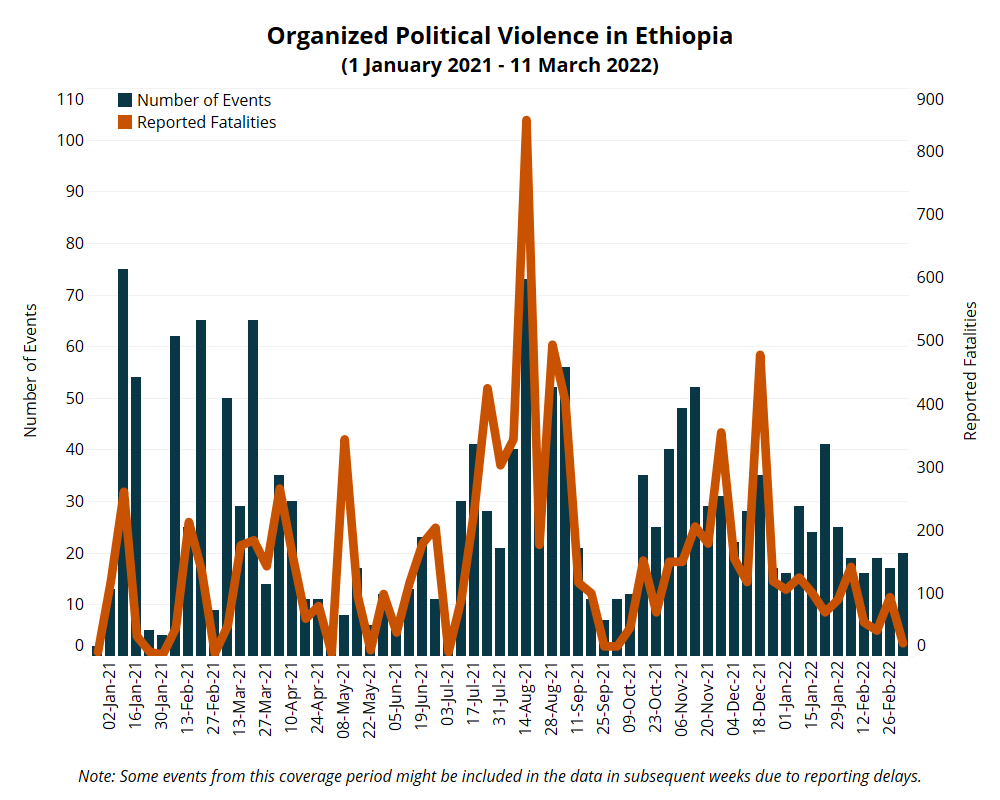 Situation Summary
Tigray People's Liberation Front (TPLF) forces and Afar regional special forces and militias continued to clash in Konneba, Abala, Magale, Erebti, and Dallol areas in Kilbati Rasu-Zone 2 in Afar region (see map below). The TPLF also clashed with Ethiopian National Defense Force (ENDF), Amhara regional special forces, Fano militias, and Amhara ethnic militias in Sekota area in Wag Hamra zone, Kobo woreda in North Wello zone, and Zarima woreda in North Gondar zone in Amhara region. On 7 March, TPLF forces clashed with Eritrean Defense Forces (EDF) around a disputed border area near Badme. In June 2018, the Ethiopian government decided to accept and implement the 2002 decision of the Eritrea-Ethiopia Boundary Commission which placed Badme in Eritrea (The Washington Post, 5 June 2018). Since last year, the TPLF has made several calls for all non-Tigrayan forces to withdraw from Tigray region. The EDF along with Ethiopian federal government forces and affiliated special forces and militias have been present in Tigray region since the conflict started in November 2020.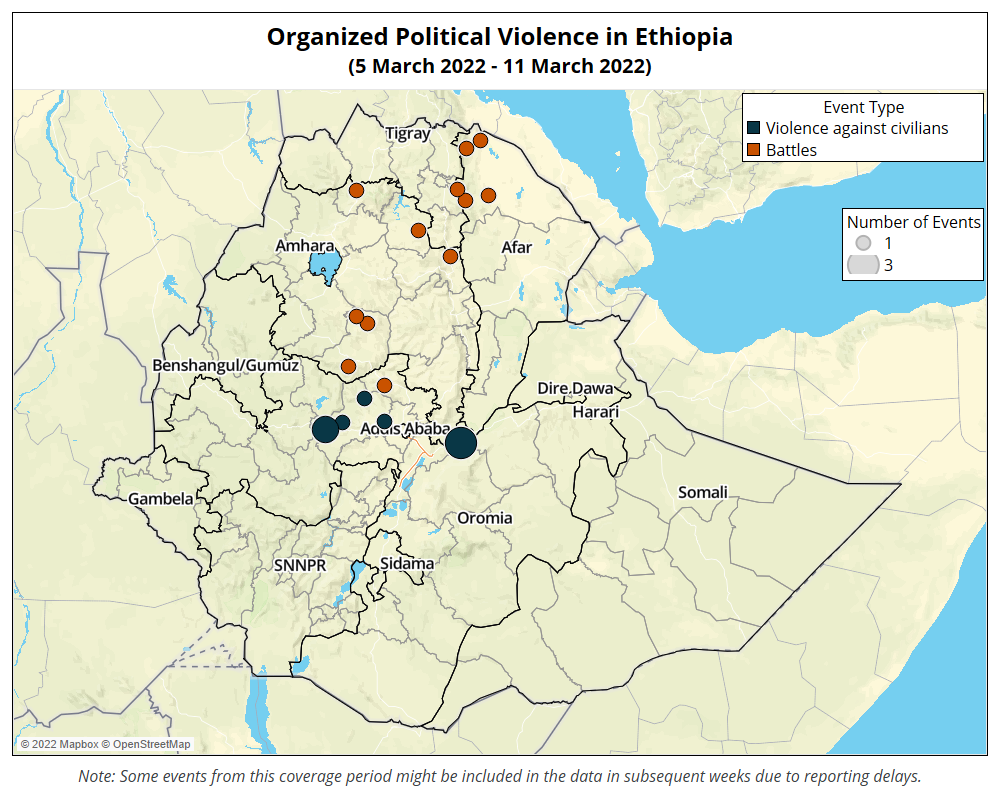 Last week, it was reported that hundreds of internally displaced Tigrayans from central Tigray began to arrive in Kobo town in Amhara region. A representative of the TPLF denied this and stated no Tigrayans are taking refuge in other regions or neighboring countries. The mayor of Kobo town stated that the town is currently hosting more than 50,000 internally displaced Amharas from Waja, Temuga, and Alamata areas in Southern Tigray zone (VOA Amharic, 10 March 2022). Previously, most internally displaced Tigrayans were settled in Tigray region. At the moment, the only humanitarian assistance delivery access to the region is through air deliveries from Addis Ababa Bole airport to Mekelle. Renewed conflict on the Semera-Abala route in Abala town and Southern Tigray has rendered the delivery of aid by trucks impossible, and no humanitarian assistance by road has been delivered since 15 December 2021 (UNOCHA, 3 February 2022; VOA Amharic, 24 January 2022). Humanitarian convoys used to travel through the Semera-Abala main road to deliver humanitarian supplies to Tigray region.
Moreover, last week, members of Fano militia clashed with Amhara regional special forces in Mota town, Yejube, Biwegn, and Gindewoin in East Gojam zone following the arrest of a Fano leader by government forces after he refused to stop training Fano members (Wazema Radio, 7 March 2022). In Mota, four regional police officers were reportedly killed and six others injured in the shootout. The administrator of East Gojam zone denied rumors of security forces disarming Fano militia members and promised to investigate the armed clashes in Mota and its surrounding area (Amhara Media Corporation, 10 March 2022). At the end of January, the government indicated its interest in absorbing irregular militias into a recognized command of the security sector (Fana Television, 28 January 2022). Irregular militias in Amhara region, including the Fano militia, were armed and trained for the purpose of combating the TPLF in the region.
Civilians continued to be attacked by different actors in Oromia region. Last week, eight attacks against civilians were recorded by ACLED. Two of these attacks were perpetrated by the Oromo Liberation Front (OLF)-Shane. Three other attacks were conducted by Amhara militias. On 8 March, the OLF-Shane attacked and reportedly killed seven civilians in Obera Keraro kebele in Illu Galan woreda in West Shewa zone. The attack continued the next day in and around Ejaji town. Elsewhere in Oromia region, from 5 to 7 March, Amhara and Fano militias shot and killed an unknown number of Karayyu pastoralists in Koran Googo and Korkora Muli villages in Fentale woreda of East Shewa zone. Additionally, on 10 March, an unidentified armed group killed a civilian associated with the ruling Prosperity Party in Kegni, and a police officer and his driver in Meti in West Shewa zone. Previously, Abba Torbe – a group affiliated with the OLF-Shane – assassinated government officials in Oromia region. It is not clear whether the killings last week were committed by this group.
Extrajudicial killing by security forces also continued. On 9 March, Oromia regional special police shot and killed a father and son in Kalate in Abuna Gindeberet woreda in West Shewa zone. The victims had been detained on the accusation of hiding one of their family members who is allegedly a member of the OLF-Shane rebel group. In Gambela region, members of the Sudan People's Liberation Army-in-Opposition (SPLM-IO) armed group from South Sudan attacked civilians in Lare and Jikawo woredas in Nuer zone, near the border between Ethiopia and South Sudan. The attack resulted in one reported fatality and six casualties, as well as the displacement of over 9,500 civilians, including the South Sudanese. The group also looted properties and the Ethiopian and regional flags from these areas. The regional government stated that this attack occurred after SPLM-IO forces clashed with South Sudan military forces along with the Ethiopia and South Sudan border areas (Gambella Regional Government Press Secretariat Office, 13 March 2022).
Lastly, on 5 March, police arrested 35 members of the Balderas for True Democracy party on the accusation of inciting disturbance while they were heading to celebrate the Karamara victory celebration in Addis Ababa. On the same day, Oromo students at Addis Ababa University gathered on Sidist Kilo campus and protested against leaflets distributed on campus, containing hateful and derogatory terms against the Oromo ethnic group (OMN, 5 March 2022). Later in the week, on 11 March, a group of visually impaired ethnic Oromo youths with university degrees gathered in front of the Addis Ababa Stadium, and marched to the office of Oromia regional state president at Mesqel Square in Addis Ababa, denouncing the alleged discriminatory recruitment policy of the regional government. The Oromia regional special police intervened and dispersed the protestors.
Weekly Focus: Has Conflict in Metekel Zone Become Ethiopia's New Proxy War?
Conflict in the north between the TPLF and ENDF has slowed over recent weeks. While the TPLF is still engaged in heavy fighting against forces loyal to the governments of Afar and Amhara regions, events involving the ENDF have significantly dropped over the last two months.
This lull in fighting comes amid rumors of negotiations, fatigued troops on both sides of the conflict, and a territory stalemate. Despite the relative quiet along the northern fighting lines, violence continues to occur throughout other parts of the country, reflecting deeply set security challenges.
Coinciding with this drop-in clashes in Ethiopia's north has been an uptick in violent conflict in Benshangul/Gumuz region. On 2 March, unidentified gunmen ambushed a vehicle transporting visitors to the Grand Ethiopia Renaissance Dam (GERD) around the Africa Agriculture Development area between Dangur and Guba woredas in Metekel zone, killing 20 Ethiopian military soldiers, including a high-ranking commander, and three civilians. Federal troops, along with regional forces from the Amhara and Southern Nations, Nationalities and Peoples Region (SNNPR) responded to the ambush the next day and killed 30 of the alleged assailants. Eleven other people, including ethnic Gumuz bystanders and Tigray civilians accused of providing information on security movements, were arrested at a location near the incident and executed by security forces. At least one of these men was recorded being burned alive, sparking an outcry over the conduct of Ethiopian security forces (EHRC, 13 March 2022).
Peace in Metekel zone of Benshangul/Gumuz region has continued to elude the federal government, despite a huge number of resources invested into both political and military solutions. In many ways, the conflict in this location reflects the wider dimensions of political violence throughout Ethiopia. Historic land issues and administrative boundaries have intermittently flared up over the past three decades, with local conflicts exacerbated by wider national political issues that came to the forefront  at the outset of Prime Minister Abiy Ahmed's tenure.
These dynamics have intersected at Metekel zone and created one of the most complicated and violent locations in the country, with over 1,300 reported fatalities over the past two years (see map below). At the core of the conflict are contests over the fertile land in Metekel zone. Indigenous groups accuse 'highlanders' ('settlers') – Oromo, Amhara – of forcibly taking their lands, and have responded violently by attacking farmers and destroying houses. In September 2020, a federal command post was established, officially making security a federal priority of the national military (Awash Post, 24 August 2021). Despite this designation, the conflict has continued.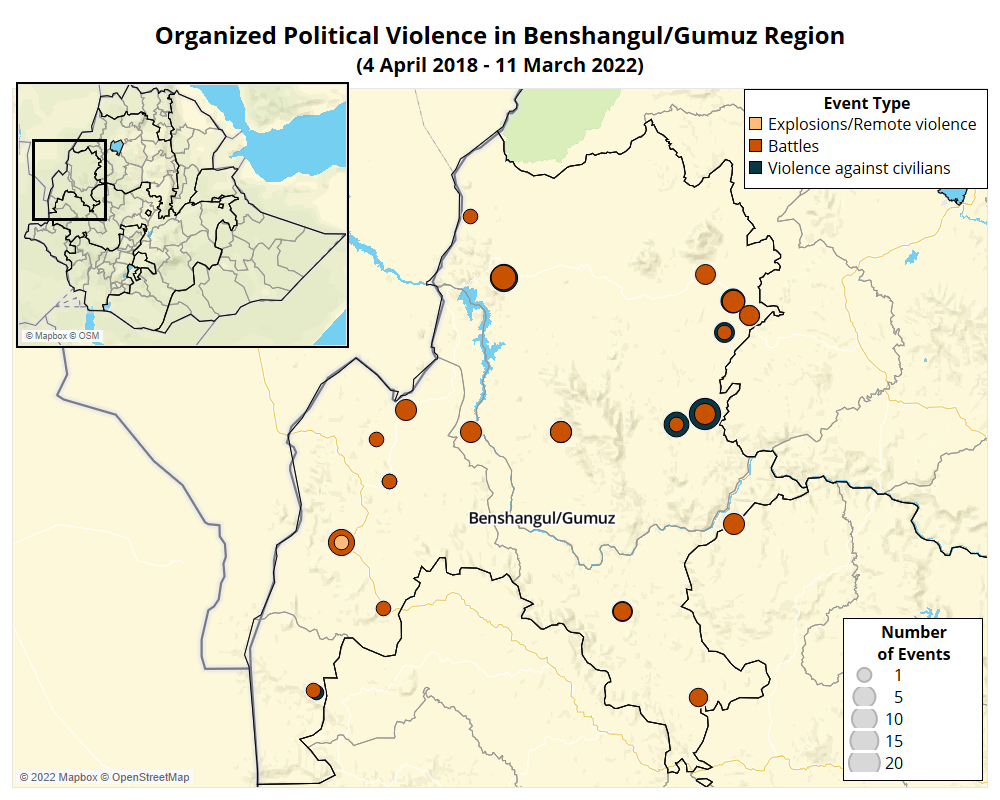 The issues go beyond land disputes, and the ethnic ties that local conflict parties have to wider societies in Ethiopia have made the region a location of proxy conflict. Like in Western and Southern Tigray zones of Tigray region, there is a significant amount of territory in Metekel that is claimed as historically belonging to ethnic Amharas, who consider its status as a zone within Benshangul/Gumuz regional state as evidence of the TPLF's desire to reduce the available resources of Amhara region (DW Amharic, 3 October 2020). This status makes Metekel zone a political priority for Amhara ethno-nationalist organizations like the National Movement of the Amhara (NaMA). Amhara forces in Metekel zone often operate in tandem with local Amhara ethnic militias, and in some cases, Fano youth militias. At least one of the many anti-government militias active in the region – the Gumuz Liberation Front – is openly aligned with the OLF-Shane and TPLF.
If these dynamics weren't complicated enough, the region also hosts one of the most expensive infrastructure projects in Ethiopian history, the controversial GERD, a $4.2 billion project that began producing electricity last month (France24, 19 February 2022). Soldiers killed in the 2 March bus attack were reportedly escorting a vehicle transporting visitors to the GERD project site. Metekel zone also includes a portion of Ethiopia's long and porous border with Sudan.
In September 2021, the head of Benshangul/Gumuz peacebuilding and security affairs bureau admitted that special forces from Amhara, Gambela, SNNPR, and Sidama regions were carrying out peacekeeping missions along the command post led by the ENDF in the region (Addis Standard, 15 September 2021). Their continued presence, as revealed by the EHRC report, indicates all regions in Ethiopia have an interest in the outcome of the conflict in Metekel zone.
Violence in Metekel is part of the wider national conflict in Ethiopia and reflects both local, regional, and even international disputes. Until these wider issues are resolved, Metekel will continue to be a location for proxy conflict and violence will continue.