By the Numbers: Ethiopia, 10 December 2021-6 January 2023
Total number of political violence events: 1,350
Total number of reported fatalities from political violence: 7,449
Total number of reported fatalities from civilian targeting: 3,303
By the Numbers: Ethiopia, 10 December 2022-6 January 20231
Some events from this coverage period might be included in the data in subsequent weeks due to reporting delays.
Total number of political violence events: 57
Total number of reported fatalities from political violence: 155
Total number of reported fatalities from civilian targeting: 88
Ethiopia data are available through a curated EPO data file as well as the main ACLED export tool.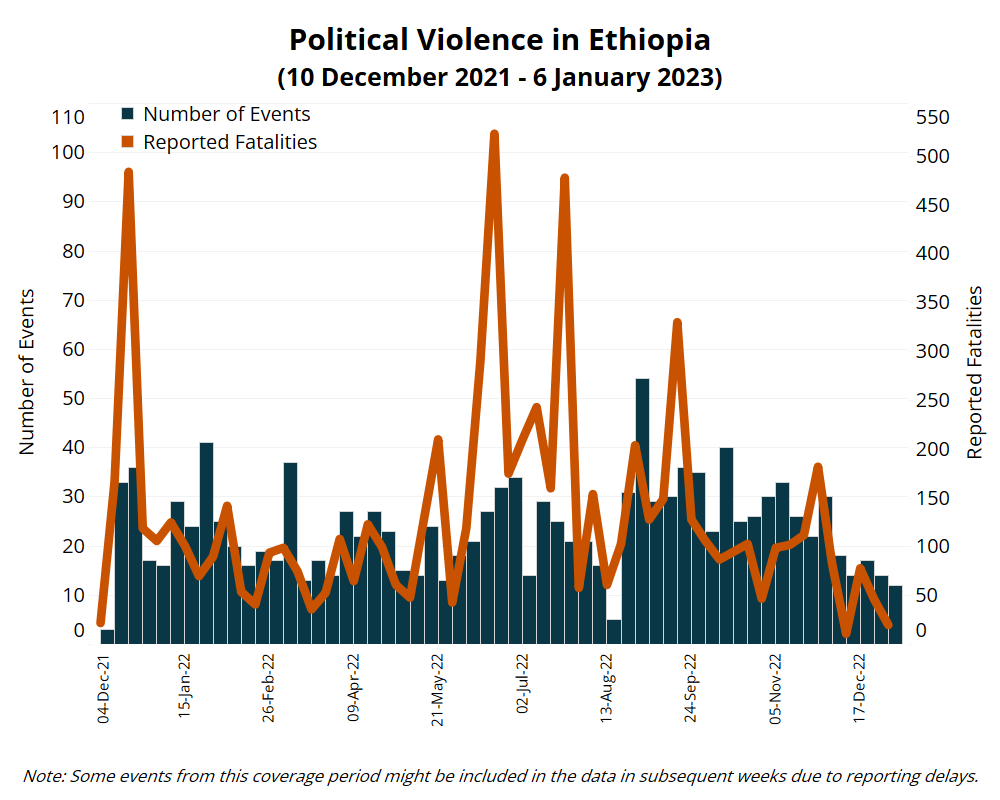 Situation Summary
In the past four weeks, Oromia remained the most volatile region in the country, while humanitarian aid and basic services improved in Tigray region.
Senior commanders of the Ethiopian National Defense Force (ENDF) and Tigray People's Liberation Front (TPLF) forces – also known as Tigray Defense Forces (TDF) – met for the second time in Nairobi, Kenya and signed the Term of Reference of the Joint Monitoring, Verification and Compliance Mechanism on 22 December following two days of consultative meetings.2African Union, 22 December 2022 According to Uhuru Kenyatta, the former president of Kenya and a member of the African Union (AU) negotiation team, "the parties agreed on this to give the monitoring and verification team of the AU full access, a 360-degree viewpoint, to ensure all the elements of the agreements are actually going to be implemented."3The Reporter Ethiopia, 24 December 2022 The senior commanders also discussed the implementation of the disarmament, demobilization and reintegration process. They formed a joint committee consisting of one representative from each conflicting party, the Intergovernmental Authority on Development (IGAD), and presided over by the AU High Panel. The Joint Committee is in charge of ensuring that the TPLF's weapons are stored in locations designated by the ENDF, making the TPLF disarmament complete, and guaranteeing that no acquisition, resupply, or transfer of ammunition and weapons, or unauthorized movement of military equipment, could be done by TPLF combatants.4The Reporter Ethiopia, 24 December 2022
Following this agreement, on 26 December, high-level representatives of the federal government, including various ministers and members of the National Dialogue Commission and led by the speaker of the House of People's Representatives, visited the capital city of Tigray region, Mekele. During this visit, the representatives met with TPLF leaders to discuss and oversee the implementation of the peace agreement signed on 2 November 2022.5The Ministry of Foreign Affairs of Ethiopia, 26 December 2022 Members of the AU negotiation team, Olusegun Obasanjo and Uhuru Kenyatta, along with the minister of justice, executive secretary of IGAD, and 32 ambassadors of different countries, visited Mekele on 29 December. During this visit, they reviewed the implementation of the peace agreement and announced the establishment of the AU Monitoring, Verification and Compliance Mission (AU-MVCM) in Mekele.6BBC Amharic, 29 December 2022; African Union, 29 December 2022 The AU-MVCM team was deployed in Mekele on 4 January 2023.7African Union, 5 January 2023 The AU-MVCM was established based on Article 11 of the Permanent Cessation of Hostilities Agreement signed on 2 November 2022, and is in charge of monitoring the implementation of the peace agreement and reports to the Joint Committee.8The Ministry of Foreign Affairs of Ethiopia, 4 November 2022
On 29 December, members of the federal police entered Mekele to control federal institutions like the airport, Ethio Telecom, and banks in the city.9Ethiopian Federal Police, 29 December 2022 It was also reported that on 30 December 2022, the Eritrean Defence Forces were seen withdrawing their heavy weapons and troops from Aksum and Shire to the borders between the two countries.10Reuters, 30 December 2022; BBC Amharic, 30 December 2022 ENDF and TPLF sources reported that on 10 January, TPLF forces handed over their heavy weapons to members of the ENDF in Agula area in Eastern Tigray zone,11FDRE Defense Force, 11 January 2023; Twitter @reda-getachew, 10 January 2023 while another report indicated that this occurred on 29 December 2022.12EMS, 30 December 2022
Concerns about Eritrean troops looting and perpetrating violence against civilians have been widespread throughout the conflict.13AP News, 28 May 2021 Reports of Eritrean soldiers looting houses and businesses in Tigray continued in December despite the signed truce.14Reuters, 2 December 2022 On 28 December, the prime minister's security advisor, Redwan Hussen, stated that Eritrea's assistance to Ethiopia's federal forces during the northern conflict remains in effect as the TPLF is "a common enemy of" the Ethiopian government and Eritrea "until it is disarmed." Hussen also decried what he viewed as double standards of the "parties," who insisted on the withdrawal of Eritrean forces.15Ethiopian Reporter, 1 January 2022 He stated these during a consultation meeting on the peace agreement with various members of the opposition parties.
Humanitarian aid continued to be delivered to Tigray region via four corridors through Afar and Amhara regions. According to a recent United Nations Office for the Coordination of Humanitarian Affairs report, between 15 November and 30 December 2022, "the Government of Ethiopia and humanitarian partners have transported 2,740 trucks or more than 101,700 metric tons (MT) of food and 309 trucks or 10,840 MT of non-food supplies."16United Nations Office for the Coordination of Humanitarian Affairs, 5 January 2023 However, residents of Abergele and Tsagibji woredas in Wag Hamra zone in Amhara who were affected by the conflict continue to call for humanitarian assistance. According to the administrator of Abergele woreda, 37,000 residents of the woreda are internally displaced and in need of humanitarian assistance.17 DW Amharic, 29 December 2022 A report indicated that more than 67,000 residents of both woredas require urgent humanitarian assistance.18Ethiopian Reporter, 4 January 2023 These woredas are reportedly under the control of TPLF forces.
Basic services have also been restored in some parts of the region. Telecommunications and electricity have been restored in Afar, Amhara, and Tigray regions, including in Adi Arkey, Kobo, Abala, Wikiro, Mekele, Rama Shire, and Aksum.19Ethio Telecom, 28 December 2022; DW Amharic, 29 December 2022 According to Ethio Telecom, communication services have been restored in over 50 towns in these three regions.20Ethio Telecom, 28 December 2022 On 2 January 2023, Wegagen Bank – a private bank – officially resumed banking services in Mekele, although there is a daily withdrawal limit of 2,000 birr (around 37 US dollars).21Ethiopia Insider, 2 January 2023; United Nations Office for the Coordination of Humanitarian Affairs, 5 January 2023 The government-owned Ethiopian National Bank restarted operations in Shire, Alamata, and Korem towns on 19 December 2022.22Ethiopian Broadcasting Corporation, 19 December 2022 Ethiopian Airlines also resumed the first commercial passenger flights from the capital city, Addis Ababa, to Mekele on 28 December 2022, and Shire on 2 January 2023, after 18 months.23Ethiopian Airlines, 27 December 2022; Ethiopian Airlines, 29 December 2022; Fana Television, 3 January 2023 Additionally, by the end of December 2022, the Ethiopian Energy Authority gave permission to 14 fuel distributors to transport fuel directly from Djibouti port to Tigray region.24DW Amharic, 29 December 2022 Previously, the humanitarian aid agencies were transporting fuel to the region.
In Oromia region, battle events involving the Oromo Liberation Front (OLF)-Shane, government forces, and Amhara ethnic militias, as well as violence targeting civilians, continued. From 10 December 2022 to 6 January 2023, 24 battle events were recorded in the region (see map below). Twenty-three battle events were recorded between OLF-Shane and government forces in Borena, Guji, North Shewa, Southwest Shewa, West Guji, West Hararge, West Shewa, and West Wollega zones. The OLF-Shane was also involved in armed clashes at the border of Oromia and Afar regions. On 24 and 25 December, the OLF-Shane and Afar ethnic militias clashed after members of the OLF-Shane shot at two Afar youths around Awash National Park at the border of Afar and Oromia regions. The youths had crossed the border to search for two lost camels. Four people were reportedly killed due to these clashes. In December, government forces regained control of an unspecified number of kebeles in Gelana woreda in West Guji zone after clashing with members of the OLF-Shane. Similarly, at the beginning of January, the ENDF reported that its forces regained control of seven kebeles in southern Oromia, which has been under the control of the OLF-Shane for "years."25FDRE Defense Force, 3 January 2023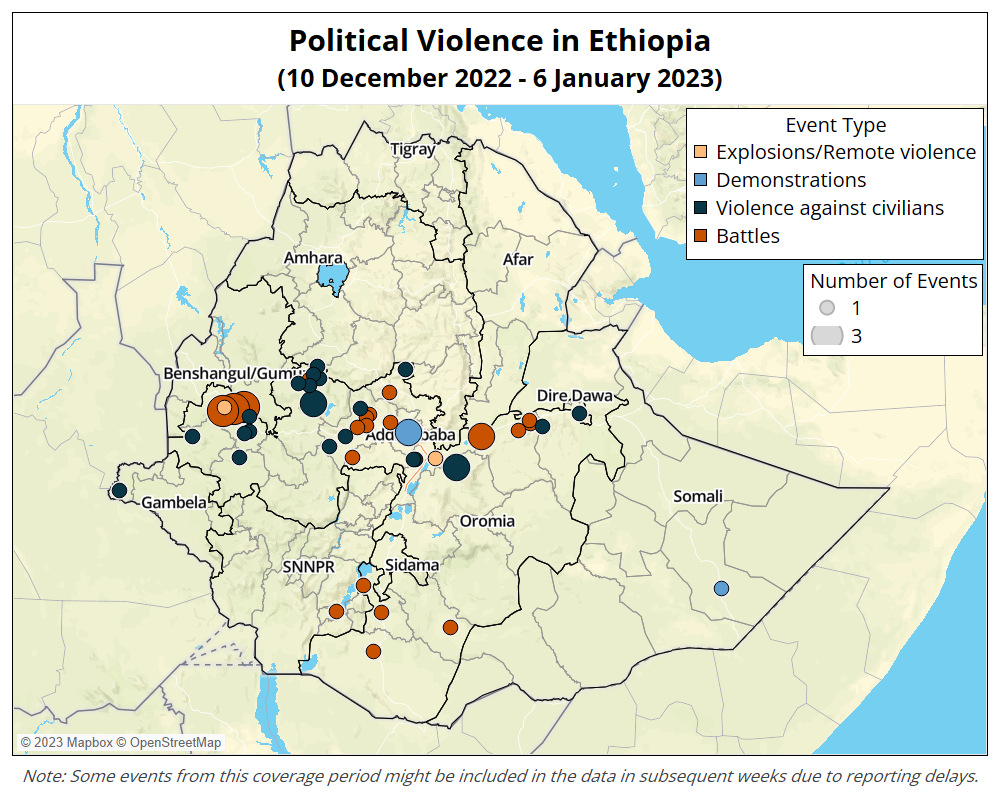 Over the past four weeks, only one battle event was recorded between Amhara ethnic and Fano militias and government forces – the ENDF and Oromia regional special forces – in East Wollega zone in Oromia region. The number of battle events involving Amhara ethnic militias, also identified as Fano by local residents, has decreased compared to the period between mid-November to the beginning of December 2022. Around 21 December 2022, Oromia regional special forces arrested around 60 ethnic Amhara militiamen in Gutin in Gida Ayana woreda in East Wollega zone after accusing them of being involved in the recent round of violence in the area.
Violence targeting civilians also continued in the region. From 10 December 2022 to 6 January 2023, 20 violence targeting civilian events involving government security forces, the OLF-Shane, Amhara ethnic militias, and Fano militias were recorded in Oromia region. Government security forces – the ENDF, Oromia regional special forces, and kebele militias – were involved in extrajudicial killings in Arsi, East Hararge, East Shewa, Finfine special, Ilu Aba Bora, Kellem Wollega, West Shewa, and West Wollega zones, resulting in 31 reported fatalities. Members of the OLF-Shane were involved in one violence targeting civilian event that occurred in West Shewa zone resulting in one reported fatality. Most of the violence targeting civilian events perpetrated by Amhara ethnic militias and Fano militias were recorded in western Oromia – namely, Horo Gudru Wollega, East Wollega, and North Shewa zones –, resulting in 23 reported fatalities.
Demonstrations and clashes in connection with the hoisting of the Oromia regional flag and the singing of the regional anthem continued in Addis Ababa until mid-December. On 12 December, unrest erupted between Oromo students and parents on the one hand and other students and their parents on the other hand at Wondirad Secondary School in Kotobe in Lemi Kura Kifle Ketema over the hosting of the Oromia regional flag. On the same day, similar unrest broke out at Entoto Amba School in Shiro Meda area in Gulele Kifele Ketema. Two days later, on 15 December, Oromo students clashed over the hosting of the Oromia regional flag with other students of the Kelem Worek School in Gulele Kifele Ketema. Due to these clashes and the security forces' attempt to stop the unrest, an unidentified number of people were injured. It was reported that Addis Ababa Police arrested 570 students in connection with the unrest.26 ESAT, 21 December 2022 The students were released on 21 December. A few students still remain in detention.
In Amhara region, more than 300 members of the Qemant Committee Militia surrendered peacefully on 22 December after the traditional and religious leaders facilitated a talk with the government in which they discussed the peaceful surrender of the group and the participation of its members in the integration training provided by the government.27Amhara Media Corporation, 21 December 2022 A few days earlier, on 18 December, members of the OLF-Shane shot and killed 10 ethnic Amhara civilians around the Abay river bridge in Bure in West Gojam zone. The victims were among a group of 16 people carrying their grandmother from Kiremu, Oromia region, to a medical center in Amhara region.