By the Numbers: Ethiopia, 14 January 2022-20 January 2023
Total number of political violence events: 1,264
Total number of reported fatalities from political violence: 6,515
Total number of reported fatalities from civilian targeting: 2,702
By the Numbers: Ethiopia, 14-20 January 20231
Some events from this coverage period might be included in the data in subsequent weeks due to reporting delays.
Total number of political violence events: 13
Total number of reported fatalities from political violence: 17
Total number of reported fatalities from civilian targeting: 9
Ethiopia data are available through a curated EPO data file as well as the main ACLED export tool.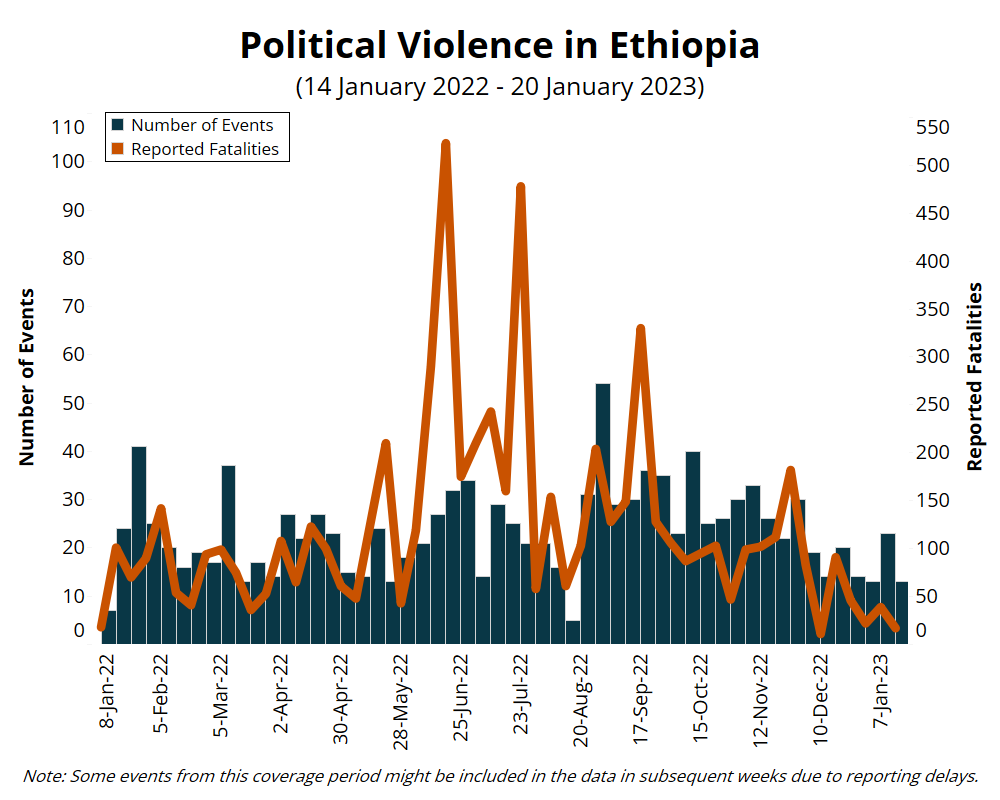 Situation Summary
Last week, armed clashes between government forces – the Ethiopian National Defense Force (ENDF) and Oromia regional special forces – and the Oromo Liberation Front (OLF)-Shane continued in Oromia region while Eritrean forces withdrew from key towns in Tigray region. Clashes between government forces and the OLF-Shane were recorded in Gamo Waliso and Bada Gora kebeles in Liban Jawi woreda and Seyo area in Dano woreda in West Shewa zone in Oromia (see map below). The two parties clashed in these areas for five days, starting from 11 January until 15 January.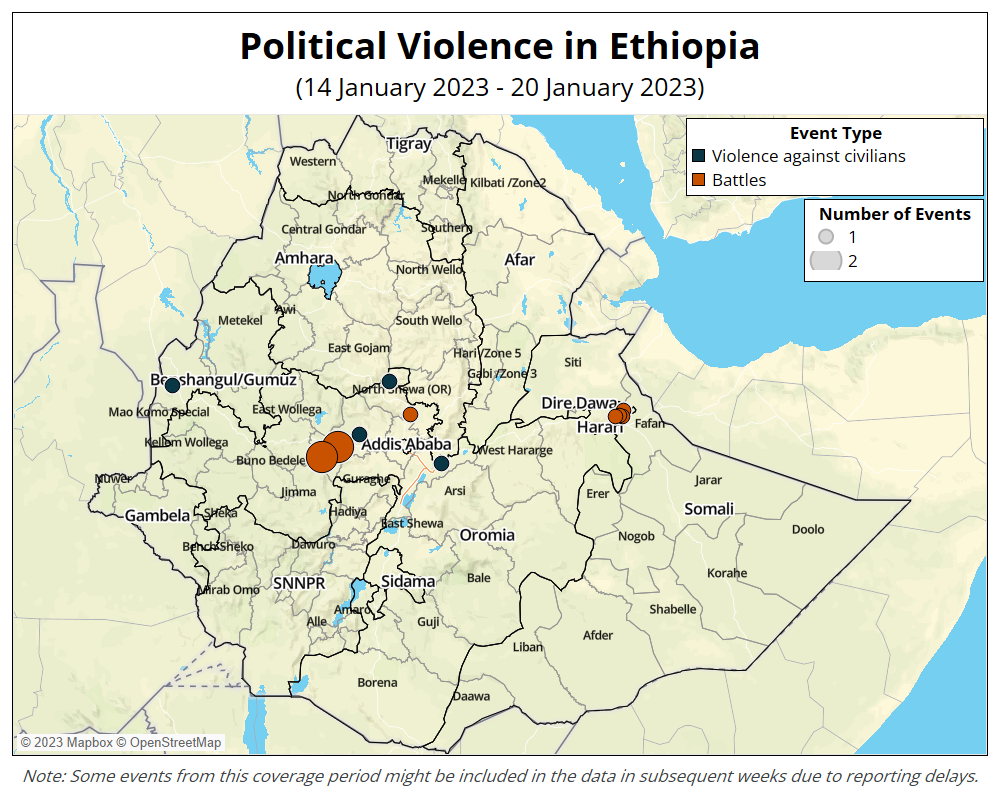 Member of the OLF-Shane also entered Muke Turi town in North Shewa zone and killed two police officers on 19 January. These officers were killed when they tried to stop members of the OLF-Shane from looting the properties of the local residents. Also in Oromia region, between 13 to 16 January, Somali ethnic militias clashed with Oromo ethnic militias in Tulu Guled, Fefem, Chafe Badu, Merar, and Hosale kebeles in Chinaksen woreda in East Hararge zone. Due to these clashes, three militiamen were killed, and eight others were wounded.
The Ethiopian government communication minister stated last week that the government is taking "all-inclusive measures" – both political and military measures – against the OLF-Shane in Oromia region to bring more stability in the region as well as in the neighboring regions.2EBC, 18 January 2023 According to the minister, the government is ready to reintegrate those members of the group who surrender peacefully into society, and will take military action against those who refuse to accept the government's call to surrender. The minister blamed the OLF-Shane for the failure of previous attempts to resolve the conflict peacefully. In November, Oromia regional officials stated that they would not negotiate with the OLF-Shane due to its lacking of a "chain of command" and "divisions along regionalism," also pointing out that the group is "unorganized and lacks purpose and leadership organization."3Addis Standard, 29 November 2022 In response, the OLF-Shane announced that it would only enter into negotiations with the federal government through a neutral, third-state actor, and that any negotiations through the "regime's cadres – whatever elderly title they carry for the day – will not work."4Twitter @OdaaTarbiiWBO, 29 November 2022
Violence targeting civilians continued in Oromia last week, with three such events being recorded in the region. These attacks were conducted by the ENDF, Oromia regional special forces, kebele militiamen, and Fano militia members. On 14 January, government forces – assumed to be members of the ENDF and Oromia special forces – opened fire on civilian homes in Sombo Chitu and Hidabu Sindi kebeles in Ifata (Ilfeta) woreda in West Shewa zone and burned several civilian houses. A few days later, on 18 January, presumed kebele militia members shot and killed five prisoners in Bofa (Warji) town in Boset woreda in East Shewa zone after taking them out of prison. The reason behind these attacks is unknown. It was also reported that around 14 January, Fano militia members shot and killed an unknown number of civilians in Serar Kulla (Selelkula) kebele in Dera woreda in North Shewa zone after accusing them of collaborating with the OLF-Shane.
In Tigray region, on 17 January, the ENDF peacefully entered Adigrat town in Eastern Tigray zone and took control of the town's military base. Tigray People's Liberation Front (TPLF) forces had reportedly withdrawn from the town on 13 January. Additionally, several reports indicated that starting from 18 January, Eritrean Defence Forces (EDF) began to withdraw from Adwa, Aksum, and Shire towns, and Felafil and Endebagerima areas in Tigray region.5BBC Amharic, 20 January 2023; DW Amharic, 20 January 2023 The head of the African Union (AU) negotiation team, former Nigerian President Olusegun Obasanjo, stated that the EDF had started to withdraw from Tigray region and that now "all Eritreans are at the border" but also admitted that "not all had returned home."6Financial Times, 15 January 2023 However, TPLF spokesman, Getachew Reda, refuted this statement and asked the AU Monitoring, Verification and Compliance Mission to "do their job first before such remarks are made."7Twitter @reda_getachew, 17 January 2023 In the meantime, the Ethiopian government communication minister asked some top leaders of the TPLF to refrain from releasing negative statements like "condemning government forces and presenting neighboring regional forces as destructive and TPLF forces as innocent."8EBC, 18 January 2023 According to him, such statements are against the spirit of the peace agreement signed in November 2022.
Lastly, in Benshangul/Gumuz region, on 15 January, kebele militiamen associated with Abramo woreda shot and killed a member of the Benishangul People's Liberation Movement during an opening ceremony of a sub-branch office of the party in Yemba Sizim kebele in Abramo woreda in Asosa zone. Seven other people were injured in the attack.