By the Numbers: Ethiopia, 4 February 2022-10 February 2023
Total number of political violence events: 1,241
Total number of reported fatalities from political violence: 6,613
Total number of reported fatalities from civilian targeting: 2,638
By the Numbers: Ethiopia, 4-10 February 20231
Some events from this coverage period might be included in the data in subsequent weeks due to reporting delays.
Total number of political violence events: 12
Total number of reported fatalities from political violence: 28
Total number of reported fatalities from civilian targeting: 14
Ethiopia data are available through a curated EPO data file as well as the main ACLED export tool.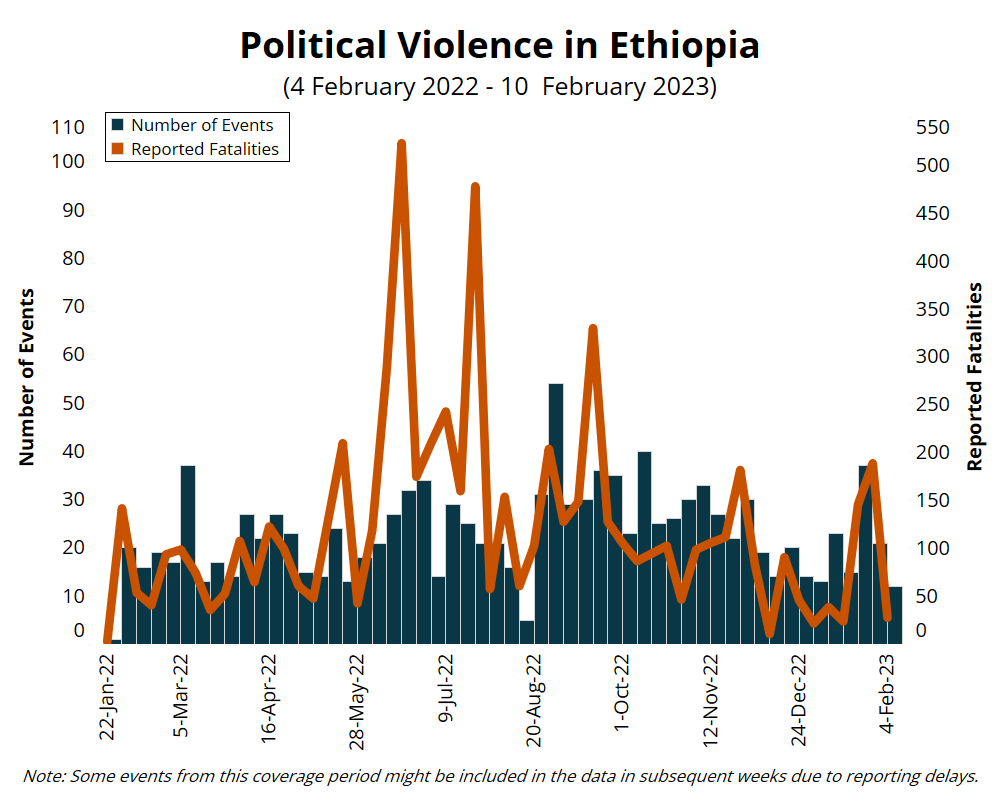 Situation Summary
Ethiopia's political landscape was marked by violence associated with contesting factions of the Orthodox Church last week, with most violence occurring in Oromia region. Limited clashes were also reported in Amhara region, while the Ethiopian National Defense Force (ENDF) peacefully transferred control of two zones in Tigray to the Tigray People's Liberation Front (TPLF).
On 4 February 2023, followers of the Ethiopian Orthodox Tewahedo Church (EOTC) gathered at the St. Michael Church in Shashemene town in West Arsi zone of Oromia region to demonstrate against the arrival of the 'illegally' appointed bishop, after members of the EOTC rang the church bell and called on followers to protect the church. Oromia regional special forces, supported by counter-demonstrators – supporters of the new Oromia synod which is considered illegal by the EOTC –, locked the church's gate to block the demonstrators from entering the church and fired gunshots to disperse the crowd. The demonstrators pushed out the police forces and their supporters, hitting them with sticks, and entered the church premises by demolishing the fences. According to the Ethiopian Human Rights Commission, at least eight people were killed.2Ethiopian Human Rights Commission, 'Working to find an immediate solution should be strengthened before human rights violations worsen,' 10 February 2023 The EOTC claims that 13 people died. At least 40 people injured in the attack were reportedly taken for treatment to a hospital in Hawasa.3EMS, 'EMS Mereja Wed 08 Feb 2023,' 8 February 2023
Similarly, Oromia regional special forces, state police, and local militias were accused of beating civilians and forcing out church authorities in Orthodox churches in various locations in Oromia region to allow officials from the new Oromia synod to take over (see map below). On 6 February, Oromia special forces and Oromia state police officers beat Orthodox Tewahedo Christians who were wearing black following the call of the Orthodox Church synod in Bule Hora town in West Guji zone and Adama town in East Shewa zone in Oromia. They also forcefully entered the Debre Genet Kidiste Mariam Church and handed control of the church to authorities from the Oromia synod. On 9 February, Oromia regional special forces reportedly shot at Orthodox Tewahedo believers gathered at the Yohanes Church in Welete in Sheger city in Oromia as members of the church attempted to block the takeover of the church by the Oromia synod.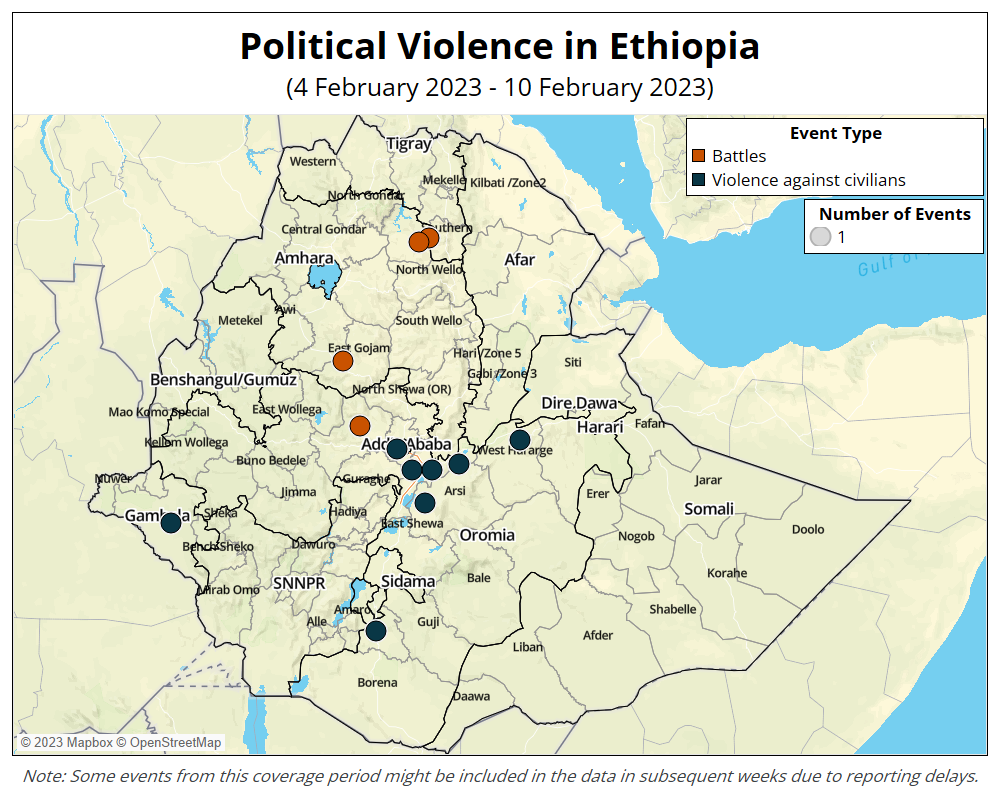 Tensions remain high in the country, although violence expected to occur as a result of nationwide protests was avoided after EOTC authorities postponed the planned protests following their meeting with Prime Minister Abiy Ahmed.4Philip A. Churm,, 'Ethiopia Orthodox leaders postpone protest called amid hegemony claims,' Africanews, 12 February 2023 For the time being, the Federal High Court of Ethiopia has given an order of injunction in favor of the EOTC that prohibits the entry of members of the Oromia synod into any parish or church of the EOTC. Additionally, the Court ordered the Ministry of Peace, Federal Police, Oromia Regional State, and Oromia Police Commission to see the ruling through.5EOTC Broadcasting Service Agency, 10 February 2023 On 8 February, Oromia, Harari, and South West Ethiopia Peoples regions issued statements banning unauthorized rallies.6Addis Standard, 'News: Oromia, Harari, and South West Regional states endorse Joint Task Force decision to ban rallies, Oromia says out of "patience",' 10 February 2023
Demonstrations in support of the newly created Oromia synod were held in Jimma during the week, while demonstrations in support of the EOTC against the newly formed synod were held in Asela, Arsi zone in Oromia region, and in Debark in North Gondar zone in Amhara region.
In Amhara region, on 5 February, fighting was reported between local kebele militias and TPLF forces. Clashes occurred in Tirari Wenz and Wedi Gebru in Tsagibji woreda in Wag Hamra zone, resulting in at least two reported fatalities. Fighting broke out after the local militias entered the areas which are still under the control of TPLF forces in hopes of regaining control of these areas. Wag Hamra zone has been one of the areas most affected by the conflict; it was cut off from humanitarian access for over a year until July 2022.7Addis Standard, 'News: Wag Hemra Zone receives first aid convoy in more than a year,' 27 July 2022 A report indicated that more than 67,000 residents of Abergele and Tsagibji woredas in Wag Hamra zone require urgent humanitarian assistance.8Abebe Fikir, 'More than 67,000 people in Wag Hamra ethnic special zone in the Amhara region are exposed to severe hunger,' Ethiopian Reporter, 4 January 2023 Elsewhere in the region, on 4 February, unidentified gunmen clashed with and killed two officials – heads of the woreda Peace and Security Office and woreda Militia Office – in Machakel woreda in East Gojam zone. No group has claimed responsibility so far.
In Gambela region, on 8 February, Murle ethnic militia from South Sudan crossed the border and attacked civilians in Utuyu village in Ateti kebele in Goge woreda, Agnewak zone. They reportedly killed two civilians and injured another. The following day, 50 members of Murle ethnic militia clashed with the regional security forces after the militia entered an investor's farmland near Abobo town in Abobo woreda and looted properties including goats.9Gambella Regional Gov't Press Secretariat Office,'The Peace and Public Office of the region has announced that they are monitoring the Murle tribesmen who came from South Sudan and injured Ateti kebele in Gog woreda of Gambella region,' 9 February 2023 Cross-border violence against civilians occurs intermittently in Agnewak zone, with two fatal incursions reported in October and November of 2022.
In Tigray region, ENDF forces transferred control of Central and North Western Tigray zones to TPLF authorities after Prime Minister Abiy met with TPLF negotiators.10Reuters, 'Ethiopian PM meets with Tigray regional leaders for first time since peace deal,' 3 February 2023 Bank services were also restored last week in Tigray, bringing relief to populations that have not had access to banking services since federal forces withdrew from the region in 2021.11DW Amharic, 'Banks began to provide full service in Tigray,' 8 February 2023
In Southern Nations, Nationalities and Peoples region (SNNPR), a referendum was held in Gamo, Wolayita, Gofa, Gedeo, Konso, and South Omo zones as well as in five special woredas – Burji, Amaro, Derashe, Basketo, and Ale – on whether to establish a new regional state to incorporate these zones and special woredas. Voting passed without incident in most areas. The voting process was halted for a few hours in Serto kebele in Wolayita zone by the National Electoral Board of Ethiopia after the kebele administration officials were seen distributing 105 identity cards to voters.12National Electoral Board of Ethiopia, 6 February 2023 Voting continued after police arrested two individuals in connection with this incident.13National Electoral Board of Ethiopia, 6 February 2023 The referendum is likely to succeed and result in the formation of a 12th region.