By the Numbers: Ethiopia, 4 March 2022-10 March 2023
Total number of political violence events:

1,196

Total number of reported fatalities from political violence:

6,416

Total number of reported fatalities from civilian targeting: 2,694
By the Numbers: Ethiopia, 4-10 March 2023 1
Some events from this coverage period might be included in the data in subsequent weeks due to reporting delays.
Total number of political violence events:

7

Total number of reported fatalities from political violence:

33

Total number of reported fatalities from civilian targeting:

10
Ethiopia data are available through a curated EPO data file as well as the main ACLED export tool.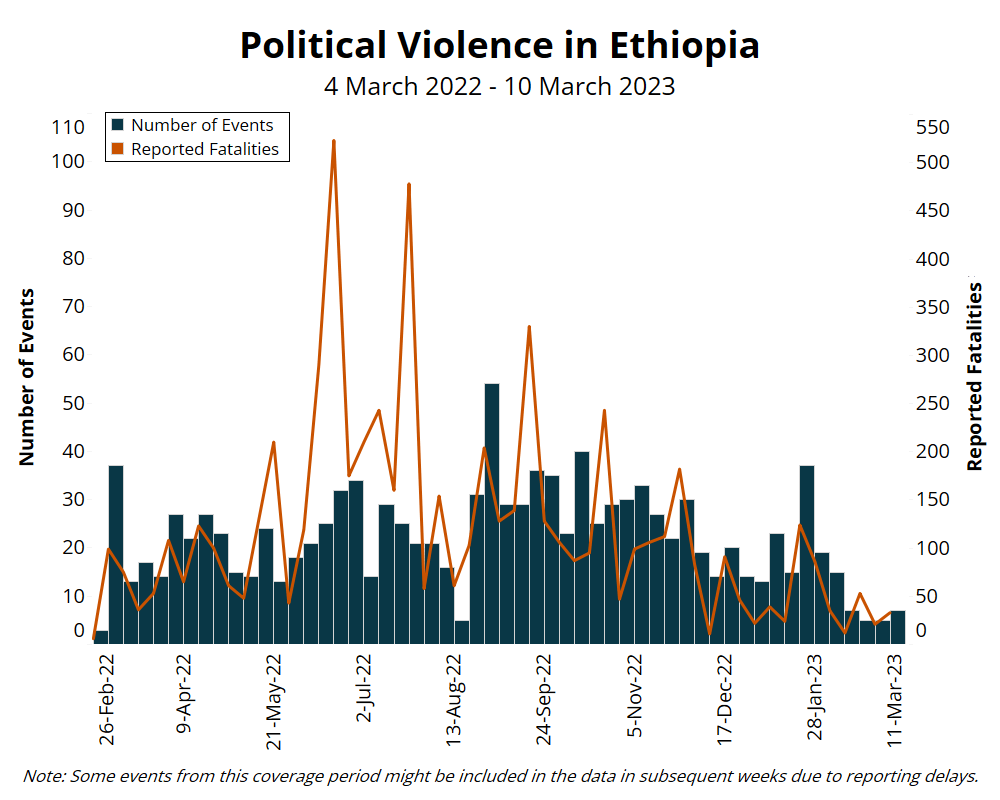 Situation Summary
Violence in Ethiopia continued to subside over the past few weeks, although several armed clashes, violence targeting civilian events, and protests were reported. 
In Oromia region, protests in connection with the recently announced administrative changes over East Borena zone continued, with demonstrators denouncing the government's decision to create a new administrative area without consulting residents affected by the change. Protests were paused as traditional elders and representatives from the zone met with officials from Oromia region and the federal government, but are likely to resume after higher officials declared the decision to create the new zone "irreversible."2DW Amharic, 'The Gujji Controversy and discussion of representatives and officials,' 9 March 2023 (For more information on the recent protests in Gujji, see EPO Weekly: 25 February-3 March 2023.)
Also in Oromia region, violence against ethnic Oromo civilians was reported along the Oromia/Somali regional borders in the context of a disputed well. Clashes in this area are common, and a large number of fatalities occurred in this border region during the conflict in 2016-18.3BBC, 'What is behind clashes in Ethiopia's Oromia and Somali regions?,' 18 September 2017 Recently, heightened tensions continued in the area after three ethnic Somalis were killed in January by Oromo ethnic militias demonstrating against the building of a water well. In eastern Oromia, government forces reportedly killed 20 Oromo Liberation Front (OLF)-Shane militants as a result of military operations carried out during the week in Degdegela woreda, East Shewa zone. 
In Ethiopia's capital, Addis Ababa, a violent demonstration by drivers of three-wheeled taxis (known locally as Bajaj) was held following an announcement by the Addis Ababa Transport Bureau banning them from operating on main roads in the city. Security forces injured an unknown number of drivers while dispersing the gathering. 
In Amhara region, peace talks were held between the Amhara regional government and the Agew Shengo militant group operating in Amhara region's Wag Hamra zone. Peace talks with the Agew Shengo are significant, as the Agew Democratic Movement — a political arm associated with ethno-nationalist Agew movements, from which former members made up Agew Shengo — has allied with the Tigray People's Liberation Front (TPLF) and the OLF-Shane since November 2021 under the anti-government coalition called the United Front of Ethiopian Federalist and Confederalist Forces to "totally dismantle the existing government either by force or negotiation."4The Guardian, 'Alliance of Ethiopian factions puts government at risk of overthrow,' 5 November 2021 The peace talks are likewise significant as the Agew Shengo allegedly conducted several operations against forces from Amhara region and the federal government during the conflict. Parts of Wag Hamra zone have remained outside government control due to the insurgency.5Ethiopia Insider, 'The government of Amhara region announces it is holding peace talks with 'Agew Shengo' armed group,' 10 March 2023 As a result, Wag Hamra zone has remained one of the most inaccessible areas for humanitarian access throughout the conflict (see EPO Monthly: November 2021 for more details on the Agew Democratic Movement and its history).6Addis Standard, 'Wag Hemra Zone receives first aid convoy in more than a year,' 7 July 2022
In Tigray region, officials announced the finalization of their preparations to establish an Interim Regional Administration (IRA) as agreed in the Pretoria peace agreement. According to the deputy chairperson of the IRA, positions were filled during a conference held on 2-4 March in accordance with a power-sharing agreement to include the TPLF, the military, opposition groups, and scholars.7Addis Standard, 'News: Amidst rejection from opposition groups, Tigray concludes establishment of IRA, awaiting negotiated deal with federal gov't,' 4 March 2023 Several opposition parties from Tigray region boycotted the conference, questioning the legitimacy of the TPLF to lead the process. US Secretary of State Antony Blinken is set to visit Ethiopia next week and will meet with representatives from the federal government and from Tigray region.8Reuters, 'Blinken to travel to Ethiopia, Niger next week,' 11 March 2023