By the Numbers: Ethiopia, 11 March 2022-17 March 2023
Total number of political violence events: 1,169
Total number of reported fatalities from political violence:

6,347

Total number of reported fatalities from civilian targeting:

2,671
By the Numbers: Ethiopia, 11-17 March 2023 1

Some events from this coverage period might be included in the data in subsequent weeks due to reporting delays.
Total number of political violence events:

12

Total number of reported fatalities from political violence: 29
Total number of reported fatalities from civilian targeting:

21
Ethiopia data are available through a curated EPO data file as well as the main ACLED export tool.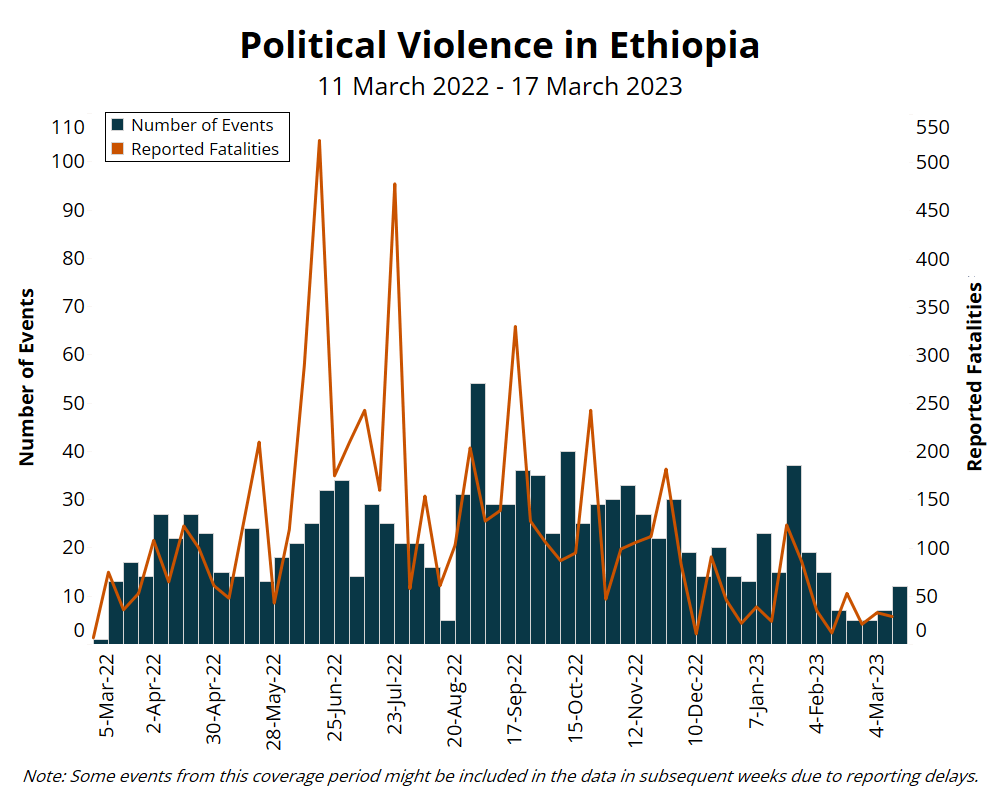 Situation Summary
Violence in Ethiopia continued a trend of decline as the Tigray peace process continued and calls were made for peace talks in Oromia region. 
In Oromia region, clashes were reported between Somali and Oromo ethnic militias on the Oromia/Somali border near the town of Tulu Guled in East Hararghe zone on 11 and 12 March, reportedly resulting in the deaths of seven people (see map below). Clashes over  grazing areas and water points in this area have been common in the past, and although the area has been relatively peaceful over the past few years, conflict has reemerged since January. Also in Oromia region, an unidentified armed group – suspected as Oromo Liberation Front (OLF)-Shane operatives – reportedly shot and killed eight civilians and wounded four others in Metehara town in East Shewa zone. Six of the victims were homeless youths on the road. Some activity by the OLF-Shane – also known as the Oromo Liberation Army – has been reported in this area, although its presence is not as strong as it is in the western part of the region. In March 2022, militias from Amhara region and kebele militias from a nearby town under Oromia administration fought in this area leading to dozens of reported fatalities.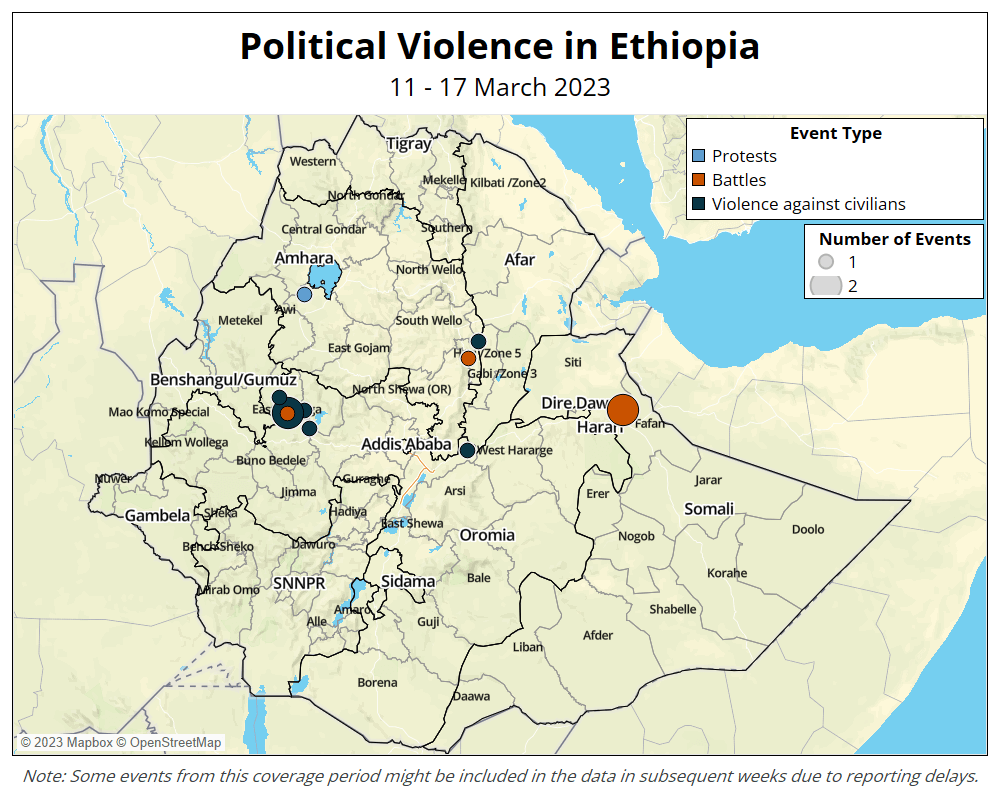 In Amhara region, for the third day, youths in the town of Liben in West Gojam zone in Amhara closed main roads and forced vehicles to stop in the town on 11 March, demonstrating against the lack of drinking water supplies and electricity for over six months. One person was fatally wounded as security forces intervened and shot at protesters. 
In Ethiopia's capital, Addis Ababa, a ban on three-wheeled taxis – known as Bajaj – was lifted following a violent demonstration the week prior. Addis Ababa Road and Transport Bureau specified that the taxis are allowed to operate under certain conditions, but they do not qualify for fuel subsidies.2Addis Fortune, 'Addis Abeba Transport Authorities Lift Ban on Popular Bajaj Vehicles,' 17 March 2023 Also in Addis Ababa, the National Election Board of Ethiopia denounced the illegal detention, intimidation, and harassment of opposition parties as "unacceptable."3National Election Board of Ethiopia NEBE, 'Statement of the National Electoral Board of Ethiopia,' 15 March 2023 Throughout the past two weeks, Enat and Balderas for True Democracy opposition parties were blocked from holding their general assemblies by unidentified state officials. Gogot for Gurage Unity and Justice Party members were also arrested by members of the federal police on unspecified charges.4NEBE, 'Statement of the National Electoral Board of Ethiopia,' 15 March 2023
Last week, United States Secretary of State Antony Blinken visited Ethiopia and offered praise for the progress on the implementation of the peace process in Tigray region. Blinkon likewise expressed "concerns about the situation in Oromia and the need for a resolution through dialogue."5Addis Standard, 'News: Blinken expresses "concerns about situation in Oromia", need for resolution through dialogue; announces $331 m in new humanitarian assistance,' 15 March 2023
Finally, in Benshangul/Gumuz region, around 46 members of the Gumuz People's Democratic Movement (GPDM) were released from prison, joining 3,000 former GPDM members as part of a peace process ongoing since a peace deal was signed six months ago.6Deutsche Welle Amharic, 'Opposition members who were incarcerated in Benshangul/Gumuz region were released,' 17 March 2023 Benshangul/Gumuz region in general, and Metekel zone of the region specifically, was one of the most violent locations in Ethiopia throughout 2020 and 2021, where conflict fought between insurgent groups like the GPDM and forces from Amhara region reportedly left hundreds of people dead. The most recent peace deal appears to be the most successful since the conflict peaked, providing hope that the area will finally stabilize.