By the Numbers: Ethiopia, 18 March 2022-24 March 2023
Total number of political violence events: 1,159
Total number of reported fatalities from political violence: 6,269
Total number of reported fatalities from civilian targeting: 2,656
By the Numbers: Ethiopia, 18-24 March 20231

Some events from this coverage period might be included in the data in subsequent weeks due to reporting delays.
Total number of political violence events: 3
Total number of reported fatalities from political violence: 4
Total number of reported fatalities from civilian targeting: 4
Ethiopia data are available through a curated EPO data file as well as the main ACLED export tool.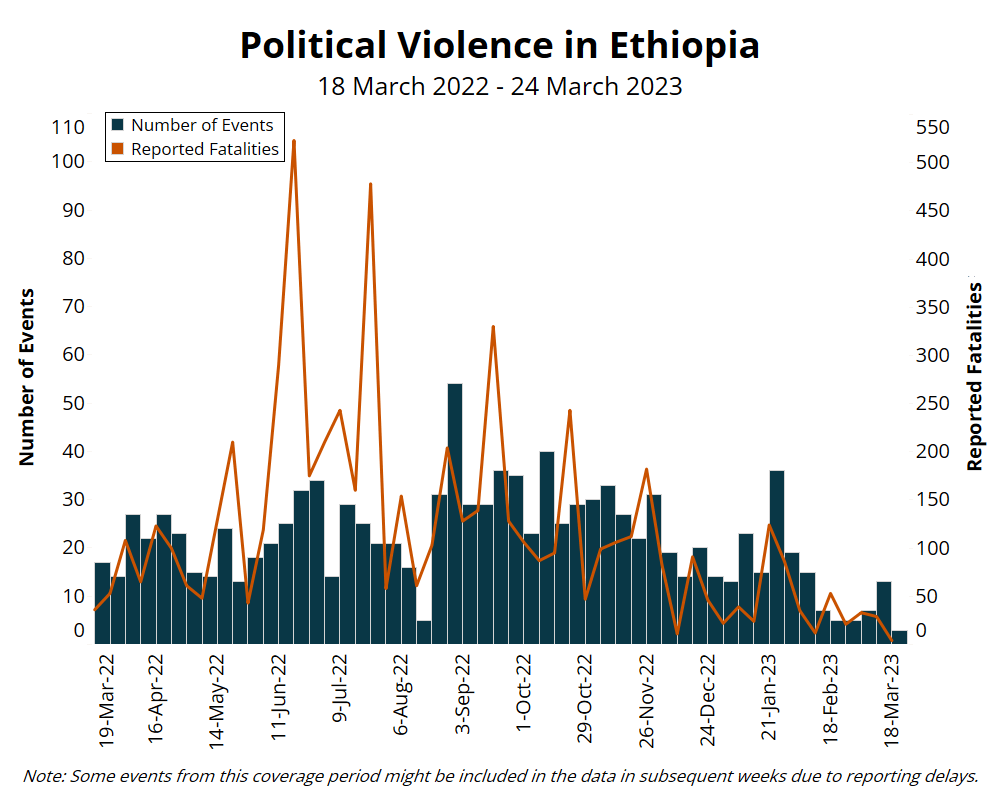 Situation Summary
Last week, lawmakers in Ethiopia voted to lift the Tigray People's Liberation Front's (TPLF) terrorist designation, continuing the peace process in Ethiopia's north. Further, peace processes in Benshangul/Gumuz region led to the release of former rebels last week, while limited clashes occurred in Oromia region (see map below).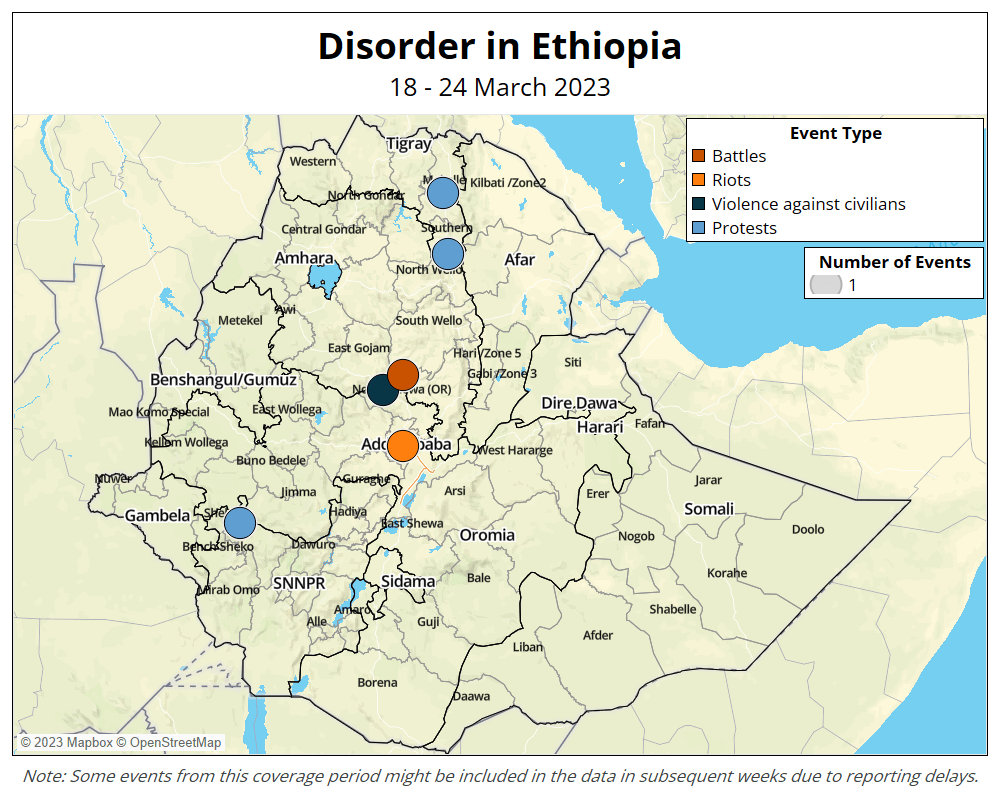 In Tigray region, wounded and disabled Tigray Defense Forces former soldiers demonstrated in the regional capital Mekele on 21 March, denouncing poor treatment, and lack of medicine, food, and supplies. Military forces and police intervened, firing tear gas and attempting to disperse the protesters. The protest is the first demonstration event recorded in Mekele since 16 October 2021, and it was held just two days before a new interim administration was appointed in Tigray. Getachew Reda, who served as the spokesperson for the TPLF, was appointed by Prime Minister Abiy Ahmed as interim president of Tigray region on 23 March. Getachew Reda is tasked with setting up "an inclusive administration that ensures the representation of various political forces operating in the region."2Reuters, 'Ethiopia establishes Tigray interim administration as part of peace plan,' 23 March 2023
Last week, the TPLF was removed from the list of terrorist organizations in Ethiopia, causing mixed reactions. While the majority of Ethiopia's parliament members voted for its removal, representatives from the National Movement of Amhara (NaMA) voted against removing the terrorist designation. NaMA issued a statement accusing the TPLF of mobilizing forces and not disarming as agreed.3National Movement of Amhara, 'A statement from the Amhara National Movement (NaMA) on a current situation,' 23 March 2023 Members of the opposition Ethiopian Citizens for Social Justice party also denounced the decision, calling it "exemption from accountability."4Addis Standard, 'News: TPLF's removal from terrorist designation "speeds up establishment, performance of interim admin" Debretsion Gebremichael,' 23 March 2023 Ethnic Amhara residents of Alamata town in Southern Tigray zone staged a protest on 19 March, calling on the government to do more to prevent the TPLF from returning. Some protesters were carrying banners alluding to the area's historic ownership by ethnic Amharas, encouraging authorities to officially remove it from administration by Tigray regional officials.5Voice of America Amharic, 'A peaceful demonstration was held demanding an answer to the question of Raya's identity,' 20 March 2023 Currently, Southern Tigray zone is officially governed by Tigray region, but some parts of it have been administered by officials from Amhara region since Amhara forces occupied the area at the start of the conflict (see EPO Tigray Region page for more details). This area, as well as Wolkait area in Western Tigray zone, is home to both ethnic Tigrayan and Amhara residents and is contested between the two regions; a key contributor to the northern conflict since November 2020. 
In Benshangul/Gumuz region, peace processes have continued. Last week, several former rebel leaders from both the Gumuz People's Democratic Movement and the Benishangul People's Liberation Movement were released from prison. Violence in Benshangul/Gumuz region has decreased drastically since March 2022, due to the ongoing peace processes and an increased presence of security forces. 
In Oromia region, clashes were reported on 23 March in Gundo Meskel town in North Shewa zone between federal police and local kebele militiamen after the former attempted to disarm and arrest the commander of the kebele militia. In November 2022, the Oromo Liberation Front-Shane briefly occupied the town, kidnapping local officials after clashing with kebele militia members. Several instances of political violence have been reported since, including kidnappings for ransom and attacks on civilians and government officials in the town. 
Finally, in Addis Ababa, a mob stoned to death an Ethiopian Orthodox Church priest on 23 March while he was returning home after serving at Horsisa Saint Mary church in the Haile Garment area. The details surrounding the stoning are unclear. Tensions between the church and various political factions in the country have been high over the past few months (for more information, see EPO February 2023 Monthly: Religious Disputes and Government Involvement in Ethiopia).