By the Numbers: Ethiopia, 20 May 2022-26 May 2023
Total number of political violence events: 1,104
Total number of reported fatalities from political violence: 5,809
Total number of reported fatalities from civilian targeting: 2,581
By the Numbers: Ethiopia, 20-26 May 20231
Some events from this coverage period might be included in the data in subsequent weeks due to reporting delays.
Total number of political violence events: 19
Total number of reported fatalities from political violence: 44
Total number of reported fatalities from civilian targeting: 38
Ethiopia data are available through a curated EPO data file as well as the main ACLED export tool.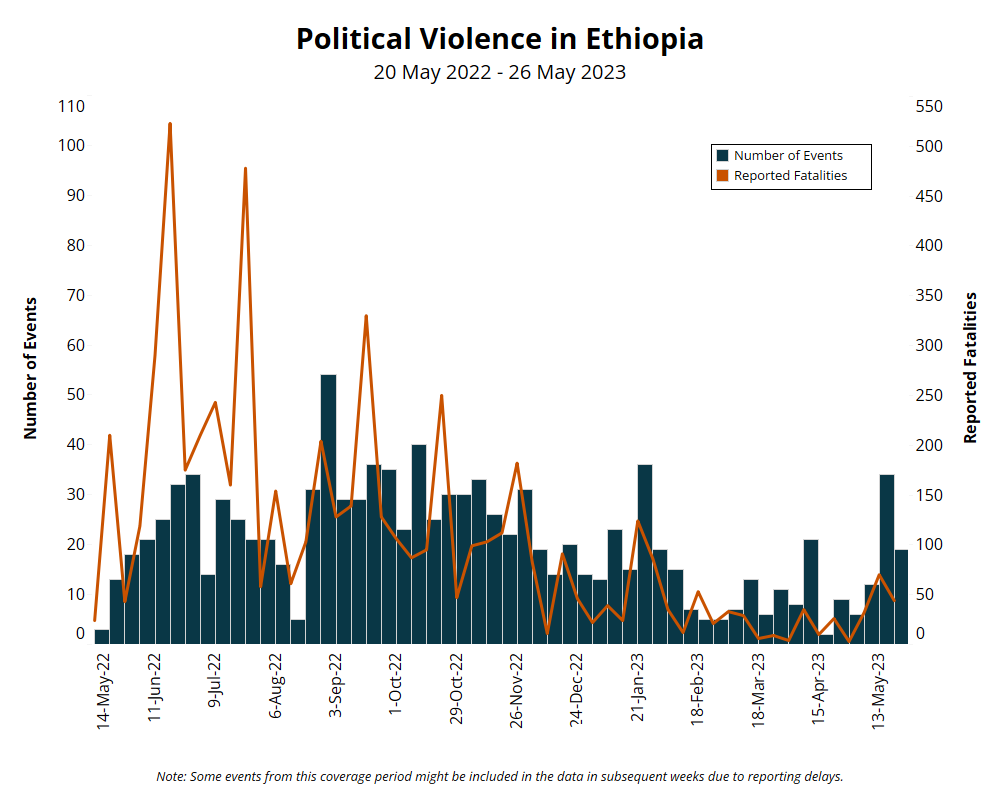 Situation Summary
Armed clashes and violence targeting civilians continued in Oromia region, along with attacks in Gambela and Amhara regions. In Addis Ababa, security forces violently repressed Muslim protesters. Last week, ACLED recorded five armed clash and eight violence targeting civilian events in Oromia (see map below). All recorded armed clash events were between the Oromo Liberation Front (OLF)-Shane and the Ethiopian National Defense Force (ENDF), and occurred in Guji, West Guji, and East Shewa zones. Notably, the OLF-Shane continued a trend of new activity in towns where previously there had been no OLF-Shane activity recorded. Most attacks appeared to have the goal of releasing prisoners associated with the group. For instance, on 20 May, members of an armed group – assumed to be the OLF-Shane – attacked civilians in Bekoji town in Arsi zone and reportedly killed four civilians, including a trainer of local militias. The group also managed to release prisoners from a prison in the town.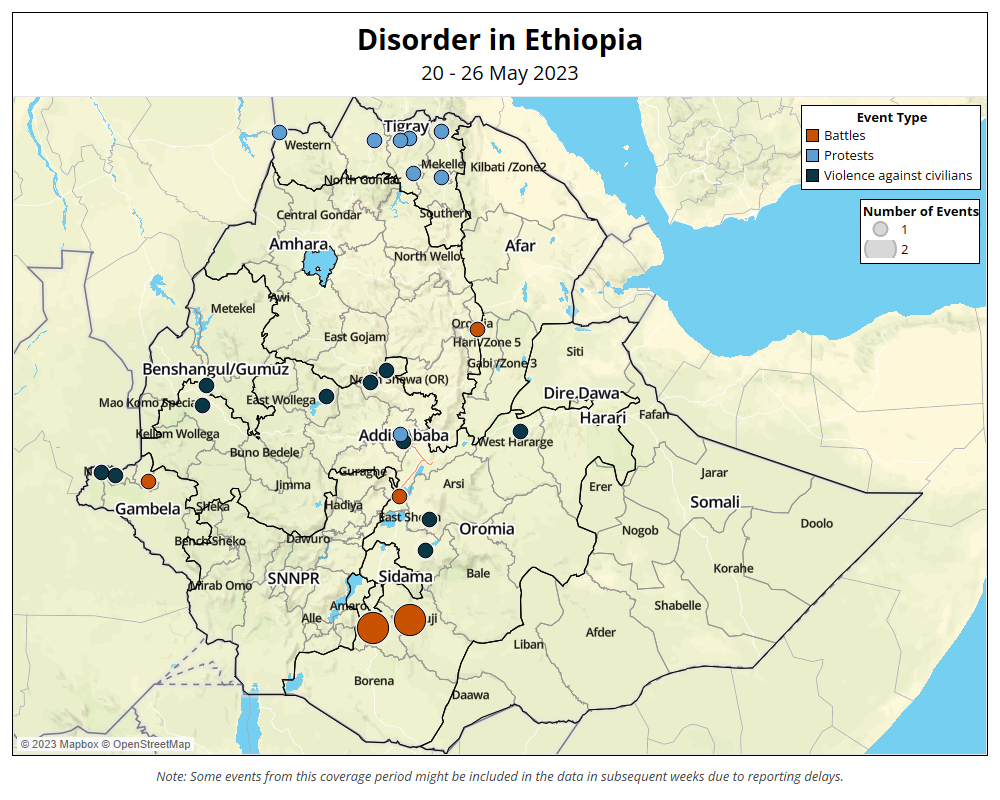 Though tensions are still high, Amhara region was relatively calm last week. On 25 May, unidentified people threw two grenades at Bahir Dar Ketema Football Club supporters who were boarding buses around Mulu Alem Adarash in Bahir Dar town in West Gojam zone to travel to Hawassa to support their club. Due to this attack, 23 people were injured.2Amhara Media Corporation, 'Dires Sahlu (Dr.) said that the attack on the supporters of Kenema is an anti-peace movement that should be condemned,' 25 May 2023 The next day, government forces – assumed to be ENDF and Amhara regional state police forces – clashed with the OLF-Shane in Melka Didu kebele, Dewa Harewa woreda in Oromia special zone. The regional police commission claimed to have killed one member of the OLF-Shane, wounded another, and captured two OLF-Shane commanders.
Meanwhile, Gambela region experienced cross-border and inter-communal violence. Twelve people were reportedly injured, and 10 others were killed during an attack on 20 May, when Murle ethnic militias from South Sudan crossed into Ethiopia and opened fire on civilians in Bilkicho kebele, Makuey woreda, and attacked the protestant Mekane Eyesus Church in an attempt to kidnap children in Metar town, Wantawo woreda in Nuwer zone.3The Ethiopian Evangelical Church Mekane Yesus, 'A call for prayer and support for the Ethiopia Evangelical Church Mekane Yesus regarding members attack in Matara village, Gambela Regional State,' 29 May 2023 The next day, inter-communal clashes broke out between Nuwer and Anyuak ethnic militias in Pignuwa and Ler kebeles in Itang special woreda, as well as in Gambela city.4Gambella Regional Gov't Press Secretariat Office, 'The regional government has announced that the recent security crisis in Itang Special District and Gambella City in Gambella Region is under control,' 25 May 2023 The clashes began after militiamen from one of the ethnic groups shot and killed a militiaman from the other ethnic group as he was rowing a boat. The clashes in Itang special woreda and Gambela city resulted in at least five people reportedly killed and seven others wounded. Civilians from both sides were forced to flee their homes, and several houses were burned.
In Addis Ababa, security forces fired live bullets during a demonstration at Grand Anwar Mosque in Merkato after Friday prayers on 26 May, reportedly killing two people and injuring an unknown number of protesters. Muslims had gathered at Grand Anwar Mosque in Merkato and al-Nur Mosque in Piassa and rallied to condemn the demolition of mosques by the government in the newly established Sheger city in Oromia region.5Deutsche Welle Amharic, 'Muslims protested today in Anwar and Ni Mosques,' 26 May 2023 While the protest at the al-Nur Mosque ended peacefully, the protest in Grand Anwar Mosque turned violent after security forces – federal police, Addis Ababa city police, and Republican Guards – entered the Grand Anwar Mosque compound, firing tear gas and live bullets at the crowd. The Addis Ababa Police Commission later stated that four civilians, as well as 37 police officers and 15 affiliated "police associate forces," were also injured. According to the commission, 114 people accused of organizing and leading the protest were arrested.6Addis Ababa Police, 'Addis Ababa Police announced fatalities and minor and serious injuries were caused to police officers who were engaged in law enforcement work after the end of the Friday (Jum'ah) prayer,' 26 May 2023 Discontent over the demolition of houses and mosques in the newly established Sheger town has been rising in the capital,  Addis Ababa. According to the Ethiopian Islamic Affairs Supreme Council, at least 19 mosques have been demolished in Sheger town.7The Reporter, 'Mass protests erupt over mosque demolitions,' 27 May 2023 The council had written letters to the Oromia regional government and the prime minister's office requesting that demolitions be halted until a joint consultation could be held.8Ethiopian Islamic Affairs Supreme Council, 'A letter written by the Ethiopian Islamic Affairs Supreme Council to the Oromia regional government to stop demolishing Mosques in Sheger city,' 6 May 2023; Ethiopian Islamic Affairs Supreme Council, 'A letter written by the Ethiopian Islamic Affairs Supreme Council to the Prime Minister office as the Oromia regional government did not answer,' 18 May 2023 After not receiving a reply to their requests, the council called on Muslims in the country to protest against the demolitions. It has since sent representatives to meet with police officials, re-opening the al-Nur mosque, which had been closed for several days following the violence.9Ethiopian Islamic Affairs Supreme Council, 'The delegation led by the President had a discussion with the officials of the Federal Police Commission,' 26 May 2023 Tensions in connection to religion have been rising in Ethiopia (for more details, see EPO February 2023 Monthly: Religious Disputes and Government Involvement in Ethiopia). Tensions involving the Tigray Orthodox Church are also high, and church leaders announced plans to ordain 10 episcopate leaders to dioceses inside Tigray and abroad last week, further acting on plans to distance themselves from the Ethiopian Orthodox Tewahedo Church.10 Addis Standard, 'News: Tigray Orthodox church leaders announce plans to ordain 10 episcopate,' 23 May 2023 Last week, a media outlet associated with the Ethiopian Orthodox Church, Mahibere Kidusan TV, which had been suspended the week prior by the government's media authority for publishing content that might provoke religious conflict, was restored.11Voice of America Amharic, 'The official announced that he has lifted the temporary ban on the TV channel of the Holy Congregation,' 26 May 2023
Furthermore, thousands of internally displaced people by the northern conflict staged protests in Tigray region, demanding that the federal government return them to their residences and calling for the withdrawal of non-ENDF forces according to the peace deal. Protesters gathered on 23 May in at least seven locations: Mekele, Adwa, Aksum, Adigrat, Shire, Abiy Adi, and Humera. Two days later, the Eritrean Defense Forces (EDF) prohibited envoys from the United Nations mission and other agencies, including the UN Office for the Coordination of Humanitarian Affairs, UN Department of Safety and Security, World Health Organization, and other international non-governmental organizations, from entering Gemhalo village. The EDF blocked the road and stopped the envoys at Wela Nihbi in Tahtay Adiyabo woreda in North Western Tigray zone. The Tigray regional interim government also accused the EDF of preventing an African Union peace deal monitoring and verification team from carrying out their activities.12 Gianluca Mezzofiore, Bethlehem Feleke, and Eve Brennan, 'Eritrean forces stop UN mission in Tigray, Ethiopia, aid workers tell CNN,' CNN, 26 May 2023 In a statement, members of the AU Joint Committee Meeting of the Monitoring, Verification and Compliance Mechanism for the Permanent Cessation of Hostilities Agreement emphasized the need "to enhance the safety and protection of civilians by facilitating the steady return of internally displaced persons and refugees to the affected areas."13Addis Standard, 'News: AU monitoring team highlights need to accelerate DDR, steady return of IDPs in Tigray; silent on concurrent withdrawal of foreign, non-ENDF forces,' 26 May 2023
Lastly, on 26 May, TPLF forces surrendered various group weapons like anti-tanks and mortars to the ENDF in Lachi, a location near the capital city of the region, Mekele. The AU-mandated peace deal monitoring and verification team was present when the weapons were surrendered as part of a peace deal implementation signed in Pretoria. The TPLF has also officially begun demobilizing its fighters into 11 rehabilitation camps.