By the Numbers: Ethiopia, 2 April 2018-2 April 20211

Figures reflect violent events reported since Prime Minister Abiy Ahmed came to power on 2 April 2018.
Total number of organized violence events: 1,409
Total number of reported fatalities from organized violence: 6,249
Total number of reported fatalities from civilian targeting: 3,657
Ethiopia data are available through a curated EPO data file as well as the main ACLED export tool.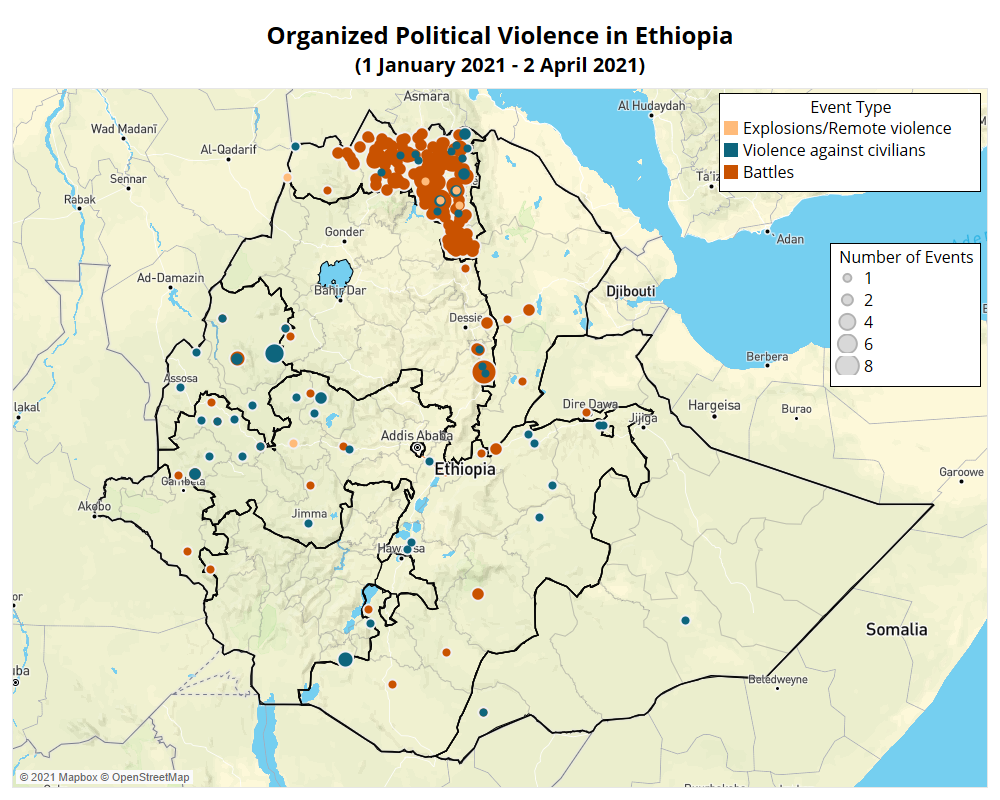 Situation Summary
Pressure is mounting on the central government of Ethiopia as multiple conflicts continue to rage throughout the state. Despite intensified efforts by various factions of Ethiopia's armed forces, in areas of Tigray, Oromia, Benishangul-Gumuz, and the Southern Nations, Nationalities and Peoples regions, there is a continuing trend of increasing militant activity, ethnicized conflict, and high-fatality events. In many of these conflicts, the Amhara ethnic group is targeted by different armed groups, but often with Oromo militant or security groups. That is mirroring a political clash nationally, which is being experienced locally, as emboldened violent movements challenge borders and population composition. As national elections approach in June, numerous high-fatality events like those that occurred last week raise questions about the government's capacity to deal with armed groups operating within its boundaries.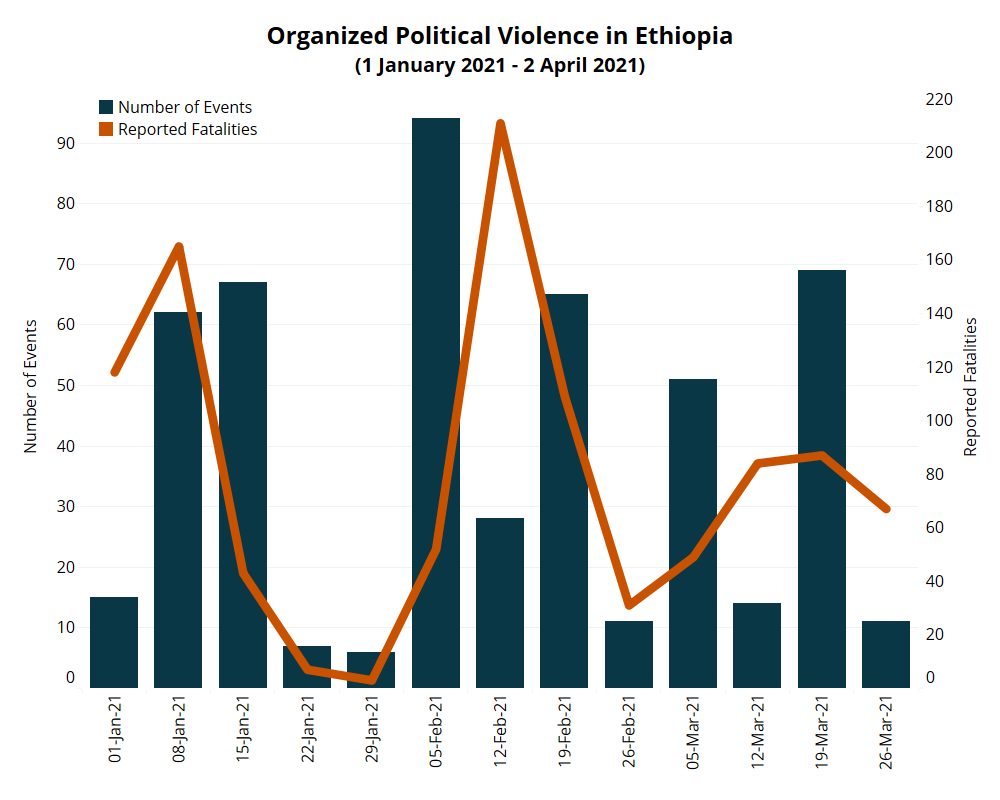 Tigray Conflict Update
Ethiopia's northern Tigray region remains unstable. Prime Minister Abiy Ahmed admitted that the government is involved in a "difficult and tiresome" insurgency led by loyalists to the Tigrayan People's Liberation Front (TPLF) (The Guardian, 4 April 2021). At the end of March 2021, there was active fighting in Asgede Tsimbila, areas surrounding Zana, Samre, Hawzen, Tekeze river from Birkuta to Golonco, MayKnetal, Kola Tembien, Maychew, and Gijet areas. As access to Tigray continues to open, reports by journalists have revealed patterns of mass killings, rape, looting, and other abuses by the Ethiopian and Eritrean soldiers occupying parts of the region (Reuters, 25 January 2021, CNN, 2 April 2021). For instance, CNN uncovered a video of the mass killing of 11 unarmed men near Mahibere Dego by members of the Ethiopian army (CNN, 2 April 2021). This adds to the growing number of mass civilian killings being reported from the region, including a recent Ethiopian Human Rights Commission (EHRC) preliminary report showing that more than 100 civilians were killed between 18-29 November 2020 in Axum (Ethiopian Human Rights Commission (EHRC), 24 March 2021).
Facing mounting pressure from the international community, on 26 March, PM Abiy Ahmed announced the withdrawal of Eritrean troops from the country on the same day (BBC, 26 March 2021). Shortly after, on 30 March, Eritrean soldiers were accused of killing at least two civilians in an area near the border with Sudan (Sudan Tribune, 30 March 2021). They likewise continued operations north-east of Shire (Western Tigray).
Compounding the federal government's woes of battling an insurgency have been issues with the interim government, even in areas squarely under the federal control. Returning life to "normal" has proved nearly impossible, as Mekele has been flooded with hundreds of thousands of refugees fleeing active conflict across central and southern areas of the regional state. 
In a clear bid to make the space 'ungovernable,' armed groups linked to the TPLF have targeted governing capacity throughout the state. On 28 March, the interim mayor of Tigray's regional capital Mekelle was targeted in an 'explosive blast' (Addis Standard, 2 April 2021). It was widely reported that the mayor resigned after the assassination attempt (Addis Standard, 30 March 2021). However, on 2 April, the mayor stated that he was fired by the transitional Tigray regional government. This revealed deep issues within the interim government, predicting additional administrative problems within the region in coming months (Yeneta Media YouTube, 2 April 2021). The former mayor was the first senior official to admit the presence of Eritrean soldiers within the Tigray region in January 2021 (Addis Standard, 4 January 2021), and claimed that the TPLF made a list of 165 people to be assassinated before the beginning of the violent conflict in November 2020 (Yeneta Media YouTube, 2 April 2021). Further, in February 2021, the leader of the Fenkil political movement, along with his two bodyguards, was killed by unidentified armed gunmen believed to be associated with the TPLF in Hiwane. It is believed that the TPLF is targeting critical voices and those representing the federal government for assassination.
Weekly Focus: High-fatality violence raises questions about the government's capacity to combat armed groups
On 30 March, 28 civilians were killed by suspected Oromo Liberation Front-Shane  (OLF-Shane) militants in Bone Kebele, Babo Gembel Woreda (West Wollega, Oromia) (see map below). The attacks are blamed on a splinter faction of the Oromo Liberation Front (OLF) called 'OLF-Shane,' which has been mounting an insurgency against the federal government and has claimed operations and territorial control in the area. OLF-Shane refused to disarm with the rest of the anti-government OLF group in 2019, although the distinction between the two entities is blurred in western Oromia. In recent years, its ranks have swelled with Qeeroo youth from areas of western Oromia in recent years. Government forces claim to have staged an operation against the insurgents responsible for the latest killings on 30 March, resulting in three reported fatalities (EBC, 31 March 2021). To provide scale for the size of the insurgency at hand, recent statements by the government indicate that they have killed 1,947 members of the OLF-Shane group over the past year alone (EBC, 31 March 2021).
The latest attack comes within the context of additional attacks on ethnic Amhara civilians in Oromia region. In the past month, ACLED records at least 70 fatalities — a conservative estimate — during attacks on ethnic Amhara civilians living or working in Oromia region. These attacks on ethnic Amhara civilians occurred in Dabis Kebele and Jaret Jargeda Horo Dadi kebele, Horo Gudru Wollega and Bone Kebele, Babo Gembel Woreda (West Wollega) (Addis Standard, 12 March 2021).
Although a faction of the militants are almost surely responsible for the deaths of the Amhara civilians, the group's leader, Kumsa Dirriba, who is also known as "Jaal Marro," appeared on Al Jazeera vehemently denying the claim and stated that Amhara civilians were not persecuted in areas under their control (Al Jazeera, 28 March 2021). In a letter posted to Al Jazeera, the group has instead placed blame on government-affiliated militias for the recent massacres (Al Jazeera, 28 March 2021). While the identity of the perpetrators is uncertain, it is clear that ethnic violence in the context of a rising insurgency is a disturbing trend that is likely to continue in the coming months.
Additionally, clashes between Oromo and Amhara communities in the Oromo Zone of Amhara region and surrounding towns continued for a second week, with gunshots being reported in Majete, Ataye, and Dumuga towns in the area. From 18 March to 31 March, at least 67 people were reported dead from the conflict, and 80,000 people have been displaced (BBC News, 31 March 2021). With the rise in ethno-nationalism and the opening of political space after the fall of the TPLF, clashes have occurred in the Zone between some Oromo ethnic militias and Amhara special forces who are responsible for security in areas surrounding the Zone. This fighting coincides with dangerous divisions between the Oromo and Amhara wings of the Prosperity Party national government. Pushed by ethnonationalist movements locally, both Amhara and Oromo political entities have accused the other of instigating the conflict. Citing the use of heavy weapons by the groups opposing Amhara regional special forces, Amhara regional officials have blamed OLF-Shane for the violence (Amhara Communications, 21 March 2021), while Oromo officials blamed Amhara forces (BBC 24 March 2021). 
The violence and ethnic killings that occurred during the last week are not limited to the aforementioned events. An additional 10 fatalities occurred in Bench Shako zone of the Southern Nations, Nationalities and Peoples Region (SNNPR) when gunmen invaded the Gurafarda district (Bench Sheko, SNNPR). Since 2018, many districts (woredas) and zones in the SNNPR have sought to become a zone or an independent region, respectively. Some groups supported Gurafarda being granted an independent zone status, while other groups wanted the district to either join the Bench Sheko or western Omo zones. Since the former Sidama zone of SNNPR became the 10th region of Ethiopia in November 2019, it raised the possibility of other ethnic groups being granted their request for territorial-administrative status. However, the SNNPR council has not responded to these requests, seemingly wanting to avoid the SNNPR from disintegrating into several regions. Discontent over this issue has led to violent demonstrations.
Further, on 29 March, at least seven ethnic Amhara civilians were killed by unidentified gunmen in Metekel Zone, Mandura district of the region (see map above). Ethiopian military forces from the Benshangul/Gumuz region command post reportedly pursued the attackers, killing 10. Echoing concerns raised by Amhara civilians in western Oromia, ethnic Amhara displaced by violence over the past year from the Metekel zone complained that despite the federal troop's command post, they faced continuing insecurity (VOA, 2 April 2021). Since 2018, ACLED has recorded 1,052 fatalities in the Metekel zone as a result of organized political violence; this is likely a conservative estimate. As in western Oromia, establishing the perpetrator is a difficult task; the government refers to the instigators in the area as "anti-peace forces" and accuses them of having links with Sudan (AFP, 12 February 2021). Some locals link the armed group with the OLF-Shane, which the latter denies. However, the armed group is almost certainly made up of Gumuz ethnic militias that may be associated with more officially organized ethno-nationalistic movements. Many members of the Gumuz ethnic group believe that they are being forced from their land (BBC, 31 March 2021).
With multiple ongoing conflicts co-occurring across the state, there is little doubt that the Ethiopian government and its security forces are stretched thin. Exactly how, or if, the government plans to hold elections in areas experiencing high levels of insecurity remains unclear. Despite efforts by many factions of the federal government to combat militant groups accused of killing civilians, ongoing violence indicates that serious instability persists (EBC, 31 March 2021; XINHUA 25 February 2021; BBC, 10 November 2020).