April at a Glance
Vital Stats
ACLED has recorded 134 total events and 556 reported fatalities in April.

Amhara region had the highest number of reported fatalities due to organized political violence in April at 172 fatalities. Oromia and Afar regions followed at 159 and 102 reported fatalities, respectively. 

In April, the most common event type was battles, with 49 battle events and 317 fatalities reported. There were 29 events of violence against civilians which led to 216 fatalities. There were 39 peaceful protests.
Vital Trends
Discontent is increasing in the Amhara region due to the Ethiopian government's lack of action regarding the targeted killing and displacement of Amhara civilians by different actors throughout Ethiopia.

Deep divides have emerged between the Oromo and Amhara regional governments due to frustration towards the government's lack of or delayed response to attacks on ethnic Amhara civilians throughout Ethiopia.
In This Report
April Situation Summary

Tigray Conflict Update

Election-Related Disputes and Violence

Monthly Focus: Protest Dynamics in Ethiopia Prior to the Election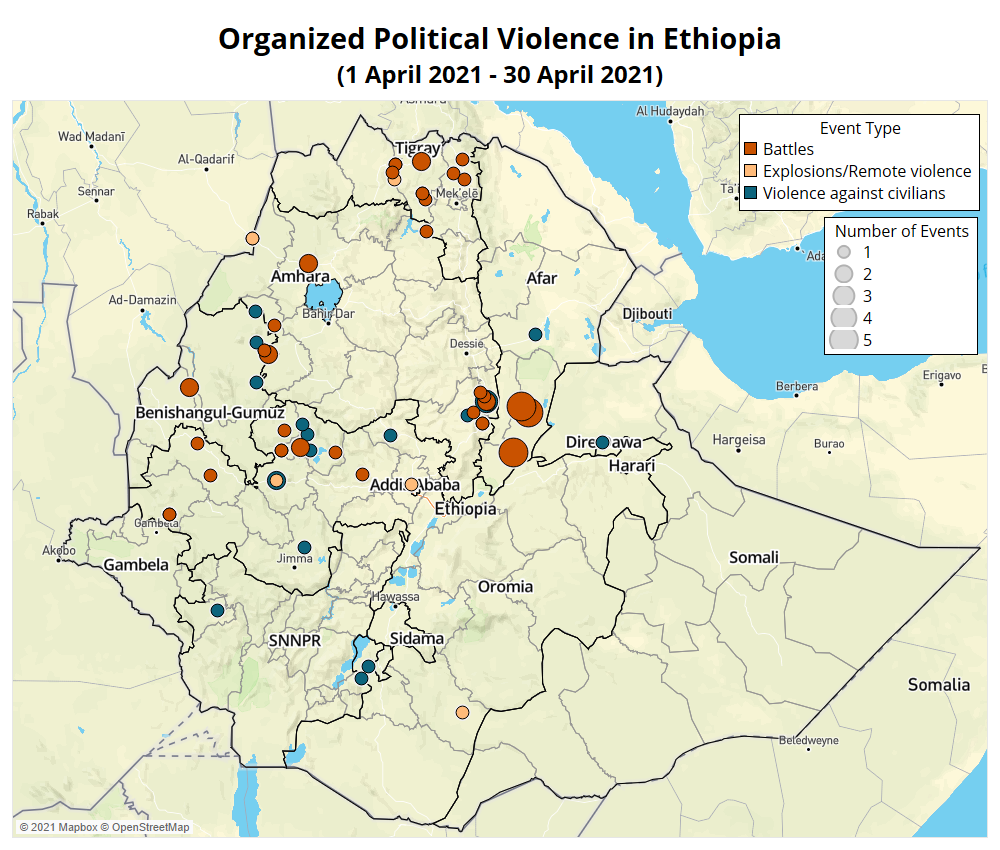 April Situation Summary
Pressure is mounting on the central government of Ethiopia as multiple conflicts continue to rage throughout the country. In many of these conflicts, the Amhara ethnic group is targeted by different armed groups, and often by the Oromo Liberation Front (OLF)-Shane. Discontent and frustration towards the government's lack of or delayed response to attacks on ethnic Amhara throughout Ethiopia has led to deep divides between the Oromo and Amhara regional governments. This dynamic has given rise to ethno-nationalist calls on both sides. Continued violence targeting ethnic Amhara throughout the country is damaging to the Prosperity Party (PP)'s ability to retain voter confidence in the Amhara region for the upcoming general election.
Over 300 fatalities were reported in April due to battles between various armed groups in the Afar region. Most battles were between the Afar region special forces (accompanied by Afar ethnic militias) and Somali regional state special forces in Gewane, Hanruk, and Gelalu Woredas in Zone 3 of the Afar region. In early April, ACLED recorded 100 fatalities in a single week. Tensions between the two regional states increased after the National Electoral Board of Ethiopia (NEBE) listed 30 polling stations in Zone 3 of the Afar region under the Somali regional state. When the Afar regional state government disputed this decision, the NEBE decided to close the disputed polling stations and advised residents in the contested areas to register and vote in neighboring Kebeles. The Somali regional government rejected the NEBE's decision. Tensions between the two regions are still high as the protests against the NEBE decision continue.
Throughout April, frequent clashes and high-fatality events were reported in the Amhara region. The Amhara region had the highest number of fatalities in the country in April. Out of a total of 172 fatalities due to organized political violence in the region, 116 fatalities were recorded in North Shewa and Oromia Zones. Conflict re-ignited in areas surrounding the Oromia Zone and North Shewa Zone of Amhara region on 16 April 2021 when a group of well-organized gunmen clashed with Amhara regional special forces and federal troops in Ataye and the surrounding towns of Shewa Robit, Karakore, Mekoya (Antsokiya), Ephrata Gidim, and Majete (VOA, 16 April 2021; Amhara Media Corporation, 17 April 2021; Reporter, 18 April 2021). The gunmen were believed to be a combination of militants from the OLF-Shane and local Oromo militias. OLF-Shane and local Oromo militias also attacked civilians, destroyed houses and businesses, and released prisoners. 
Clashes in Ataye and the surrounding towns in the Amhara region are a continuation of fighting that occurred in mid-March 2021, in which ACLED records nearly 300 fatalities. As a result, on 18 April 2021, the federal government established a command post in the area in an attempt to bring sustainable security. A second command post was established on 29 April 2021 in Chilga and the surrounding area of Central Gondar due to clashes between the region's special forces and ethnic Qemant affiliated militias. Clashes on 14 April 2021 between the region's special forces and ethnic Qemant affiliated militias erupted after a town hall meeting turned violent. The clashes led to an estimated 35 fatalities and 38 injuries in Kuwasmeda, Geta Feres, and Tiwudib neighborhoods of Aykel town and Seraba town of Central Gondar.
In the Oromia region, clashes between the OLF-Shane militants and federal forces (accompanied by Oromia regional special forces) took place in North Shewa and Horo Guduru Zones of the region in April. Government sources have indicated that they killed 14 OLF-Shane militants and arrested 143 additional fighters in Kuyu and Dagem Woredas in North Shewa, Oromia region (EBC, 10 April 2021; DW Amharic 12 April 2021). Despite these actions, on 28 April 2021, unidentified gunmen believed to be from the same group attacked a convoy of trucks (locally known as Isuzus) in the same area, killing five people. Two days later, suspected members of OLF-Shane shot and killed 15 people and injured an unidentified number of people after pulling them off a bus in Amuru Kebele (Horo Guduru Wollega Zone). A witness stated that OLF-Shane took people who could not speak Oromiffa (BBC Amharic, 1 May 2021). Nevertheless, those killed were from both the Oromo and Amhara ethnic groups.
Throughout the month, OLF-Shane continued attacking civilians who are mostly ethnic Amharas in the Oromia region. On 5 April 2021, suspected OLF-Shane militants attacked Amhara residents in Bila and Gudoro Woredas of Horo Guduru Zone. Around 7 April 2021, OLF-Shane militants attacked Amhara residents in Jardega (Horo Guduru), killing an unspecified number of people. Two weeks later, around 21 April 2021, ethnic Amhara civilians residing in areas outside of Gutin, including Mender 8, Mender 9, Mender 10, and Arkumbi vicinities, were attacked by OLF-Shane militants, resulting in an unknown number of fatalities. On 23 April 2021, OLF-Shane militants attacked Amhara ethnic civilians in Ket'cho Kirkira and Gale kebeles of Limu Kosa Woreda in Jimma Zone, prompting the deployment of federal and regional security forces. According to local officials, 20 civilians were killed in the attack, although some sources put the fatality toll at 29 civilians (DW Amharic, 28 April 2021; Reuters, 30 April 2021).
Attacks on Amhara civilians in areas of west Oromia have displaced families who flee to the Amhara region. As a result, on 16 April 2021, people living in Finote Selam, Amhara region gathered to denounce the displacement of Amhara civilians throughout the country. They clashed with police and Amhara regional special forces, killing one officer and wounding another. A truck driver was also injured when rioters lit his vehicle on fire in the same area (West Gojjam Zone Police, 17 April 2021; Amhara Media Corporation, 16 April 2021; Reporter, 18 April 2021). Further, after a violent attack in Ataye and the surrounding areas by a combination of militants from the Oromo Liberation Front (OLF)-Shane and local Oromo militias, weeklong demonstrations were held across the Amhara region, denouncing violent attacks by different actors and the displacement of Amhara civilians across the country. 
Demonstrators carried slogans urging the government to fulfill its responsibility to ensure the safety of citizens, with some denouncing the incumbent Prosperity Party's alleged links with Oromo extremist groups. In some cases, the demonstrations even took on an anti-Oromo tone, with some demonstrators holding signs saying, "Destroy Oromuma." This act was condemned by some Oromo politicians, Abba Gadaa leaders (Oromo traditional elders), and the Amhara regional government (Oromia Communication Bureau, 24 April 2021; OMN, 21 April 2021; Taye Dendea Aredo, 20 April 2021; Amhara Communications, 21 April 2021; Amhara Communication, 23 April 2021). While most demonstrations were peaceful, demonstrators clashed with security forces trying to disperse them in Bahir Dar city on the third day of demonstrations. 
Clashes related to the question of self-determination continue to challenge the peace and security of the Southern Nations, Nationalities and Peoples Region (SNNPR). Around 7 April 2021, 12 civilians were killed and eight injured in attacks by militias associated with the Gumayde Peoples Special Woreda Return Committee in Bunit, Alfacho, and Abulo Kebeles in Amaro Woreda, Segen Area People's Zone. More than 11,000 ethnic Koore were internally displaced following the attacks (Addis Standard, 8 April 2021). Furthermore, on 22 April 2021, unidentified armed men shot and killed six civilians in Dano Kebele of Amaro special zone. On 30 April 2021, unidentified armed militants shot and killed six people in Danchu woreda in Bench Sheko Zone.
Benshangul/Gumuz region continues to experience instability due to attacks on civilian ethnic Gumuz and Amharas by unidentified armed groups, as well as clashes between federal forces and unidentified armed groups. On 19 April 2021, an armed group associated with the Gumuz People's Democratic Movement took "nearly full control" of Sedal woreda in the Kamashi zone (Ethiopian Human Rights Commission, 21 April 2021). Furthermore, on 7 April 2021, in the evening hours, at least seven people were reportedly killed by suspected ethnic Amhara gunmen who came from the neighboring Amhara region in Sirben kebele, Dibate woreda in Metekel Zone.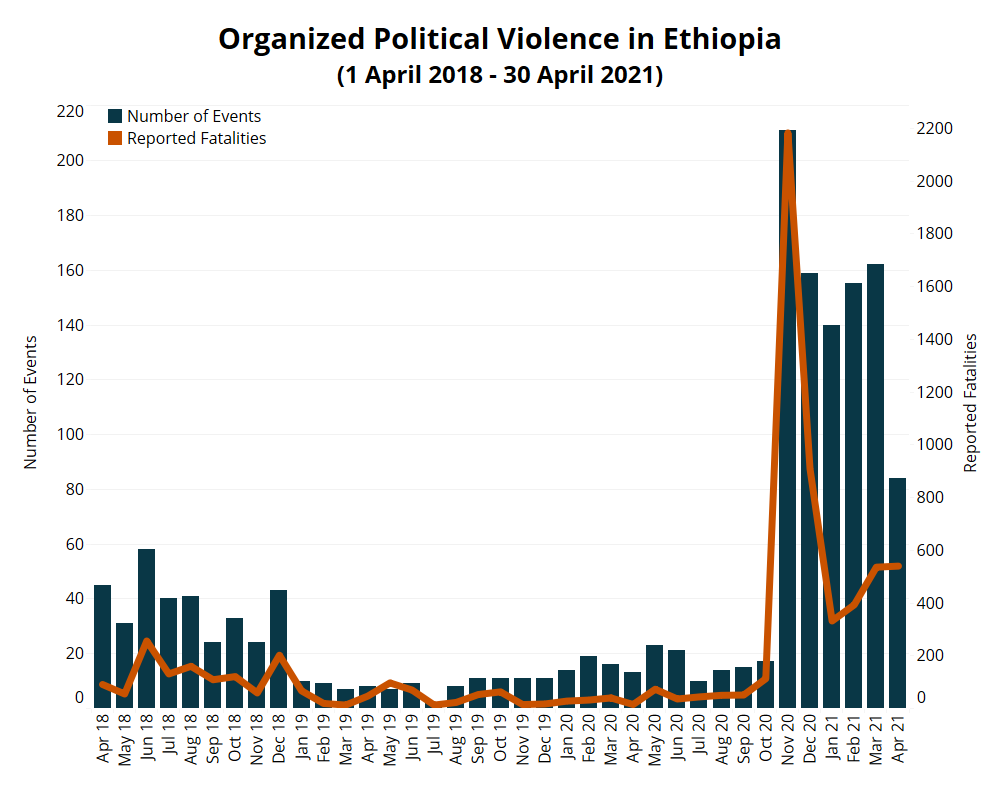 Tigray Conflict Update
In Tigray, violence levels have generally decreased throughout April. ACLED records more than 50 fatalities in Central and North Western Tigray. These numbers are likely a low estimate as access to the region – especially rural areas – remains poor. However, the clear decline in hostilities is a result of strategy shifts by the Tigray Defense Force (TDF), who have stopped attempting to hold territory and have instead begun engaging in hit-and-run attacks. 
Nevertheless, civilians are still routinely falling victim to violent attacks by TDF, Eritrean troops, and Ethiopian National Defense Force (ENDF). Tigray People's Liberation Front (TPLF) affiliated forces likewise killed civilians in April and burned ambulances, as well as private and government vehicles. On 8 April 2021, TPLF associated forces reportedly ambushed a convoy traveling between Adwa and Tembien towns (Central Zone), killing an unspecified number of civilians (EBC, 8 April 2021). Reports indicate that at least 33 civilians were killed by ENDF soldiers in Selekleka town, North Tigray.  On 12 April 2021, Eritrean forces opened fire and killed at least nine civilians and wounded more than 12 in Adwa town until the Ethiopian National Defense Forces intervened and stopped the Eritrean forces (Reuters, 14 April 2021). Even though both Ethiopia and Eritrea have agreed to the withdrawal of Eritrean forces from the Tigray region, Eritrean forces were still active in the Tigray region at the end of April.
While the situation for humanitarian assistance has improved compared to previous months, humanitarian assistance in the region is still limited, despite the high number of civilians in need. Reports indicate that continuing insecurity and some organizational bureaucracy have limited humanitarian operations in the region.
Election-Related Disputes and Violence
As the election draws near, pre-election disputes are being adjudicated by the Ethiopian Courts. However, it is not clear how NEBE will implement these decisions as most of the rulings are repealing initial decisions made by NEBE. As candidate registration has ended, and the printing of the ballots is underway, electoral changes are occurring in an atmosphere of high uncertainty. Recently, court decisions repealed NEBE's efforts to deregister the Oromo Gada Liberation Party – Gada Bilisuma and the Oromo Democratic Alliance (ODA). Similarly, the Federal Supreme Court rejected a decision taken by NEBE to prohibit Hararis living outside the Harari Regional State from voting for the regional National Assembly members. At the beginning of April, the Court upheld the decision of the NEBE to disqualify the Oromo Liberation Democracy Front (OLDF) as a party.
In April, a total of three electoral candidates were killed. A National Movement of Amhara (NaMA) candidate competing for state council in Wonbera Woreda, Metekel Zone of Bensishangul-Gumz region was killed on 9 April 2021 in the Karbar area of Metekel Zone. On 21 April 2021, another NaMA party member, a youth organization leader, was shot and killed in Metema (West Gondar, Amhara region). Around 16 April 2021, an Ethiopian Citizens for Social Justice (EZEMA) party candidate for Eferatana Gidem woreda (North Shewa, Amhara region) was killed by an unidentified armed group in Ataye town during clashes between OLF-Shane (and local Oromo militias) and the Amhara regional special forces.
Furthermore, due to security concerns, the NEBE announced that voter registration is not being conducted in 4,126 polling stations in four regional states, including the Oromia region (in West Wollega, East Wollega, Horo Guduru, and Kellem Wollega Zones), Amhara region (in North Shewa zone, Oromo Special zone, Argoba Zone, and Wagmera Zone), Benshangul/Gumuz (in Metekel and Kamashi zones) and SNNPR (in Gura Ferda, Surma and Zelmam zones). Attacks on some election officers and threats against voters not to register to vote in the election were reported in Dire Dawa city.
Additional protests continued in the Somali regional state in reaction to a decision by NEBE to remove polling stations in the contested territories along the Afar and Somali regional state borders. Protests against this decision started in late March 2021. As the general election approaches, there is a high risk for recurrence of violent conflict in this area unless the dispute over the canceled 30 polling stations is resolved through dialogue.
By the end of the month, due to the current insecurity, the Oromo Federalist Congress (OFC), Oromo Liberation Front (OLF), and the Oromo Liberation Army (OLA), identified as OLF-Shane by the government, called for the cancellation of the upcoming election and advocated instead for a national dialogue conference. OLA proposed establishing an inclusive transitional government  (Oromo Federalist Congress, 29 April 2021; Oromo Liberation Front, 28 April 2021; Addis Standard, 29 April 2021). The Ethiopian Council of Ministers recently passed a proposal designating the OLA and TPLF as terror organizations (Office of the Prime Minister, 1 May 2021). 
Monthly Focus: Protest Dynamics in Ethiopia Prior to the Election
Popular uprisings have played a major role in shaping Ethiopia's contemporary political landscape. Anti-government demonstrations from 2014-2018 caused a reshaping of the ruling coalition, the Ethiopian People's Revolutionary Democratic Front (EPRDF). Thus, the TPLF, which previously dominated the EPRDF, lost power to Prime Minister Abiy Ahmed and his Prosperity Party.
Protests in the pre-Abiy era were characterized by waves of mobilization and ineffective attempts by government troops to suppress demonstrations. Despite facing intense opposition from security forces, protesters often carried out acts of defiance that were clear products of effective coordination and planning (Africanews, 6 March 2018). This coordination was a product of alignment – key members of the government saw an opportunity to better their position and rode waves of aggrieved mobilization into higher offices.
Protest movements across Ethiopia in 2021 bear none of these characteristics. Protests are reactionary and often bear the brunt of heavy state violence. Despite high levels of grievance, protest movements are not sustained, and their geographic coverage is limited. When alignment is present, elites struggle against an immature infrastructure that makes protests and economic strike attempts largely uncoordinated and ineffective. Until such infrastructure is re-established, sustained protest movements like those seen prior to the resignation of Prime Minister Hailemariam Desalegn and the confirmation of Abiy Ahmed as prime minister are unlikely.
Oromia Region: Spaces of low willingness, opportunity, and alignment
Despite having some of the highest levels of organized violence in the country, the Oromia region recorded only three demonstrations during the last month. This is due to a high threat of state violence against demonstrators, low willingness to mobilize, and low capacity among elite populations to organize large-scale protest events.
Oromia region has historically been the most active location in the country for protesters to mobilize. There are many reasons for this — among them various Oromo ethno-nationalist organizations that provided financial and logistical help to Qeerroo youth who were able to enforce economic strikes, hijack government-sponsored events, and disrupt government activities on a regular basis. A combination of high willingness and opportunity produced an environment that was highly conducive to coordinated protests.
The trend can be explained by changes that occurred in Oromia's political environment last year. Government troops cracked down hard on Oromo youth and their elite support following a series of deadly riots that occurred directly after the death of Hachaalu Hundessam, a popular Oromo Musician, in June of 2020. Hundreds of people were killed (including ethnic minorities killed by rioting mobs), and thousands jailed. Subsequent attempts to demonstrate have been largely unsuccessful due to the closure of political space – most attempts to demonstrate are met by swift government action.
Willingness is also at an all-time low. Interviews with Qeerroo youth in a dozen different cities across Oromia indicate that the movement has been highly divided, with some youth supporting the government Prosperity Party, others the Oromo Liberation Army, and others still the jailed leaders of the Oromo Federal Congress (OFC). This division has resulted in a low willingness to mobilize – youth describe attempts to put together demonstrations against the jailing of Oromo political figures in February this year as "chaotic and confused."1 Interviews conducted by ACLED with youth in Ambo, Shashamane, and Nekemte cities in April 2021. Those who did manage to put together a demonstration lasted just minutes before being broken up by police forces. Several youths claimed that attempts to protest in Shashamene town during the "Yellow Movement" in support of jailed OFC leaders had resulted in near-immediate attention by police forces and several high school students were sent to the hospital following brutal beatings. Similar stories were repeated by youth respondents in Ambo and Nekemte towns.2Interviews conducted by ACLED with youth in Ambo and Nekemte cities in April 2021.
It seems that older residents in Oromia have also withdrawn much of their support for the youth protest movements. Citing the economic cost of instability, many residents have quietly withdrawn their support. (EBC, 18 February 2021).
In an environment of low willingness, low opportunity, and low capacity by opposition elite actors to organize protests, Oromia is unlikely to be a site of sustained protest activity during the electoral cycle. However, there are several factors that could raise willingness or opportunity that should be considered. 
Oromia's political space is highly volatile, and changes could occur to raise either willingness, opportunity, or organizational capacity that would return protest movements to the region. The death of an important leader, for example, could raise willingness as it could be a highly polarizing event. An opportunity could likewise change should PP officials decide to allow protests that could play into their favor in light of the Oromo-Amhara PP factions divide. The organizational capacity of protest movements is continually rising as youth create new networks, and could reach significantly high levels after several months. The capacity to organize could also be quickly regained if key organizers are released from federal detention. 
Amhara Region: High opportunity, high willingness, mixed organizational capacities
In contrast to the Oromia region, where local officials are unwilling to allow protests to occur, the Amhara region was the site of a high number of demonstrations last month that demonstrated willingness, opportunity, and alignment. Still, protests were not nearly as large or as sustained as those that occurred prior to the transition period beginning in 2018. There were also elements of uncertainty during the latest round of protest, as not all factions agreed with the aim of the demonstrations. Different factions leveled accusations of "hijacking" and mixed messaging. This led to an economic strike being suspended early. 
Unrest had been building in the Amhara region for months and was finally triggered by the violence occurring in Ataye city, located in the Wollo area, Amhara region. Demonstrators protested against the increasingly frequent violent attacks and displacement of ethnic Amhara from areas in Oromia, Amhara, and Benishangul/Gumz region. They chanted slogans expressing frustration at the government's unwillingness to fulfill its responsibility to ensure the safety of citizens.
As noted above, demonstrations began on 16 April in Finote Selam, where rioters clashed with police and Amhara regional special forces, killing one police officer and wounding another. A truck driver was injured when rioters lit his vehicle on fire in the same area. (West Gojjam Zone Police, 17 April 2021).  Mobilization later spread to Dessie and Debre Markos, then every other major city in the region. Despite its violent beginnings, most of the demonstrations held across the Amhara region throughout the rest of the month of April were peaceful.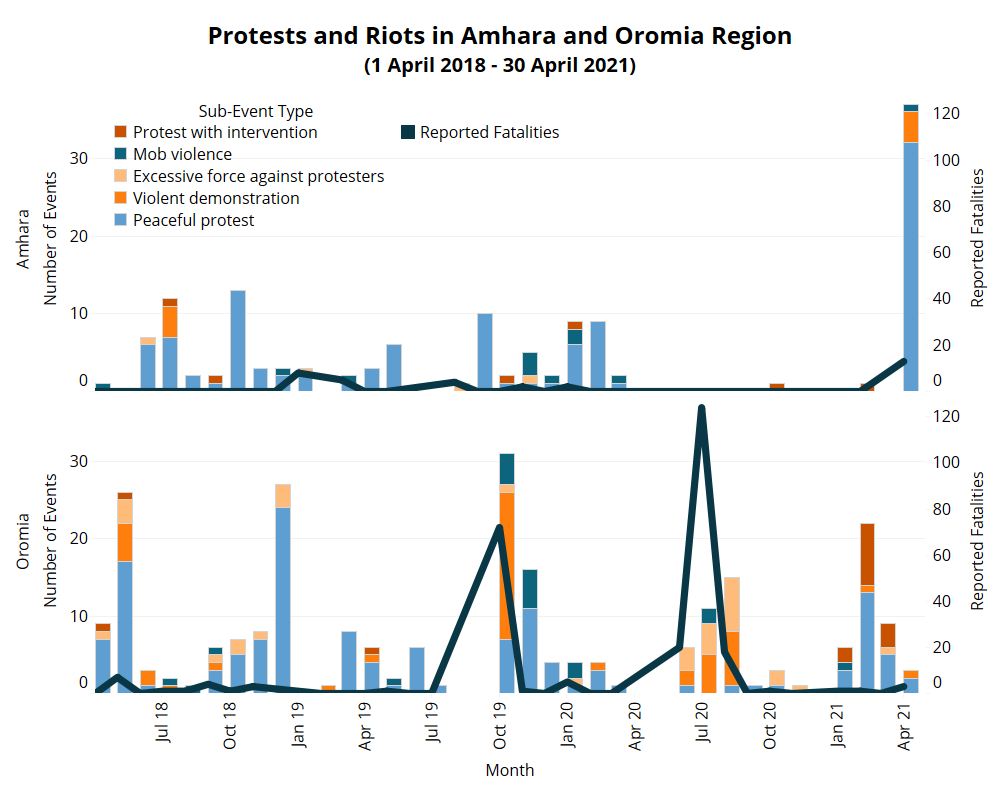 The protests were key, however, in exposing the strength of Amhara ethno-nationalist movements. This seems to have alarmed regional authorities. Several leaders of the Amhara Youth Association were arrested in Bahir Dar after demonstrators burned PP party banners and clashed with police. Authorities likewise cracked down hard on Amhara ethno-nationalist movements accused of plotting violence around the upcoming election in Addis Ababa (Addis Standard, 6 May 2021, DW Amharic, 4 May 2021).
The dynamics of protest in the Amhara region highlight an important trend. Authorities who encouraged the demonstrations appeared to be surprised at the anti-government sentiment that demonstrators had. It is clear that alignment systems — such as those present prior to the transition period — have yet to be established and local authorities have poor access to information about ethno-nationalist groups. This makes it likely that Amhara regional authorities will attempt to dampen the power of ethno-nationalist groups like NaMA in the coming months and will seek to reduce opportunities for mobilization. In the event that willingness rises again due to a triggering event, heavier state violence could be expected.
Conclusion
The cost of mobilizing people to demonstrate has risen in Ethiopia. In a country where one would expect that an electoral cycle would be accompanied by a high number of protests/riots, few have been reported. This is due to recent events where security forces have clearly communicated to protesters that demonstrations would be met by heavy repression. Movements that coordinated mobilization efforts in the past have been crippled by internal divisions and a lack of organizational structure. Given these facts, mobilization during the current pre-election cycle is not likely to reach levels experienced during the 2014-2018 period.