May at a Glance
Vital Stats
ACLED has recorded 48 total events and 429 reported fatalities in May.

Tigray region had the highest number of reported fatalities due to organized political violence in May at 345 reported fatalities. Oromia region followed at 40 reported fatalities.

In May, the most common event type was violence against civilians, with 21 events and 52 fatalities reported. There were 12 recorded demonstrations in different areas of the country. There were 11 battle events which led to 370 fatalities. Four battle events in Tigray led to 323 of the 370 total fatalities.
Vital Trends
Clashes between armed groups increased in both Amhara and Oromia regions. In the Amhara region, clashes between Qemant ethno-nationalist groups and the Amhara regional forces were frequent in areas near Gondar. In the Oromia region, clashes between the Oromo Liberation Front (OLF)-Shane and the regional security forces increased in Guji and West Wollega zones.

Compared to previous months, in May, there was an increase in assassinations of government-affiliated individuals, mostly perpetrated by OLF-Shane.  

Demonstrations against US sanctions on Ethiopia were held in different cities across the country.
In This Report
May Situation Summary

Monthly Focus: Election-Related Disputes and Violence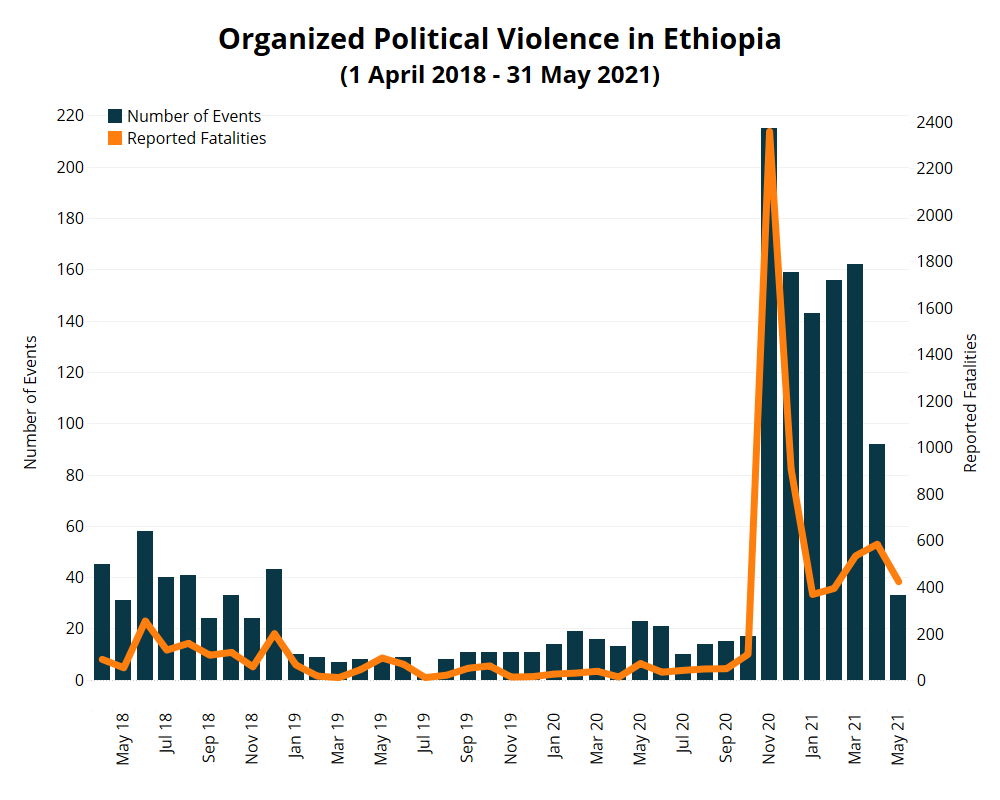 May Situation Summary
At the beginning of May, the House of Peoples' Representatives of the Federal Democratic Republic of Ethiopia approved the Council of Ministers' decision to designate the Tigray People's Liberation Front (TPLF) and the Oromo Liberation Front (OLF)-Shane as terrorist organizations. According to the government, this designation will allow the government to prevent and suppress the actions of the two groups as per Ethiopian law (Office of the Prime Minister-Ethiopia, 1 May 2021). After this declaration, OLF-Shane (also known as the Oromo Liberation Army (OLA)) declared that they would "engage in total war to remove the illegitimate clique from power" (OLA High Command Statement, 5 May 2021). As a result, violence has increased in areas where the group is active, with battles occurring between OLF-Shane and the regional security forces in Western Wollega, Kellem Wollega, Horo Guduru, Guji, and West Guji zones in the Oromia region. The remote nature of the area in which these clashes occurred, as well as a poor information environment, makes estimating fatalities difficult. 
During the month of May, OLF-Shane militants assassinated four government-affiliated officials along with their driver in one incident and eight security forces in a separate incident in the Oromia region.  Attacks were also reported in Abe Dongoro woreda in the Horo Guduru Wollega zone, where suspected OLF-Shane militants killed three ethnic Amhara civilians (ESAT, 19 May 2021). 
Armed clashes also occurred in the Amhara region. On 23 and 25 May 2021, Sudanese and Ethiopian militias attacked an investors' camp in Tumet Mendoka kebele in Metema woreda (VOA Amharic, 25 May 2021; DW Amharic, 27 May 2021). According to a witness interviewed by DW Amharic (27 May 2021), the Sudan militias are supported by members of the Gumuz People's Liberation Movement, the Tigrayan People's Liberation Front (TPLF), Qemant ethnic group militia, and Samri youth militia. On 26 and 27 May 2021, Amhara regional forces successfully defended attacks by unidentified armed groups in Qusqam, Belajig Dabreka, and Azezo Sayid neighborhoods of Gondar city in the Amhara region (DW Amharic, 28 May 2021). 
An increase in violent conflict and targeted violence against Amhara civilians over the past few months is placing pressure on regional authorities. Early in the month, Amhara regional government officials called for more humanitarian assistance for displaced persons in the region (Amhara Media Corporation, 5 May 2021; EBC, 6 May 2021; Amhara Media Corporation, 18 May 2021; Amhara Media Corporation, 22 May 2021). According to the Amhara regional government, 246,818 people are internally displaced due to the violent conflict in Ataye and the surrounding area (Amhara Media Corporation, 24 May 2021; see EPO Weekly: 10-16 April 2021). The Amhara regional government also stated that the region is hosting 565,000 internally displaced people, including people displaced from Benshangul/Gumuz, Oromia, and Southern Nations, Nationalities and Peoples Region (SNNPR) (Amhara Media Corporation, 18 May 2021).
In Benshangul/Gumuz, an agreement was signed between representatives of the Benshangul/Gumuz regional government and members of the Gumuz People's Democracy Movement who are undergoing re-integration training in the region (BBC Amharic, 19 May 2021). Despite these efforts, the region remains unstable due to continued activity by other armed groups such as the Gumuz People's Liberation Movement, which continues to perpetrate violent attacks (ESAT, 18 May 2021). Voting dates for residents in a majority of zones within the region have been delayed due to security issues (National Electoral Board of Ethiopia, 1 June 2021). 
In addition, on 22 May 2021, suspected members of the Gumuz People's Liberation Movement crossed the border between Benshangul/Gumuz and Oromia regions and attacked civilians in Yambelgara Oli kebele in Nejo woreda (Oromia region). The armed group killed six people, injured one person, and burned houses (VOA Amharic, 24 May 2021; DW Amharic 25 May 2021). 
In the Somali region, on 20 May 2021, Afar militias clashed with Somali militias after attacking Birta Dheer village and Tarayne to the west of Sitti zone. At least six people were killed and 25 others were injured (Voss TV, 20 May 2021).
Two areas of SNNPR experienced security challenges during the month. On 18 May 2021, unidentified attackers in Sheko woreda of Bench Sheko zone killed nine security officers and wounded three others. The zone has been the site of heavy ethnic conflict over the past couple of months (VOA Amharic, 19 May 2021). As a result of worsening violence, on 24 May 2021, the Bench Sheko zone administration asked SNNPR and the federal government for assistance with achieving peace and security (Bench Sheko Zone Communication Affairs, 24 May 2021; South Bench Woreda Communication Affairs Office, 26 May 2021). Amaro special woreda, which borders the West Guji zone in the Oromia region, was another site of heavy conflict during the last month. An attack on 12 May 2021 left three civilians dead, two injured, and more than 6,000 displaced (DW Amharic, 14 May 2021). A United Nations Office for the Coordination of Humanitarian Affairs (UNOCHA) report indicated that humanitarian operations in the area were being restricted due to increasing instability (Relief Web, 30 April 2021). 
Similarly, UNOCHA reported that active conflicts in Central, North-Western, Eastern, South-Eastern, and Southern Tigray prevented humanitarian organizations from reaching people in need in rural areas of Tigray (UNOCHA, 7 May 2021; UNOCHA, 20 May 2021; UNOCHA, 27 May 2021). Battles were especially fierce in areas near Hawzen, which was under control by forces loyal to the TPLF as recently as 7 May 2021 (AP, 4 June 2021). While the government has made efforts to improve accessibility by providing military escorts, details about which areas are newly accessible were not immediately clear (Office of the Prime Minister-Ethiopia, 8 May 2021). TPLF forces continue to hinder efforts by the government to establish a working government in the region. On 28 May 2021, TPLF militants shot and killed the provisional mayor of Adigrat town, also hitting an INGO worker who later succumbed to his injuries (UNOCHA, 3 June 2021). Some 22 members of the provisional administrative government have been killed since the start of the conflict (AP, 26 May 2021). 
Due to concerns over human rights violations and urgently needed humanitarian relief in the Tigray region, the US government announced visa restrictions on all current or former Ethiopian or Eritrean government officials, members of the security forces, including Amhara regional forces, and members of TPLF. The US also decided to pause economic and security assistance to Ethiopia and requested that other governments take similar actions (Office of the Spokesperson, 23 May 2021). The US government has demanded an immediate cessation of hostilities, the withdrawal of Eritrean and Amhara regional forces from the Tigray region, and for the Ethiopian government to engage in dialogue with the TPLF. US representatives have also asked for increased efforts to hold accountable all those responsible for human rights violations (Office of the Spokesperson, 23 May 2021; see also S.Res.97, 19 May 2021). Ethiopia's Attorney General announced the prosecution of 28 soldiers in connection with the killing of civilians, as well as 25 soldiers accused of sexual crimes (FDRE Attorney General, 21 May 2021). 
Following the announcement of sanctions against Ethiopia by the US government, several demonstrations were held in the capital city and in the cities of Asosa, Dire Dawa, Gambela, Harar, Hosana, Silte, and Wolayta-Sodo (Amhara Media Corporation, 21 May 2021; Fana Broadcasting Corporate, 30 May 2021; BBC Amharic, 30 May 2021; Ethiopian Broadcasting Corporation, 30 May 2021a; Ethiopian Broadcasting Corporation, 30 May 2021b).
Monthly Focus: Election-Related Disputes and Violence
Ethiopia's national election has been delayed for a third time as announced on 15 May amid a highly volatile situation in the country (Reuters, 15 May 2021). The conflict in Tigray has turned into a persistent insurgency, clashes with insurgent groups in western and southern Ethiopia have intensified, and deadly violence has flared in border areas between the Somali and Afar regional states. Several sections of the Amhara and Benishangul/Gumuz regions are under the control of a federal command post, while civilian killings, mostly by unidentified armed groups, continue to occur in areas of SNNPR. Amidst such insecurity, many are fearful that the election could trigger additional violence that would push Ethiopia deeper into chaos.
Ethiopia's election board has announced that elections will not be held in 37 election constituencies. The election is not going to be held in 26 of the 37 election constituencies due to insecurity (NEBE, 1 June 2021; NEBE, 22 May 2021; see map below). These 26 election constituencies consist of four election constituencies in Benshangul/Gumuz, eight in the Amhara region, and seven in each Oromia region and SNNPR (NEBE, 1 June 2021; NEBE, 22 May 2021). Voting will not occur in any location in the Tigray region (AP, 20 May 2021). NEBE officials in areas of the country where the election is slated to move ahead have indicated that they are unsure that the election will occur in such a violent climate.1Interview with NEBE staff in Western Oromia, April 2021.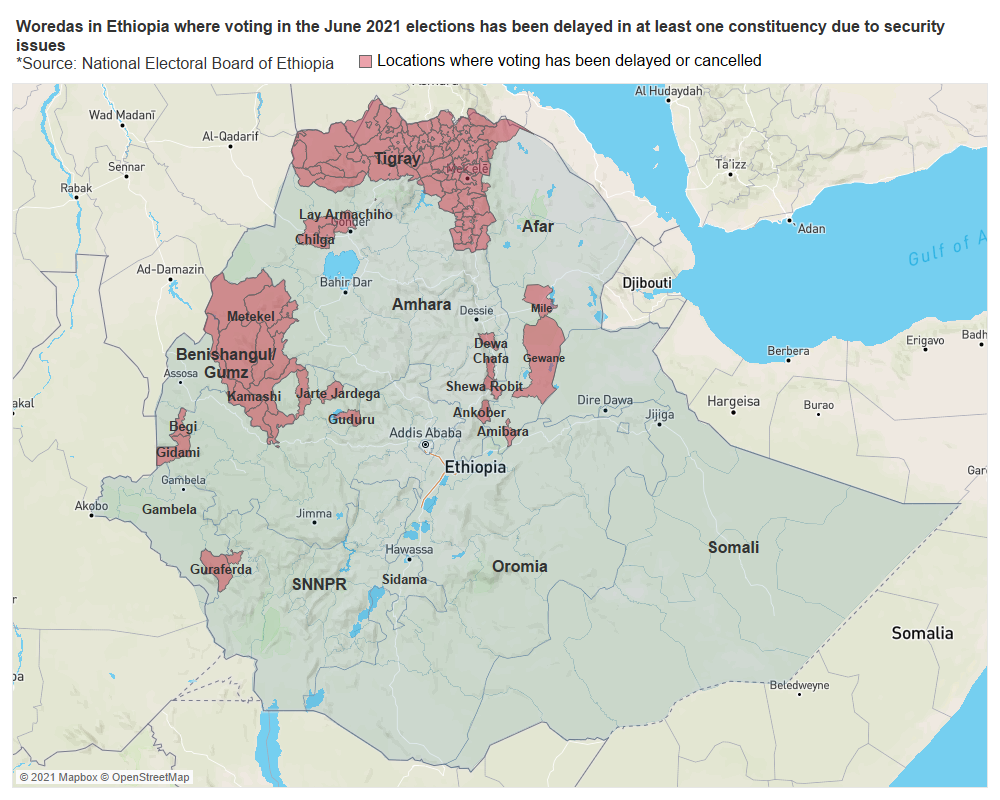 Violence has hindered election campaigns. Several targeted killings of candidates have been reported (see map below). Ethiopian Citizens for Social Justice (EZEMA) candidates were killed in Bishoftu city (Oromia) and in Ataye (Amhara), while the National Movement of the Amhara (NaMA) candidates were shot and killed in Metema (Amhara) and in Metekel (Benshangul/Gumuz).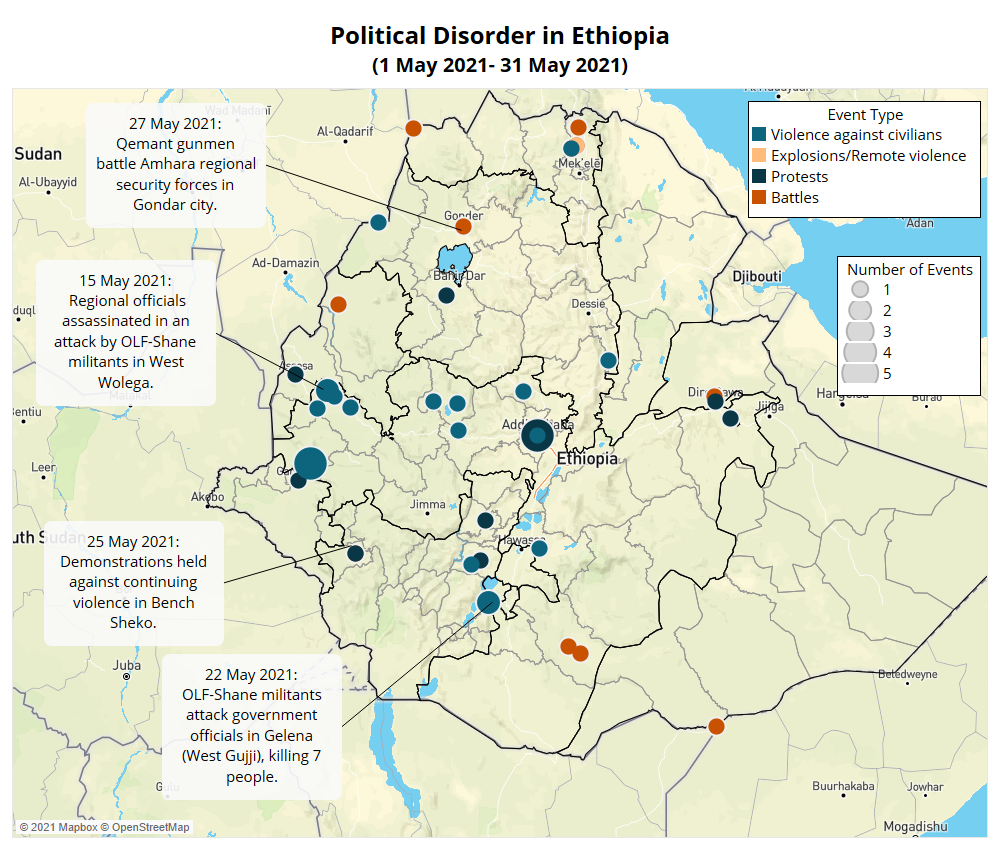 So why is Ethiopia having a national election amid such unrest? Will voting trigger new waves of violence in relatively peaceful parts of the country? To answer these questions, we examine the current environment as shaped by the decisions of the country's leader, Prime Minister Abiy Ahmed.  
Abiy Ahmed came to power during the decline of the Ethiopian People's Revolutionary Democratic Front (EPRDF) machine – which had protected the TPLF's place within Ethiopia's governance systems for decades. In his ascent, he exposed a broken system of governance and elite manipulation — a system that he then inherited as he rose to the top. His inner circle has since been narrowly defined by loyalty, transactional relationships, and crisis response.
By dismantling the TPLF in Tigray and sidelining alternative Oromo political figures like Jawar Mohammed and Dawud Ibsa in Oromia, Abiy has guaranteed his Prosperity Party (PP) a sweeping win in the upcoming election by default. While violence has plagued Oromia and Tigray for many months, it is unlikely to worsen significantly during the election for the simple fact that the outcome is already known. Groups in Oromia like the Qeeroo — who put together massive and violent rallies throughout 2019 and 2020 — have been weakened significantly through state campaigns of cooptation and repression (Ethiopian Insider, 7 April 2021). The effectiveness of these efforts have already been proven — protest attempts at the outset of a hunger strike campaign by Oromo politicians that are in prison in January 2021 were quickly dispersed by security forces — a performance that is likely to be repeated during the election cycle (AP, 8 March 2021).
More serious for Abiy is the Amhara region, where the NaMA seems to be gaining ground amidst what many voters perceived as state incompetency and "looseness in enforcing the rule of law" during incidents of violence in the Ataye city area near the Oromo special zone (VOA, 3 June 2021). Demonstration in Bahir Dar turned violent in late April when pro-NaMA crowds burned PP-banners and chanted anti-Abiy slogans (Addis Standard, 20 April 2021) In contrast to the Oromia region, where political fortunes have already been cast, the contest between the Amhara PP and NaMA is one that will be taken to the polling booths. Contested results could lead to election-day violence.  
Undoubtedly, the upcoming election has heightened tensions and levels of violence in Ethiopia. Yet, conflicts taking place in Ethiopia during the lead-up to the election are not occurring in new locations or manifesting in new ways. Rather, old issues are being re-hashed as local administrators sense unstable political currents that could threaten their hold over resources or patronage in the context of a newly organized political system. Indeed, this is why the election will likely proceed despite multiple crises that have erupted throughout the state. No matter the difficulty, Abiy needs this election to understand the loyalties and the leverage his party representatives have at the subnational level. What he does with that knowledge will shape the Ethiopian state for many years to come.
For more on Ethiopia's upcoming elections, see this EPO special report.