By the Numbers: Ethiopia, 2 April 2018-25 June 20211

Figures reflect violent events reported since Prime Minister Abiy Ahmed came to power on 2 April 2018.
Total number of organized violence events: 1,616
Total number of reported fatalities from organized violence: 8,136
Total number of reported fatalities from civilian targeting: 4,373
By the Numbers: Ethiopia, 19-25 June 20212

Some events from this coverage period might be included in the data in subsequent weeks due to reporting delays.
Total number of organized violence events: 20
Total number of reported fatalities from organized violence: 121
Total number of reported fatalities from civilian targeting: 71
Ethiopia data are available through a curated EPO data file as well as the main ACLED export tool.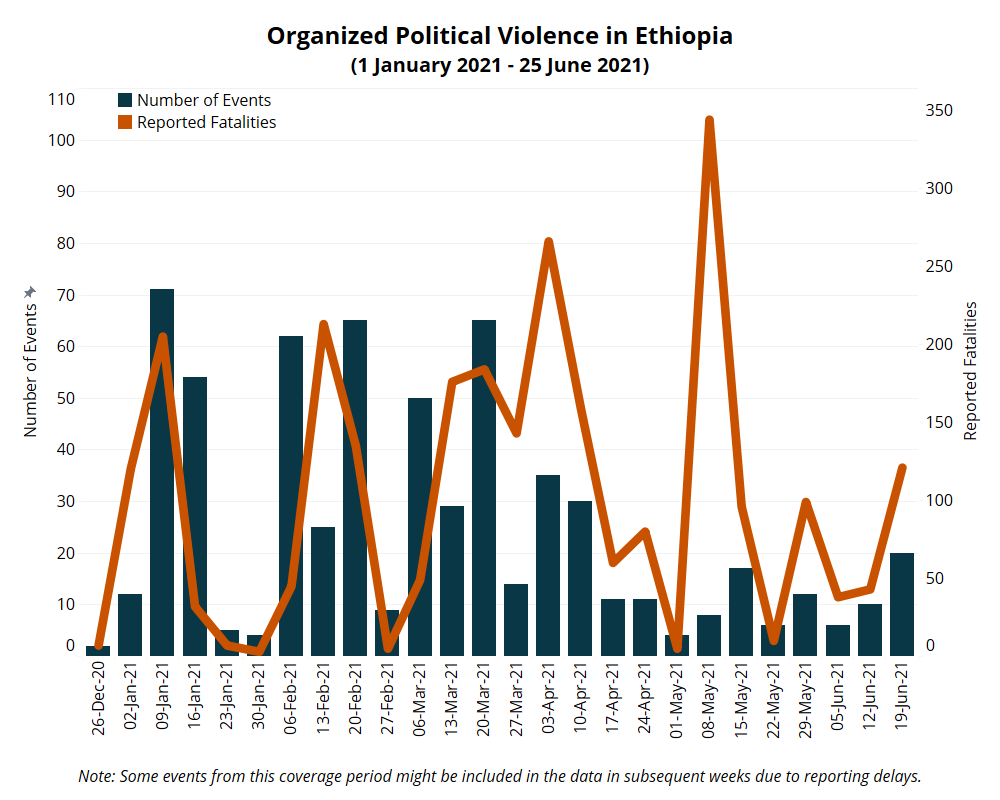 Situation Summary
Last week in Ethiopia, the long-anticipated general election was held in most regions of the country. Despite the expectation by many that the voting would be accompanied by widespread violence, election day passed peacefully in urban areas of the country with some scattered violence in select rural towns. The violence consisted of attacks on polling stations and officials transporting voting materials. Incidents were recorded in West Guji, West Hararge, North Shewa, and East Wollega zones in the Oromia region. There was one attack on a polling station in the North Gondar zone in the Amhara region.  
In the Tigray region, where voting did not occur due to ongoing conflict, intensified clashes were reported between the Ethiopian National Defense Force (ENDF) and allied Eritrean Defence Forces (EDF) against fighters loyal to the Tigray People's Liberation Front (TPLF). The fighting culminated when TPLF forces took control of the regional capital, Mekele (Reuters, 28 June 2021).
Meanwhile, efforts to stabilize some areas of the Benshangul/Gumuz region continued. Ethnic Amhara residents have been displaced due to long-running attacks on farming settlements. Government officials announced the relocation of 16,531 internally displaced people (IDPs) to Dangur, Dibate, Mandura, Bulen, and Wonbera woredas in the Metekel zone, Benshangul/Gumuz region (Ethiopian Broadcasting Corporation, 23 June 2021; Amhara Media Corporation, 23 June 2021). However, the relocated IDPs complained of a food shortage and requested more security at their new location in the Metekel zone, thus highlighting unresolved issues (DW Amharic, 25 June 2021).
Tigray Conflict Update
Last week, armed clashes between ENDF and Tigray People's Liberation Front (TPLF) intensified in North-Western and Southern zones in the Tigray region. The lack of clear information makes accurately estimating fatalities as a result of this conflict difficult, although losses appear to be significant. Armed clashes in these areas had been increasing over the second and third week of June 2021.
Despite efforts to improve access, NGO teams carrying humanitarian supplies continually face issues passing checkpoints and are not allowed to access certain areas of the region. At the beginning of last week, it was reported that Eritrean forces physically assaulted an international NGO team in Asgede woreda, North-Western zone (UNOCHA, 24 June 2021). Additionally, on 24 June 2021, three Doctors Without Borders (MSF) employees, two Ethiopians, and one Spanish citizen, were killed in Abi Adi woreda in the Central Tigray zone (Doctors Without Borders, 25 June 2021). The perpetrators could not be verified and MSF has demanded an investigation into the killings (Doctors Without Borders, 7 July 2021). Ethiopian officials blamed their murders on TPLF affiliated militias (Ministry of Foreign Affairs of Ethiopia, 25 June 2021; Fana Broadcasting Corporate, 26 June 2021).
On 22 June 2021, TPLF militias briefly took control of the town of Adigrat in the Eastern Tigray zone after clashing with ENDF and EDF in the area. An unspecified number of fatalities occurred during the clashes (BBC, 22 June 2021). The government, however, claimed that it had withdrawn troops to ensure security during the election period (Ethiopian Broadcasting Corporation, 24 June 2021). 
On the same day, Ethiopian air force jets conducted an airstrike on a marketplace in Togoga in the South-Eastern zone, killing at least 64 people and wounding hundreds more (AP News, 24 June 2021). The Ethiopian army insists that the strike targeted TPLF forces who were wearing civilian clothes and gathered to celebrate Martyrs' Day (Ethiopian Broadcasting Corporation, 24 June 2021). However, medical and local sources have confirmed that there was no TPLF fighter present and that the victims were civilians who had been shopping at the market (AP News, 24 June 2021). Ethiopian military forces shot at an ambulance attempting to reach the scene of the airstrike and blocked medical access for hours (UNOCHA, 24 June 2021).
On 23 June 2021, TPLF and associated militias traded heavy shelling with Ethiopian and Eritrean soldiers in Wukro in the Eastern Tigray zone (France24, 23 June 2021).  On the same day, one Ethiopian air transport plane crashed in the Adi Kala area, 25km away from the capital city of the Tigray region, Mekele (BBC Amharic, 25 June 2021). TPLF forces claimed to have shot down the plane, while government sources stated that the aircraft crashed due to technical problems (BBC Amharic, 25 June 2021). 
Also on 23 June 2021, the head of the Tigray Investment Bureau, who was also a Tigray transitional government member, was killed by members of the TPLF in Mekele after being kidnapped on his way to Mekele airport (Ethiopian Broadcasting Corporation, 25 June 2021). To date, around 38 members of the Tigray transitional government and those who are believed to be associated with the transitional government which was established by the federal government have been killed by TPLF in different parts of the Tigray region (EBC, 27 June 2021).
Weekly Focus: Election Violence and Post-Election Disputes
Given Ethiopia's turbulent past two years and history of violent elections, many feared the worst as Ethiopia's national election approached. Widespread violence in urban spaces of Oromia region throughout 2019 and 2020, ethnic clashes in Amhara region, and upcoming boundary changes in areas of Southern Nations, Nationalities and Peoples Region (SNNPR) all pointed toward a heightened risk of violence during voting last week. However, while election day occurred in the context of intensified conflict throughout the country, violence targeting polling locations, voters, or electoral officials was minimal (see map below). Through suppression, exclusion, and pre-emptive security buildups, the Ethiopian government managed to avoid wide-spread disorder on election day.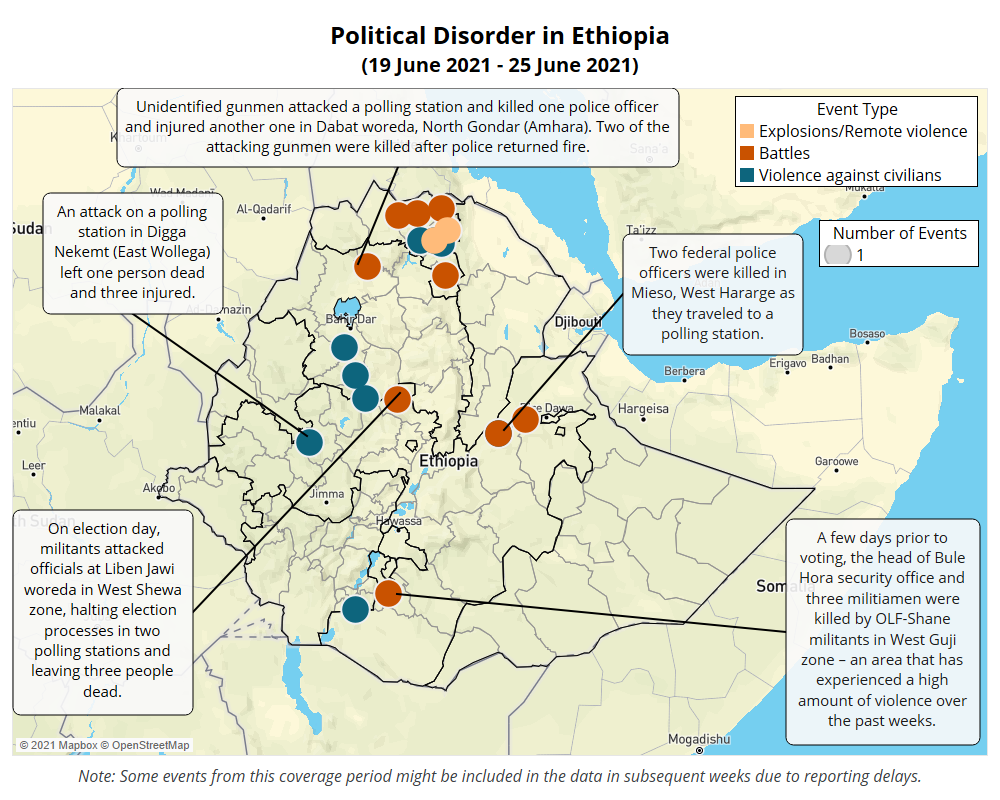 Yet, significant challenges remain as the violence that did occur on election day hints toward a long and difficult journey ahead for the Ethiopian government. Incidents were most frequent in areas of the Oromia region where a splinter faction of the Oromo Liberation Front (OLF) — OLF-Shane — operates. On election day, militants attacked officials at Liben Jawi woreda in the West Shewa zone, halting election processes in two polling stations and leaving three people dead (BBC Amharic, 22 June 2021). A similar attack on a polling station in Digga Nekemt (East Wollega) left one person dead and three injured (DW Amharic, 26 June 2021). Two federal police officers were killed in Mieso, West Hararge as they traveled to a polling station (EHRC, June 2021). One election officer was killed by gunmen in the West Arsi zone (DW Amharic, 26 June 2021). A few days prior to voting, the head of the Bule Hora security office and three militiamen were killed by OLF-Shane militants in the West Guji zone — an area that has experienced a high amount of violence over the past weeks (ESAT, 19 June 2021). These incidents highlight a trend of growing instability in rural areas of western and southern Oromia and a challenge for the regional state in months to come.
In contrast to the rural areas, the urban areas of Oromia, which saw widespread rioting, violence, and attacks on ethnic minorities last year, passed through the election peacefully. Reports from Ambo indicate that election day was incident-free (DW Amharic, 22 June 2021). Other major cities, including Shashemene, Nekemte, Ziway, and Adama, were well under the control of security forces throughout the voting process. This is all despite a heightened sense of discontent as the Oromo Liberation Front (OLF) and Oromo Federalist Congress (OFC) opposition parties both dropped out of the election citing government oppression. They called the election "a second betrayal to the struggle of our people for their democratic rights and self-rule" (OFC Statement, 23 June 2021). This then meant that Prosperity Party (PP) candidates were uncontested in most constituencies of the Oromia region.
The recorded low level of election-day violence is likely due to a combination of three factors. These include the co-option of youth movements by PP, widespread arrests of both opposition party officials and youth, and the increased presence of Oromia region special forces (Ethiopia Insight, 7 April 2021; Amnesty International, 18 July 2021). The increased presence of security forces, in particular, gave local PP officials leverage over their constituencies and reduced the likelihood of electoral violence.
Similar trends were observed throughout "opposition strongholds" in the country. Opposition parties all complained of intimidation and electoral violations by ruling party cadres throughout the country (Wolayta National Movement, 21 June 2021; OLF 25 June 2021; VOA Amharic, 25 June 2021; EZEMA 24 June 2021). Arrests were common (DW Amharic, 23 June 2021), and security forces were present in high numbers (EHRC, 25 June 2021). In areas of the Amhara and Benshangul/Gumuz region where opposition parties were campaigning on platforms of greater local autonomy, the election was postponed outright, citing concerns of violence (see EPO Weekly: 12-18 June 2021).
 Ethiopia's 2021 general election will almost certainly return a resounding win for the ruling PP and its leader, Abiy Ahmed. As results are announced, conditions for post-electoral violence are similar to those of election day violence. Although grievances may be high in areas where opposition parties were excluded, an opportunity for violent mobilization is at an all-time low amidst heavy security crackdowns, the threat of arrest, and high levels of co-optation by officials in office. It is thus expected that while strong opposition parties will submit their post-election disputes to the courts, they will accept the courts' decisions peacefully.
The exception to this trend are areas where opposition parties did produce competitive campaigns. For example, the National Movement of the Amhara party ran a particularly strong campaign in urban locations of the Amhara region, and if they are not considered in the formation of a government, the risk for post-electoral violence could be high. Election-related violence is also still possible in areas where the general election has yet to be held such as the Somali region and the Benshangul/Gumuz region, as well as in SNNPR where a referendum is planned in certain locations. This referendum will decide whether or not five zones and one special woreda in SNNPR (Kaffa, Sheka, Bench Sheko, Dawuro, West Omo zones, and Konta special woreda) should form the 11th region in Ethiopia, with South-Western region its proposed name.