By the Numbers: Ethiopia, 2 April 20181

Figures reflect violent events reported since Prime Minister Abiy Ahmed came to power on 2 April 2018.

-30 July 20212

ACLED's real-time data updates are paused through the end of August 2021. Data for the period of 31 July to 3 September will be released on 6 September, at which point real-time data publication will resume. All ACLED data are available for download via the data export tool and curated data files.
Total number of organized violence events: 1,735
Total number of reported fatalities from organized violence: 9,294
Total number of reported fatalities from civilian targeting: 4,944
Ethiopia data are available through a curated EPO data file as well as the main ACLED export tool.
Situation Summary
Last week, armed clashes were reported throughout Ethiopia in Afar, Amhara, Oromia, Tigray, and Somali regions.
On 18 August 2021, in the Oromia region, Oromo Liberation Front (OLF)-Shane militants reportedly attacked ethnic Amhara settlements in Gida Kiramu (East Wollega, Oromia), killing at least 150 people (Ethiopian Human Rights Commission, 26 August 2021). Some estimates place the fatality count much higher, although details surrounding the incident are highly contested, including whether OLF-Shane was even involved. OLF-Shane's representatives reject the accusation that their forces attacked civilians and instead claim that the fatalities occurred amongst intense fighting between armed ethnic militia active in the area (OLA Communiqué, 25 August 2021). Subsequent clashes after the events in Gida Kiramu resulted in the deaths of an additional 60 persons (Ethiopian Human Rights Commission, 26 August 2021).  
Meanwhile, federal forces claim to have killed 40 OLF-Shane militants and wounded an additional 35 during an operation along the borders of the Southern Nations, Nationalities and Peoples Region (SNNPR) and West Guji zone of the Oromia region along the Guji-Moyale highway (VOA, 28 August 2021). OLF-Shane forces claim to have gained control of some towns and villages in the area after announcing an alliance with the Tigray People's Liberation Front (TPLF). See EPO Weekly: 14-20 August 2021 for more details on increasing OLF-Shane activity in southern and western Ethiopia.
In the Amhara region, government forces managed to regain control of several towns, including Debre Zebit, Checheho, Nefas Mewecha, and Gayint. TPLF forces were accused of looting in several towns, including Nefas Mawecha in the early parts of last week. 
As will be discussed more below, conflict over contested territory between Afar and Somali regional states reignited last week, with clashes and a high number of fatalities being reported in rural locations surrounding Cundhufo town (Afar Region) and Garba Ciise town (Somali region) (VOA, 28 August 2021). Clashes previously erupted in this location in April of 2021 after the National Electoral Board of Ethiopia (NEBE) decided to cancel 30 polling stations in disputed territories over fears of violence (NEBE, 24 March 2021).
Weekly Focus: Conflicting Narratives and High Fatality Events in Ethiopia
Conflicting narratives surrounding a number of high fatality incidents that occurred in Ethiopia last week illustrate the difficult and polarized nature of conflict zones in the country today. Two events in particular — one in western Oromia and one along the Somali/Afar border — reflect the emergence of contested narratives.
In western Oromia, in the East Wollega zone, ethnic Amhara who settled in villages just south of the Amhara/Oromo regional border during the 1970s and 1980s have occasionally clashed with local Oromo inhabitants over land and resources (Zelalem Teferra, EJBE 2010). The issue is exacerbated by Ethiopia's ethno-federalist system of governance that awards political authority to Oromo officials in the region by default. Minority populations have sometimes accused local authorities of siding with militant organizations during disputes.
As noted above, on 18 August 2021, and in the following days, violence peaked in these settlement areas. According to the Ethiopian Human Rights Commission, gunmen associated with OLF-Shane attacked residents in the Gida Kiramu district of East Wollega, killing 150 people "based on their ethnic identity" (Ethiopian Human Rights Commission, 26 August 2021). The commission went on to describe 60 other killings based on "ethnic retaliation" that happened in the days following the initial massacre (Ethiopian Human Rights Commission, 26 August 2021).
The statement was immediately rejected in a communique by a spokesperson for the Oromo Liberation Army (OLA). The group is identified as OLF-Shane by the government. OLF-Shane instead insisted that the deaths occurred in the midst of heavy fighting between OLF-Shane fighters and an Amhara militia that had crossed the border into the region and displaced Oromo farmers from the contested territory (OLA Press Release, 25 August 2021). The communique disputes the charge that the OLF-Shane attacked civilians. The Oromo Liberation Front party faction led by Dawud Ibsa likewise condemned the statement made by the Ethiopian Human Rights Commission, accusing the commission of bias and unprofessionalism in regards to investigating the incident (Oromo Liberation Front, 27 August 2021).
A second high fatality event occurred last week in a territory that is contested by the Somali and Afar regions, though details regarding the estimated fatalities are limited. Afar regional officials claimed that Somali militants attacked ethnic Afar residents in the town of Cundhufo, sparking clashes that led to the closure of the Addis Ababa-Djibouti highway (VOA, 28 August 2021). Somali regional officials likewise blamed the violence that occurred during the week on Afar ethnic militias and special forces, claiming that the violence was an attempt to drive ethnic Somalis from the contested territory. Clashes between the ethnic groups occurred in Qalacle village near Garba Ciise, Birthadheer, and Rotu villages in Caandufo kebele, and Biyacadde, and Furta Gela villages, located 40 KM from Cadheyti town (BBC Somali, 28 August 2021).
Both incidents fit into a noticeable trend in the conflict data concerning Ethiopia. Events with high fatalities reported are on the rise and have been since the change in government in 2018. More high fatality events have been reported in the past years in comparison with the early years of Prime Minister Abiy Ahmed's government (see figure below). Specifically, mass fatality events by non-state armed actors have risen, and are widespread across the country from Afar to Benshangul/Gumuz. This may be a function of better reporting and accessibility since the end of the former regime and the beginning of the Abiy regime (although this better access has been declining for the past year or so). However, it is far more likely that more violent competition is resulting in high civilian fatality numbers.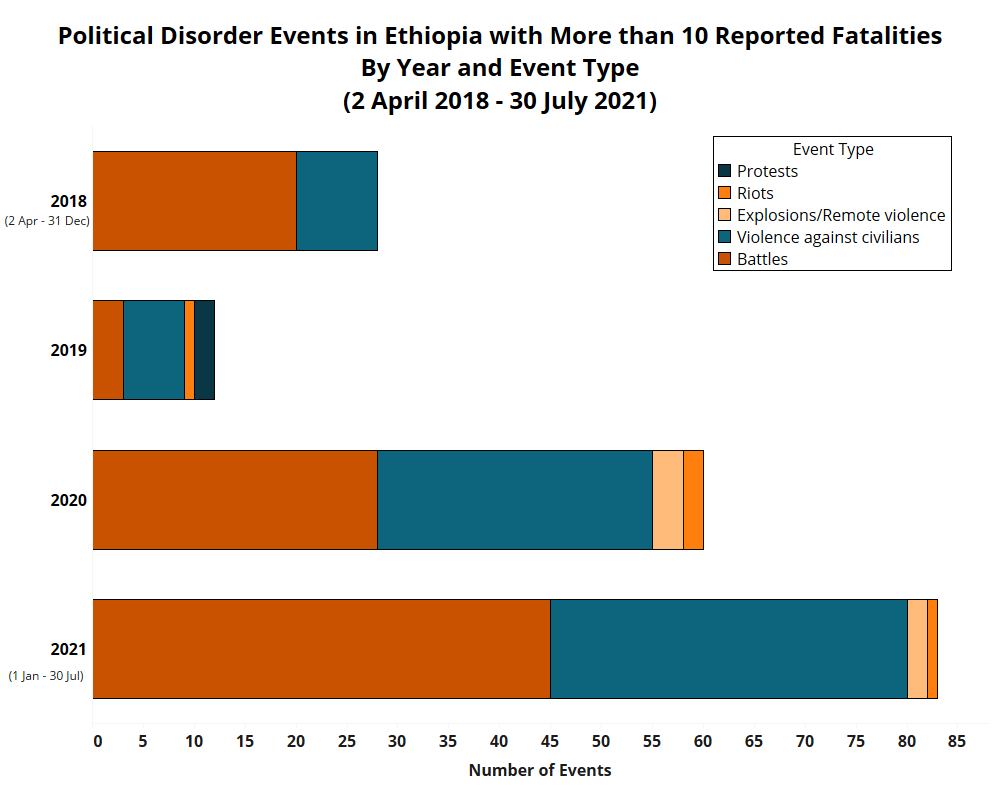 Groups often engage in acts of mass civilian killing to gain notoriety with other armed movements in the region (see Raleigh, 2012). Civilians are a 'low-cost' target and new armed groups, or those operating in new areas, do not want to engage with a stronger group before building their reputation and fighting/killing skills. 
However, Ethiopia's case differs from those in other countries for two reasons: first, no group wants to take responsibility for these killings. Once established, armed groups become more invested in building their 'legitimacy' and engaging in high fatality civilian killings destroys it. Often, established groups will 'contract' out these killings to 'unidentified' armed groups or deny their involvement. Second, there are no other non-state armed groups that both the TPLF and OLF are seeking to replace in the conflict environment (both the TPLF and OLF are non-state groups that have been accused of engaging in high fatality events in recent weeks).
In short, the typical form of violent competition that leads to mass civilian killings is not found at present within Ethiopia. For that reason, the high number of civilian killings by non-state armed movements can be described as 'punishments' for engaging either group or as a way of exchanging information about the continued risks that communities face if they continue to reside in parts of Ethiopia.
Election Dispute Update
Last week, on 27 August 2021, the Federal Supreme Court adjudicated the post-election dispute submitted by the Ethiopian Citizens for Social Justice (EZEMA) party. On 21 July 2021, EZEMA requested reruns of the election in 28 electoral constituencies located in SNNPR. After investigating all evidence and hearing all stakeholders in the case, the court decided to rerun the election in four of the 28 electoral constituencies located in SNNPR as the EZEMA party's candidates' names and pictures were not included on the ballot paper of these four election constituencies (Ethiopian Broadcasting Corporation, 27 August 2021). The four election constituencies are Lasaka, Kucha special, Gumer 2, and Birbir. The court rejected the call for election reruns in 22 election constituencies, stating that the party has not provided detailed evidence to support its claim that ''observers were not allowed to participate'' during the election and vote counting (Ethiopian Broadcasting Corporation, 27 August 2021). 
Similarly, the court rejected the request for election reruns in Gambela city and Giyole special polling stations as the dispute was submitted after the deadline (Ethiopian Broadcasting Corporation, 27 August 2021). According to the election rules, any complaints related to voting, counting, or election results must be submitted to the supreme court within ten days of the NEBE publishing of a decision made on former claims (The Ethiopian Electoral, Political Parties Registration and Elections Code of Conduct Proclamation No. 1162/2019, Article 155). Election-related claims are first submitted to NEBE with a possibility to appeal the decision of NEBE to the federal supreme court.
Elections will be held on 30 September 2021 in Harari, Somali, and SNNPR regions, including a referendum on establishing the South-Western region. Initially, the elections were scheduled to be held on 6 September 2021. Last week, after consulting with stakeholders, the NEBE decided to postpone the election day to the 30th (NEBE, 24 August 2021). Even though the Federal Supreme Court's decision came before the September 30 election, it is not clear if the reruns in the four electoral constituencies noted above will still take place on 30 September 2021.