By the Numbers: Ethiopia, 2 April 2018-29 October 20211
Figures reflect violent events reported since Prime Minister Abiy Ahmed came to power on 2 April 2018.
Total number of organized violence events:

2,123

Total number of reported fatalities from organized violence:

12,408

Total number of reported fatalities from civilian targeting:

5,731
By the Numbers: Ethiopia, 23-29 October 20212
Some events from this coverage period might be included in the data in subsequent weeks due to reporting delays.
Total number of organized violence events:

25

Total number of reported fatalities from organized violence:

70

Total number of reported fatalities from civilian targeting:

11
Ethiopia data are available through a curated EPO data file as well as the main ACLED export tool.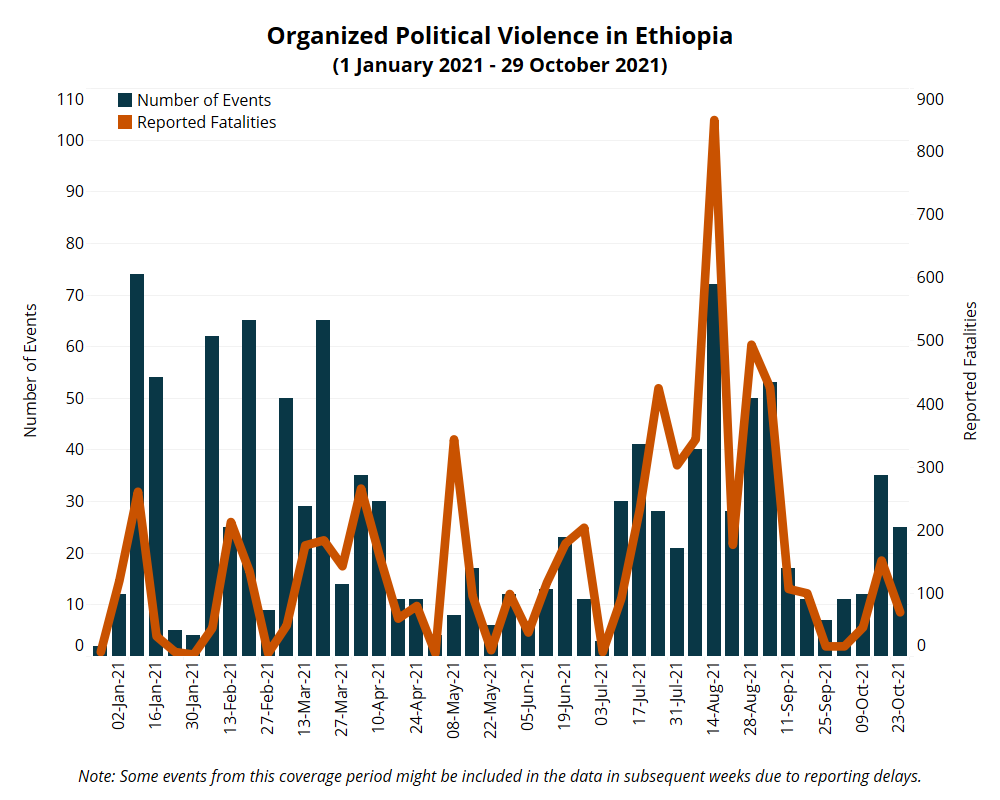 Situation Summary
As fighting between the Tigray People's Liberation Front (TPLF) and Ethiopian military forces moves southward towards the capital, Addis Ababa, the TPLF has gained control over the towns of Dessie and Kombolcha, prompting the declaration of a country-wide state of emergency, as discussed more in the following section (Fana Broadcasting, 2 November 2021). Prior to this, last week, armed clashes between the TPLF and Ethiopian National Defence Force (ENDF), Amhara regional special forces, and Amhara militias continued in Kutaber, Tehuledere, Boru Selassie, Delanta, and in areas in and around Dessie town in Amhara region. Clashes were also reported in Chifra in the Afar region. Many individuals have been joining Amhara militias in the fight against TPLF forces in the South Wello zone, following the government's prior exhortations.
Additionally, ENDF continued to attack different areas in the Tigray region using airstrikes. Last week, ENDF conducted four airstrikes: twice in Mekelle and once in May Tsemre and Adawa each. ENDF has also conducted airstrikes against TPLF forces in the Amhara region. Meanwhile, on 26 and 28 October 2021, TPLF shelled Dessie town four times.
In the Oromia region, the Oromo Liberation Front (OLF)-Shane and ENDF continued to clash. On 25 and 26 October 2021, OLF-Shane forces reportedly attacked three military patrol cars in Dobi kebele and a military camp around Ambo town in the West Shewa zone. Last week, the ENDF and Somali regional special forces also reportedly clashed in Chinhahsan in Chinaksen woreda in the East Hararge zone.
Attacks on civilians have also continued in the Oromia region. On 26 and 27 October 2021, members of ENDF reportedly killed four people, accusing them of having direct contact with OLF-Shane in Golbo Bitim kebele in Welenchiti in the East Shewa zone. On 27 October 2021, members of the Oromia regional special forces reportedly burned a house owned by a family accused of sending their son to join OLF-Shane. On 23 October 2021, the head of Nekemte city Work Innovation Office was shot and killed by an unidentified armed individual around his home in Nekemte city in the East Wollega zone. Previously, several government officials have been assassinated by militants from Abba Torbe, an OLF-Shane faction.
Last week, four demonstrations were held in Ethiopia. One of the demonstrations was held in Addis Ababa, while the rest were held in the Oromia region. On 25 October 2021, supporters of the Balderas for Genuine Democracy party protested in front of a police station in Addis Ababa to show support for a jailed leader. On 21 October 2021, it was reported that the party leader was beaten in prison (Balderas for Genuine Democracy, 21 October 2021). Later, it was revealed that he had actually fought with a fellow prisoner (Addis Standard, 23 October 2021). The chairperson of the Balderas party has been on trial since September 2020 for terrorism charges which his supporters believe are politically motivated (Addis Standard, 10 September 2021).
On 23 October 2021, Chinhahsan town residents reportedly protested against government forces, denouncing what they say are "the arbitrary killings of civilians" in Chinaksen woreda, East Hararge zone in Oromia region (OMN, 24 October 2021). The regional police forces arrested 11 protesters, accusing them of organizing the protest. On 28 October 2021, residents of Gumi Eldalo woreda and Liben woreda held a peaceful protest asking the government "to end the sufferings of citizens and livestock due to drought" and condemning "arbitrary killings and detention of civilians by security forces" (OMN, 29 October 2021). 
Last week, in the Southern Nations, Nationalities and Peoples Region (SNNPR), an unidentified armed group shot and killed three civilians in Kerkerte, Maderyana Gizaba, and Hejena kebeles in Ale special woreda. Conflict around the Ale special woreda has erupted periodically over the past few years (see EPO's Segen Area People's Zone Conflict page). 
Weekly Focus: State of Emergency Declared After TPLF Takes Control of Dessie and Kombolcha3

Events in this section that occurred over the weekend are not yet included in the ACLED dataset. ACLED data are current as of 29 October 2021. Events spanning 30 October 2021 to 5 November 2021 will be included in the dataset next week.
Fighting between the TPLF on one side and Amhara regional special forces, ENDF soldiers, and Amhara militias on the other intensified at the end of the week as TPLF forces pushed southward from Kutaber and Tehuledere towns toward Dessie (see map below). On 30 October 2021, TPLF forces claimed to have gained control of Dessie town after fighting throughout the previous day in areas near Wello University (Reuters, 30 October 2021). Government forces launched a counter-attack and claimed to have control over the city a few hours later (EPA, 30 October 2021).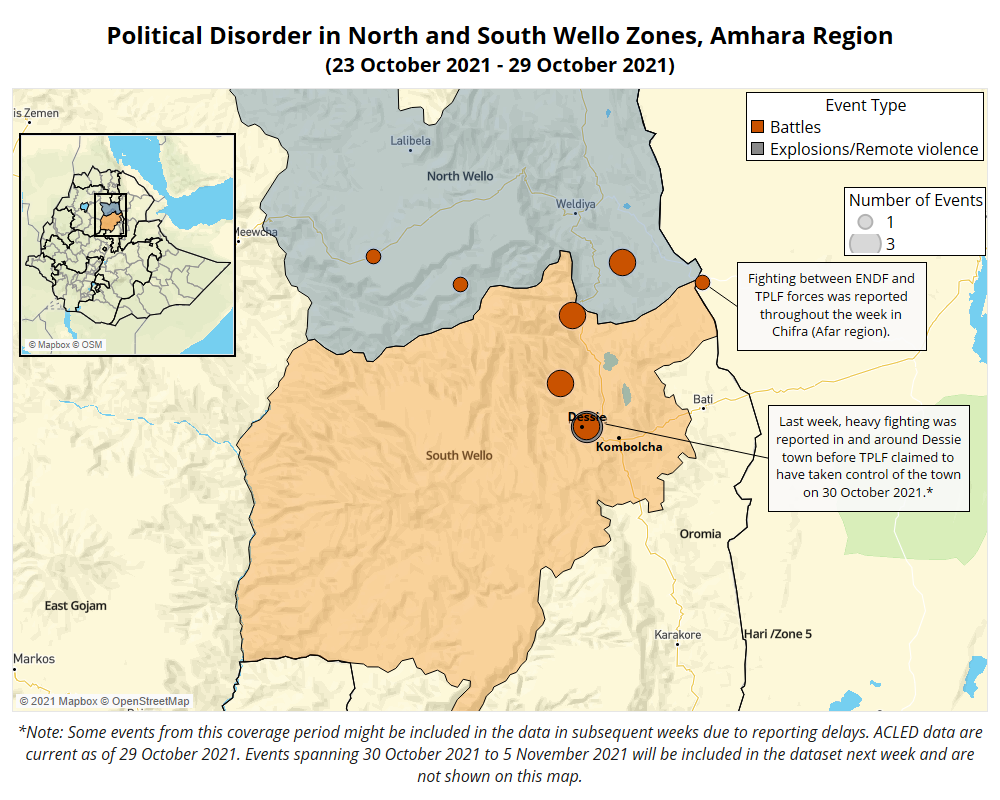 The next day, TPLF forces consolidated control over Dessie and took control of Kombolcha town to the southeast (Getachew Reda, 31 October 2021). A statement issued by the federal government on 1 November 2021 accused the TPLF of executing over 100 youth in Kombolcha city, indirectly admitting that they had lost control of both Dessie and Kombolcha (Ethiopian Broadcasting Corporation, 1 November 2021). The TPLF has denied that they executed anyone in Kombolcha (Reuters, 1 November 2021). 
The loss of both Dessie and Kombolcha towns is a major blow for the federal government. Dessie is a crossroads town that sits at the junction of major transport routes leading east toward the Afar region and south toward the capital, Addis Ababa. Directly southward of the city lies the Amhara region's Oromo special zone, which has been plagued by violence over the past year (see the EPO's Kemise Conflict page). Oromo Liberation Army (OLF-Shane) official spokesperson Odaa Tarbii has claimed that the group's northern command has moved into Sanbate and Kemise towns of the Oromia special zone, placing them within physical proximity of their TPLF allies (Odaa Tarbii, 31 October 2021; Reuters, 1 November 2021).
The recent advances by the TPLF have pushed authorities in both the Amhara region and throughout Ethiopia to implement state-of-emergency procedures. In an emergency decree issued by the Amhara State Council, Amhara regional authorities suspended government services and re-routed the budget and personnel toward the conflict against the TPLF. It also ordered all government and private vehicles and weapons to be mobilized in support of the forces resisting the TPLF advance. A region-wide curfew of 8:00 PM was imposed (Addis Standard, 31 October 2021). On 2 November 2021, the Ethiopian federal government declared a state of emergency. Addis Ababa city administration ordered residents who own weapons to register their weapons at the nearest police stations and encouraged people to gather at administrative centers to prepare to defend neighborhoods (EPA, 2 November 2021; Reuters, 2 November 2021).  
There are many reasons why the ENDF has reached a breaking point and is unable to resist TPLF advances. In a televised speech, the Prime Minister has admitted that the federal authorities have "mismanaged" the recent mobilization of pro-government militias which has led to losses (Fana Broadcasting, 2 November 2021). It is clear that the ENDF has been critically weakened due to its costly campaign in the Tigray region, and is lacking both soldiers and equipment. 
Militias from across the Amhara region have been traveling toward the Dessie front to attempt to retake control of the strategic town (EPA, 28 October 2021). Although TPLF forces have managed to advance into Wello (eastern Amhara), areas of western Amhara are still firmly in control of forces loyal to the region's government. Additionally, Afar regional special forces, which are allied with ENDF soldiers, are actively fighting TPLF forces in Chifra (Afar region) and have managed to resist further efforts by the TPLF to retake areas of the Afar region. Violence is expected to continue at high levels over the coming weeks as government-allied forces attempt to resist further territorial losses.