October at a Glance
Vital Stats
ACLED records 94 organized political violence events and 346 reported fatalities in October.

Amhara region had the highest number of reported fatalities due to organized political violence in October with 250 reported fatalities. Oromia region followed with 93 reported fatalities.

In October, the most common event type was battles, with 49 events and 182 fatalities reported.
Vital Trends
Battles between the Tigray People's Liberation Front (TPLF) and Ethiopian National Defense Force (ENDF) reignited in Amhara and Afar regions in October.

ENDF conducted multiple airstrikes in Tigray region throughout October; the airstrikes were the first since the government announced a unilateral ceasefire in June 2021.

Oromo Liberation Front (OLF)-Shane members clashed with government forces in Oromia region throughout the month of October.
In This Report
Situation Summary

Monthly Focus: Tension between Amhara Nationalists and the Federal Government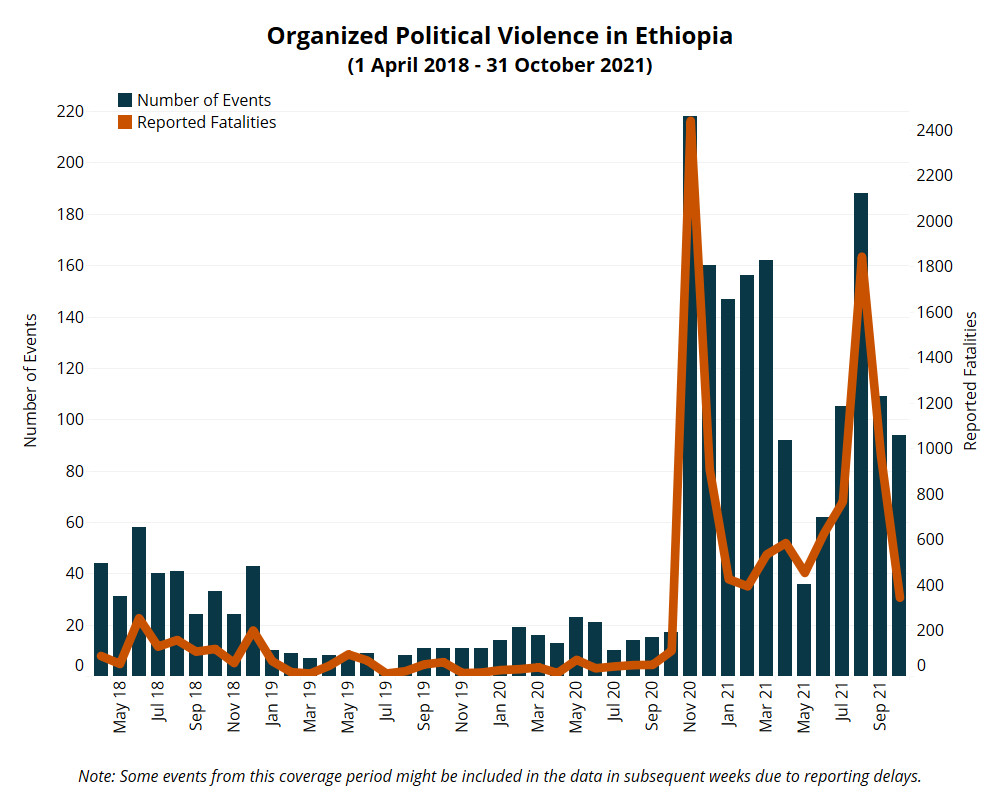 Situation Summary
After a period of relative calm in the last two weeks of September, clashes between the TPLF and ENDF reignited in Amhara and Afar regions in October (see map below). Each side accused the other of initiating the conflict. Throughout the month, TPLF forces clashed with the ENDF, Amhara regional special forces, and Amhara militias in North Wello and South Wello zones. TPLF forces managed to gain control of Dessie town, the administrative center of South Wello zone, as well as Kombolcha town, the industrial hub of the zone. In Afar region, most armed clashes between the TPLF and ENDF, accompanied by Afar regional special forces, were concentrated in Chifra town, which borders South Wello zone in Amhara region. The town is a strategic location on the main road that links Amhara region to Mille junction and beyond to the Djibouti port.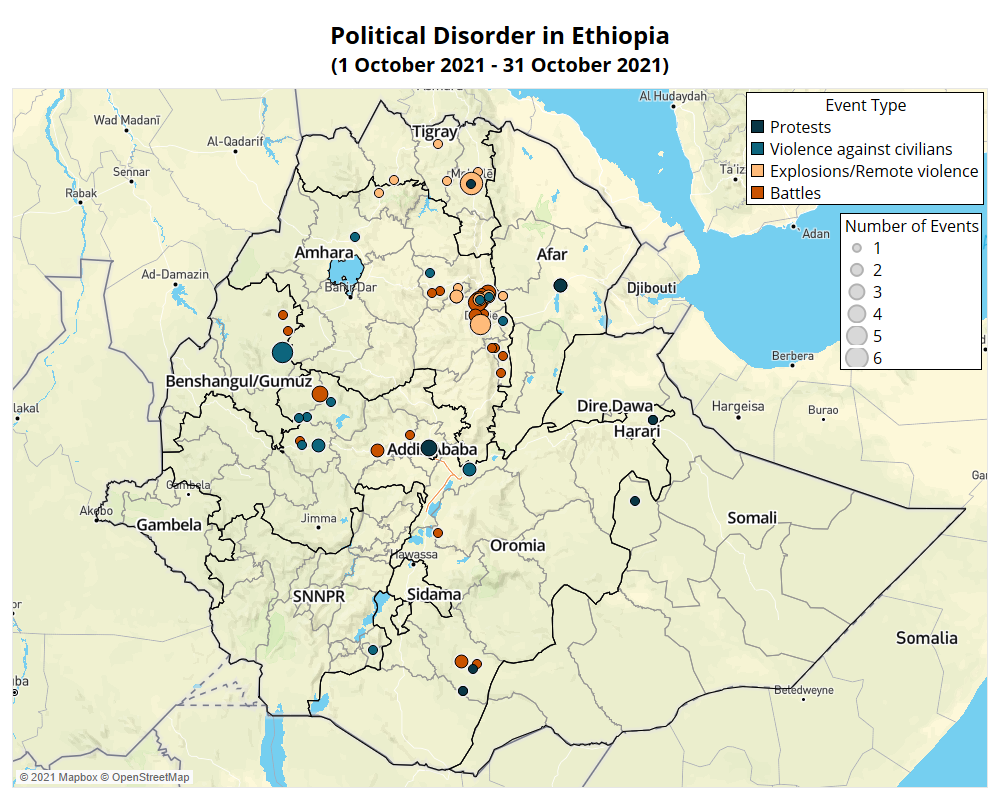 In October, the ENDF conducted multiple airstrikes against the TPLF in Afar, Amhara, and Tigray region. In Amhara region, airstrikes were conducted near the towns of Wirgesa in the North Wello zone and Wegeltena in the South Wello zone (both in the Amhara region). They were also carried out on the road linking Afar region to Amhara region (Reuters, 9 October 2021). The five airstrikes by ENDF in Tigray region from 18 October to 22 October marked the first airstrikes in Tigray by the government since it announced a unilateral ceasefire in June 2021. During the last week of October, ENDF conducted five additional airstrikes: twice in Mekelle, and once in May Tsemre, Adawa, and Aguale each. 
Shelling by TPLF forces was reported throughout the month. On 13 October, in the Afar region, shelling by TPLF reportedly killed seven civilians and wounded 15 others (DW Amharic, 13 October 2021). On 17 October, TPLF shelled an ancient mosque in Zarima town in the North Gondar zone, causing significant damage. Around 18 October, TPLF forces shelled Ambassel town in the North Wello zone, killing an unspecified number of people. Over the last weekend of October, TPLF shelled Dessie town four times.
Civilians continue to suffer due to the ongoing conflict. Internal displacement compounded with food insecurity during planting and harvesting seasons have resulted in a critical humanitarian situation. The number of people in need of humanitarian assistance is expected to increase in the coming months.
Meanwhile, last month, many individuals joined Amhara militias in the fight against TPLF forces in the South Wello zone, following requests from the Amhara regional government to defend North and South Wello zones (Amhara Media Corporation, 21 October 2021; Amhara Media Corporation, 18 October 2021). Recruitment drives were held throughout October in cities and towns across Ethiopia.  
In Oromia region, armed clashes between the Oromo Liberation Front (OLF)-Shane and government forces continued in Guji, East Guji and West Shewa zones. Throughout October, OLF-Shane joined Oromo ethnic militias in clashes with Amhara militias in areas of northern Oromia region. From 10 to 13 October, the OLF-Shane and Amhara ethnic militias clashed in Haro Addis Alem kebele in Kiremu woreda in East Wollega zone. On 18 October, Oromo and Amhara ethnic militias clashed in Amuru town in the Horo Guduru Wollega zone. Clashes between Oromo and Amhara communities have occurred periodically in these areas. However, these clashes have worsened more recently due to the reduced capacity of state security forces as the demand for additional troops in northern Ethiopia has led to a reallocation of state forces to the north. 
Many reports from Oromia indicate that militias associated with OLF-Shane are involved in targeting Amhara civilians in the area, a claim the group denies. In October, attacks on civilians by both OLF-Shane and government security forces continued in Oromia region. On 12 October, OLF-Shane militants attacked the Kelala area in Limu woreda in East Wollega. On 18 and 19 October, OLF-Shane members were accused of attacking civilians in the Merkato area in Beko-Jimma kebele in Sibu Sire woreda in East Wollega zone. On 26 and 27 October, members of ENDF reportedly killed four people, accusing them of having direct contact with OLF-Shane in Golbo Bitim kebele in Welenchiti in East Shewa zone. On 27 October, members of the Oromia regional special forces reportedly burned a house owned by a family accused of sending their son to join OLF-Shane.
Finally, Benshangul/Gumuz region remained unstable in October due to frequent attacks on civilians by Gumuz armed groups, as well as armed clashes between such groups and government security forces. According to the regional government, more than 490,000 internally displaced people are residing in the region (DW Amharic, 6 October 2021). 
Monthly focus: Tension between Amhara Nationalists and the Federal Government 
Since the beginning of the conflict between the federal government and the TPLF last year, Amhara regional authorities have been closely allied with the federal government's war efforts. Amhara political elites control territory bordering Tigray region and contest control of territory formerly controlled by the TPLF. Regional special forces, kebele militias, and Fano fighters1 "Fano" is a term which refers to informal militias in Amhara region (as opposed to militias organized by the regional government). Usually, these militias are composed entirely of young men and women and are organized along village/neighborhood lines. have all joined with the federal government in the fight against the TPLF. These forces from Amhara region were key in wresting control of territory in Western Tigray region from TPLF control at the beginning of the war in November 2020. Since the expansion of the TPLF into Amhara region, Amhara forces have taken a leading role in most of the active fronts against the TPLF.
Although various Amhara political and military forces are temporarily allied with the federal government, key cracks in the coalition have expanded in the past month as Amhara nationalists express frustration at the federal government's apparent inability or unwillingness to stop further TPLF advances. A recent statement issued by the National Movement of the Amhara (NaMA) accused the government of inadequacy and "failing to capitalize on its military advantage over the [TPLF]" (National Movement of the Amhara, 17 October 2021). Accusations leveled by NaMA at the federal government reflect sentiments held by many in Amhara region. As ENDF forces continue to lose ground, there is a rising sentiment that the government cannot, or will not, guarantee the safety of the Amhara people.
This sentiment echoes frustrations that were expressed throughout Amhara region earlier this year, when ongoing violence targeting Amhara civilians across the country (see map below) sparked large protests in the leadup to the national election. In April 2021, protesters in Bahir Dar chanted slogans against Prime Minister Abiy Ahmed and burned posters belonging to the Prosperity Party (see EPO Weekly, 17-23 April 2021). Many of these same protesters have now joined the fighting as militia members and have expressed similar feelings of abandonment and betrayal by the federal government. This has led to a tangible pivot; instead of fighting to preserve the unity of Ethiopia (which many fighters still claim), some are expressing a desire to fight based on "existence, identity, and what [they] believe in for this land," reflecting an increasing awareness of a unique and separate Amhara nationlistic perspective that is not as tightly bound to Ethiopian nationalism as it had been in the past (Channel 4 News, 28 October 2021).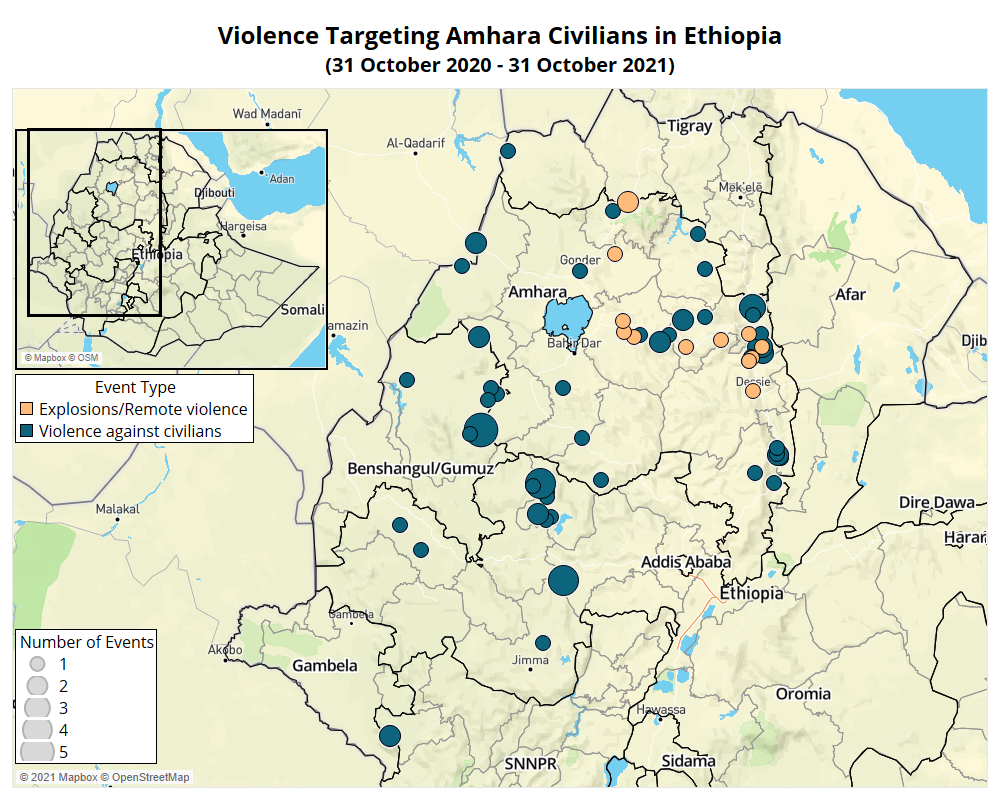 The rise of Amhara nationalism is a documented phenomenon described by its advocates as originating under "a confluence of political, economic and socio-cultural factors: a sense of strangeness, 'statelessness', a lack of security, that is, a threat to the survival (physical and cultural) of the Amhara and abject poverty and economic marginalization" (Tazebew, 20 January 2021). The federal government has taken advantage of the fact that Amhara nationalism has often been synonymous with Ethiopian nationalism. There are indications that this is now changing. Frustrations over government inaction and its impact on Amhara civilians has strengthened an Amhara nationalist rhetoric apart from that utilized by Abiy. 
Reports indicate an increasingly difficult situation for Amhara civilians in areas occupied by TPLF fighters. Administrative officials in Wag Hamra zone indicate that food insecurity has reached a critical point and starvation has begun to affect communities (BBC Amharic, 5 November 2021). A recent report by Amnesty International describes "gang rape, looting, and physical assaults" by TPLF forces targeting Amhara civilians in Nifas Mawecha (Amnesty International, 9 November 2021). Amhara civilians in Oromia region accuse Oromo militias and OLF-Shane forces of attacking farms and rural communities.
The growing rift between Amhara nationalists and the federal authorities could weaken their long standing military alliance and allow the TPLF to exploit the rift for military gain. To what extent Amhara nationalists could engage in military action or negotiations with the TPLF without the federal government's blessing is unclear. While Fano militias are heavily influenced by Amhara nationalist politicians, the central government retains the command structure of the more formally organized regional special forces and kebele militias through the Prosperity Party structure in Amhara region. As TPLF forces continue to advance, however, a tipping point may be reached in which Amhara nationalists advocate for more drastic actions.