By the Numbers: Ethiopia, 2 April 2018-3 December 20211
Figures reflect violent events reported since Prime Minister Abiy Ahmed came to power on 2 April 2018.
Total number of organized violence events:

2,303

Total number of reported fatalities from organized violence:

13,268

Total number of reported fatalities from civilian targeting:

5,922
By the Numbers: Ethiopia, 27 November-3 December 20212
Some events from this coverage period might be included in the data in subsequent weeks due to reporting delays.
Total number of organized violence events:

21

Total number of reported fatalities from organized violence:

255

Total number of reported fatalities from civilian targeting:

76
Ethiopia data are available through a curated EPO data file as well as the main ACLED export tool.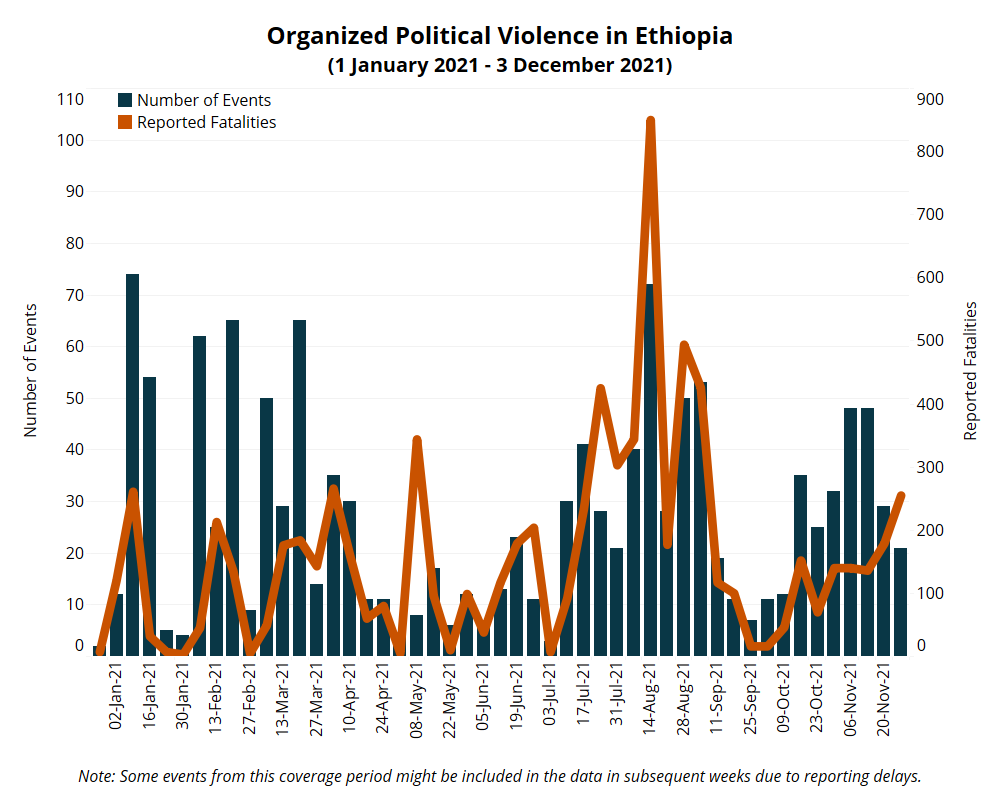 Situation Summary
Last week, government forces regained control of 16 areas, including Gashena, Lalibela, and Shewa Robit towns in the Amhara region (FDRE Government Communication Service, 1 December 2021; FDRE Government Communication Service, 1 December 2021; FDRE Government Communication Service, 3 December 2021). Reports emerged of killings, rapes, and property destruction carried out by the Tigray People's Liberation Front (TPLF). The number of civilian fatalities and rapes is unknown. Meanwhile, TPLF officials claimed that they decided to retreat to the Tigray region "after assessing the current situation" (Debretsion Gebremichale, 5 December 2021).
Protests against TPLF and Oromo Liberation Front (OLF)-Shane forces, as well as foreign intervention in Ethiopia, were held in several locations in the Oromia region (see map below). Similar protests against foreign intervention in Ethiopia were held in Addis Ababa in front of the United States embassy and Bahir Dar, the capital city of the Amhara region.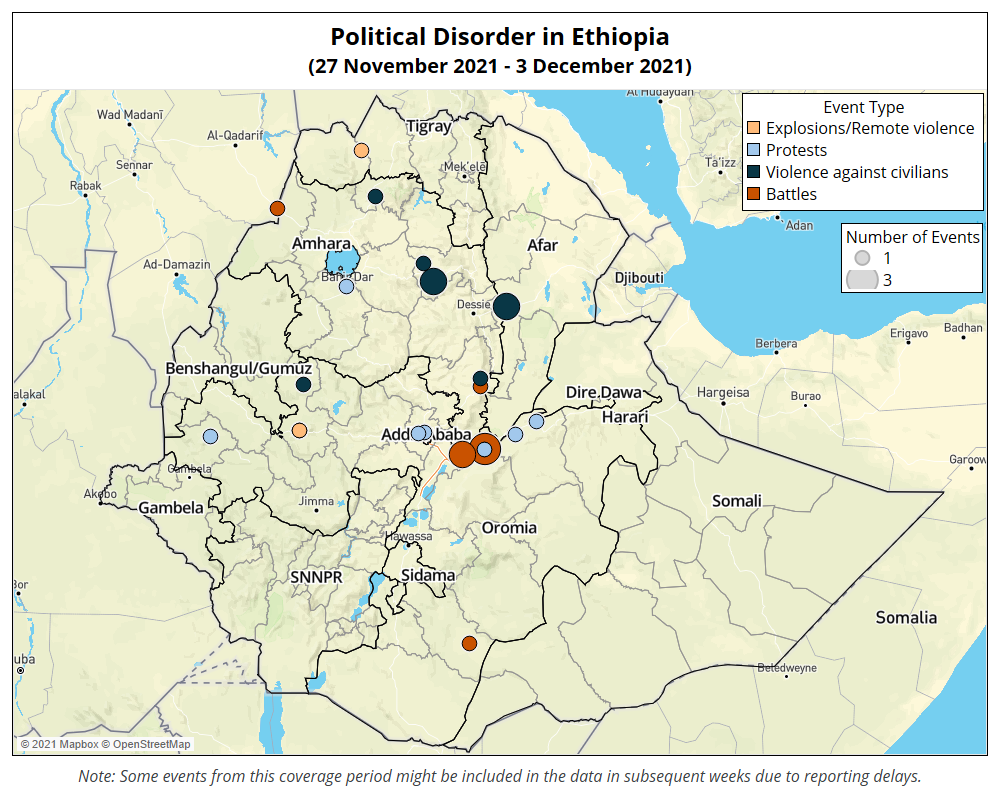 According to the Sudanese government, on 27 November, Sudan's army and the Ethiopian National Defense Force (ENDF), and Ethiopian militias clashed at the borders of the two countries (VOA, 27 November 2021). At least 20 Sudanese soldiers were killed (Bloomberg, 28 November 2021). The Ethiopian government denied this accusation and blamed the Sudanese government for assisting insurgents in attacking Ethiopia (ESAT, 27 November 2021). Another report indicated that on 26 and 27 November, the Samri group, which is affiliated with TPLF, clashed with ENDF, Amhara regional special forces, and Amhara militia in Delelo Kuter 6 and Tiha areas in Metema in West Gondar zone in Amhara region (ESAT, 27 November 2021). Reportedly, Sudanese soldiers were fighting Ethiopian forces alongside the Samri group (ESAT, 27 November 2021).
In the Oromia region, the Oromia regional special forces and OLF-Shane continued to clash in East Shewa, East Wollega, and Guji zones. ENDF reportedly conducted airstrikes in Ebantu in the East Wollega zone (Odda Tarbii, 30 November 2021). Additionally, attacks against civilians also continued in the region. Last week, at least 14 civilians, including one traditional Oromo leader (Abbaa Gadaa), were killed in an area near Fentale in the East Shewa zone. Both BBC Amharic and Addis Standard interviewed relatives of the victims, who blame forces loyal to the Oromia regional government. The regional government accuses OLF-Shane of being responsible for the killings. The government claimed that following this attack, Oromia regional special forces clashed with members of OLF-Shane they accused of being responsible for the attack in an area near Fentale in the East Shewa zone, resulting in 16 reported fatalities (Addis Standard, 3 December 2021). The Oromia government also stated that in November, members of OLF-Shane killed two other Abba Gaddaa elders in Guji and Bale (ESAT, 3 December 2021).
Weekly Focus: Changes in Territorial Control
Forces loyal to the federal government led by Prime Minister Abiy Ahmed have managed to take back significant territory from the TPLF over the past two weeks. As of writing, the federal government claims control of Dessie and Kombolcha towns (South Wello, Amhara region), which were lost to the TPLF at the beginning of November 2021 (Reuters, 6 December 2021).
The military victories for the federal government signify several things. First and foremost, the TPLF is no longer in a position to threaten the capital city, Addis Ababa. The capture of Dessie and Kombolcha in November prompted a declaration of a State of Emergency (see EPO Weekly, 30 October to 5 November 2021). The newest victory by the federal government may see a relaxing of emergency measures such as curfew limits.
However, it is unlikely that this defeat signals the end of the conflict. TPLF spokesperson Getachew Reda claims that the TPLF withdrew from Kombolcha and Dessie as part of a planned retreat, a statement that was in part corroborated by footage published by Al Jazeera Arabic showing thousands of TPLF fighters moving north a few days earlier (Al Jazeera, 3 December 2021). Issues with cell networks and a lack of independent journalists in the area make further reporting difficult.
Whatever TPLF leaders may have planned, it is clear that the TPLF's ability to continue pushing southward has been effectively crippled and TPLF forces are unlikely to be able to sustain combat outside of the Tigray region. The federal government claims to have captured "a great number" of TPLF fighters and says that additional fighters have responded to a general call by Abiy to surrender (Office of the Prime Minister of Ethiopia, 7 December 2021). Another report issued by the government indicates that these numbers could be in the thousands (Fana, 4 December 2021). Furthermore, multiple weeks' worth of battles between government forces and TPLF troops in Kasa Gita, Chifra, Gashena, and Bati have resulted in significant fatalities. 
Mobilization of militias by the government in both the Afar and Amhara region, as well as throughout the country, appears to have been a contributing factor to the government's latest success. Furthermore, the TPLF is facing heavy pressure from local and international human rights organizations over crimes committed by TPLF fighters in the two regions (Amnesty International, 9 November 2021). Video footage broadcast by the government during the week after the TPLF withdrew showed looted banks and damaged public buildings, as well as grieving families who accused TPLF fighters of shooting dead civilians as they left (EBC, 4 December 2021). 
Drones from China, Turkey, and the United Arab Emirates (UAE) are also said to have played a role in the government's latest successes, signaling that these countries may be willing to pay to "guarantee the survival of the current government" even at the political cost of angering the US and US allies in Europe who have accused the government of obstructing access to Tigray (Oryx, 1 December 2021; BBC, 20 August 2021). Chinese foreign minister Wang Yi touched down in Addis for a visit shortly after the latest reversal began (Bloomberg, 1 December 2021), while US authorities suspended Ethiopia's duty-free access to the US market last month citing "gross violations of internationally-recognized human rights" (VOA, 2 November 2021).
As Ethiopian forces continue north to recapture additional towns, the future of the conflict is unclear. The scale to which the TPLF's fighting force has been reduced is difficult to determine, as it depends largely on whether or not the government's claims of capturing thousands of fighters and killing top leaders are true. It is likewise unknown whether or not the Ethiopian government is capable, or wishes, to push fighting into the Tigray region given the costly occupation it suffered through last year. What is clear, however, is that the Ethiopian government has managed to regroup domestically by relying heavily on militias from Amhara and Afar regions, while internationally moving away from the US and Europe toward the UAE, China, and Turkey.