By the Numbers: Ethiopia, 2 April 2018-25 February 2022 1
Figures reflect violent events reported since Prime Minister Abiy Ahmed came to power on 2 April 2018.
Total number of organized violence events: 2,631
Total number of reported fatalities from organized violence: 15,022
Total number of reported fatalities from civilian targeting: 6,947
By the Numbers: Ethiopia, 19-25 February 2022 2
Some events from this coverage period might be included in the data in subsequent weeks due to reporting delays.
Total number of organized violence events: 17
Total number of reported fatalities from organized violence: 37
Total number of reported fatalities from civilian targeting: 22
Ethiopia data are available through a curated EPO data file as well as the main ACLED export tool.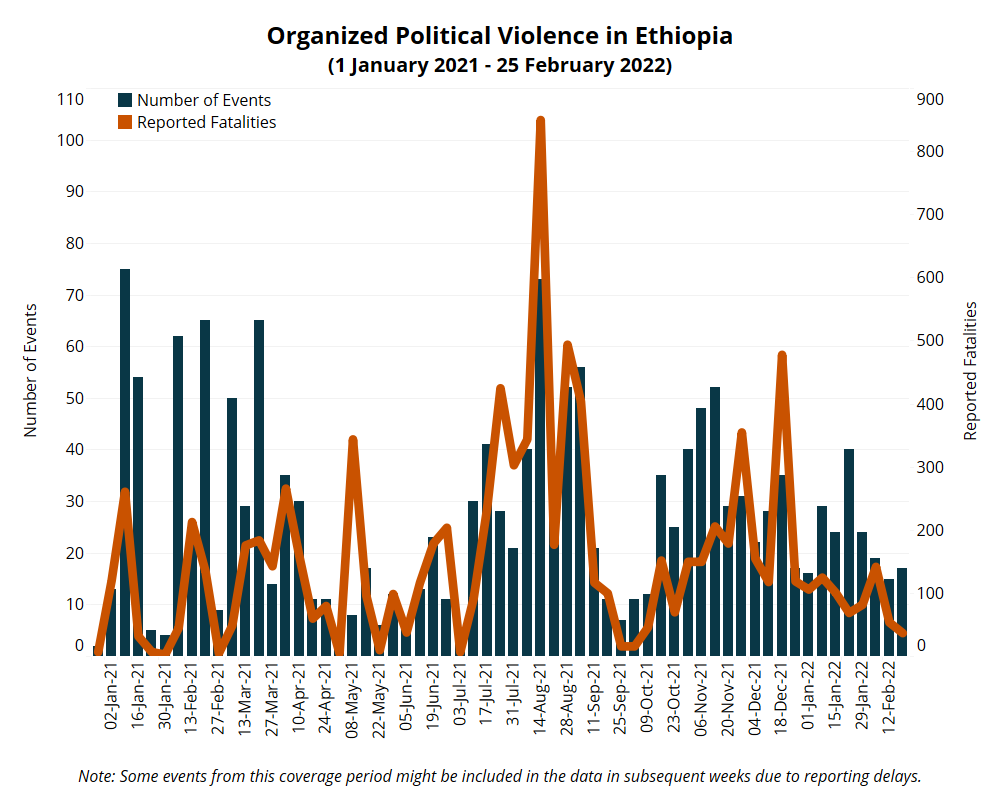 Situation Summary
Last week, armed clashes continued in the Afar region. Fighting between the Tigray People's Liberation Front (TPLF) and Afar regional special forces were recorded in Berahle, Erebti, Koneba, and Abala woredas in Kilbati Rasu-Zone 2. Moreover, TPLF forces clashed against Ethiopian National Defense Force (ENDF) and Amhara regional special forces in Raya Kobo woreda in the North Wello zone in the Amhara region. There is no information on causalities resulting from these clashes.
In the Amhara region, on 25 February, two police officers and one civilian were killed due to an explosion on a vehicle that was being searched by the police at Azezo 5th police station in Gondar town. Another seven police officers and a civilian were also injured (DW Amharic, 26 February 2022).
Elsewhere, in the Oromia region, the Oromo Liberation Front (OLF)-Shane – also known as the Oromo Liberation Army (OLA) – continued fighting against government forces. Last week, ACLED recorded seven armed clash events between OLF-Shane and ENDF (see map below). On 19 February, OLF-Shane ambushed an ENDF military convoy in Galana woreda in the West Guji zone, killing an unidentified number of soldiers. The next day, the two groups clashed in Gelede kebele in Dugda Dawa woreda in the West Guji zone. On 21 February, members of OLF-Shane fought against the ENDF in Hadama in Adola woreda in the Guji zone. Additionally, the two groups clashed in Ejerssa kebele in Wara Jarso woreda and around Biriti in Kuyu woreda in North Shewa zone, Kerkersa in Adda Berga woreda in West Shewa zone, and Bandira kebele in Leka Dulecha woreda, and Boneya Boshe woreda in East Wollega zone. OLF-Shane claims to have captured Bandira kebele (Oromia Media Network, 26 February 2022).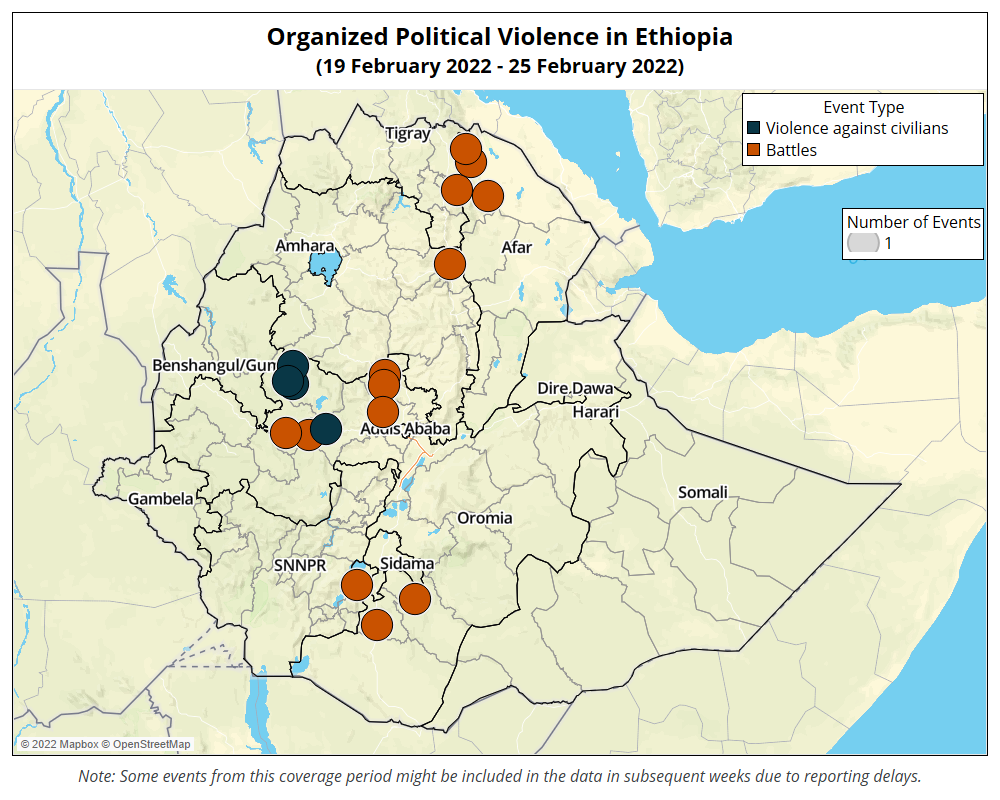 Attacks on civilians also continued in the Oromia region. Last week, in the East Wollega zone, Amhara militiamen burned civilian homes and killed five people in Negeso kebele, four people in Haro Ayana kebele in Gida Ayana woreda, and two people in Doro kebele in Kiremu woreda. On 19 February, members of ENDF shot and killed 11 people in Tullu Aliyo kebele in Illu Galan woreda in the West Shewa zone after accusing them of attacking civilians.
Last week, the leader of the Gambella Liberation Front surrendered to the government, stating his "intention to struggle through peaceful means" (Ethiopian Broadcasting Corporation, 24 February 2022). The leader accepted the call by the government on armed groups in the region to peacefully surrender.
Weekly Focus: Guji and West Guji zones – Conflict Update
Several news outlets provided updates on the security situation in Guji and West Guji zones of the Oromia region last week, confirming that several woredas have come under the control of anti-government forces from OLF-Shane. Similar to other conflicts in Ethiopia, the dynamics at play in Oromia's southernmost zones are multifaceted and reflect both local and national politics. While climatic factors, like the ongoing drought in the region, are not necessarily among the root causes of the conflict which is political in nature, they have exacerbated the conditions conducive to conflict by forcing populations into increased contact with armed actors.
Ethiopia's south and southeast areas are currently undergoing one of the worst drought periods in the history of the country. Failed seasonal rains throughout the past two years have depleted pasture, forcing pastoralist populations to move vast distances in search of water (UNICEF, 5 January 2022). Urban areas in the country have also swelled as struggling farmers move to the city in search of work. While government and humanitarian actors are engaged in providing relief, the conflict has limited access to some of the most affected populations.
Amidst the drought, there is an ongoing insurgency led by militants from OLF-Shane. While the OLF-Shane is strongest in Oromia's Wollega zones, the group also has a well-established presence in Borena, Guji, and West Guji zones. Deputy commander Gammachiis Aboye of the OLF-Shane's southern front is second in command to the OLF-Shane and has expanded the group's territorial control significantly over the past three to four months.
Territorial claims by OLF-Shane were partially confirmed by other news outlets last week. According to multiple reports, OLF-Shane forces control four of 18 woredas in the Guji zone3The four woredas are: Wadera, Saba Buro, Gumi Idalo, and Gura Dola. Two more woredas are highly contested: Liben (surrounding Negele town) and Adola. as well as several locations in the West Guji zone (Ethiopia Reporter, 23 February 2022; DW Amharic, 1 February 2022). In both zones, local officials have complained about a lack of support from the federal military and state that local kebele militias have been overwhelmed by the security challenges posed by the militia in conjunction with pastoralist movements and associated inter-communal conflicts over water and grazing resources. In locations under the control (or contested control) of the OLF-Shane forces, populations already affected by the drought have struggled to cope. A United Nations Office for the Coordination of Humanitarian Affairs (UNOCHA) report released in April 2021 describes the area as "hard to reach" for humanitarian partners (UNOCHA, 30 April 2021).
As with all ethno-national movements in Ethiopia, Oromo ethno-nationalism (and the OLF-Shane insurgency) is highly connected to language and land. In these areas of regular conflict around the contested territory, OLF-Shane has found an opportunity to champion itself as the chief defender against territorial encroachments. This is especially the case in Guji and West Guji where OLF-Shane forces have become involved in ethnic-based clashes over land and administrative borders. This dynamic has been exacerbated in recent months due to the ongoing drought and movement of pastoralist populations. See the EPO's West Guji Conflict page for more information on the OLF-Shane's role in historical clashes in the West Guji zone. 
Although the OLF-Shane has become deeply embedded in drought-affected communities in southern Oromia, the overall severity of the drought may prove to be a disadvantage for the insurgents in the long run as they have little to offer in terms of aid. The Ethiopian government has made efforts to deliver food, water, and livestock fodder over the past few weeks, which will likely positively affect public opinion of the government in the Oromia region. Prime Minister Abiy Ahmed and Oromia Regional President Shemelis Abdissa have recently made personal visits to the area (Walta, 3 February 2022). Abiy has also recently acknowledged that the conventional warfare against the OLF-Shane in these areas has its limits due to deep popular support for the movement (EBC, 22 February 2022).
As the drought worsens, inter-communal conflict over scarce pasture and water resources is likely to increase. How the government and the OLF-Shane leadership choose to respond to the drought will likely affect public opinion and dictate the success or failure of the ongoing insurgency in the area.