By the Numbers: Ethiopia, 2 April 2018-4 March 2022 1
Figures reflect violent events reported since Prime Minister Abiy Ahmed came to power on 2 April 2018.
Total number of organized violence events: 2,643
Total number of reported fatalities from organized violence: 15,063
Total number of reported fatalities from civilian targeting: 6,958
By the Numbers: Ethiopia, 26 February-4 March 2022 2
Some events from this coverage period might be included in the data in subsequent weeks due to reporting delays.
Total number of organized violence events: 9
Total number of reported fatalities from organized violence: 36
Total number of reported fatalities from civilian targeting: 6
Ethiopia data are available through a curated EPO data file as well as the main ACLED export tool.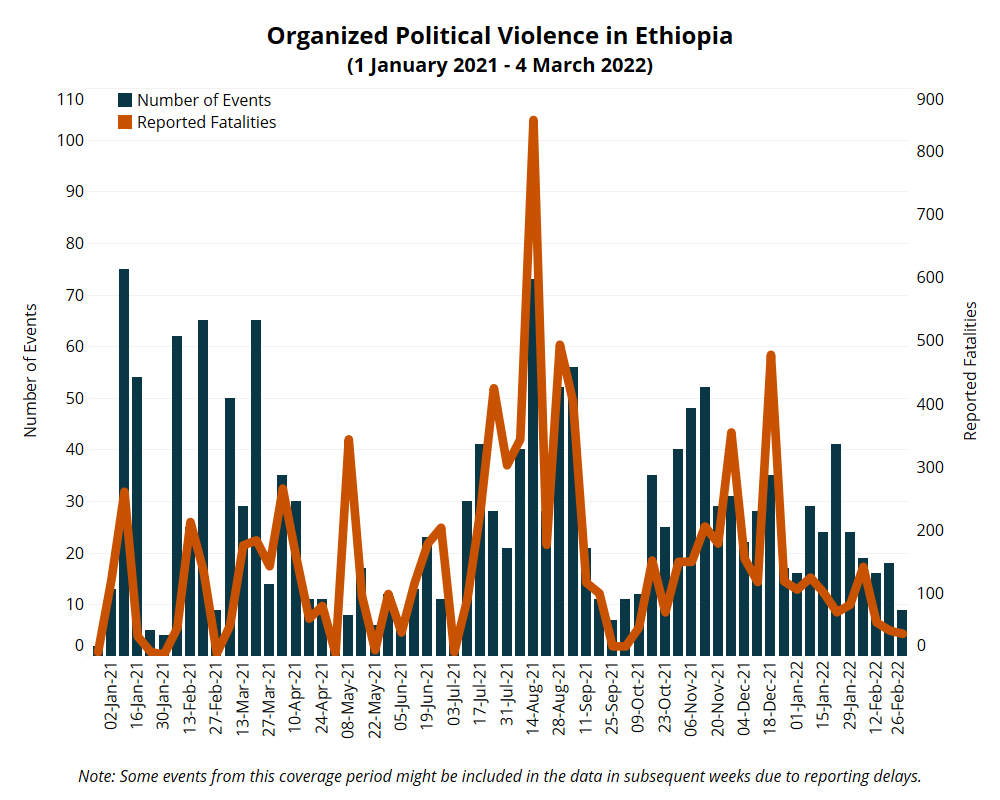 Situation Summary
Last week, Ethiopians celebrated the 126th Adwa victory – a celebration of the victory of Ethiopian forces under King Menelik II over Italian forces in March 1896. In Addis Ababa, there was tension between the people and the government officials due to a change of location for the celebration. During the celebration at Menelik II Square, some people chanted anti-government slogans. On 3 March, a day after the Adwa victory celebration, the Southern Nations, Nationalities and Peoples Region (SNNPR) police entered the Wachamo University compound in Hosaena in Hadiya zone and beat and wounded several students who were wearing T-shirts showing a Menelik II portrait. The security forces accused the students of inciting violence and claimed to have entered the university to stop clashes among students over a picture of Menelik II printed on their T-shirts and an old national flag – the green, yellow and red flag without the national emblem at the center. Violent clashes over the use of the old Ethiopian tri-colored flag last occurred in mid-January in Burayu (see the EPO Weekly: 15-21 January 2022). 
On 4 March, the Ethiopian air force conducted two drone strikes on an unspecified target near the Bahire-Negash resort and near Shire airport in North Western Tigray zone, Tigray. Two people were injured due to these strikes. In Southern Tigray zone, Tigray People's Liberation Front (TPLF) forces abducted 160 youths from Alamata. It is believed that these youths are from Raya ethnic group. According to witnesses, they were abducted by the TPLF to force them to fight for the group (ESAT, 3 March 2022). 
On 2 March, Marehan clan militia from Somalia clashed with Maqabul-Ismail Gumcadle sub-clan militia near Lehelow Yucub village in Somali region due to a land dispute. The clashes followed an attack on civilians by the former, but the locals repulsed the attack. More than 10 people were reported killed overall in these incidents.
In Gambela region, attacks by Murle ethnic militia from South Sudan continued (see map below). On 28 February, Gambela regional security forces clashed with Murle militia from South Sudan after they raided 220 cattle from Mender 11 and 12 areas in Abobo woreda in Agnewak zone. Two militia members were reportedly killed during these clashes (Gambella Regional Government Press Secretariat Office, 1 March 2022). The same day, the two groups also clashed at Ubuwa village in Gog woreda in Agnuwak zone, resulting in the reported deaths of one militiaman and one member of the regional security forces. Another militia member was injured. On 1 March, the Murle militia reportedly killed a civilian in Langjok kebele in Makuey woreda in Nuer zone and another one in Agnuwak zone (Ethiopian Insider, 2 March 2022). Since the beginning of this year, ACLED has recorded six attacks against civilians, two abductions, and one-armed clash involving Murle ethnic militia from South Sudan in Gambela region. Last year, ACLED recorded only one armed clash involving the group in the region in February.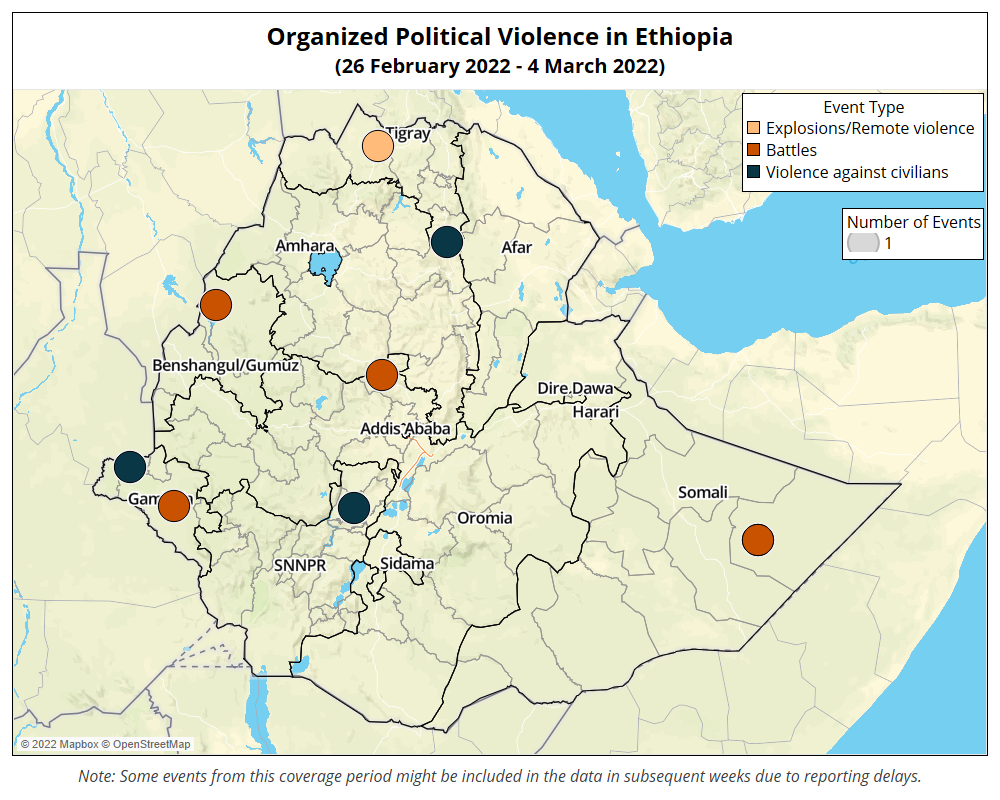 In Oromia region, on 28 February, the Ethiopian National Defense Force (ENDF), federal police, and Oromia regional state police and special police forces carried out a joint military operation against the Oromo Liberation Front (OLF)-Shane in Meliyu Cheka kebele in Wara Jarso woreda in North Shewa zone. Only one armed clash involving OLF-Shane militants was recorded last week; a significant drop in the number of events coded involving the group compared with the previous weeks. For instance, between 19 to 25 February, ACLED recorded eight battle events between the OLF-Shane and ENDF.
Lastly, on 2 March, unidentified gunmen ambushed a bus transporting visitors to the Grand Ethiopian Renaissance Dam around Africa Agriculture Development area between Dangur and Guba woredas in Metekel zone in Benshangul/Gumuz region, killing more than 20 people including security forces. The bus was being escorted by the security forces when the attack occurred.
Weekly Focus: How the Ukraine Conflict Might Affect Ethiopia
Russia's invasion of Ukraine on 24 February and subsequent fighting between Russian forces and Ukraine resistance has captured the attention of news outlets throughout the world. The US and the EU have imposed heavy sanctions, causing the ruble to crash and oil prices to surge. Ukraine and Russia are both important grain producers and conflict has caused food prices to rise around the world. While Ethiopia is geographically distanced from the conflict, its net import of commodities like fuel, wheat, and fertilizer means that incidents in Ukraine and Russia will have an oversized knock-on effect in the Horn of Africa. Moreover, Ethiopia and Eritrea – allies in the war against the TPLF – have both signed military agreements with Russia in recent years. How these dynamics might play into Ethiopia's ongoing conflicts are explored in this week's report.
In July 2021, Ethiopia signed a military agreement with Russia for the purpose of "transforming capacity of the [Ethiopian] national defense force in knowledge, skill and technology spheres" (Anadolu Agency, 12 July 2021). The agreement came at a time of worsening relationships with the EU member states and the US over accusations related to the Ethiopian and Eritrean military activities in Tigray region. Russian veto has consistently stymied action against Eritrea or Ethiopia at the UN Security Council (The Economist, 8 March 2022). Ethiopia was absent and Eritrea was one of the five countries that voted against a motion by the UN General Assembly to demand that Russia stop its offensive and immediately withdraw all troops (Al Jazeera, 3 March 2022).
At a national level, Prime Minister Aby Ahmed's most ardent supporters have applauded closer ties with Russia given its non-interference position on Ethiopia's northern conflict (Africanews, 31 May 2021). Although Ethiopia and Eritrea have grown closer to Russia in recent years, Russian military action in Ukraine has several serious consequences for both countries. Even if Russia successfully accomplishes its political and military agendas in Ukraine, serious damage to food and agricultural commodity markets has been done, which will have negative ramifications on the Ethiopian government's ability to continue agricultural input and food subsidies.   
Ukraine is the world's fifth-largest wheat exporter in the world. While Ethiopia has made great efforts to increase domestic production of wheat and other grains, it remains a net importer, mostly through government imports that are then sold in urban areas at subsidized prices. A significant amount of Ethiopia's wheat imports originates from Ukraine and Russia (UN Food and Agriculture Organization, 15 February 2019).
Fertilizer is a vital input for grain production and is also set to rise as worldwide supply drops. Russia is a main producer of fertilizer, and US sanctions could mean that the country might suspend exports. The government of Ethiopia imports and distributes millions of metric tons of fertilizer to farmers each year (News Business Ethiopia, 30 April 2019). Agricultural extension offices, which distribute fertilizer at a local level, are often the most important representation of the Ethiopian government in rural areas. A dramatic increase in cost for crop input fertilizer may limit the abilities of the local agricultural extension offices to fulfill local demand, and by extension, facilitate political support for the government (Future Agricultures, May 2012).
Conflict in Ethiopia spans both arid and fertile agricultural climates and rising grain prices are likely to affect conflict dynamics in different ways. In the wheat-production areas of rural Oromia, high grain prices could present an attractive opportunity for insurgents like OLF-Shane forces to collect higher revenues from local populations. Additionally, limited fertilizer supplies might reduce the government's ability to sway public opinion. In southern Oromia, where nomadic populations are suffering from failed harvests due to drought, high grain prices could mean an opportunity for the government to separate the insurgents from their population base by providing a commodity (wheat) that is simply too costly for the rural-based insurgents. In urban areas of the country, subsidizing wheat sales is going to be more costly for the government than it was in past years. In Tigray, grain importation as food aid for displaced populations will also likely become increasingly expensive.
Grain production in Ethiopia often includes the presence of foreign or domestic investment farms (versus individual operations) operating in areas that have seen high levels of politically motivated conflict. Rising grain prices due to the conflict between Ukraine and Russia will likely raise the value of highly productive land worldwide. Southern Tigray and Western Tigray zones in Tigray, Metekel zone in Benshangul/Gumuz, and Bench Sheko in SNNPR are examples of regions with relatively productive land that could see a pronounced conflict because of higher grain prices. The EPO Conflict Profiles page provides additional details on these conflict areas.
The Ethiopian government subsidizes fuel in Ethiopia. However, at the end of 2021, the government expressed its intention to adjust fuel prices (Office of the Prime Minister-Ethiopia, 29 December 2022). To indicate how low the fuel price is, Prime Minister Abiy recently stated that "Ethiopia is fuel provider for its neighboring countries" because Ethiopia's fuel is being smuggled to neighboring countries as the price in Ethiopia is lower than the neighboring countries (Ethiopian Insider, 22 February 2022; FBC, 14 January 2022). However, for the past couple of months, the government did not increase fuel prices (Ethiopian Broadcasting Corporation, 25 February 2022; Ethiopian Broadcasting Corporation, 3 February 2022; FBC, 6 January 2022). 3 In Ethiopia, the price of fuel is valid only for a month. At the end of each month, the Ministry of Trade and Regional Integration will release a statement deciding either for the fuel price to continue as it is or adjusting the price. Thus, at the end of each Ethiopian month, it is becoming normal to see a long line of vehicles waiting to fill their tanks in case the government decides to increase the price for the next month. Now that fuel prices have increased internationally, many locals fear that the government might be forced to adjust fuel prices. If this occurs, then the price of other commodities including basic food will simultaneously increase. For the past couple of months, there were long lines of vehicles waiting to fill their tanks in the capital city while in some areas it was hard to find any fuel due to a decrease in supply (Fana Television, 11 February 2022; FBC, 31 January 2022). In Addis Ababa, out of 123 gas stations, only 58% had fuel for distribution last month (Fana Television, 16 February 2022). The government blamed some oil companies for creating a "man-made shortage of fuel" (Ethiopian Broadcasting Corporation, 2 February 2022; Fana Television, 16 February 2022).
As fertilizer, fuel, and grain prices in Ethiopia begin to reflect the economic consequences of Russia's actions in Ukraine, government figures in Ethiopia may face increased conflict pressure and reduced coping assets.