By the Numbers: Ethiopia, 2 April 2018-18 March 2022 1
Figures reflect violent events reported since Prime Minister Abiy Ahmed came to power on 2 April 2018.
Total number of organized violence events: 2,695
Total number of reported fatalities from organized violence: 15,247
Total number of reported fatalities from civilian targeting: 7,048
By the Numbers: Ethiopia, 12-18 March 2022 2
Some events from this coverage period might be included in the data in subsequent weeks due to reporting delays.
Total number of organized violence events: 9
Total number of reported fatalities from organized violence: 46
Total number of reported fatalities from civilian targeting: 10
Ethiopia data are available through a curated EPO data file as well as the main ACLED export tool.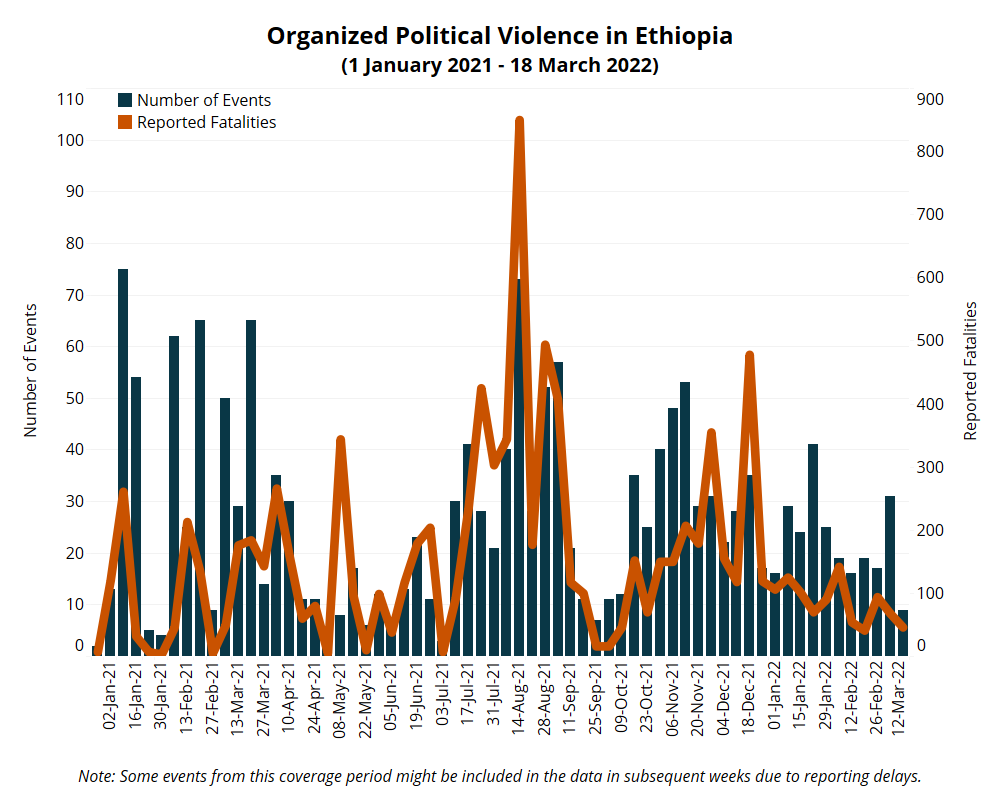 Situation Summary
Last week, government forces and the Oromo Liberation Front (OLF)-Shane continued to clash in Oromia region. All recorded armed clashes between these parties were in West Shewa zone  (see map below). From 12 to 15 March, the OLF-Shane clashed with Oromia regional special forces in Gibsi Shone and Debeti Shone Boni areas which are around 10 km from Ginchi town in West Shewa zone. Similarly, from 10 to 12 March, the OLF-Shane clashed with Ethiopian National Defence Force (ENDF), federal police, Oromia regional special forces, and local militias in an unspecified location in Ambo Zuria woreda in West Shewa zone, reportedly resulting in 20 fatalities. Previously, most armed clashes in Oromia were concentrated in West Wollega, West Guji, and Guji zones. However, from 1 October 2021 to 18 March 2022, ACLED recorded 30 armed clash events between OLF-Shane and government security forces in West Shewa zone. Between 1 January 2018 to 30 September 2021, ACLED recorded only two armed clash events between OLF-Shane and state forces in West Shewa zone.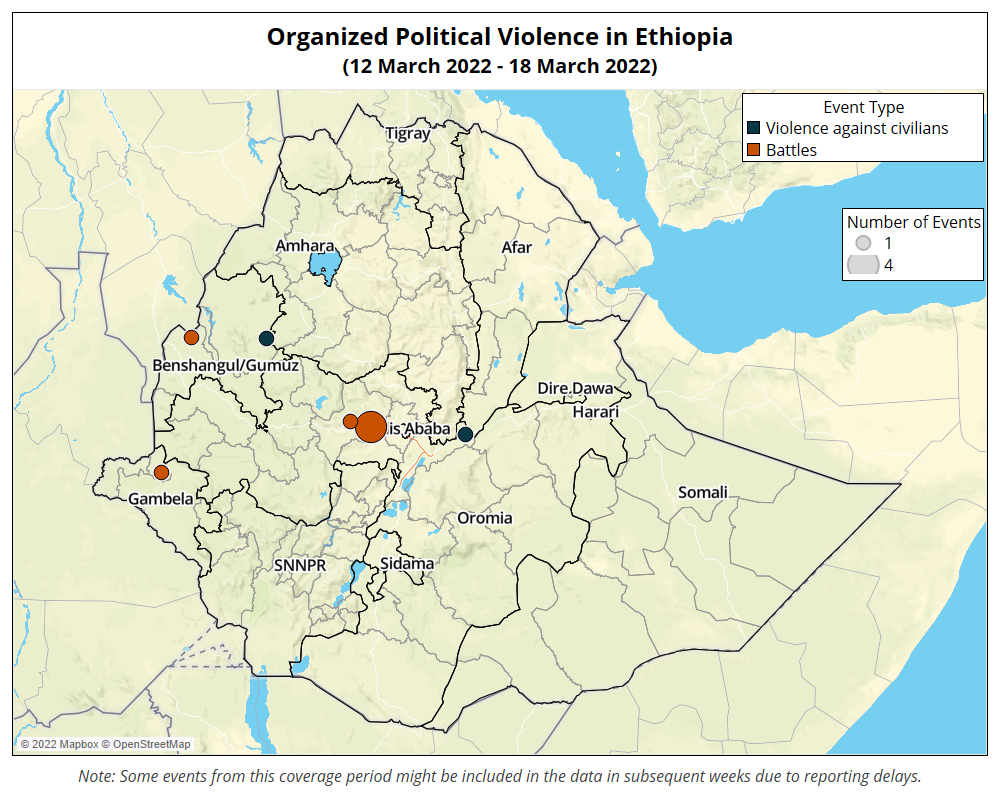 Additionally, on 17 March, unidentified gunmen attacked civilians in Alge kebele in Metehara town in East Shewa zone, killing at least 10 people and injuring over 20 others (Ethiopia Insider, 18 March 2021; ESAT, 18 March 2022). Some witnesses believe that this attack was conducted by the OLF-Shane targeting non-Oromo ethnic civilians (ESAT, 18 March 2022). Others, including the Woreda administrator, insisted that the attack was not ethnically motivated (Ethiopia Insider, 18 March 2021). Metehara Sugar Factory is located in this area and could be considered a target for anti-government forces. In February 2022, Finachaa Sugar Factory was forced to stop production due to attacks by the OLF-Shane (Bloomberg, 14 February 2022). Similarly, on 17 March, OLF-Shane members killed eight civilians, including a priest, in Endode kebele in Gida Ayana woreda in East Wollega zone (ESAT, 19 March 2022).
In Benshangul/Gumuz region, Gumuz armed militias clashed with ENDF soldiers and Benshangul/Gumuz regional special forces and militias in Sherkole woreda in Asosa zone. Thirty members of the armed group were reportedly killed while 15 others were injured during the clashes. Twenty-seven members of the group and a number of weapons were also captured. Moreover, on 16 March, Amhara regional special forces and Fano militias stopped a public transportation bus and abducted 18 ethnic Oromo civilians at Bishan Adi area in Dibate woreda in Metekel zone. The next day, residents of Debati woreda gathered in Barbara in Metekel zone and peacefully demonstrated against what they called "increasing atrocities by the Amhara forces" and requested the withdrawal of Amhara special police and Fano militias from Benshangul/Gumuz region (OMN, 17 March 2022).
Meanwhile, the chairman of the Gumuz People's Democratic Movement party along with 300 others, including nine top leaders of the party, were released from the Gilgel Beles prison (DW Amharic, 19 March 2022; VOA Amharic, 21 March 2022). Releases came shortly after the Kemashi zone administration officials and traditional elders sat for talks with the goal of bringing sustainable peace in the zone. Among other things, armed groups in the zone had petitioned the government to release arrested individuals associated with their groups as part of a political solution to ongoing violence. On 19 March, the regional government and the Gumuz People's Democratic Movement leaders – political and armed wing – held a traditional peace and reconciliation ceremony in Kamashi town (VOA Amharic, 21 March 2022). The two parties plan to hold a similar ceremony in Metekel zone. 
Last week, a number of demonstrations were held in Ethiopia. On 13 March, several students were injured during clashes between rioters on Sidist Kilo campus of Addis Ababa University in the capital. Clashes erupted after a week of tension following the distribution of leaflets that allegedly reflected "hatred toward ethnic Oromos." Several students were reportedly injured during the clashes. Federal police forces intervened and dispersed the rioters, arresting several following the incident. The discontent over the leaflets was first expressed on 5 March when Oromo students gathered to protest the distribution of "anti-Oromo leaflets." 
On 17 March, Semera University students demonstrated against the Tigray People's Liberation Front (TPLF) invasion into Afar region and denounced the federal government's lack of response in Semera town in Awsi Rasu-Zone 1. Security forces consisting of the Afar regional special forces and city police violently dispersed the protesters, injuring 20 people and arresting five students (Ethiopia Insider, 18 March 2022).
The government of Ethiopia, last week, announced that 23 vehicles with humanitarian aid were heading to Tigray region and promised to increase the number of trucks for humanitarian aid to  40 per day (The Ministry of Foreign Affairs of Ethiopia, 17 March 2022). On 23 March, the government stated that the vehicles were unable to deliver the humanitarian aid because TPLF forces opened fire on the vehicles at "Abala and Mekele corridor" (ESAT, 23 March 2022). Renewed conflict on the Semera-Abala route in Abala town in Afar region has rendered the delivery of aid by trucks impossible, and no humanitarian assistance by road has been delivered since 15 December 2021 (UNOCHA, 3 February 2022). Humanitarian convoys used to travel through the Semera-Abala main road to deliver humanitarian supplies to Tigray region. The government claimed that "43 trucks loaded with food items were also kept stranded at Serdo, 38 km away from Semera," the capital city of Afar region (The Ministry of Foreign Affairs of Ethiopia, 17 March 2022). Two weeks ago, it was reported that hundreds of internally displaced Tigrayans from central Tigray began to arrive in Kobo town in Amhara region. This continued with many more displaced Tigrayans arriving in Amhara region throughout last week (VOA Amharic, 18 March 2022).
Weekly Focus: An Update on Conflict in Gambela
After nearly a year of relative calm, violence associated with Murle tribal incursions into Gambela region through Ethiopia's western border has resurfaced during recent months, leading to deadly clashes and displacement. While these attacks usually target remote locations – considered 'soft' targets from which cattle can be raided – Ethiopian security forces have become increasingly involved as these attacks have turned more violent. Last week for the third time since 1 January 2022, armed ethnic Murle militias from South Sudan clashed with Gambela regional special forces after attempting to attack civilians (Gambella Regional Government Press Secretariat Office, 15 March 2022). ACLED records seven attacks targeting civilians and two abductions overall since the beginning of 2022.
Cross-border violence involving Murle militiamen has occurred sporadically throughout recent years, escalating in response to cattle raids and territorial incursions by groups from both sides of the Ethiopian border. The most serious incident in recent years was in 2016 when Murle attackers killed 208 people and kidnapped 145 children during a raid in Nuwer zone in Gambela region. The violence prompted a response from the Ethiopian military (Al Jazeera, 18 April 2016; Sudan Tribune, 18 April 2016). Although the military response seemed to have some effect, at least 14 other deadly raids have occurred since the 2016 incident, seven of which were recorded within the last three months. In one recent incident, Murle militiamen from South Sudan attacked an ambulance in Akobo woreda in Nuwer zone and killed eight civilians. On 8 March, ethnic Anuak/Nuer youths from Ethiopia reportedly attacked Murle cattle camps in Boma payam in South Sudan, burning homes and killing several people. Due to the overall remote nature of the border area, there are likely many other raids that are not captured by national or international sources.
Conflict on the Gambela border reflects deep security issues that are impacting both South Sudan and Ethiopia. In South Sudan, irregular patterns of violence involving Murle and other rival groups have led to Jonglei state – which borders Gambela in Ethiopia – to be considered the most violent of South Sudan's 10 states. The violence reflects volatile national politics and the Jonglei state's association with anti-government rebellion (for more on conflict dynamics in Jonglei state, see ACLED's August 2021 report). In contrast, Gambela region in Ethiopia has been one of the most peaceful locations in the country for the past year despite a long history of instability (see bar chart below). However, Ethiopia's northern conflict in Tigray region has depleted the federal government's security resources and ability to respond to cross-border issues. Like other regional states in Ethiopia, regional special forces in Gambela have been recruiting thousands of new members in recent months in an effort to fill security gaps left by the federal government (Ethiopian Broadcasting Corporation, 20 January 2022). In a meeting with the House of Peoples' Representatives on 15 February 2022, a representative from Gambela region complained that the frequent attacks by the Murle militias had gone "beyond the region's control" calling on the federal government to assist in policing the border area. A second representative pointed out that the instability caused by these groups had hindered economic progress in the region (Ethiopia Insider, 2 March 2022).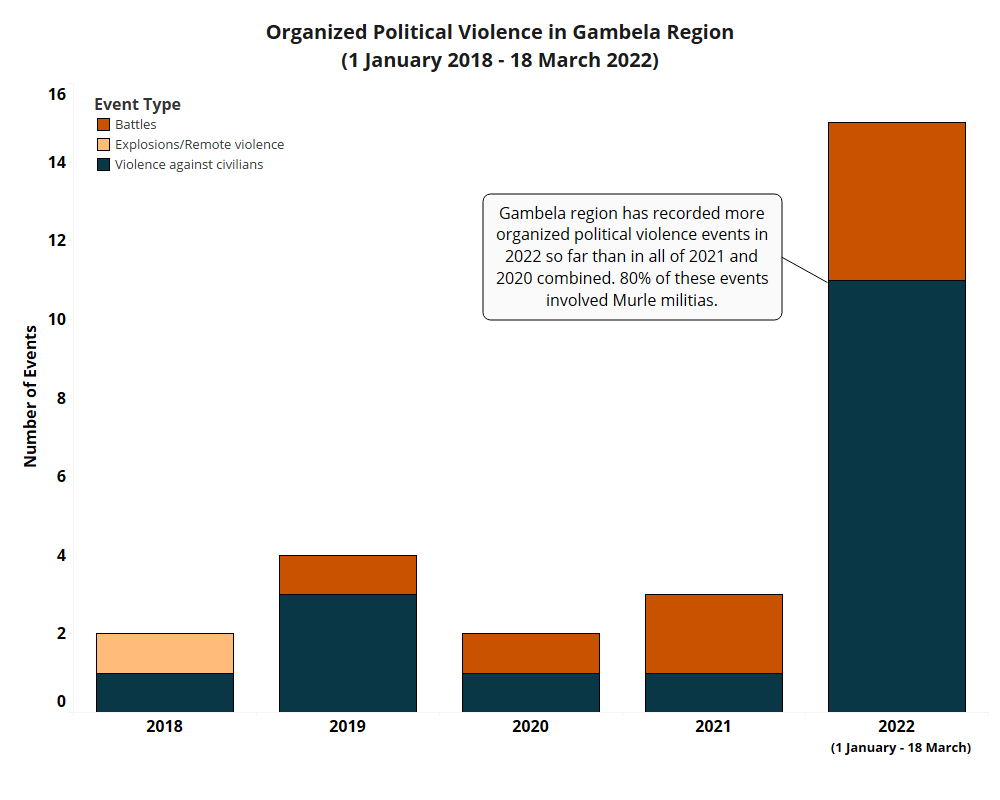 Diplomatic efforts have done little to solve the issue and conflict has continued despite ongoing dialogue between Ethiopia and South Sudan. In early February, the president of Gambela region along with the Speaker of the House of Peoples' Representatives, Tagesse Chafo, met with top leaders in South Sudan to discuss shared border security concerns (VOA, 2 February 2022; Eye Radio, 3 February 2022). In the face of overwhelming security challenges on both sides of the border, it is likely that cross-border violence will continue throughout the coming months.