By the Numbers: Ethiopia, 2 April 2018-29 July 20221
Figures reflect violent events reported since Prime Minister Abiy Ahmed came to power on 2 April 2018.
Total number of organized violence events: 3,167
Total number of reported fatalities from organized violence: 18,062
Total number of reported fatalities from civilian targeting: 8,059
By the Numbers: Ethiopia, 23-29 July 20222
Some events from this coverage period might be included in the data in subsequent weeks due to reporting delays.
Total number of organized violence events: 13
Total number of reported fatalities from organized violence: 112
Total number of reported fatalities from civilian targeting: 21
Ethiopia data are available through a curated EPO data file as well as the main ACLED export tool.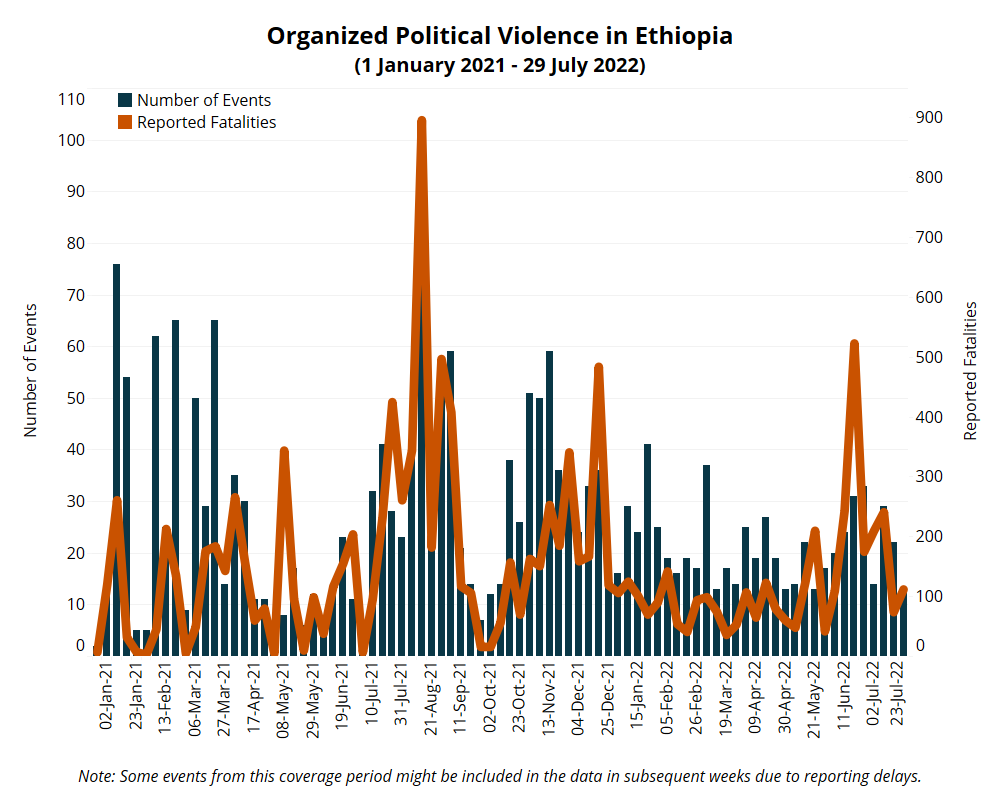 Situation Summary
Violence against civilians continued in Oromia region. Last week, ACLED recorded 10 attacks against civilians in the region (see map below). All reported violence against civilians were conducted by government forces – i.e., the Ethiopian National Defense Force (ENDF) and regional special forces from Oromia, Somali, and Amhara regions. These events were recorded in Arsi, Bale, East Wollega, Horo Guduru Wollega, South West Shewa, West Hararge, and West Shewa zones, resulting in nearly two dozen civilian fatalities overall.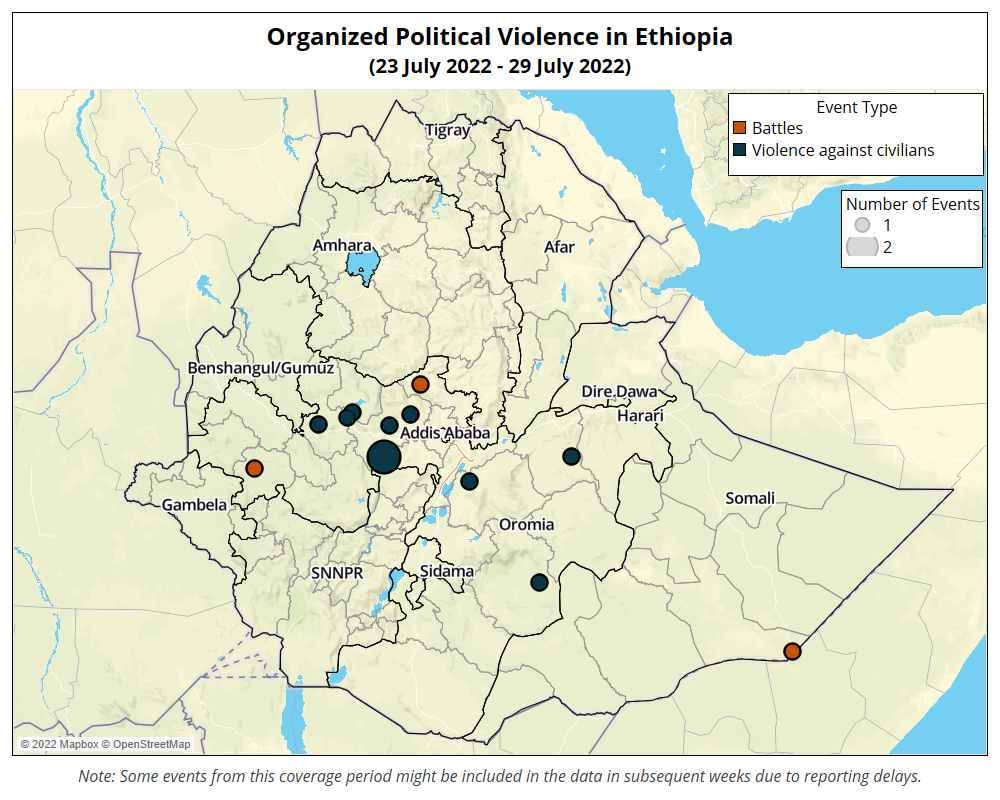 Since the reformation of Somali regional special forces in 2018, their involvement in Oromia region has been rare. On 28 July, they were reported to have opened gunfire on civilians for an unknown reason, killing an unidentified number of people in Habrona kebele in Guradamole woreda in Bale zone and displacing residents from their homes. A week earlier, on 18 July, it was reported that Somali ethnic militiamen from Somali region had attacked Oromo civilians in Guradamole woreda, forcing residents to flee.
Lastly, on 25 July, taxi and heavy truck drivers and their supporters staged a protest in Addis Ababa. Protesters denounced increasing insecurity and the lack of government's response to tackle insecurity.
Weekly Focus: Al Shabaab Attacks Continue for a Second Week
Armed clashes between Ethiopian forces and Al Shabaab continued in Somali region in Ethiopia as well as in locations across the border in Somalia (for more details on the incidents involving Al Shabaab in Ethiopia last week, see EPO Weekly: 16-22 July 2022). On 25 July, Somali regional special forces and Al Shabaab militants clashed in Al Kudun area in Ferfer woreda in Shabelle zone in Somali region after the group entered Ethiopia from the neighboring Hiran region in Somalia. Eighty-five members of Al Shabaab were reportedly killed and several weapons were captured. Further, on 29 July, Al Shabaab attacked Somali regional special forces and Somali National Army using several mortar shells, RPGs, and three car bombs in Ato town in Bakool region in Somalia. The group also clashed with regional special forces and the ENDF in the same area. Additionally, the ENDF conducted airstrikes targeting Al Shabaab's camps in the vicinity of Ato town. The Ethiopian government claimed that due to these armed clashes and airstrikes, around 150 members of Al Shabaab, including several leaders of the group, were killed (EMS, 29 July 2022; Ethiopian Broadcasting Corporation, 29 July 2022). Meanwhile, Al Shabaab claimed to have killed 103 members of Somali regional special forces (Anadolu Agency, 29 July 2022). Reports indicate that the armed clashes and airstrikes continued over the weekend (Andalou Agency, 30 July 2022; EMS, 31 July 2022).
Fighting has centered in five main areas, including the border towns of Ato, Yeed, El Barde, Waqasho, and Ferfer (Addis Standard, 26 July 2022). There were also reports stating that members of Al Shabaab had been seen around Kelafo border area in Somali region (EMS, 29 July 2022). So far, it appears that Somali regional special forces have successfully repelled incursion attempts by Al Shabaab militants. It is important to note that the Somali Regional Special Police – often referred to by its Amharic name "Liyu Hayl" — was established as an anti-insurgency force during the conflict with the Ogaden National Liberation Front (ONLF) and its officers are specially trained to deal with these types of military engagements. The ONLF disarmed in 2018 and has since formed a political opposition party. The group issued a statement denouncing the attempted incursion by Al Shabaab via Twitter (ONLF, 21 July 2022).
At least one source quoted US assessments saying that the militant group had penetrated Ethiopia up to 150 kilometers before being stopped. The President of Ethiopia's Somali region has announced that Ethiopian forces will create a buffer zone inside Somalia to preemptively stop Al Shabaab attacks in Ethiopia. While Somali authorities welcomed the idea, analysts have questioned both the timing and implications for future relations between Ethiopia and Somalia (VOA, 29 July 2022).
Al Shabaab and Islamic State (IS) have shown an increasing interest in Ethiopia over the past few years and have released recruitment videos in both Amharic and Afaan Oromo languages (Militant Wire, 30 July 2022). Reports indicate that the group of Al Shabaab militants who launched the recent attacks are known as "Ethiopian Mujahedeen" (VOA Amharic, 26 July 2022). Activity involving IS affiliates is sometimes reported in Bale zone of Oromia region, although it is often a very local phenomenon and the group's actual connection to IS is unclear. The last political violence activity involving IS affiliates included limited clashes in Bale zone in January 2021 (Xinhua, 25 January 2021).
Correction note: The previously published version of this report stated that Somali regional special forces had rarely been involved in Oromia region. This sentence was edited to reflect that the special forces have rarely been involved in the region since their reformation in 2018.