By the Numbers: Ethiopia, 2 April 2018-28 October 20221
Figures reflect violent events reported since Prime Minister Abiy Ahmed came to power on 2 April 2018.
Total number of organized violence events: 3,546 
Total number of reported fatalities from organized violence: 20,271
Total number of reported fatalities from civilian targeting: 8,979
By the Numbers: Ethiopia, 22-28 October 20222
Some events from this coverage period might be included in the data in subsequent weeks due to reporting delays.
Total number of organized violence events: 29
Total number of reported fatalities from organized violence: 107
Total number of reported fatalities from civilian targeting: 15
Ethiopia data are available through a curated EPO data file as well as the main ACLED export tool.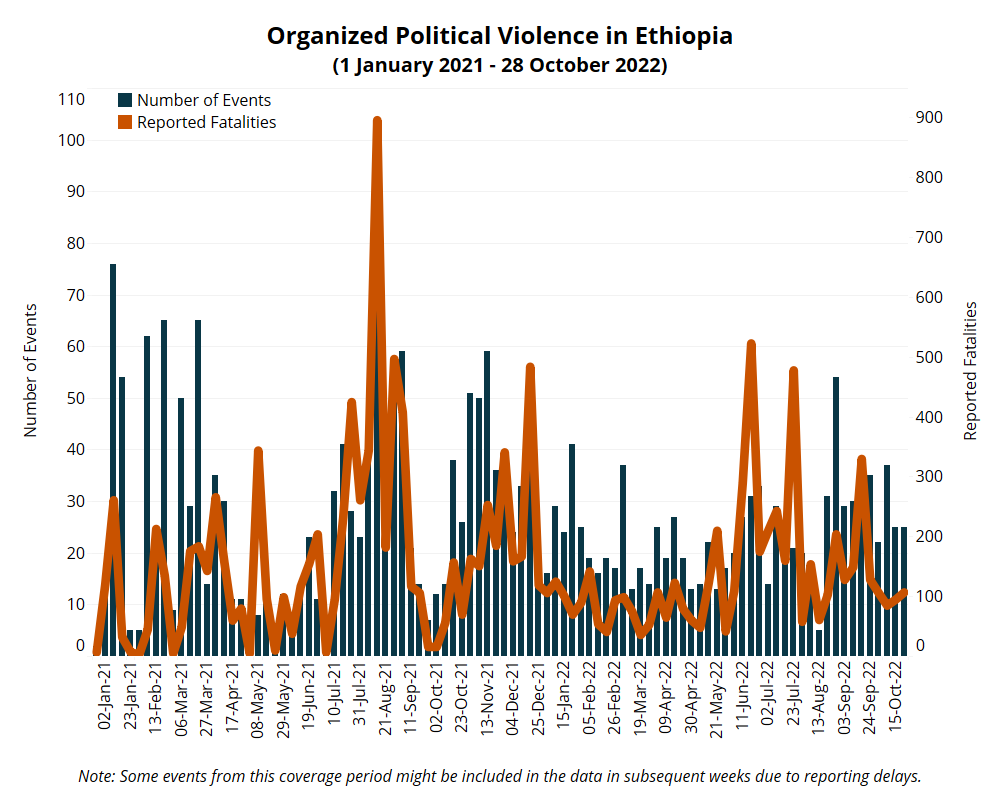 Situation Summary
Large pro-government demonstrations were held throughout several major cities and towns in Ethiopia during the last week (see map below). Demonstrators denounced western intervention into Ethiopia's internal affairs, with the general theme declared as "I will stand for Ethiopia and let my voice be heard." Protests were organized by city authorities and held in public venues (AP News, 22 October 2022; Oromia Communication Bureau, 22 October 2022). At the end of the week, the federal government's communication office released an official communiqué denouncing "defamatory falsehood being spread against Ethiopia by various western entities" (FDRE Government Communication Service, 28 October 2022). The communiqué, and protests, are a response to a number of groups – including the US Holocaust Memorial Museum – expressing concern over the "heightened risk of genocide" in Tigray region (US Holocaust Memorial Museum, 25 October 2022). Earlier in October, the Ethiopian deputy prime minister and minister of foreign affairs wrote a letter to the Irish government threatening to cut diplomatic ties over threats to Ethiopia's "sovereignty and territorial integrity" (Addis Standard, 14 October 2022).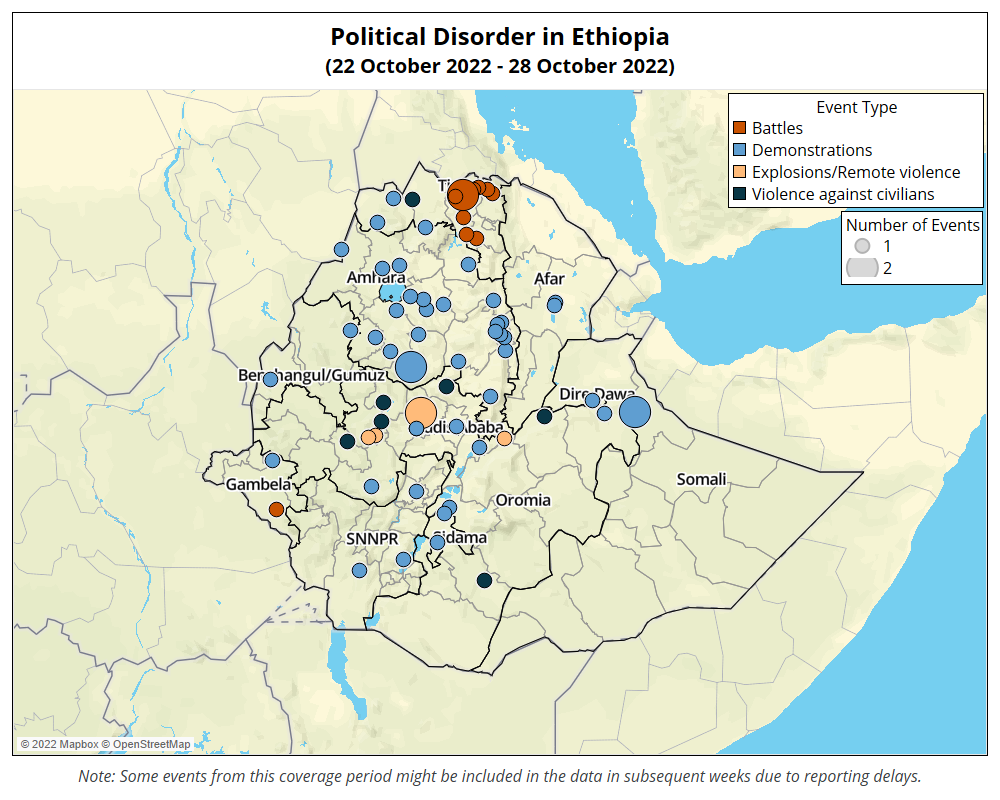 In Tigray region, battles between the Ethiopian National Defense Force (ENDF) and allied forces from Amhara region on the one hand and pro-Tigray People's Liberation Front (TPLF) troops on the other continued. Government forces managed to gain control of Adwa, Aksum, Bizet, Enticho, Idaga Hamus, Kola Tambien, Samre, Yechilay, and Adigrat, placing them in a position to push toward the regional capital, Mekele (AP News, 25 October 2022; EMS, 27 October 2022). Despite an effort made to avoid urban conflict, civilians continue to be caught in the crossfire. On 28 October, an ambulance driver and employee of the International Committee of the Red Cross (ICRC) was reportedly killed by suspected TPLF forces while transporting injured soldiers – assumed to be members of the ENDF – from Adwa to Adi Remets Hospital (Ethiopian Red Cross Society, 28 October 2022). A report released last week by Amnesty International indicated that at least 40 people, including Eritrean refugees, were killed by Eritrean forces in Sheraro town between 6 to 12 September 2022 (Amnesty International, 24 October 2022). Peace talks taking place in South Africa between the warring parties have been extended into this week but there is no indication that hostilities will cease anytime soon (France24, 31 October 2022; see also EPO Monthly: September 2022 for more on issues that are likely on the negotiations table between the government and TPLF).
In Oromia region, multiple airstrikes by the ENDF were reported in West Shewa, East Wollega, and East Shewa zones. In Chobi woreda of West Shewa zone, airstrikes on 23 and 24 October reportedly resulted in the deaths of at least 60 people with many others injured (Addis Standard, 25 October 2022). The Oromo Liberation Front (OLF)-Shane released an official communiqué shortly after, accusing the government of targeting schools and civilian gatherings (OLF-OLA High Command, 25 October 2022). Airstrikes in the same area a few days earlier had reportedly targeted a graduation ceremony of OLF-Shane militants (see EPO Weekly: 15-21 October 2022 for more details on these airstrikes).
Further, extrajudicial killings by government forces continued in Oromia region. Last week, seven violence against civilians events perpetrated by government forces – the ENDF, Oromia state police, and kebele communal militia – were recorded in Buno Bedele, Guji, Horo Guduru Wollega, North Shewa, West Hararge, and West Shewa zones. Overall, 13 people were reportedly killed due to these attacks. The majority of these attacks were perpetrated by the ENDF, and most of the victims were accused of having links with the OLF-Shane.
In Somali region, a protest erupted in the regional capital, Jigjiga, following the killing of a member of the Somali Regional State Council in the Jigjiga Garaad Wilwal Airport by a federal police officer (Radio Risaala, 26 October 2022). Four other civilians, including the deceased's sister and another member of the Regional State Council, were also wounded as a result of the shooting. The perpetrating officer was arrested following the incident (EBC, 26 October 2022). Witnesses stated that before the federal police officer opened fire, he was seen arguing with the airport administrator and the victims over why they included him when they were taking pictures (BBC Amharic, 26 October 2022).
Lastly, in Gambela region, on 27 October, Murle ethnic militiamen from South Sudan exchanged fire with kebele communal militia members in Dima woreda in Agnewak zone after crossing the border into Ethiopia. One member of the Murle ethnic militia was killed, and four others escaped following the clash.