By the Numbers: Ethiopia, 2 April 2018-2 December 20221
Figures reflect violent events reported since Prime Minister Abiy Ahmed came to power on 2 April 2018.
Total number of organized violence events: 3,676
Total number of reported fatalities from organized violence: 20,763
Total number of reported fatalities from civilian targeting: 9,287
By the Numbers: Ethiopia, 26 November-2 December 20222
Some events from this coverage period might be included in the data in subsequent weeks due to reporting delays.
Total number of organized violence events: 23
Total number of reported fatalities from organized violence: 147
Total number of reported fatalities from civilian targeting: 120
Ethiopia data are available through a curated EPO data file as well as the main ACLED export tool.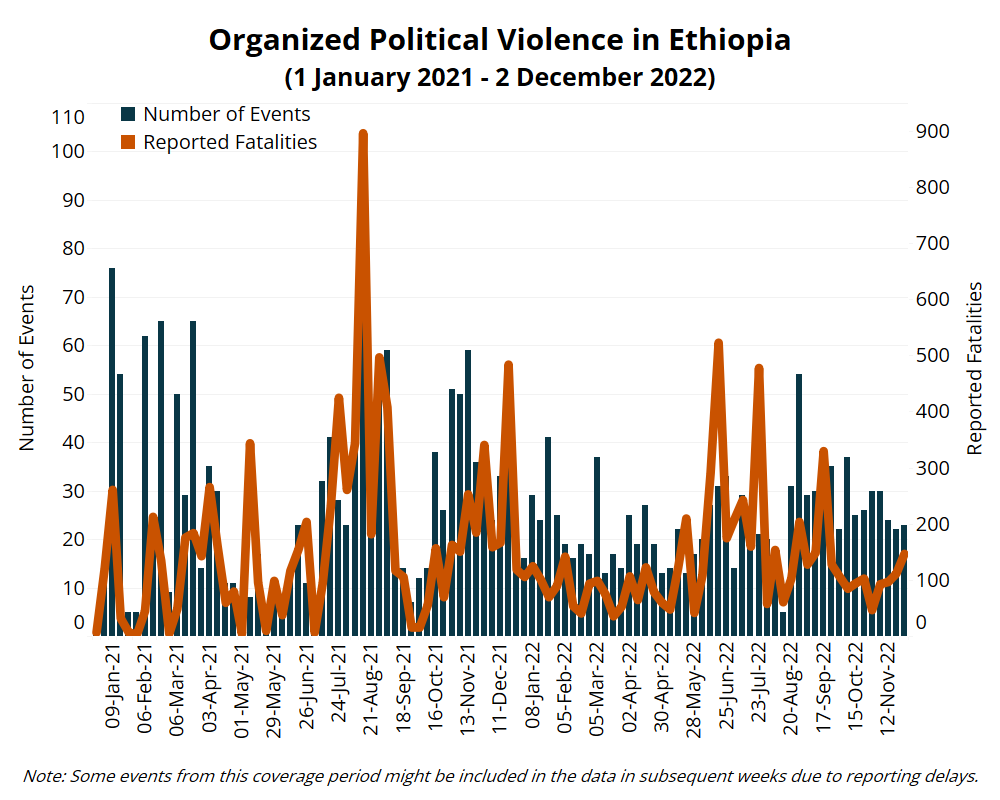 Situation Summary
The beginning of December marks one month since the Ethiopian government and the Tigray People's Liberation Front (TPLF) signed the peace agreement in South Africa after two years of conflict. Some activities, like the disengagement of TPLF forces and steps to restore basic services, are being undertaken as per the agreement. Last week, TPLF authorities reported the disengagement of TPLF forces from Mai Kenetal, Zalambessa, Nebelet, Chercher, Kukufto, Hgumbirda, Beri Teklay, and Abergele fronts (TPLF, 1 December 2022). According to Tadesse Wereda, Commander-in-Chief of TPLF forces, 65% of TPLF troops have been disengaged and moved to camps (Reuters, 4 December 2022). Disengagement by the TPLF has not been confirmed by an independent body. Further, the joint committee of the two parties and the AU, which was formed after the meetings between the two parties' military leadership in Nairobi in mid-November, met in Shire town in Tigray region last week to work on the details of disarming light weapons (AU, 1 December 2022).
In a violation of the peace agreement, Eritrean Defence Forces, who are allied with the Ethiopian federal government, were reported to have attacked civilians, killing an unspecified number of people as well as looting shops and vehicles in areas under their control in "at least a dozen towns in northern and northwestern Tigray since the ceasefire" (Reuters, 2 December 2022). According to humanitarian authorities, ongoing hostilities in areas "controlled by militias, along with other areas controlled by Eritrean forces" continue to make these areas unreachable (DW, 2 December 2022).
According to the government, electric lines connecting Shire town to power and communications services are expected to be restored "within days" of the first of December (Ethiopia Insider, 1 December 2022; EBC, 28 November 2022). The government's restoration of banking, electricity, and communication services was part of the peace agreement.
Political violence remains unabated in Oromia region. Last week, 11 battle events between various actors were recorded (see map below). The Oromo Liberation Front (OLF)-Shane and government forces – assumed to be the Ethiopian National Defense Force (ENDF) and Oromia regional special forces – clashed in Horo Guduru, West Shewa, and South West Shewa zones. The group also engaged in clashes with the Ethiopian Republican Guards after it ambushed the Guards' military vehicle patrolling around Metehara town in East Shewa zone. Events involving the Republican Guards are rare, especially in the Metahara area, making this event significant. The OLF-Shane also clashed with kebele militias in Ginde Berbere, Hamuma Gindo, Babu Dire, Becho, and Harbu kebeles in Dera woreda in North Shewa zone. It was reported that the group took control of all these areas except Ginde Berbere. Meanwhile, the Ethiopian Air Force continued drone strikes against OLF-Shane positions in the region. Last week, multiple drone strikes were conducted in Kombolcha in Guduru woreda in Horo Guduru zone and Faji Ejerssa kebele in Wara Jarso woreda in North Shewa zone.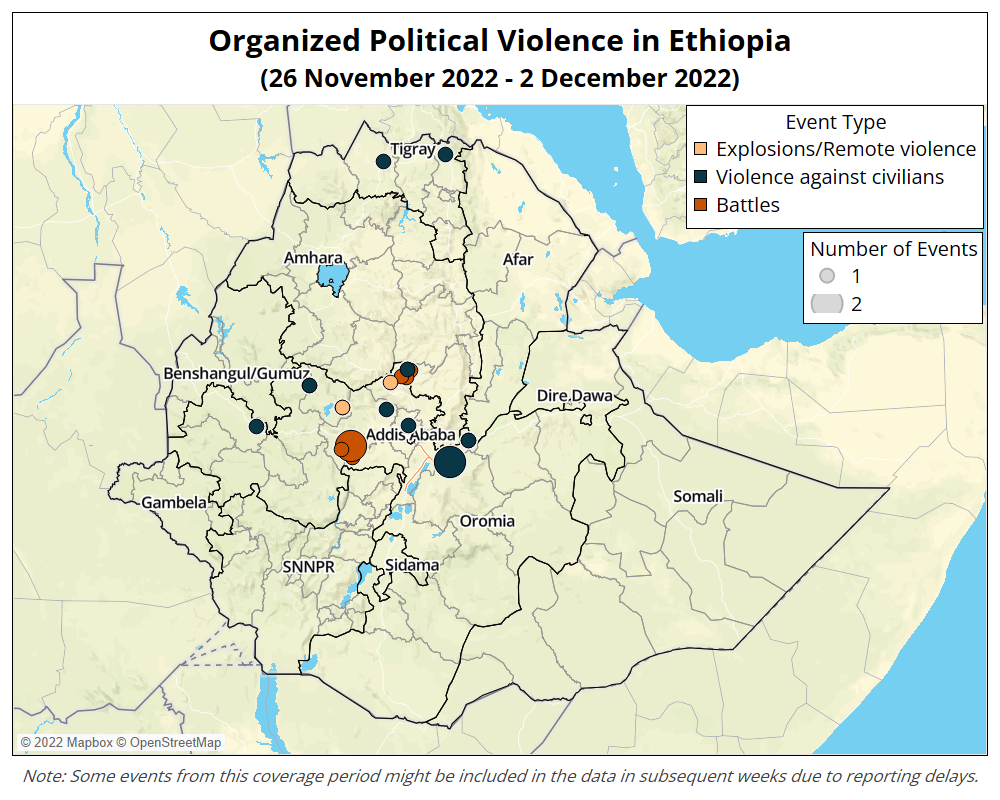 Violence also continued in Kiremu woreda in East Wollega zone. On 29 November, Amhara forces – presumably Amhara ethnic militia members – clashed with Oromia regional special forces in Kiremu and killed at least 11 people, including 10 regional special forces and a local administrative authority, identified to be a Kiremu District Court judge. A day earlier, an unidentified armed group reportedly shot and killed more than 100 people sheltering in a school due to the ongoing violence in Kiremu woreda. The reason behind this attack is unclear. Violence in Kiremu woreda and surrounding rural villages and towns is ongoing at the moment, and additional incidents involving Amhara ethnic militias and civilians in Oromia region will be covered in next week's report. Thousands of civilians have been forced to flee this area due to the prolonged violence in the woreda (for more details on the recent wave of violence in Kiremu, see EPO Weekly: 19-25 November 2022). Several organizations, including the National Movement of the Amhara (NaMA), have reacted to reports of violence in Kiremu by calling on the federal government to intervene and accusing the Oromia regional government of "lacking the will and capacity to stop the massacre, displacement, detention, and looting of innocent people" (NaMA, 3 December 2022). This week, protests were held throughout Oromia region to denounce the involvement of Amhara militias, including the Fano, in the violence (Addis Standard, 6 December 2022).
Violence targeting civilians in other parts of the region also continued. Last week, eight violence against civilian events were recorded in the region in total. Around 26 November, Amhara forces – assumed to be Amhara ethnic militia members – reportedly shot and killed an unknown number of civilians in Serer Kula kebele in North Shewa zone. Moreover, government forces were involved in two attack against civilian events, reportedly killing one person in Gimbi town in West Wollega zone and beating up journalists in Kaso Serbe kebele in Sululta town in Finfine special zone.
Members of the OLF-Shane were involved in four violence against civilian events in East Shewa and West Shewa zones. On 27 November, the OLF-Shane opened fire at public transport vehicles in Doni Tebel (Doni) and Foki towns in East Shewa zone. Two people were reportedly killed, and 11 others were injured. The group also abducted an unidentified number of people who were traveling from Doni town to Foki town after attending a weekly market in the area. Additionally, on 30 November, the OLF-Shane reportedly abducted around 30 employees of the Dangote cement factory near Muger town in Adda Berga woreda in West Shewa zone, after stopping and dragging them out of a company service bus. The abductees were on their way to a mineral extraction site. The group released the employees who work as janitors and took the remaining 17 employees to an unknown location. The abducted employees were released over the weekend after paying up to 500,000 birr (around $9,400) (BBC Amharic, 6 December 2022). Further, it was reported that the OLF-Shane abducted an unidentified number of civilians from the surrounding areas of Metehara, including foreigners who work at an unknown company in Welenchiti, and has been holding them in Dubicha Dembel area in Metehara in Boset woreda in East Shewa zone (ESAT, 29 November 2022).
Lastly, on 1 December, due to a dispute over whether to display the Oromia region flag or not in Amha Desta (Entoto Amba) secondary school in Shuro Meda area in woreda 1 in Gulele Kifle Ketema in Addis Ababa, unrest erupted. Two children were injured, and an unidentified number of students were arrested.