By the Numbers: Ethiopia, 7 January 2022-13 January 2023
Total number of political violence events: 1,266
Total number of reported fatalities from political violence: 6,651
Total number of reported fatalities from civilian targeting: 2,786
By the Numbers: Ethiopia, 7-13 January 20231
Some events from this coverage period might be included in the data in subsequent weeks due to reporting delays.
Total number of political violence events: 15
Total number of reported fatalities from political violence: 29
Total number of reported fatalities from civilian targeting: 7
Ethiopia data are available through a curated EPO data file as well as the main ACLED export tool.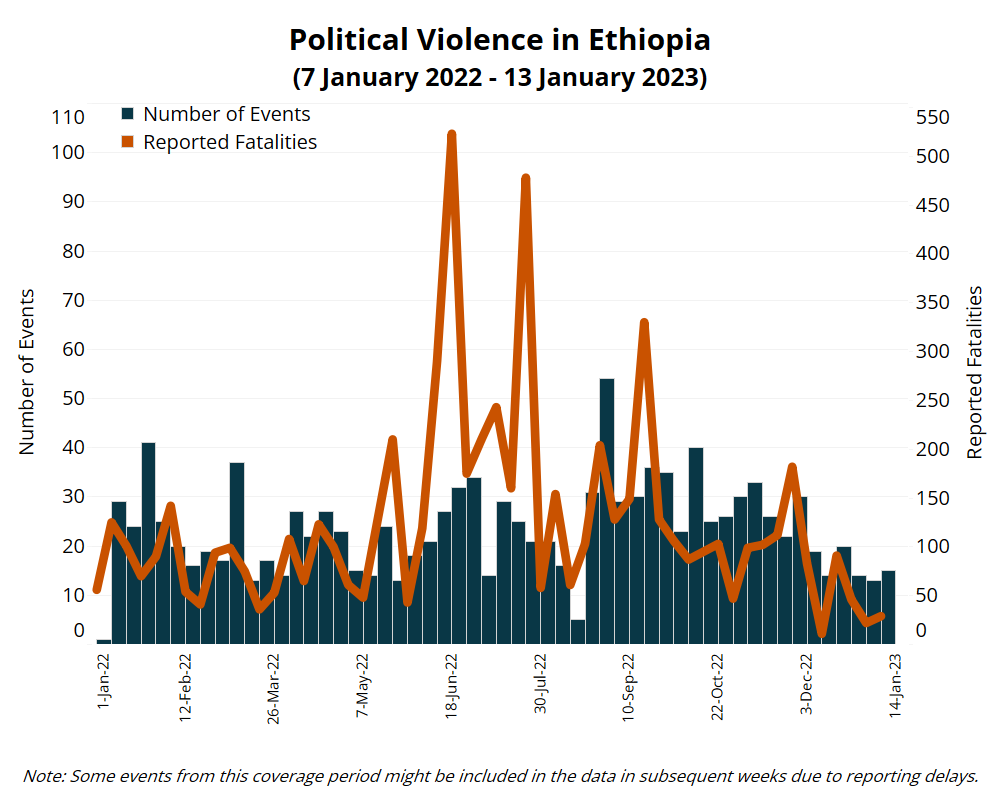 Situation Summary
Last week, the signatories to the Tigray peace agreement took several measures to implement the peace deal signed on 2 November 2022. In the meantime, political violence continued unabated in Oromia region.
On 10 January, Tigray People's Liberation Front (TPLF) forces – also known as the Tigray Defense Forces – began handing over heavy weapons to the Ethiopian National Defense Force (ENDF) in a camp located in Agula in Eastern Tigray zone in Tigray region.2Tigrai TV, 10 January 2023; Tigrai TV, 10 January 2023 Members of the African Union Monitoring, Verification and Compliance Mission were present to fulfill their role as witnesses to the disarmament process as specified in the Permanent Cessation of Hostilities Agreement.3Tigrai TV, 10 January 2023; The Ministry of Foreign Affairs of Ethiopia, 4 November 2022 One day later, on 11 January, members of Amhara regional special forces withdrew from Shire town in North Western zone and the surrounding areas in Tigray region as part of the agreed withdrawal of non-ENDF forces from Tigray region. Eritrean forces are reported to have been withdrawing from Tigray region, although some troops remain in border areas.4Reuters, 30 December 2022; BBC Amharic, 30 December 2022
In Oromia region, armed clashes and violence against civilians continued last week. Nine armed clash events between the Oromo Liberation Front (OLF)-Shane and government forces – the ENDF, Oromia regional special forces, and prison guards – were recorded in West Guji, West Hararge, and West Shewa zones, with the majority occurring in West Shewa zone (see map below).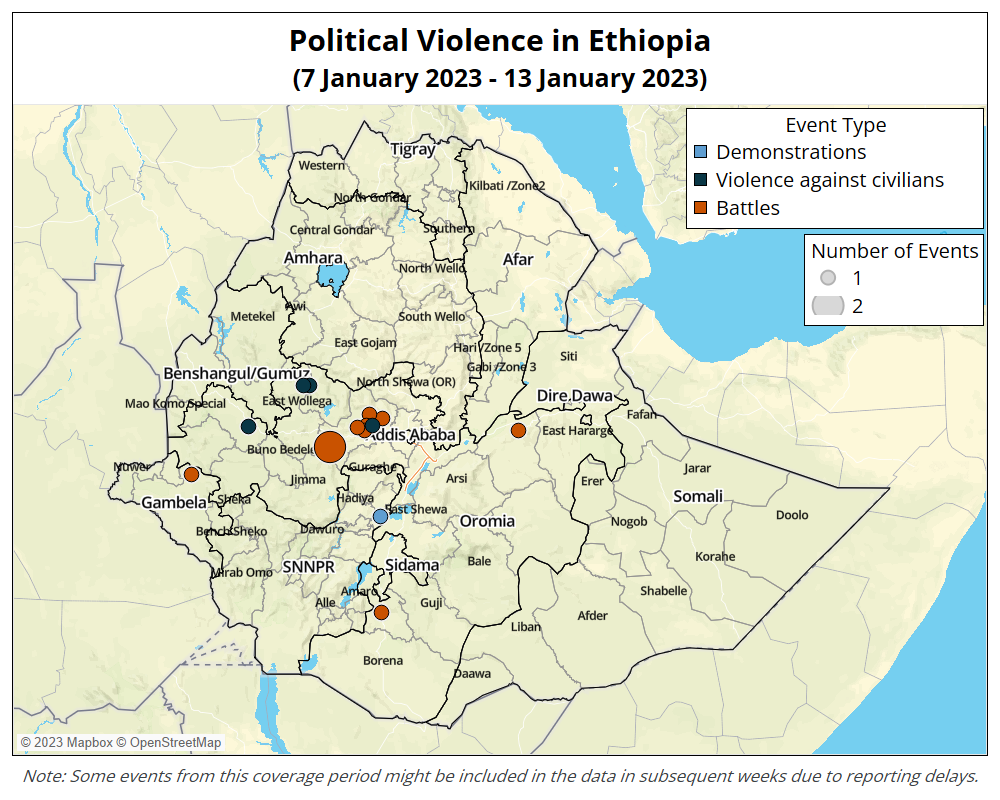 Last week, four violence against civilian events were recorded in East Wollega, West Wollega, and West Shewa zones. The ENDF, Oromia regional special forces, and Fano militias were involved in these incidents. Attacks against civilians in Kiremu in East Wollega zone continued (for more information on violence in Kiremu area, see EPO December 2022 report). On 11 January, an unidentified armed group conducted attacks on civilians, targeting mostly Amhara civilians, in Haro Addis Alem area in Kiremu woreda. Around 11 January, Fano militiamen opened fire and reportedly killed an unknown number of civilians in Burka Sorema in Kiremu woreda after crossing Abay River into Oromia region.
In Southern Nations, Nationalities and Peoples region (SNNPR), on 9 January, SNNPR prison guards shot and killed one prisoner and injured another after they, along with two other prisoners, sprayed red pepper at the prison guards in an attempt to escape while they were returning from court to Alaba Prison. The two other prisoners managed to escape.
On 13 January, the Joint Peace and Security Task Force announced that the task force arrested 371 people, including 109 Fano militia members and 107 OLF-Shane members, in the capital city, Addis Ababa, and the surrounding Oromia special zone in Oromia. The detainees were suspected of "planning to incite violence in the area and heighten ethnic tensions during the Ethiopian Christmas holiday celebration," which was celebrated on 7 January.5 Ethiopian Federal Police, 14 January 2023
Despite some protests from communities that were left out of the new city's boundaries, Oromia region's new "Sheger City" was established last week by merging towns, districts, and some villages located within the Oromia special zone surrounding Addis Ababa.6Addis Standard, 9 January 2023 The move marks an important development in Oromia region, and updates regarding the new city will be followed closely by the EPO team.