IN THIS REPORT
December at a Glance

Vital Trends
Key Events in December

Monthly Focus: Conflict Expands in Oromia Region
December at a Glance
VITAL TRENDS
ACLED records 70 political violence events and 263 reported fatalities in December.
Oromia region continued to have the highest number of reported events and fatalities due to political violence, with 58 events and 246 reported fatalities.
In December, the most common event types were battles, with 29 events, and violence against civilians, also with 29 events.
ACLED records 20 demonstration events in Oromia region throughout the month, the highest since February 2021.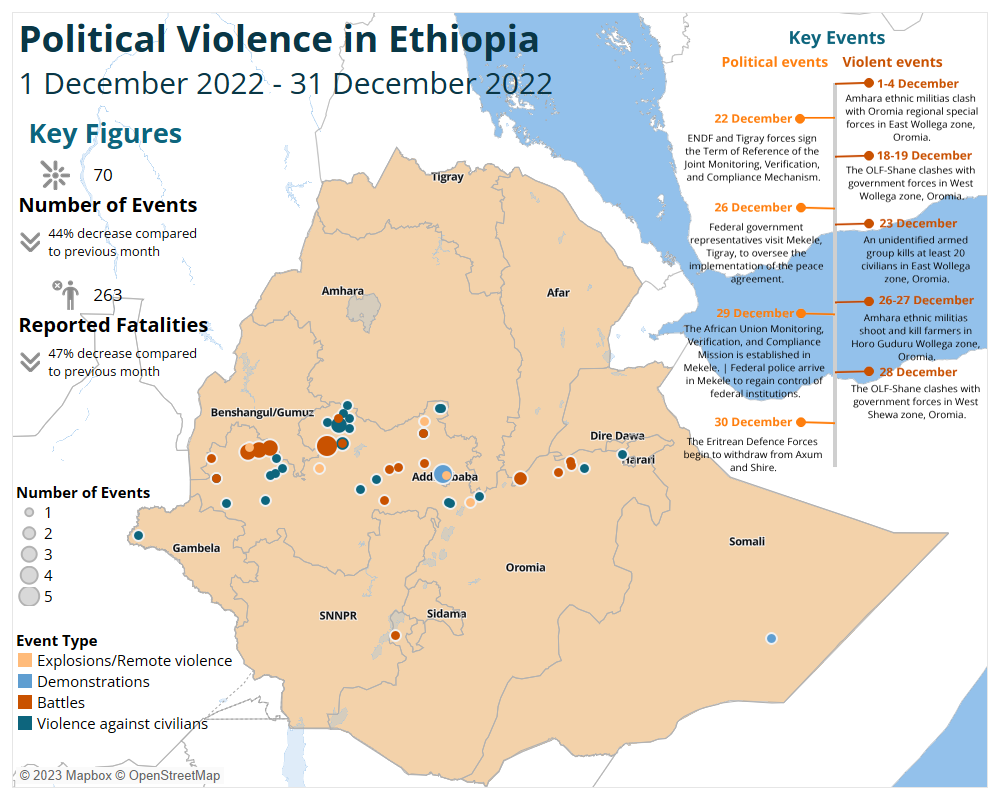 Monthly Focus: Conflict Expands in Oromia Region
Throughout December, political violence continued at elevated levels in Oromia region, with areas inhabited by ethnic Amhara residents the most affected by violence and displacement. While many ethnic minorities in Oromia live in peace, factors including historic migration and land competition, rhetoric surrounding territory and ethnic ownership, an ongoing Oromo Liberation Front (OLF)-Shane insurgency, and the presence of ethnic Amhara paramilitary forces have made areas in the northwest of Oromia region prone to upticks of violent conflict. Despite some efforts by the federal government to quell the situation, including the recent deployment of troops to both the west and south of the region, the situation remains volatile. Throughout the month, armed factions targeted civilians based on their ethnicity, prompting waves of displacement.
In Oromia, the OLF-Shane was involved in nine violence against civilian events while Amhara ethnic militias and Fano militias were involved in seven. Some Amharas in Kiremu and Angar Gutin areas in East Wollega zone accused the OLF-Shane and Oromia regional special forces of targeting ethnic Amhara civilians, while some Oromos accused Amhara and Fano militias of attacking ethnic Oromo civilians.1VOA Amharic, 7 December 2022; BBC Amharic, 5 December 2022; DW Amharic, 5 December 2022
Conflict in Angar Gutin and Kiremu areas of Oromia region is rooted in territorial disputes that go back decades. Spontaneous and government-sponsored immigration of Amhara farmers seeking better land and employment opportunities led to a large population of ethnic Amharas being settled in the area, which brought on intermittent conflicts with their ethnic Oromo neighbors over land resources.2Teferra, 18 May 2010 Clashes in the area have renewed since April 2021, with fighting escalating in November and December 2022.
As a result, people displaced by the violence fled to nearby towns in Amhara, Oromia, and Benshangul/Gumuz, putting pressure on local resources. As of 30 December, up to 14,000 new internally displaced people had arrived in Amhara region from Oromia as a result of the ongoing violence in Oromia.3United Nations Office for the Coordination of Humanitarian Affairs, 5 January 2023 Thousands of displaced ethnic Oromo people have also fled to nearby towns in Oromia and Benshangul/Gumuz.4Addis Standard, 8 December 2022 Against an increasing number of displaced people in Amhara and Oromia regions, the federal authorities are faced with addressing the issue beyond military action.
The Ethiopian Human Rights Commission (EHRC) issued a call for "immediate action" based on "the increasing size of the areas where the conflicts and attacks are taking place from time to time, as well as the severity of the resulting human rights crisis."5Ethiopian Human Rights Commission, 7 December 2022 Besides the EHRC, which is considered independent of the rest of the Ethiopian government,6Ethiopian Human Rights Commission, 2023 the federal authorities have not published statements regarding the clashes occurring in Angar Gutin and Kiremu areas. Indirectly referring to the clashes, though, Prime Minister Abiy Ahmed asked that Ethiopians continue to "strengthen our solidarity by not listening to the agendas of conflict and hatred."7VOA Amharic, 8 December 2022
The violence in Oromia is escalating and expanding geographically (see map below), with new areas of conflict in the northwest of Oromia region adding to sustained conflict in the south and west of the region. Armed clashes began to surge again in November after a relative calm in September and October last year, with ACLED recording 87 battle events between November and December 2022. The armed clashes involved the Ethiopian National Defense Force (ENDF), Oromia regional special forces, the OLF-Shane, and Amhara ethnic militias. Armed clashes between armed factions in Oromia have been recorded in East Wollega, Horo Guduro Wollega, Kellem Wollega, North Shewa, South West Shewa, West Hararghe, West Shewa, and West Wollega zones in December. The clashes have resulted in at least 137 reported fatalities. However, fatality estimates in general are likely to be low due to ongoing issues with reporting and a lack of access to reliable information.8The Economist, 19 May 2022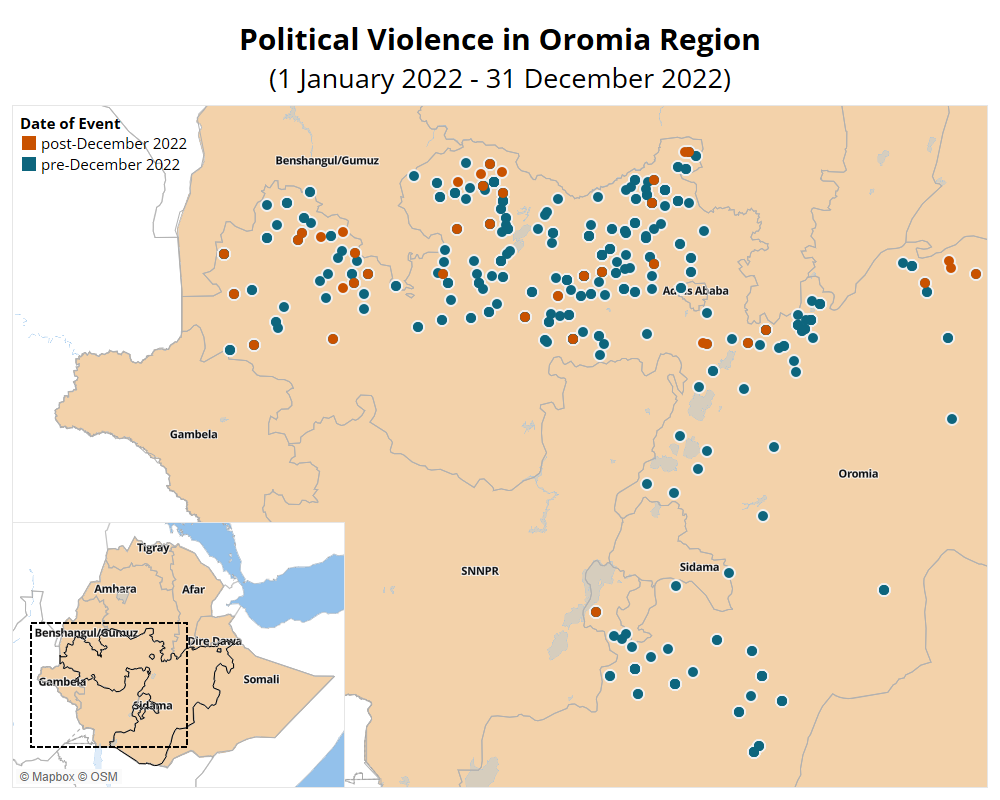 The most serious violence resulting in roughly 38% of reported fatalities for the month occurred within the first eight days of December in Angar Gutin and Kiremu. These towns are located along Highway 32, which connects Nekemte city, Oromia, to Bure town, Amhara. In Kiremu, the violence in December began in mid-November, when Oromia regional special forces transporting ethnic Amhara prisoners from Kiremu woreda, East Wollega zone, to Nekemte for trial were attacked by Amhara ethnic militias, sparking four days of intense violence which resulted in at least 219 reported fatalities, including Amhara civilians (see EPO Weekly: 19-25 November 2022 for more details). The most deadly armed clash event was recorded on 3 December, when at least 34 people were reportedly killed in Gutin. ENDF soldiers were deployed to Gutin on 5 December but were unable to stop the fighting.9DW Amharic, 6 December 2022 Clashes reportedly reignited between Oromia regional special forces and Amhara militias in the town on 8 December. Further, on 23 December, unidentified gunmen reportedly killed 10 to 20 people in the nearby village of Haro Addis Alem.
Additional Actors and Increased Complexity
The geographic expansion of the conflict to Angar Gutin and Kiremu areas comes as additional actors have become involved, widening community clashes into a national conflict. Rather than only local actors engaging in clashes over farmland resources, fighting now involves ethno-nationalist forces on both the Oromo and Amhara sides.
Oromo residents and officials identify perpetrators of the violence as Amhara militiamen, also known as Fano, coming from Bure in Amhara region and attacking local Oromo administrators.10VOA Amharic, 7 December 2022 Likewise, Oromo ethno-nationalist political entities like the OLF have denounced the 'encroachment' of Amhara paramilitary forces into Oromo territory.11Addis Standard, 9 December 2022 The OLF-Shane spokesperson, Odaa Tarbi, denied that OLF-Shane – also known as the Oromo Liberation Army (OLA) – forces were attacking Amhara civilians in the area but confirmed the group's involvement in the clashes against Amhara Fano militias.12VOA Amharic, 7 December 2022
News of the attacks and displacement of ethnic Oromo and Amhara civilians from the area sparked demonstrations by university students throughout the country. In December, 35 demonstration events have been recorded in Addis Ababa, Amhara, Dire Dawa, Gambela, Oromia, Southern Nations, Nationalities, and Peoples (SNNP), Somali, and South West regions. Violence in Oromia has also raised tensions in the capital, Addis Ababa, where concerns over the display of the Oromia regional flag at public schools have sparked violent confrontations between students, parents, and teachers throughout the month.13Addis Ababa Police, 8 December 2022
National Politics and Peacebuilding
On 5 December, lawmakers from Oromia addressed a letter to the federal government, requesting that the ongoing peace process in Tigray region be replicated in Oromia region, and that the federal government negotiate with OLF-Shane forces.14AllAfrica, 13 December 2022; Ethiopia Insider, 8 December 2022 The Central Committee of the ruling Prosperity Party stated early in the month that it had attempted "peaceful strategies" to resolve the conflict with the OLF-Shane but chose to prioritize military solutions when "the group continued to attack civilians."15Amhara Media Corporation, 7 December 2022
Meanwhile, the federal government announced renewed military action against the OLF-Shane, with new deployments in Guji, West Guji, and Borena zones of Oromia region.16Ethiopian Broadcasting Corporation, 28 December 2022; Ethiopian Broadcasting Corporation, 2 January 2023 This came a month after federal authorities stated they would not negotiate with the OLF-Shane given a "lack of a singular representative political or military command structure."17 Ethiopian Broadcasting Corporation, 30 November 2022; Addis Standard, 29 November 2022 The OLF-Shane had likewise announced it would only enter into negotiations with the federal government through a neutral, third-state actor, and that any negotiations through the "regime's cadres – whatever elderly title they carry for the day – will not work."18Twitter @OdaaTarbiiWBO, 29 November 2022
Importantly, the clashes in Angar Gutin and Kiremu put the federal government in a difficult position. Political entities from Oromo and Amhara regions have demanded that the federal government step in on their behalf, risking the delicate balance struck between the Oromo and Amhara branches of the Prosperity Party (see EPO Weekly: 26 March-1 April 2022 for more details on the growing rift in the Prosperity Party).
Ethiopia, and particularly Oromia and Amhara regions, are again at a crossroads. Indications are that peace will be difficult but will likely prevail in Ethiopia's north, as warring parties have followed up on action items. In Oromia, the ways in which peace might be attained are unclear. National Dialogue commissioners began the selection of participants and agendas in December, despite serious concerns from the public over lacking clarity surrounding the selection process.19Ethiopian Broadcasting Corporation, 31 December 2022; Addis Standard, 4 February 2022 Should peace talks be attempted through the National Dialogue, addressing issues of justice and past harms by all violent actors will be key to achieving a lasting solution.