By the Numbers: Ethiopia, 15 April 2022-21 April 2023
Total number of political violence events: 1,123
Total number of reported fatalities from political violence: 6,068
Total number of reported fatalities from civilian targeting: 2,597
By the Numbers: Ethiopia, 15-21 April 20231
Some events from this coverage period might be included in the data in subsequent weeks due to reporting delays.
Total number of political violence events: 2
Total number of reported fatalities from political violence: 10
Total number of reported fatalities from civilian targeting: 10
Ethiopia data are available through a curated EPO data file as well as the main ACLED export tool.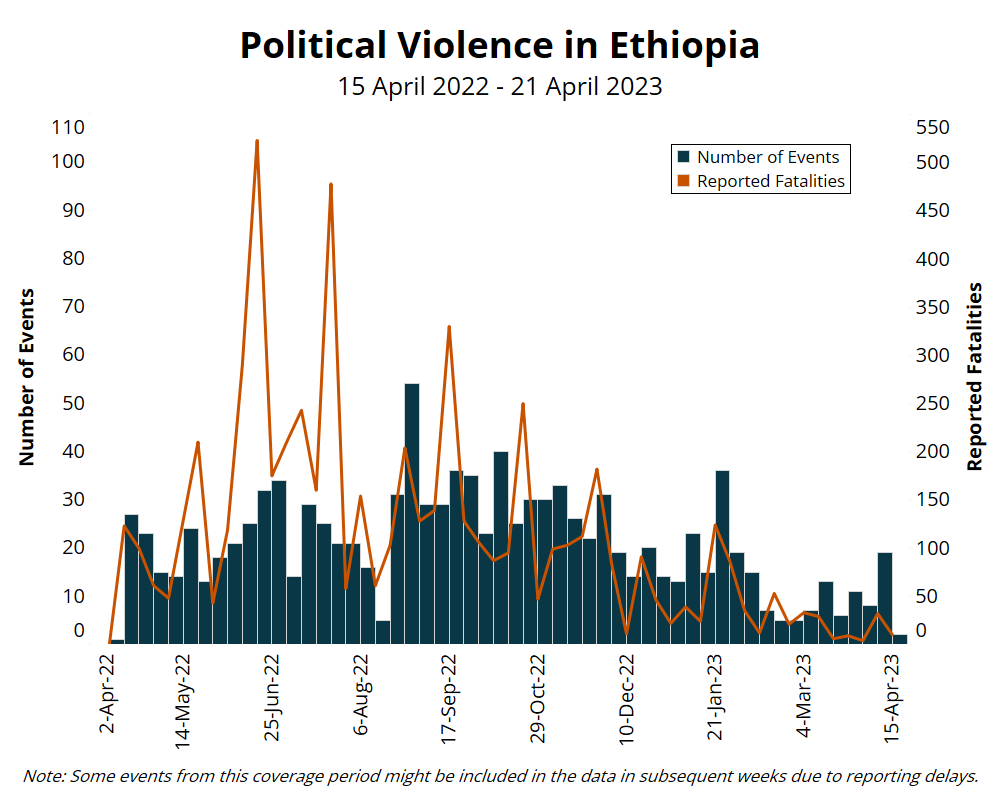 Situation Summary
Political violence decreased last week compared to the week prior as two major religious holidays, Easter and Eid al-Fitr, were celebrated in Ethiopia. Unlike previous holidays where gatherings during Adwa and last year's Eid sparked some violence (for more details, see EPO Weekly: 25 February-3 March 2023 and EPO Weekly: 23 April-6 May 2022), Easter and Eid this year were celebrated without any reported violence.
Violence targeting civilian events were recorded in both Amhara and Oromia regions (see map below). On 17 April, Amhara ethnic militiamen carried out an attack on Oromo civilians in Bate Ardaga kebele in Jilye Tumuga woreda in Oromia special zone, Amhara region. The attack resulted in the deaths of at least 10 people, as well as the burning of houses and looting of cattle.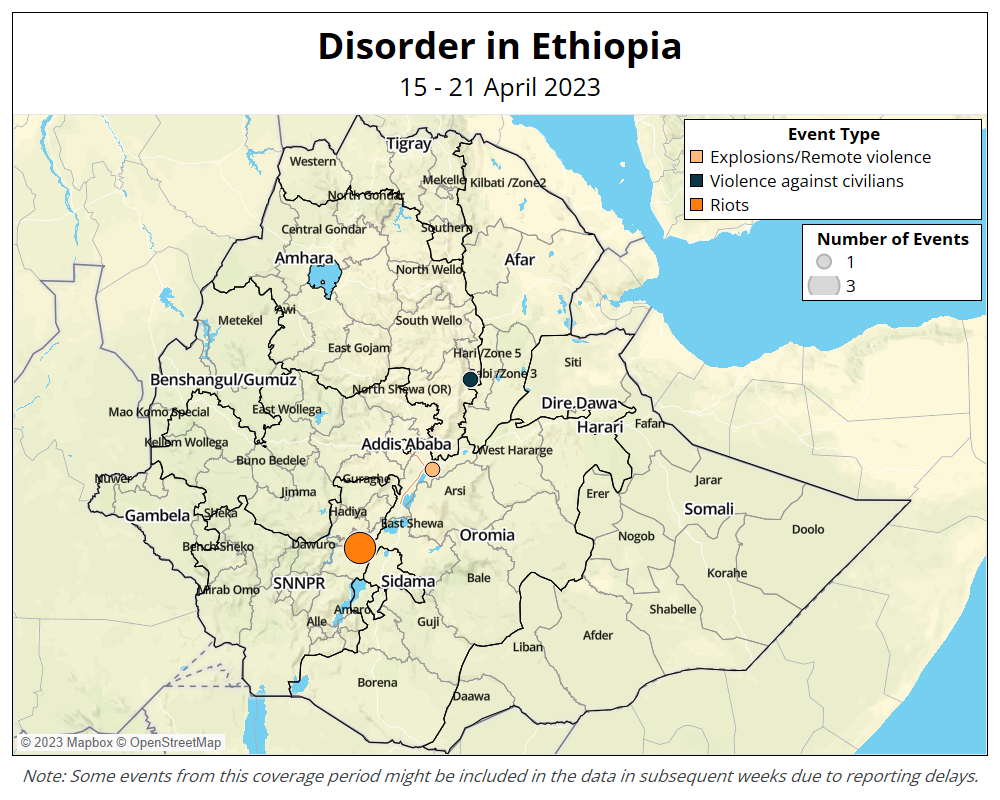 In Oromia region, on 18 April, over 50 members of an unidentified armed group entered Sodere Felege Selam Medehani Alem church in East Shewa zone after throwing a grenade and damaging the gate. The group damaged the church, burned a priest's house, and abducted the church's finance officer. Also last week, Prime Minister Abiy Ahmed met with government representatives from the four Wollega zones in Nekemte town, discussing peace and development efforts in the region.2Negasa Dessalegn, Mantegafetot Shileshi, and Eshete Bekele, 'PM Abiy's discussion with residents in Nekemte,' Deutsche Welle Amharic, 20 April 2023 Moreover, in a major development this week, on 23 April, Prime Minister Abiy announced that peace talks would commence with the Oromo Liberation Front (OLF)-Shane – also known as Oromo Liberation Army – in Tanzania.3Dawit Endeshaw, 'Ethiopia to begin negotiations with OLA rebel group,' Reuters, 23 April 2023 Accordingly, talks between the representatives of the group and a delegation led by National Security Affairs Advisor to the Prime Minister, Redwan Hussein, began on 25 April.4Dawit Endeshaw and Giulia Paravicini, 'Talks between Ethiopia and Oromo rebel group begin in Tanzania,' Reuters, 25 April 2023
In Tigray region, the Tigray People's Liberation Front (TPLF) began to hand over light and heavy weapons to the Ethiopian National Defense Force (ENDF) in Dengolat in South Eastern Tigray zone on 19 April. The process of handing over these weapons will continue for days at various camps.5Federal Democratic Republic of Ethiopia Defense Force, 'During the first round FDRE Defense forces collected various group weapons from the TPLF in Dengolat,' 19 April 2023 According to ENDF and TPLF representatives, this was the third round of the disarmament of the TPLF. During the first round, the TPLF handed over heavy weapons, while in the second round, anti-aircrafts and other heavy weapons were handed over.6Amhara Media Corporation, 'Collecting Weapons in Tigray Region,' 20 April 2023
Similarly, in Gambela region, 195 members of the Gambela Liberation Front (GLF) – also referred to as the Gambela People's Liberation Army (GPLA) – surrendered arms last week, joining a growing list of insurgents who have decided to give up armed struggle and return to society.7thiopian Broadcasting Corporation, 'GLF returns to peaceful struggle Etv | Ethiopia | News,' 22 April 2023 The GLF is a relatively new organization that was founded in October 2021 after the 2021 Ethiopian national elections. Citing electoral "irregularities and malpractices," the group armed itself and announced it was dedicated to overthrowing the Gambela regional government.8Ethiopia Autonomous media, 'Announcement on Establishment of the Gambela Liberation Front,' 31 October 2021 Leaders of the group also announced an alliance with the TPLF and OLF-Shane in November 2021 (for more information, see EPO Monthly: November 2021). On 14 June 2022, the GLF conducted a joint operation with OLF-Shane militants, briefly taking control of Gambela city. Peace talks have been ongoing between the group and military officers from the ENDF in Juba, South Sudan, and in Addis Ababa, since February 2023.9Addis Standard, 'News: Gambella Liberation Front returns 195 combatants to pursue peaceful politics after agreements inked in Juba, Addis Abeba: regional state,' 20 April 2023
Elsewhere, in Southern Nations, Nationalities and Peoples region, civil servants staged demonstrations against the government in Shone town in Hadiya zone from 17 to 19 April due to the failure of the woreda administration to pay their salaries for the past three months. The demonstrators took to the street to voice their grievances and closed roads with stones and sticks. The roads were reopened on 20 April.10Ethiopian Media Services, 'EMS Mereja Thu 20 Apr 2023,' 20 April 2023
Lastly, several reports published by Sudanese media sources indicated that there were armed clashes between Sudanese military forces and Ethiopian forces in the disputed al-Fashaga area.11Alsudani News, 'The army stops an Ethiopian invasion on al-Fashaga al-Sughra and inflicts heavy losses on their lives and equipment,' 19 April 2023; Asharq Al-Awsat, 'Is Ethiopia taking advantage of Sudan's unrest to resolve the "border dispute?",' 21 April 2023 However, Prime Minister Abiy dismissed the claim as false and warned that "parties" were transmitting false claims to incite conflict between the two countries.12Facebook @Abiy Ahmed Ali, 20 April 2023 Sudanese forces took control of the area, officially  part of Sudan but inhabited by a large number of Ethiopians,13Ahmed Younes, 'Al-Fashqa Returns to Sudanese Sovereignty After Agreement With Ethiopia,' Asharq Al-Awsat, 12 April 2020 when the ENDF and other security forces left the area after the northern Ethiopia conflict started in Tigray in November 2020. The area, which runs along the international boundary between Gedaref state in Sudan and Amhara and Tigray regions in Ethiopia, is historically contested between the two countries (for more information, see EPO's Al Fashaga Border Dispute profile page). Prime Minister Abiy has emphasized that this border dispute will be resolved peacefully through negotiation with the Sudanese government, and has hosted representatives from Sudan for talks over the issue.14DW Amharic, 'Tir 14 World News', 22 January 2022; Sudan Tribune, 'Al-Burhan struggles to convince Ahmed that Sudan does not support Ethiopia's TPLF,' 19 October 2022 Due to the fighting between the Sudanese army led by General Abdel Fattah al-Burhan and the Rapid Support Forces – a paramilitary force led by Mohamed Hamdan Dagalo, also known as 'Hemedti' – in Sudan, Sudanese troops controlling al-Fashaga have reportedly evacuated the area.15EMS, 'EMS Mereja Thu 20 Apr 2023,' 20 April 2023