By the Numbers: Ethiopia, 3 June 2022-9 June 2023
Total number of political violence events: 1,102
Total number of reported fatalities from political violence: 5,683
Total number of reported fatalities from civilian targeting: 2,586
By the Numbers: Ethiopia, 3-9 June 20231
Some events from this coverage period might be included in the data in subsequent weeks due to reporting delays.
Total number of political violence events: 10
Total number of reported fatalities from political violence: 15
Total number of reported fatalities from civilian targeting: 15
Ethiopia data are available through a curated EPO data file as well as the main ACLED export tool.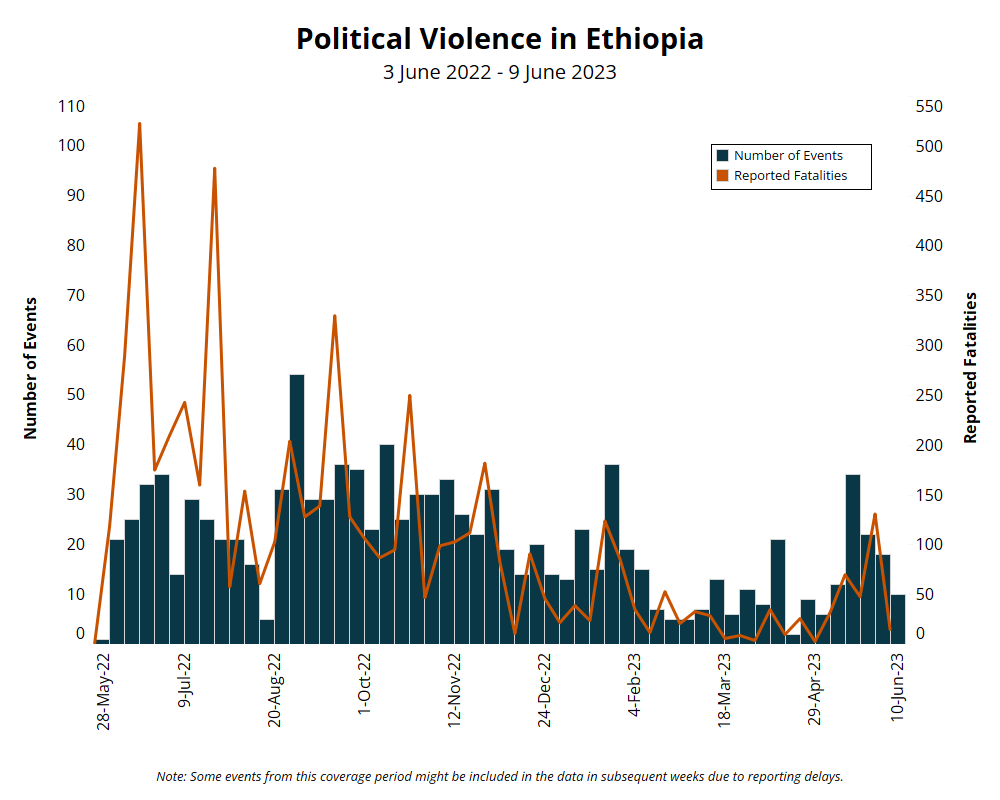 Situation Summary
Last week, demonstrations were held in Tigray and Oromia regions while political violence, including battles and attacks targeting civilians and government authorities, continued in Oromia region.
In Tigray region, protests were held in various towns throughout the week (see map below). On 4 June, ethnic Amhara residents of the contested Western Tigray zone demonstrated in May Cadera, Humera, Dansha,Tsegede, Korarit, Makisegno Gebeya, Wef Argif, Betemulu, Biaker, and Welkait towns. Protesters demanded the government address the status of ethnic Amharas living in the zone and release the government-allocated budget for towns in the area. A similar protests was also held in Adi Remets. Protests in these areas are often encouraged by local administrative authorities from Amhara region. Welkait, Humera, and Tsegede in Western Tigray zone are currently unofficially governed by authorities from Amhara region, who took control of the area by force at the start of the northern conflict in 2020. Despite being ethnically mixed, the area was governed by the Tigray People's Liberation Front (TPLF) under Tigray region from 1991 to 2019. Amharas living in the area sought re-association with Amhara region during that time, and protests, similar to those recorded last week, were frequent. The Tigray regional interim administration has denounced similar protests, and stated that securing the region's territorial integrity is one of the priorities of the interim government2Wazema Radio, 'Media Briefing by the newly appointed Tigray interim government president,' 24 March 2023; Borkena, 'Raya demands legal response from Federal gov't to the identity question,' 20 March 2023 (for more information on the contested Western Tigray zone, see the EPO's Tigray Conflict page).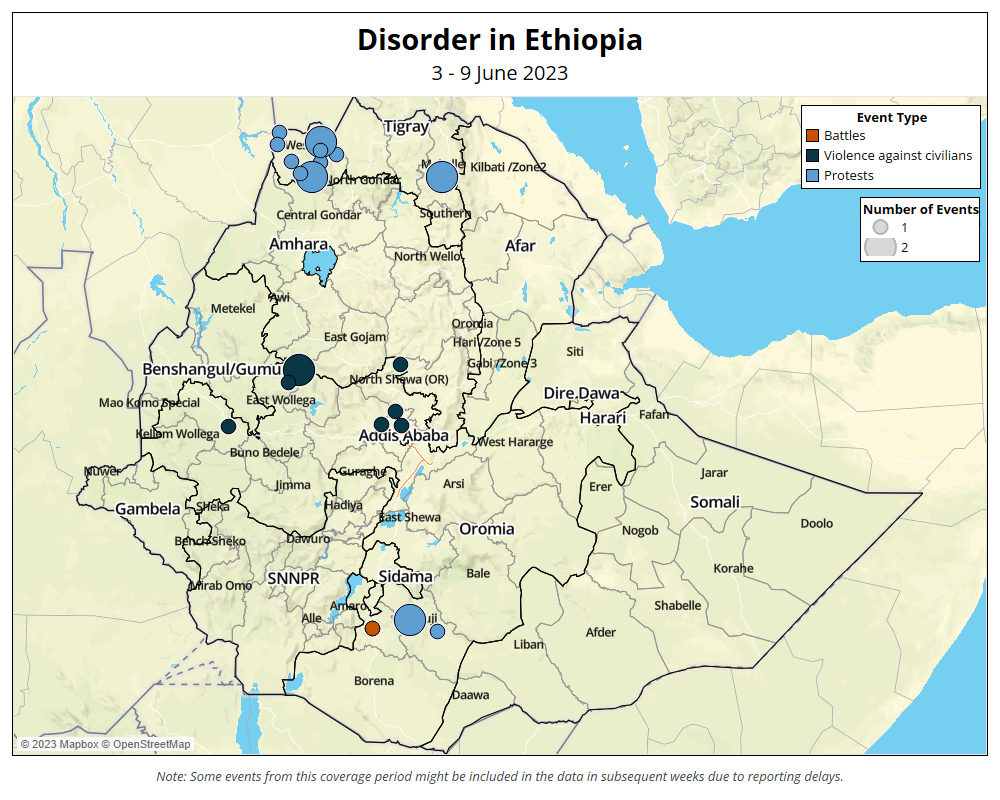 Also on 5 June, former TPLF fighters – mostly younger men – demonstrated in the regional capital, Mekele, over a lack of proper medical care and food. Two days later, pensioners in Mekele demonstrated, demanding their retirement benefits be paid as agreed after payments were withheld for 2 years due to the budget pause in Tigray during the conflict.
In Oromia region, residents gathered in Shakiso town on 6 June to protest the government's decision to include the town in the newly established East Borena zone, complaining that they could not access government services as they could before when they were part of Guji zone. At least eight people were injured as security forces intervened during a continuation of the protest on the next day. A similar protest was held in Wadera town, denouncing the government's decision to include Negele Borana town in the newly established East Borena zone. Several protest events with police intervention, some resulting in fatalities, were recorded in the former Guji zone in late February and early March of this year (see the EPO Weekly: 25 February-3 March 2023 for more information on the government's decision to restructure the zone and the protests against this decision).
Moreover, on 6 June, Oromo Liberation Front (OLF)-Shane – also called Oromo Liberation Army – forces attacked a public bus near Bule Hora town in West Guji zone of Oromia region, killing two people and injuring another four. The Ethiopian National Defence Force (ENDF) intervened and clashed with the group in the area shortly after. Elsewhere in the region, on 8 and 9 June, Amhara ethnic militias – identified as Fano by some local sources – shot and killed at least three civilians in Agemsa town in Amuru woreda, Horo Guduru zone. Also, on 8 June, unidentified armed gunmen shot and killed the deputy head of Adda Berga woreda at his home in Bekatte town in West Shewa zone. The next day, gunmen opened fire at an ambulance and killed a health worker and member of the Dambi Dollo University Public Health Science Institute in the vehicle around Inango in Lalo Asabi woreda, West Wollega zone, as he was returning from Addis Ababa.
Finally, last week, ENDF forces conducted an operation to re-open the Gambela-Dambi Dolo road connecting Oromia and Gambela regions, which had been closed for nearly three years due to insecurity related to conflict with the OLF-Shane.3Gambella Regional Government Press Secretariat Office, 'It was announced that the road from Gambela to Shebel Denbidolo, which has been closed for three years due to security problems, is now open to the community,' 3 June 2023 Violent interactions between the OLF-Shane and government forces have risen significantly in May following short peace talks in Tanzania that ended without a deal due to a lack of agreement on "some issues during this round of talks."4Giulia Paravicini, 'First round of peace talks between Ethiopia and Oromo rebels ends without deal,' Reuters, 3 May 2023 Recently, the dissolution of Oromia regional special forces has led to the ENDF playing a leading role in the government's efforts to combat the OLF-Shane. The opening of this road may be an indication that the ENDF is a more effective force with a better capacity to take and hold critical lines through the country.