By the Numbers: Ethiopia, 24 June 2022-30 June 2023
Total number of political violence events: 1,088
Total number of reported fatalities from political violence: 4,936
Total number of reported fatalities from civilian targeting: 2,126
By the Numbers: Ethiopia, 24-30 June 20231
Some events from this coverage period might be included in the data in subsequent weeks due to reporting delays.
Total number of political violence events: 8
Total number of reported fatalities from political violence: 19
Total number of reported fatalities from civilian targeting: 6
Ethiopia data are available through a curated EPO data file as well as the main ACLED export tool.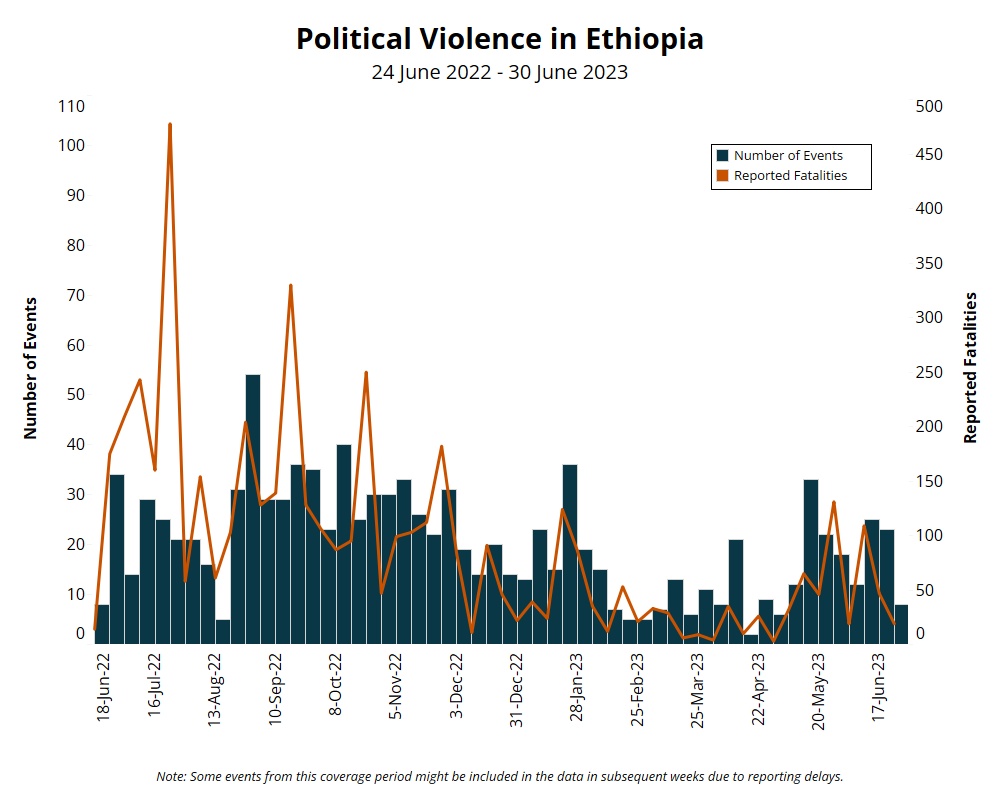 Situation Summary
Oromia region continues to be the epicenter of political violence in Ethiopia. Last week, "intense" armed clashes were reported between the Ethiopian National Defense Force and the Oromo Liberation Front (OLF)-Shane in Kombosha and Chomen Guduru woredas in Horo Guduru zone.2Addis Maleda, 'It has been stated that an intense battle is taking place between the government security forces and OLF-Shane militants in Horo Guduru Wollega Zone,' 2 July 2023 Armed clashes reportedly began on 24 June and continued throughout the week. During the clashes, at least 10 civilians and an unknown number of OLF-Shane members were reportedly killed. Many civilians were also forced to flee their homes. Fighting between government forces and the OLF-Shane re-escalated in May, shortly after delegations representing both sides returned from peace talks in Tanzania on 3 May (for more, see EPO May 2023 Monthly).
Violence targeting civilians also continued in the region (see map below). Last week, unidentified gunmen – assumed to be members of the OLF-Shane – shot and killed an unknown number of civilians in Nura Hera kebele and Bole town in Boset woreda, East Shewa zone. The gunmen also forced farmers to leave their farmland and abducted an unidentified number of people. The OLF-Shane has denied affiliation with the armed group and claimed to have initiated clashes with the group for damaging its name.3Oromia Media Network, 'Militants acting in the name of the OLA but who are not the OLA are committing various crimes against people and looting, according to local residents,' 28 June 2023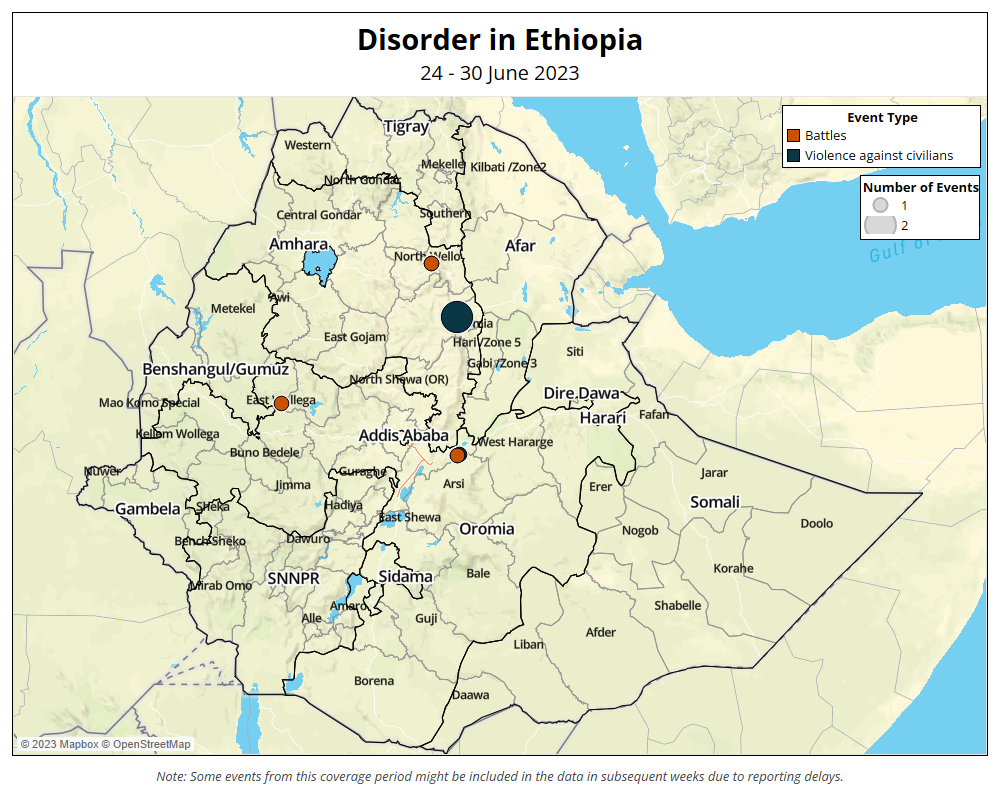 Several incidents of political violence were also recorded in Amhara region. On 25 June, government forces – assumed to be Amhara regional police and kebele militiamen – clashed with Fano militia members in Muja town in Gidan woreda, North Wello zone, when government forces tried to disarm the group. Three members of government forces, including one policeman and two kebele militiamen, were reportedly killed, while four others were wounded due to the clash. On the same day, an unidentified armed group fired at a vehicle transporting members of the Kobo town administration in Walka Mender in Gidan woreda. The vehicle was damaged, but there were no casualties.