IN THIS REPORT
May at a Glance

Vital Trends
Key Events in May

Monthly Focus: Violence Returns to Oromia Despite Attempted Peace Talks
May at a Glance
VITAL TRENDS
In May, ACLED records 88 political violence events and 273 reported fatalities. Civilian targeting events account for nearly half the recorded political violence incidents in the country.
Oromia region had the highest number of recorded events and reported fatalities due to political violence last month, with 58 events and 203 reported fatalities. The number of political violence events in the region began to increase after the peace talks between the Oromo Liberation Front (OLF)-Shane and the government ended without an agreement.
In May, 25 demonstration events were recorded, with nearly half in Amhara region. Most demonstrations in Amhara were connected with the government's operations targeting 'extremists.'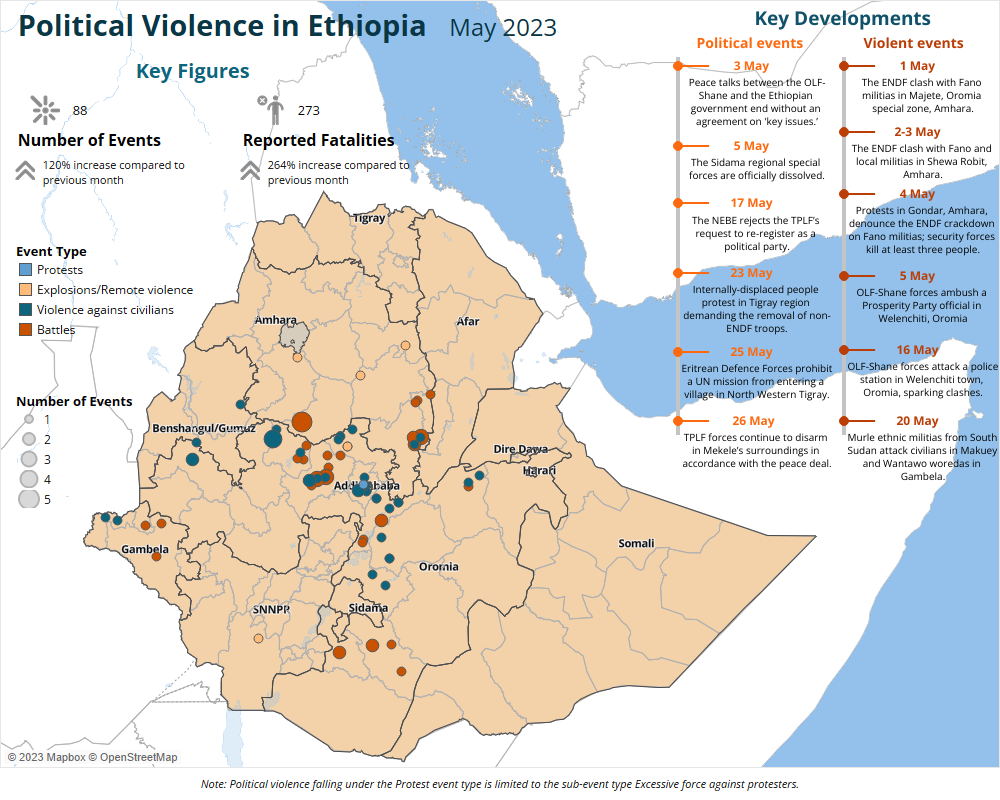 Monthly Focus: Violence Returns to Oromia Despite Attempted Peace Talks
After a relative drop in events between January and April 2023, events involving the OLF-Shane – also known as the Oromo Liberation Army (OLA) – rose sharply in May, returning to violence levels comparable to those throughout 2022 (see graph below). Despite both government and OLF-Shane representatives stating that they would be willing to meet for future peace talks, a rising number of battles in May has upended a temporary lull in the fighting between the two sides, casting doubts that a ceasefire deal might be reached anytime soon.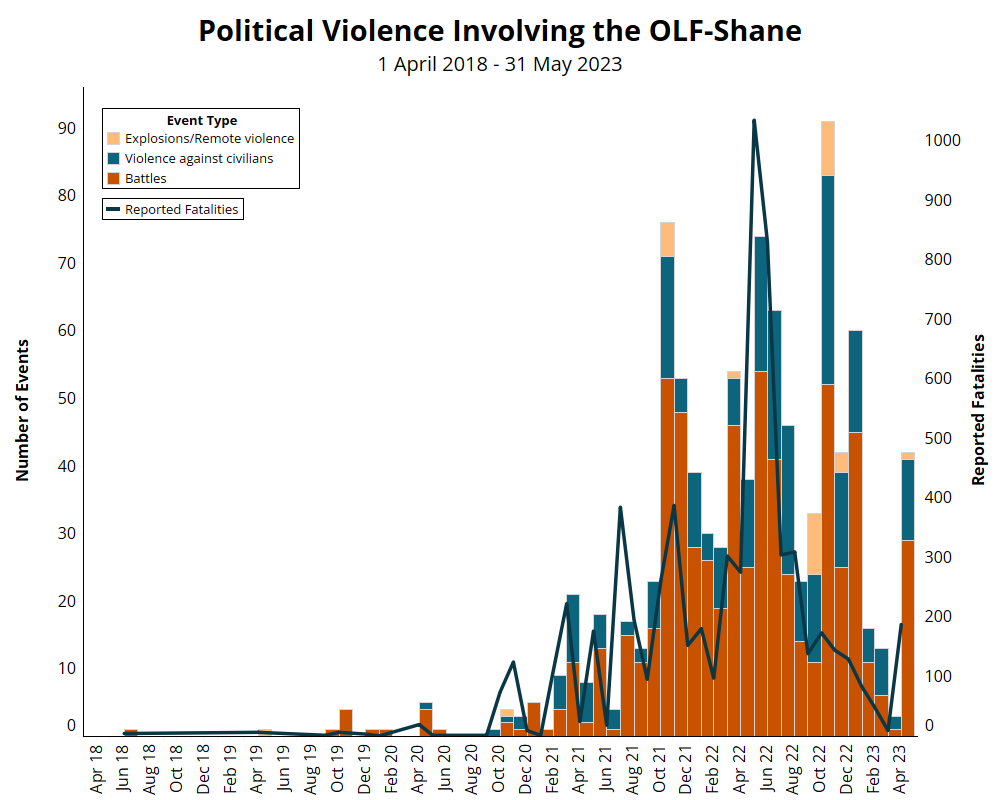 Violence has hindered election campaigns. Several targeted killings of candidates have been reported (see map below). Ethiopian Citizens for Social Justice (EZEMA) candidates were killed in Bishoftu city (Oromia) and in Ataye (Amhara), while the National Movement of the Amhara (NAMA) candidates were shot and killed in Metema (Amhara) and in Metekel (Benshangul/Gumuz).
OLF-Shane Activity Resumes and Shifts Eastward 
In the month of May, ACLED records OLF-Shane's involvement in 42 political violence events, 29 of which were battles with government forces. This constitutes a substantial increase as the OLF-Shane was only involved in one battle event the entire month prior. Interestingly, the group also engaged in several battles outside of areas with previously-recorded OLF-Shane activity, marking a geographic shift. Previously, OLF-Shane activity had concentrated in the west and south of the country. Only sporadic instances of clashes previously occurred in East Shewa zone, where many significant attacks and battles occurred during the month of May (see map below). Some of these clashes resulted in the release of OLF-Shane-associated prisoners in multiple locations, including Bishoftu, Welenchiti, and Bokoji towns.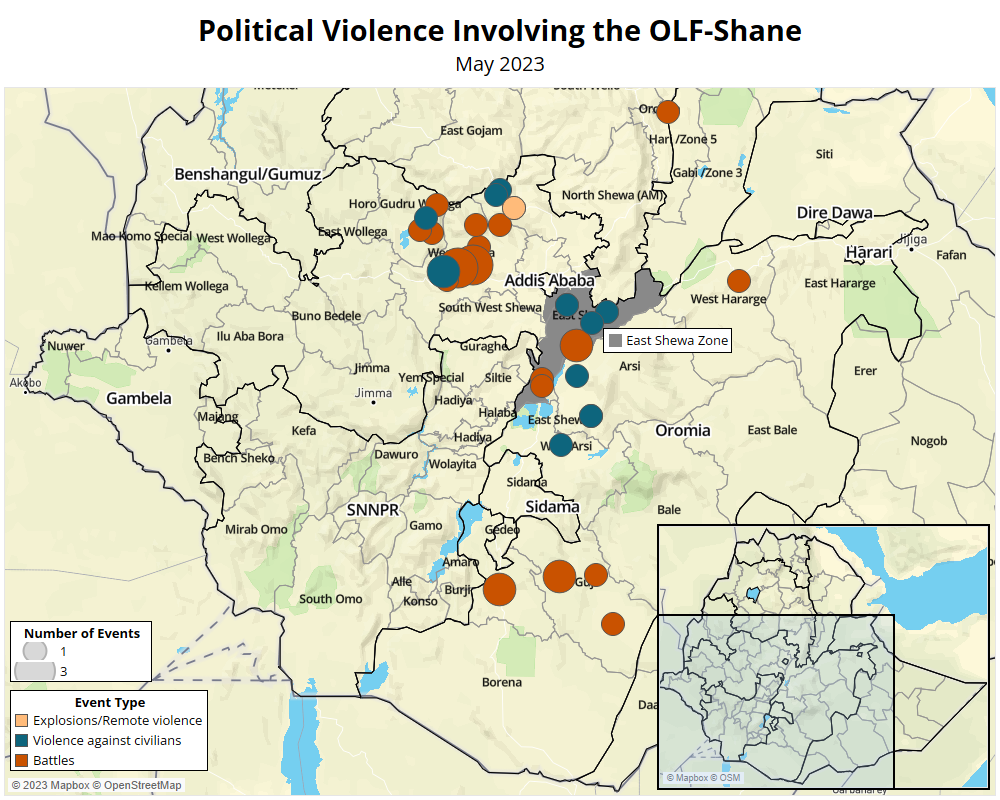 Battles began in several areas with unprecedented OLF-Shane activity shortly after both delegations returned from peace talks in Tanzania on 3 May.2Giulia Paravicini, 'First round of peace talks between Ethiopia and Oromo rebels ends without deal', 3 May 2023 A few days later, on 6 May, suspected OLF-Shane forces attacked and killed seven people, including woreda Prosperity Party Head Omer Lemma from Afar region in Welenchiti town, East Shewa zone. OLF-Shane forces clashed with federal military troops in Adami Tulu, East Shewa zone, the next day. On 15 May, OLF-Shane gunmen attacked a police station in Bishoftu town, killing at least four officers and releasing prisoners. Finally, on 20 May, suspected OLF-Shane forces attacked the kebele militia in Bekoji town, Arsi zone, sparking clashes that resulted in four reported fatalities.
OLF-Shane representatives accuse the government that attacking its positions – including areas in East Shewa zone –  breaches the "understanding" reached in Tanzania to de-escalate armed clashes during the negotiation period.3OLF-OLA, 'Regarding Peace Talks and the Regime's Recent Offensives (OLF-OLA Press Release),' 15 May 2023 On the government's side, Head of Oromia Regional Communication Office Hailu Adugna reiterated that the government was committed to a peaceful resolution of the conflict in Oromia region and "just as the government resolved the war in the north, is still trying to resolve the lack of peace in the region through negotiations and peaceful options."4Deutsche Welle Amharic, 'Support was requested to bring peace and stability in the Oromia region,' 9 May 2023 Besides the press statement released by both parties indicating the talks ended with disagreement over "key issues,"5Addis Maleda, 'Oromo Liberation Army" stated that there were no agreement of key issues,' 3 May 2023; Federal Democratic Republic of Ethiopia Government Communication Service, 'Current situation update,' 3 May 2023 no further information has been released about what was discussed in Tanzania. Some reports indicate that the government did not accept the OLF-Shane's request to establish a transitional government involving other political actors, although it is not confirmed.6BBC Amharic, 'reportedly the issue which created disagreement between Oromo Liberation Army and government is establishing transitional government,' 3 May 2023; Ethiopian Reporter, 'ETHIOPIA – The reason why the negotiation failed is known,' 7 May 2023
As violence increases again in Oromia, so does the pressure on the civilian population. Conflict over the past two years has led to market interruptions, as well as violence targeting civilians caught between the warring parties.7Addis Standard, 'News: Civilians suffer "in silence" amidst armed conflict in Guji zones, Oromia region- report,' 16 May 2023 ACLED records over 100 instances of violence targeting civilians in Oromia region this year, and 30 in May. Amid general insecurity in the region, armed groups – some of which are affiliated or claim to be affiliated with the OLF-Shane – have proliferated.8Katharine Houreld, 'Rebel or bandit? His life illuminates Ethiopia's hidden insurgency,' Washington Post  21 May 2023 As of the end of May, as many as 800,000 people remain displaced from their homes in conflict zones in western Oromia.9United Nations Office for the Coordination of Humanitarian Affairs, 'Ethiopia – Situation Report, 29 May 2023,' 29 May 2023 Despite these pressures, the condition of the civilian population appears to have little or no influence over the trajectory of the conflict.
Trajectory of the Peace Process
A second round of peace talks, should it occur, is likely to take place in a difficult political environment in Ethiopia. Questions over the country's constitution, the role of ethnicity, and the future of ethno-federalism are all points of contention between the OLF-Shane and the federal government; the latter of which is struggling to redefine its own relationship with ethno-federalism. The OLA released a political manifesto in January 2023 clarifying that the group remained dedicated to the Oromo people's "self-determination," Oromia's "economic sovereignty," and the "socio-cultural rights" of the Oromo people.10OLF-OLA, 'A Brief Political Manifesto: From Armed Struggle to the Prospect of Peace,'' 23 January 2023 While not completely incompatible with the current government, changes to the country's constitution that reduce or eliminate ethno-federalism will bring the political agendas of the warring parties further apart.
Most concerning is that neither side views the other as a credible negotiation partner due to historical interactions that have led to poorly executed disarmament processes and a general lack of trust that the other will act on agreed decisions.11Dean G. Pruitt, 'Whither Ripeness Theory?,' Institute for Conflict Analysis and Resolution, George Mason University Ill-treatment and continued illegal detentions of OLF leaders cause many OLF-Shane (OLA) members to suspect that the government will not hold up its end of the bargain should a disarmament agreement be reached.12Addis Standard, 'News: OLF warns transgression of international conventions after senior officials go missing from police custody,' 11 May 2023 On the other side, Ethiopian government officials have expressed reluctance to negotiate with the OLF-Shane based on the lack of a singular representative political or military command structure.13Ethiopian Broadcasting Corporation, 'What challenges did the Ethiopian National Consultative Commission face? Etv | Ethiopia | News,' 29 November 2022 Despite some willingness from the regional government, conditions for traditional peacebuilding options or a negotiated settlement have changed little over the past year (for more, see the EPO December 2022 Monthly).
External partners have been involved in the peace process, working both at the top level with representatives in Tanzania and with local groups. A two-day conference, supported by the United States Agency for International Development Energy Security Project and held in Ambo city on 12 and 13 May, brought together traditional leaders and university professors, as well as mid-level government officials in an effort to promote peaceful dialogue between members of Oromia's civil society.14Addis Standard, 'News: Communities urge continuous engagement between government, Oromo Liberation Army to end war in Oromia,' 13 May 2023 While certainly a positive step, OLF-Shane representatives were not involved, and outcomes did not go beyond the dialogue objectives of the conference.
Recent changes to the armed forces of both the OLF-Shane and the government serve as incentives for both sides to continue to explore the weaknesses of the other in order to gain a stronger negotiating position. The Oromia regional government, like other regional governments in Ethiopia, has been re-structuring its special forces over the past month (for more, see the EPO April 2023 Monthly). While the Ethiopian National Defence Force (ENDF), federal forces, and even republican guard forces have all been involved in operations against the OLF-Shane over the past two years, the main force opposing insurgent groups has been the Oromia regional special forces. However, as of April 2023, these forces no longer exist. Theoretically, they have been integrated into other security bodies – be it state police, federal police, or the ENDF. The re-structuring of the special forces may produce a significant impact, positive or negative, on the government's ability to engage – although exactly how this may manifest is currently unclear. Some operations undertaken by the ENDF in May led to the opening of the Dembi Dolo-Gambela road, which had been closed for three years due to the ongoing insurgency.15Addis Standard, 'Gambella-Dembidollo road in Western Ethiopia operational after three years, army claims to secure peace,' 5 June 2023 Yet, additional actions by the government over the past month have resulted in little territorial change, and OLF-Shane forces remain in control of large swaths of rural Oromia. On the side of OLF-Shane, the recent disarmament of two of its partners in the United Front of Ethiopian Federalist and Confederalist Forces – the TPLF and the Gambela People's Liberation Army16DW Amharic, 'The Gambella Liberation Front has completely withdrawn from the armed struggle,', 26 April 2023 – means that the group may no longer possess critical links to border crossings into Sudan.
Neither government nor OLF-Shane representatives have ruled out the possibility of a second round of peace talks, despite an increase in violence over the past month. Both sides remain verbally committed to a 'peaceful' solution but have continued attacking one another. Importantly, neither side appears to be able to gain control over the security situation in parts of Oromia region, exposing civilian populations to opportunistic crime and economic hardship, heightening the cost of the conflict. OLF-Shane's operations in new areas of East Shewa zone could indicate that the group is further expanding in Oromia region, or it could be an attempt to pressure the government into additional peace talks.