IN THIS REPORT
April at a Glance

Vital Trends
Key Events in April

Monthly Focus: Volatility in Amhara Region While the Rest of the Country Stabilizes
April at a Glance
VITAL TRENDS
In April, ACLED records 37 political violence events and 69 reported fatalities. Political violence continued to decrease while demonstrations rose last month.
Amhara region had the highest number of recorded events and reported fatalities due to political violence last month, with 26 events and 47 reported fatalities. Over 68% of all reported fatalities in the country were recorded in Amhara region.
In April, the most common event type was protests, with 33 events. Most of the protests recorded in April were in Amhara region and related to the government's initiative to dissolve the region's special forces.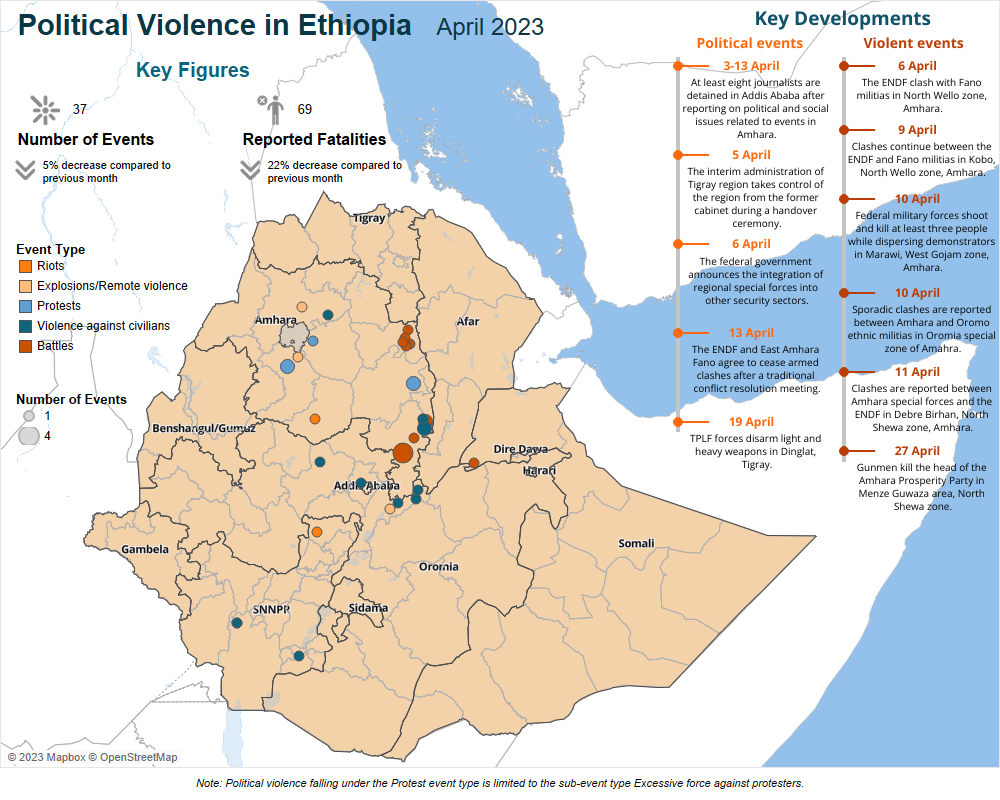 Monthly Focus: Volatility in Amhara Region While the Rest of the Country Stabilizes
Political violence in Ethiopia continued to decrease during the month of April, with ACLED recording the lowest number of political violence events since October 2020, prior to the outbreak of the northern Ethiopia conflict in November of that year (see graph below). Peace efforts continued, and talks between insurgent groups and the government in Gambela and Oromia regions were announced during the month. Yet, discontent over the proposed integration of the country's regional special forces into various security sectors sparked demonstrations and battles in Amhara region. The killing of the head of the Prosperity Party in Amhara region at the end of the month could indicate more widespread instability in Amhara region in the coming months.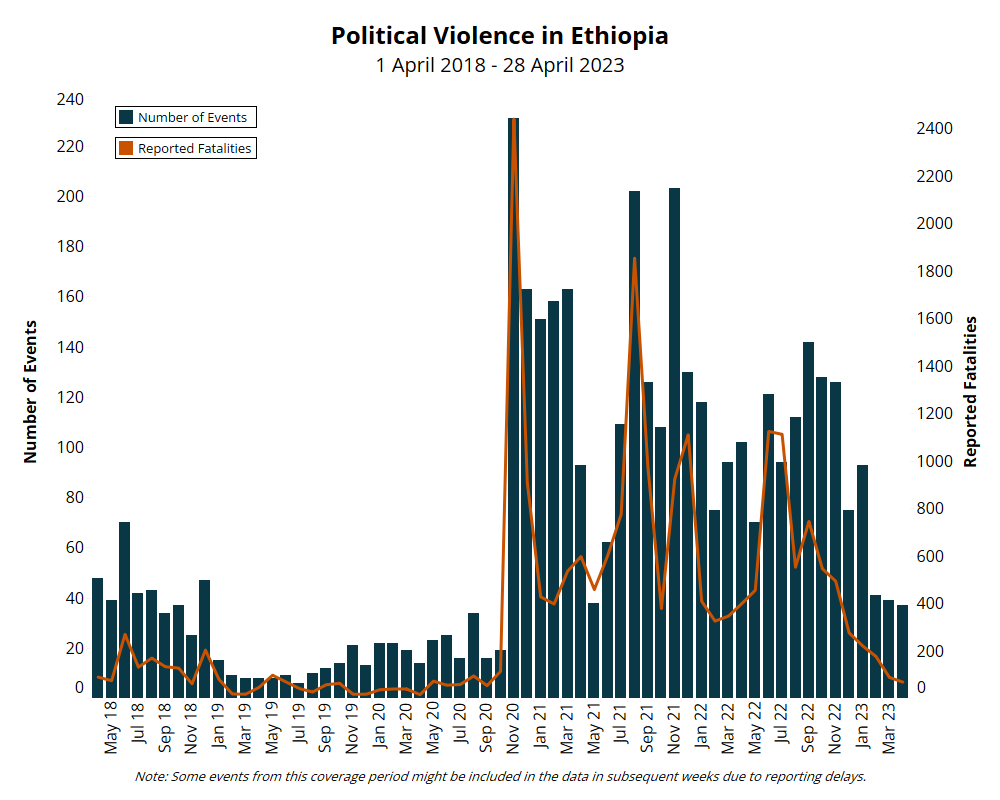 As also discussed in the EPO March 2023 Monthly report, peace talks with various armed groups throughout the country appear to be progressing with the promise of results. During the last week of April, recently announced peace talks between the government and the Oromo Liberation Army (OLA) – known by the government and locals1Oromos use the Afaan Oromo abbreviation of the group ABO (Adda Bilisummaa Oromoo) while others identify the group as Shane. as the Oromo Liberation Front (OLF)-Shane – officially started in Tanzania.2Charles Kombe, 'Peace Talks Between Ethiopian Government, OLA Continue in Tanzania,' Voice of America, 27 April 2023 It is likely that peace talks may have begun much earlier, as ACLED data indicate events involving the OLF-Shane have dropped sharply after a spike in November and December 2022. Moreover, federal security resources have been more readily available in Oromia region since the peace agreement with the TPLF was signed in November 2022, which could also explain a sudden drop in events in Oromia region. Likewise, the leadership of the Gambela Liberation Front – which conducted joint attacks with the OLF-Shane in Gambela city in June 2022 (for more, see EPO Weekly: 4-10 June 2022) – announced that the group had "completely withdrawn from armed struggle," committing hundreds of fighters to rehabilitation camps after disarming during the last two weeks of April.3Negasa Desalegn, Tamirat Dinsa, and Negash Mohamed, 'It was announced that the Gambella Liberation Front has completely withdrawn from the armed struggle,' Deutsche Welle Amharic, 26 April 2023
On 6 April, the Ethiopian government declared its intention to incorporate regional special forces from each region of the country into different branches of the security sector as part of an integration plan.4Addis Standard, 'News: Army Chief proclaims end of regional special forces "as of today,"' 15 April 2023 Ethiopia's constitution allows regional states the right to "establish and administer a state police force, and to maintain public order and peace within the State."5Constitute Project, 'Ethiopia's Constitution of 1994,' p.16 Special forces were created with the purpose of countering insurgencies within their respective regional borders. They have, however, expanded and become controversial as they have engaged in violence against civilians and in border disputes. According to ACLED data, 18% of all recorded violence targeting civilian events since 2018 involve regional special forces.
Regional authorities in Somali, Oromia, and Southern Nations, Nationalities, and Peoples region (SNNPR) announced plans to follow the federal government's directive, and have begun the process of integration with limited public reaction.6Addis Standard, 'NewsAlert: Somali state cabinet unanimously approves government's plan to dissolve, reintegrate regional special forces,' 10 April 2023; VOA Amharic, 'Oromia region has announced that it has stopped the deployment of special forces,' 13 April 2023 In Amhara region, rumors that the federal government intended to disarm the regional special forces sparked clashes between Ethiopian National Defense Force (ENDF) troops and special forces and their allied Fano militias on 6 April, with battles recorded in Gobiye, Kalim, Belago, and Gomata in North Wello zone (see map below). After reports of these armed clashes emerged, the government released an official statement clarifying its plan to integrate all regional special forces into state police, federal police, or the ENDF.7Federal Democratic Republic of Ethiopia Government Communication Service, 'A statement from the Government Communication Service on current issues,' 6 April 2023 This announcement prompted additional armed clashes, riots, and protests throughout Amhara region (for more, see EPO Weekly: 1-7 April 2023 and EPO Weekly: 8-14 April 2023). At least 15 fatalities were recorded in the context of these demonstrations, most as a result of ENDF forces firing on protesters in an attempt to disperse them. However, after a week of instability in the region, violence subsided around 13 April after the government released various explanations regarding the integration plan8Amhara Media Corporation, 'There is no specific decision to disarm and disband Amhara special forces,' 9 April 2023; AMC, 'Press statement of Prosperity Party executive member and head of Amhara Prosperity Party office,' 11 April 2023; Ethiopian Broadcasting Corporation, 'Interview with the Deputy Chief of Staff of the Armed Forces, General Abebaw Tadesse,' 7 April 2023 and held a traditional conflict resolution meeting with leaders of East Amhara Fano.9AMC, 'Armed Fano members in the North Wello zone accepted the government's call for peace and agreed to return to their normal lives,' 13 April 2023 The situation intensified yet again on 27 April, when unidentified gunmen ambushed and killed the head of the Amhara Prosperity Party and a member of the party's executive committee along with his security detail and other members of the local administration around Menze Guwaza area in North Shewa zone as they were traveling from Mehal Meda to Debre Birhan.10AMC, 'The Amhara Regional Police Commission announced that five more people who were traveling with Mr. Girma Yeshitla have died,' 30 April 2023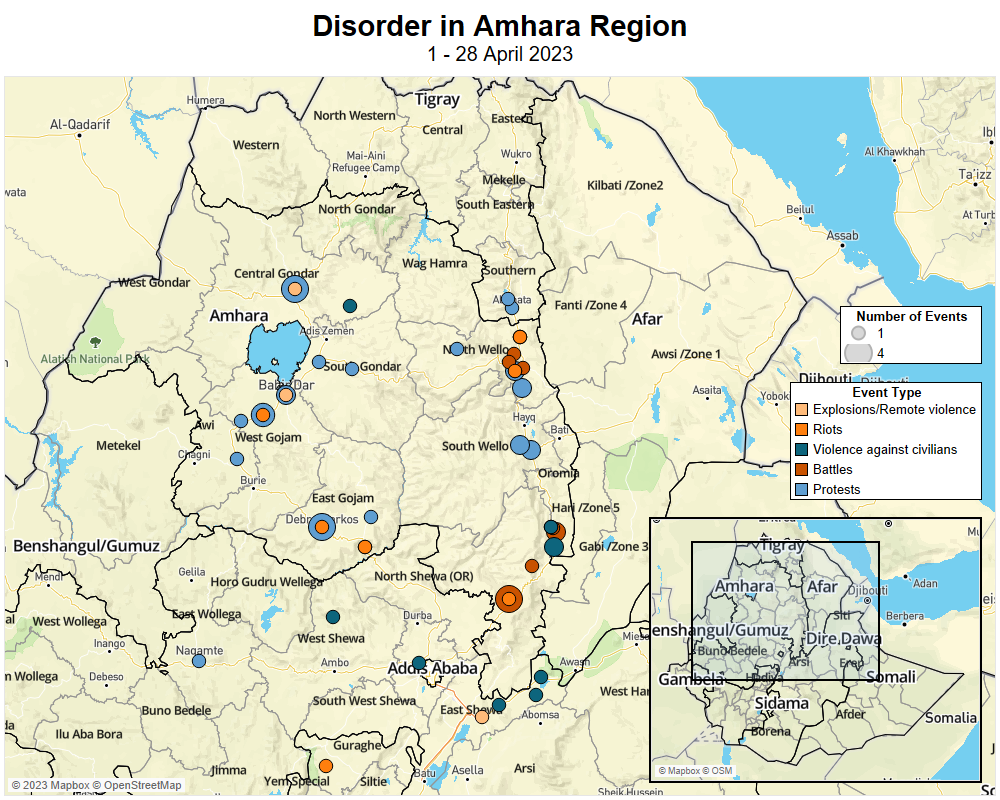 Brief Introduction to Regional Special Forces With a Focus on Amhara Forces
Regional special forces – special police forces locally known as Liyu Police – are paramilitary forces at the regional level that were tasked to fight insurgencies in their respective regions. The first regional special force was established in Somali region in 2007 to fight against Ogaden National Liberation Front.11European Institute of Peace, 'The Special Force in Ethiopia,' October 2021; BBC Amharic, 'The beginning of the organization of regional special forces, the process and its current position,' 12 April 2023 Over time, similar special forces were established in other regions. The second region to establish regional special forces was Oromia region, where a force with 120 members was established in 2008.12European Institute of Peace, 'The Special Force in Ethiopia,' October 2021 Just like regional state police forces, regional special forces are accountable to their respective regional governments. They are organized like a military, with each special force consisting of various ranks and units.
Ethiopia's ethnic federalism system meant that regional special force units – besides ethnically 'composite' units like SNNP regional special forces – were ethnically homogeneous, an issue that became problematic as they became involved in clashes along disputed territories and borders, and when dealing with communities of ethnic minorities. Over time, and especially after 2016, regional special forces began to be involved in border conflicts and clashed with each other. For instance, in 2020 and 2021, armed clashes involving Afar and Somali regional special forces were recorded in the contested area at the border of Afar and Somali regions. After Prime Minister Abiy Ahmed came to power in April 2018, the training and arming of special forces accelerated, especially in Tigray, Amhara, and Oromia regions.13EBC, 'Oromia Police College graduates special force policemen trained in Bulbula Police Training Center,' 10 May 2021; EBC, 'Oromia Police College graduated the special police force members it trained for the 30th round|etv,' 9 March 2020; AMC, 'The Amhara Regional Peace and Security Establishment Office graduated the special force police officers,' 17 June 2019; Tigrai TV, '#Television Tigray "Our struggle is short and bitter." Graduated special commandos of Tigray,' 19 October 2020 This arms race was connected to a lack of trust in federal forces and the ambition of regional authorities to advance and protect their regions against potential territorial encroachments by neighboring forces.
Since Prime Minister Abiy took power, three major events showing the increasing power of regional special forces have taken place. In August 2018, Somali regional special forces confronted federal forces when the latter entered Jigjiga, Somali region, to arrest the regional government President Abdi Mohamoud Omar – also known as Abdi Ilay.14Andualem Sisay, 'Ethiopian army takes over Somali region security,' The EastAfrican, 7 August 2018 In Amhara region, the head of Amhara regional special forces allegedly gave orders to assassinate the Amhara regional government president and others in an attempted coup in June 2019, and was shot dead a few days later by the federal police. This led to armed clashes between forces loyal to the head of Amhara regional special forces and government forces. Finally, in November 2020, Tigray regional special forces led by the Tigray People's Liberation Front (TPLF) attacked the ENDF North Command Post, which led to a two-year war in northern Ethiopia.
Armed actors in Amhara Region: United Under Amhara Nationalism
Amhara regional special forces have played a key role in suppressing insurgency attempts within Amhara region, mostly by ethno-nationalist groups seeking greater autonomy. Besides the TPLF, Amhara regional special forces have been engaged in battles against Oromo ethnic militias and OLF-Shane insurgents in Oromia special zone, against Qemant militias near Gondar city, and more recently, against Fano militias in the eastern part of the region. Outside of Amhara region, Amhara regional forces have engaged in clashes in Benshangul/Gumuz region – in Metekel zone where many ethnic Amharas live15Addis Standard, 'News Analysis: Amhara State deploys its forces to neighboring Benishangul Gumuz state; move follows recent killings of security forces by armed rebels,' 13 September 2021 – along the Sudanese border, and in Tigray region during the northern conflict. Like other regional special forces, Amhara regional special forces have been accused of serious crimes during these anti-insurgency operations. In December 2021, members of Amhara regional special forces, along with Fano militia members, were filmed extrajudicially killing 30 ethnic Oromo men after accusing them of collaborating with the OLF-Shane.16BBC, 'Ethiopia conflict: Looking for clues in video of forgotten massacre,' 7 November 2022 Amhara regional forces and "irregular forces" were targeted specifically in an executive order imposing sanctions on individuals by the United States in September 2021 over their involvement in Tigray.17The White House, 'Executive Order on Imposing Sanctions on Certain Persons With Respect to the Humanitarian and Human Rights Crisis in Ethiopia,' 17 September 2021
Furthermore, special forces in Amhara region played a critical role in assisting the ENDF North Command Post by capturing and maintaining control of the Amhara ethnic homelands of Welkait Tesegede, Tselemt, Humera, and Raya areas of Tigray region. The special force units worked in close conjunction with 'Fano' militias, and both actors have been accused of serious war crimes against ethnic Tigrayans living in Western Tigray zone.18Amnesty International, '"We will erase you from this land": Crimes against humanity and ethnic cleansing in Ethiopia's Western Tigray Zone,' 6 April 2022
In contrast to Fano militias, which are less formally organized and loyal to local organizers, Amhara regional special forces and Amhara state police are commanded by officers loyal to the regional presidency and Amhara Prosperity Party officials. In Amhara region, four different leaders have commanded the special forces since 2018. Brig. Gen. Asaminew Tsige, who was accused of orchestrating the killing of the Amhara regional president, was shot dead by security forces in 2019 during an escape attempt. His position was filled by Deputy Commissioner Biset Getahun, who held the position until July 2021. Brig. Gen. Tefera Mamo led the forces from July 2021 until his release in February 2022. Mamo was later arrested by federal troops in May 2022 in Addis Ababa on terrorism charges.19Borkena, 'Tefera Mamo, abducted Ethiopian General, released,' 12 June 2022 Maj. Gen. Mesele Belete led the force until it was dissolved this month.
Fano is a loose term referring to local militias, often comprised of young men, who are tasked with protecting ethnic Amhara communities. Unlike other ethnic militias in Ethiopia, the Fano in Amhara region are deeply connected and advocate for both a united Ethiopia and the restoration of Amhara governance over traditional Amhara homelands, which includes areas of Western and Southern Tigray zones. The Fano are supported by local communities, and its leadership often includes former members of regional or federal armed forces.
As part of the conflict against the TPLF, regular services were suspended in Amhara region, including the budget, to focus on issues related to war efforts.20Addis Standard, 'Translation of the nine points emergency decree by the Amhara State Council,' 31 October 2021 This included the recruitment and arming of ethnic Amharas throughout Ethiopia and in the diaspora, with many of them integrated into Fano militias.21Ethiopian Press Agency, 'Fanos from America enter Dessie for survival struggle,' 28 October 2021 During this time, Fano became more formalized as an organization, announcing provincial commanders and organizational structures. As conflict has abated in the country, ENDF soldiers moving along roadways and towns in Amhara region have engaged in sporadic clashes with Fano militias, evidencing a potential brewing storm.
The fallout between the federal government – represented by the Amhara branch of the Prosperity Party – and Fano has been long coming. Lack of federal action against the targeting of ethnic Amhara communities in Oromia special zone, Amhara region, as well as in Oromia and Benshangul/Gumuz regions, has driven anger against the federal government and Amhara Prosperity Party. Likewise, the perception that ethnic Oromos are dominating the government has led many Fano members to conclude that the current administration is not willing to protect Amhara interests.22Henok Abebe, 'Abiy Ahmed's Vengeful Actions towards Amhara: Biting the Hand that Feeds Him,' Borkena, 17 April 2023 Fano members who engage in clashes with the forces of another region, or with the federal government are often referred to as 'extremists' by the government.23Addis Standard, 'News: Oromia State gov't warns 'extremist forces operating in the name of Amhara', infiltrating region and committing 'disgusting acts,'' 4 April 2022 Despite having often fought side-by-side against the TPLF, attempts to disarm Fano militias by Amhara regional special forces loyal to the Amhara Prosperity Party have been met with violence in 2022.
The Amhara Prosperity Party has found itself in an increasingly difficult position over the past few years as the federal government – led by Prosperity Party officials – has been accused by ethno-nationalist organizations of ignoring the killings and displacement of ethnic Amharas and advancing a pro-Oromo agenda.24Al Jazeera, 'Aid group says two workers shot dead in Ethiopia's Amhara region,' 10 April 2023 Amhara nationalist voices have become increasingly popular as they accuse the government of engaging with the TPLF and the OLF-Shane in peace talks in a way that removes accountability for the wrongs inflicted on Amhara people, and leaving the Amhara region defenseless after disarming the special forces.25Twitter @cdessalegn, 23 March 2023; Abel Tesfaye, 'As Ethiopian alliances shift, Abiy's anniversary met by Amhara protests and violence,' Ethiopia Insight, 7 April 2023 For instance, in April 2021, mass demonstrations were held in all major cities in Amhara region against the increasingly frequent violent attacks and displacement of ethnic Amharas from areas in Oromia, Amhara, and Benshangul/Gumuz regions (for more information, see EPO Weekly: 17-23 April 2021).
Lines in the Sand: Potential Flashpoints for Violence in Amhara Region
Amhara region is at a critical juncture, and violence is likely to continue to occur sporadically as various armed actors jockey for position. As the conflict between the TPLF and the federal government has ceased, a common opponent no longer unites Fano and federal government forces. The relationship between the Amhara Prosperity Party and ethno-nationalist organizations like Fano in Amhara region has been rapidly declining. Attempts by Amhara regional special forces to disarm local Fano leaders in May 2022 sparked deadly clashes in several towns throughout the region (for more, see EPO Weekly: 14-20 May 2022). Clashes that occurred in April 2023 following the announced dissolution of regional special forces mirror events that occurred the year prior.
News regarding the restructuring of the special forces had little impact in some regions of Ethiopia. However, in Amhara region, the announced dissolution of regional special forces was viewed as a formal attempt to reduce the power of pro-Amhara voices and impose the will of the federal government. Pan-Ethiopianists and Amhara regional political actors are increasingly accusing Prime Minister Abiy and the ruling Prosperity Party of catering to Oromo ethno-nationalist political demands and allowing those demands to dominate the government.26Borkena, 'Yes! Abiy Ahmed Must Resign,' 5 April 2023 Disarming special forces could be an indication that the federal government is preparing to negotiate with the Tigray interim administration to decide the status of Welkait, Tsegede, Tselemt, Humera, and Raya areas – officially part of Tigray regional state but with historical ties to ethnic Amharas and administered by Amhara regional authorities since the start of the northern Ethiopia conflict in 2020. Amhara regional special forces have played a key role in providing security in these areas, and reintegrating these forces into the federal army or state police removes the potential for armed resistance to any deal made with the TPLF. This positioning has also led to the arrest of several pro-Amhara journalists and activists.27Amnesty International, 'Ethiopia: Government should respect the right to peaceful protest and immediately release detained media staff,' 17 April 2023; Committee to Protect Journalists, 'At least 8 journalists detained amid renewed unrest in Ethiopia,' 14 April 2023
The environment in Amhara region bears many similarities to that of the situation in Gondar in July 2016, when an attempt to arrest the Head of the Welkait Committee, Colonel Demeke Zewdu, sparked violent clashes. Experts on Amhara nationalism consider the event a "tipping point for Amhara nationalism," which led to the establishment of Fano and later included limited anti-government insurgent activity.28Tezera Tazebew, 'Amhara nationalism: The empire strikes back,' African Affairs, 20 January 2021 An attempted coup in Amhara region by nationalist forces who were members of Amhara regional special forces in 2019 that left Amhara Regional President Ambachew Mekonnen dead represented a second turning point. The killing of the head of the Amhara Prosperity Party last month likely marks a third critical point for Amhara's extreme nationalism as it will polarize actors, and could mark the start of a more prolonged anti-government insurgency.
In response to the killing of the head of the Amhara regional Prosperity Party, the government swiftly announced "decisive measures" against "extremist forces."29Addis Standard, 'News: Joint Task Force says taking "decisive measures" against "extremist forces" in Amhara region in wake of official's killing,' 28 April 2023 While unclear at the moment, it is likely that these measures might include expanded disarmament and arrest of Fano leaders throughout Amhara region, as well as finalizing the dissolution of Amhara regional special forces.30AMC, 'The task of reorganizing the special forces is being completed,' 15 April 2023 On 30 April, the federal police in Ethiopia claimed that 47 "extremist" militants were arrested in the region.31Ethiopian Federal Police, 'A statement from the Security and Safety Joint Task Force,' 30 April 2023
Any attempt to reclassify Welkait in Western Tigray zone or Raya in Southern Tigray zone into anything other than Amhara administration will likely have serious consequences.32AMC, 'Message from Colonel Demeke Zewedu,' 18 April 2022 As many parts of Ethiopia continue to stabilize, Amhara region will likely continue to experience turbulent political conditions. The government, in turn, will likely continue its attempts to consolidate power by disarming ethno-nationalist Amhara actors, which might result in more frequent clashes.