October at a Glance
 Vital Stats
ACLED records 120 organized political violence events and 398 reported fatalities in October.
Oromia region had the highest number of reported fatalities due to organized political violence, with 215 reported fatalities. Tigray region followed, with 135 reported fatalities.
In October, the most common event type was battles, with 61 events and 77 fatalities reported, followed by violence against civilians, with 40 events and 147 fatalities reported.
Vital Trends
In October, reported fatalities as a result of airstrikes reached an all-time high in the country.
Intense political violence was recorded in Tigray region throughout October, as government forces fought to retake territory. By the end of the month, government forces managed to regain the control of many major cities and towns in the region.
Large pro-government demonstrations were recorded in many cities and towns across the country.
The Oromo Liberation Front (OLF)-Shane and government forces – the Ethiopian National Defense Force (ENDF), Oromia regional special forces, federal police, and kebele militias – continued to clash in Oromia region.
Violence targeting civilians also continued in Oromia region.
In This Report
October Situation Summary
Monthly Focus: Peace Agreement Reached Between the Government and the TPLF Amid an All-Time High Fatalities Resulting From Airstrikes in the Country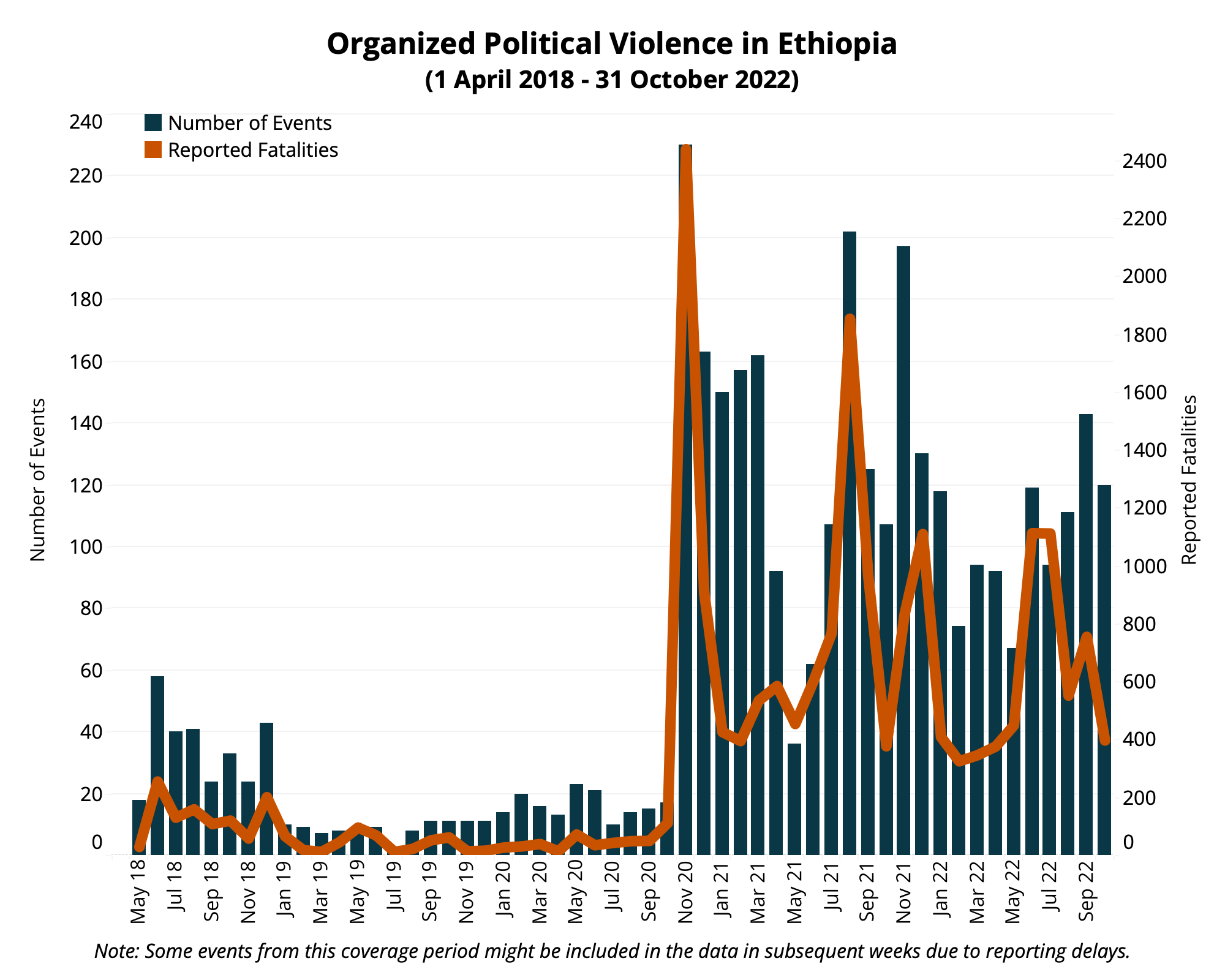 October Situation Summary
In October, fighting in northern Ethiopia between government forces and Tigray People's Liberation Front (TPLF) forces continued, with 42 battle events involving these two parties recorded in both Amhara and Tigray regions. In Amhara region, battle events were recorded in North Wello, West Gondar, and North Gondar zones. In Tigray, battle events were recorded in Central Tigray, Eastern Tigray, North Western Tigray, South Eastern Tigray, and Southern Tigray zones. The majority of battle events were recorded in Amhara's North Wello and Tigray's Southern Tigray zones. Government forces regained control of a number of locations in Amhara and Tigray regions, including Kobo and Gobiye in Amhara, and Shire, Alamata, and Korem in Tigray. On 2 October, the TPLF announced that its forces had withdrawn from North Wello zone "to make tactical geographical adjustments," adding that if necessary, its forces may enter the zone again (Twitter @TigrayEAO, 3 October 2022). However, some reports and witnesses from the area claim that TPLF forces were pushed out of the zone by government forces (EMS, 3 October 2022; EMS, 4 October 2022).
Protests against the TPLF and the alleged involvement of the west into Ethiopia's internal affairs were held in over 37 towns and cities in Ethiopia, including the capital city Addis Ababa, on 22 and 23 October. These protests were held with the general theme declared as "I will stand for Ethiopia and let my voice be heard." Most of these protests were held in Amhara region. Last year, in November 2021, similar protests denouncing the TPLF, OLF-Shane, US intervention in Ethiopia, and perceived biased reporting on Ethiopia by the international media were held in 27 cities and towns, with the majority of the protests held in Oromia region (for more details on these protests, see EPO Monthly: November 2021).
Battles and violence against civilians continued in Oromia region. Last month, ACLED recorded 11 battle events involving OLF-Shane and government forces in East Shewa, Guji, West Shewa, and West Wollega zones (see map below). In October, multiple strikes, which are rare in the region, by the ENDF allegedly targeting the OLF-Shane were also reported in Oromia. These drone strikes were recorded in West Shewa, East Wollega, West Wollega, and East Shewa zones.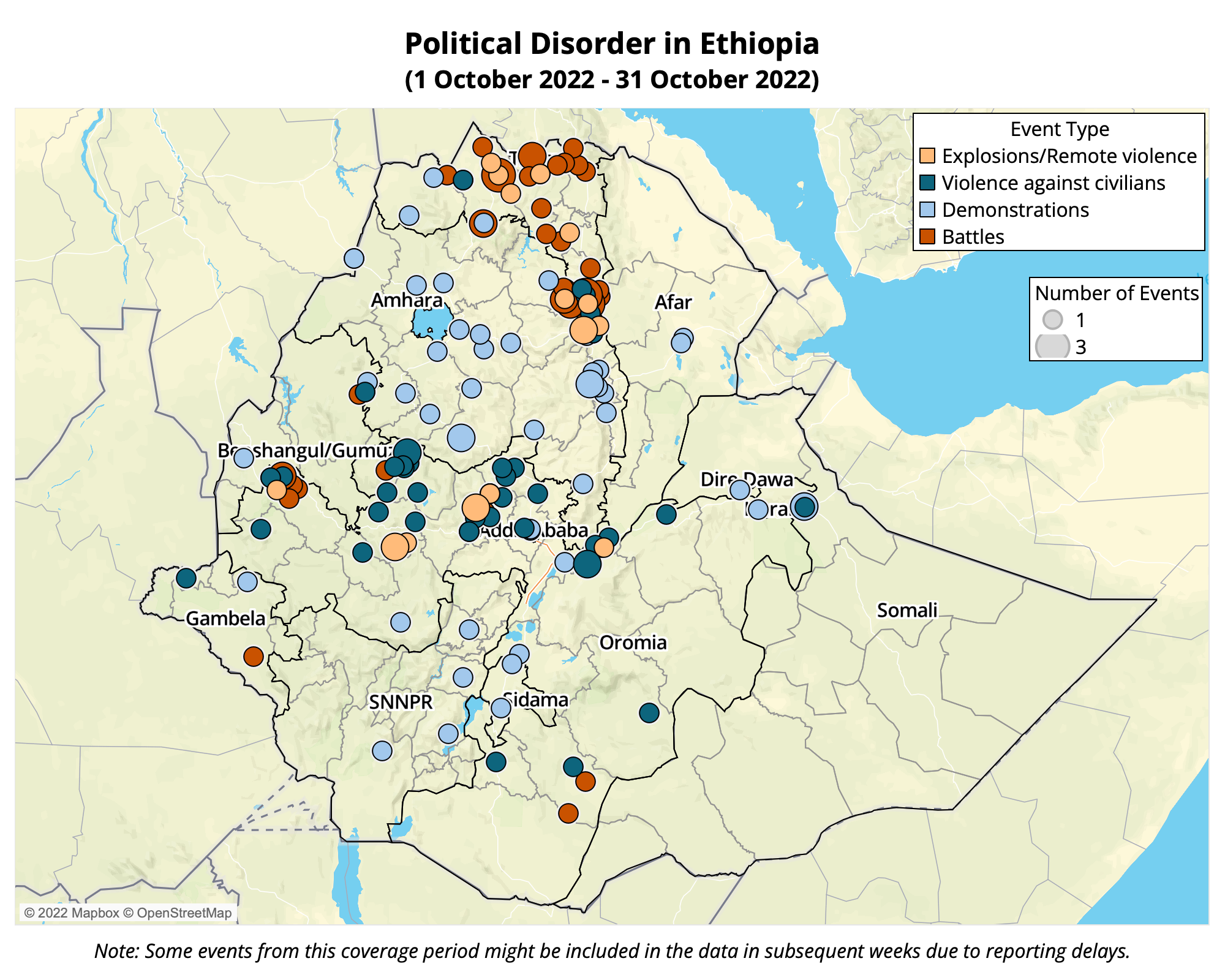 Furthermore, violence against civilians in Oromia remained at elevated levels throughout the month. Last month, 32 such events were recorded in the region; 15 of these events were perpetrated by government forces, mostly in West Shewa zone, resulting in 31 reported fatalities overall. OLF-Shane members were involved in three violence against civilian events in East Shewa, West Shewa, and West Wollega zones, which reportedly led to the deaths of 14 people. Meanwhile, Amhara ethnic militias were involved in seven violence against civilian events in East Wollega and Horo Gudru Wollega zones, leaving 50 reported fatalities.
After a relative calm since August 2022, violence against civilians and armed clashes were recorded in Benshangul/Gumuz region. In October, Gumuz ethnic militiamen killed the administrator of Mandura woreda and seven others in Mandura woreda in Metekel zone. Following this attack, the ENDF and Gumuz ethnic militiamen clashed with a "Gumuz rebel group" in Ejenta, Welamsha Maya, and Eftawun kebeles in Mandura woreda in Metekel zone (EMS, 18 October 2022). The same armed group attacked Gumuz civilians in Tuni Dabisha kebele in Mandura woreda on 13 October for an unknown reason. Meanwhile, on 19 October, the Benshangul/Gumuz regional government signed a peace agreement with the Gumuz People's Democratic Movement in Asosa town (for more details, see EPO Weekly: 15-21 October 2022).
Lastly, a demonstration was held in the capital of Somali region, in response to the killing of a member of the Somali Regional State Council by a federal police officer in the Jigjiga Garaad Wilwal Airport (for more details, see EPO Weekly: 22-28 October 2022). Some demonstrators clashed with security forces who in return fired tear gas to disperse the demonstrators.
Monthly Focus: Peace Agreement Reached Between the Government and the TPLF Amid an All-Time High Fatalities Resulting From Airstrikes in the Country   
On 2 November 2022, the Ethiopian government and TPLF leaders signed the Agreement for Lasting Peace through Permanent Cessation of Hostilities after more than a week of formal peace talks in South Africa (Al Jazeera, 2 November 2022). The armed conflict between the two parties began on 3 November 2020. Ethiopia's ministry of foreign affairs posted an official acknowledgment of the agreement signed by the parties, and committed to the implementation of the ceasefire shortly thereafter (The Ministry of Foreign Affairs of Ethiopia, 2 November 2022). Despite the agreement successfully stopping armed conflict in Ethiopia's north, additional challenges remain and civilian fatalities continue to increase throughout the country as a result of airstrikes and civilian targeting by government forces and armed groups.
The agreement consists of 15 articles. Among other issues, the parties agreed to disarm, demobilize, and reintegrate TPLF forces, implement transitional measures by restoring "constitutional order" in Tigray region, and restore public services (VOA Amharic, 2 November 2022; The Ministry of Foreign Affairs of Ethiopia, 4 November 2022). Repair teams have already restored services to Sekota (Wag Hamra, Amhara) and Kobo-Alamata (Southern Tigray zone) lines. Some of these areas have been cut off of electric service for more than a year and a half (Addis Standard, 1 November 2022). The agreement, however, did not specify how identity-related and territorial administration requests, like the administration of the Welkait Tsegede area, would be resolved. In a statement given on 3 November, Prime Minister Abiy Ahmed indicated that the two parties had agreed that such requests should be resolved through "talks and the country's law" (Facebook, Abiy Ahmed Ali, 3 November 2022).
In the month leading up to the agreement, pro-government forces – ENDF, Amhara regional special forces, and Amhara and Fano militias – along with allied troops from Eritrea made rapid gains, retaking control of dozens of cities, towns, and villages in Tigray and Amhara regions. During the last week of October, pro-government forces regained Adwa, Aksum, and Adigrat, among other locations, closing in on the regional capital, Mekele (AP News, 25 October 2022; EMS, 27 October 2022).
In Oromia region, government forces clashed with OLF-Shane fighters throughout October, with OLF-Shane forces claiming to have gained limited territory in rural locations of West Wollega zone (BBC Amharic, 3 November 2022). Fighting between Oromo militias, some allied with the OLF-Shane, and Amhara militias continued along regional border areas in northwest Oromia.
In both Tigray and Oromia regions, government forces carried out an increasing number of airstrikes against insurgent forces since September 2022. In October, ACLED records at least 16 airstrike events resulting in an estimated 163 reported fatalities, an all-time high in the country (see graph below). Further strikes and fatalities likely occurred in Tigray region during the month which cannot be confirmed at present due to the ongoing conflict and lack of media coverage.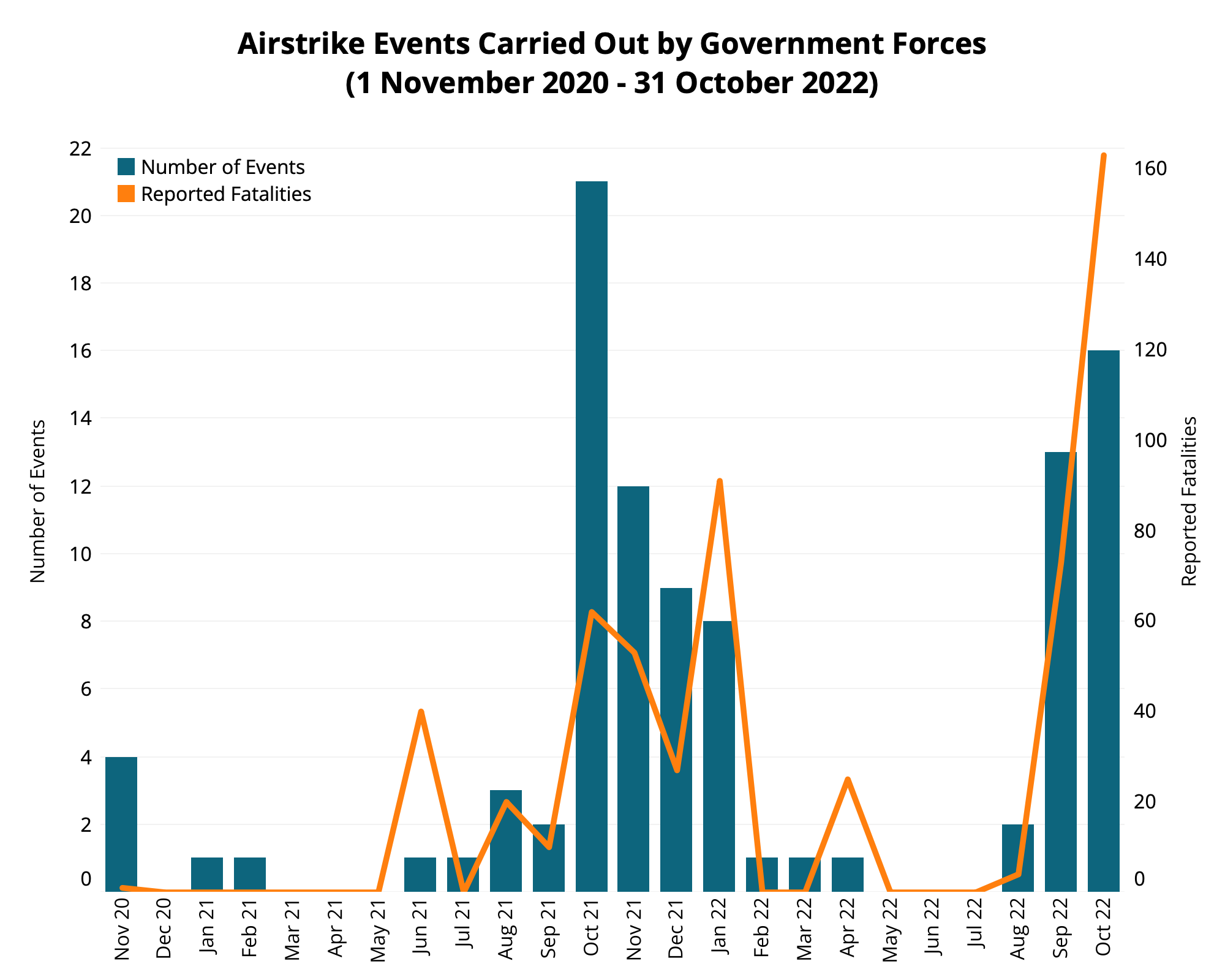 In Oromia region, airstrikes targeting OLF-Shane forces were conducted in East Shewa, West Shewa, West Wollega, and East Wollega zones, with at least one strike resulting in a significant number of civilian casualties (BBC Amharic, 25 October 2022).
Additionally, recorded incidents included an airstrike on Adi Daero in North Western Tigray zone on 4 October, which reportedly killed more than 50 people (Reuters, 5 October 2022). On 14 October, the ENDF conducted an airstrike targeting TPLF forces in Shire in North Western Tigray zone, reportedly killing three people, including one International Rescue Committee employee and two civilians.
With casualties in Tigray rising as a result of the intensified conflict throughout the month, several organizations published statements expressing concern. Nearly all civilians who were killed during military operations by federal forces in Ethiopia's north over the last month have been ethnic Tigrayans, due to conflict happening largely in Tigray region. This has led a number of groups – including the US Holocaust Memorial Museum – to express concern over a "heightened risk of genocide" in Tigray region (US Holocaust Memorial Museum, 25 October 2022). In response, on 22 and 23 October, large anti-western protests were organized by local authorities, who accused "various western entities" of "defamatory falsehood being spread against Ethiopia" in over 37 towns and cities, including Addis Ababa (FDRE Government Communication Service, 28 October 2022). Tension between Ethiopia's federal government and western countries – like the US, the EU, and Ireland which have accused Ethiopia of human rights abuses in Tigray – has increased throughout the past year, although successful peace talks could reverse this trend.
Rapid territorial advances in conjunction with increasing airstrikes mark a new phase for the Ethiopian federal forces. Weakened by the defection of Tigrayan leadership, attack on the northern command, and an antiquated air force, the ENDF had a poor showing throughout the conflict in 2020 and 2021 (New York Times, 12 October 2021). Extensive recruitment, technology updates, and changes in leadership have significantly changed the ENDF over the past year (Fana Television, 21 January 2022). Although airstrikes in Ethiopia have resulted in many civilian fatalities, they have played a major role in the conflict against the TPLF; Ethiopia's air force appears to be much more capable today than it was in November 2020. This has been aided with the introduction of new technology, including drones from the United Arab Emirates, Turkey, and Iran (New York Times, 20 December 2021).
Rapid advances through Tigray give some evidence that the ENDF is not the same fighting force it was one year ago. A renewed and strengthened ENDF has ramifications beyond Tigray region. In Oromia region, for example, OLF-Shane forces that have been growing stronger could face stiffer resistance should peace in Ethiopia's north free up more federal security resources (BBC Amharic, 3 November 2022; BBC Amharic, 6 November 2022). A more aggressive approach to fighting the OLF-Shane will be likely in the future although airstrikes last month appear to have had a minimal effect on the militant group due to its deep embedding within local populations of western Oromia. Further insurgencies, like those in Benshangul/Gumuz region and in southern Ethiopia, will likewise require greater attention from the ENDF to resolve.
A strengthened federal army and peace in Ethiopia's north could indicate that the country is on a path toward stabilization. However, as indicated by the heavy civilian fatality toll as a result of airstrikes last month, civilians continue to bear the brunt of conflict in the country. Until a wider peace is achieved with other active insurgencies in the country, political violence is likely to remain at elevated levels.