By the Numbers: Ethiopia, 8 April 2022-14 April 2023
Total number of political violence events: 1,143
Total number of reported fatalities from political violence: 6,116
Total number of reported fatalities from civilian targeting: 2,600
By the Numbers: Ethiopia, 8-14 April 20231
Some events from this coverage period might be included in the data in subsequent weeks due to reporting delays.
Total number of political violence events: 19
Total number of reported fatalities from political violence: 32
Total number of reported fatalities from civilian targeting: 16
Ethiopia data are available through a curated EPO data file as well as the main ACLED export tool.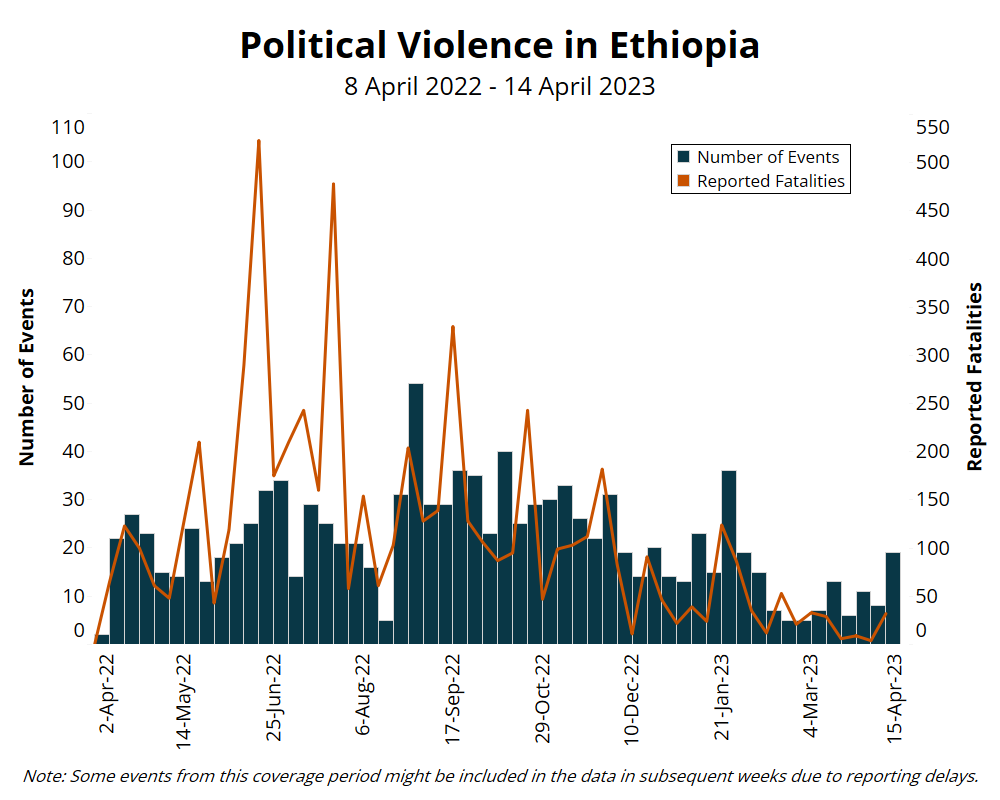 Situation Summary
Last week in Ethiopia, demonstrations continued in Amhara region over the planned integration of the region's special forces into other security sectors, with reports of violent dispersals by security forces and fatalities. Battle events were also recorded in the region as the Ethiopian National Defense Force (ENDF) took control of security in the region. The rest of the country was relatively peaceful.
In Amhara region, reactions to the announced plan to integrate regional special forces into other security sectors in the country continued, with demonstrations recorded in at least 18 locations in the region last week (for more background information on the unrest, see EPO Weekly: 1-7 April 2023). ACLED records intervention by security forces in at least five locations in Amhara, resulting in at least 15 reported fatalities. Anger at the federal government's decision has been based on a fear that the integration of the region's special forces would leave Amhara region defenseless against possible future attacks by the Tigray People's Liberation Front. Five members of the House of People's Representatives from the opposition National Movement of the Amhara party denounced the decision by the ruling Prosperity Party, calling it  "illegal."2Deutsche Welle Amharic, 'Controversy sparked by the organization of special forces,' 11 April 2023
Armed clashes were also recorded in Amhara last week (see map below). On 9 April, the ENDF clashed with Fano militiamen in Kobo town, resulting in three reported militia fatalities. Two humanitarian workers traveling to Addis Ababa in a car were also killed in the crossfire.3Catholic Relief Services, 'Catholic Relief Services mourns the loss of two staff killed in Ethiopia,' 10 April 2023 Moreover, on 10 and 11 April, Amhara regional special forces and allied Fano militias clashed with ENDF forces in Debre Birhan, resulting in the deaths of at least two internally displaced persons as stray bullets hit a camp near the town.4Ethiopian Media Services, 'EMS Mereja Wed 12 Apr 2023,' 12 April 2023 Armed clashes were also reported between Fano militia members and Amhara state police in Mezezo in North Shewa zone, which led to the militia taking over a police station in the town.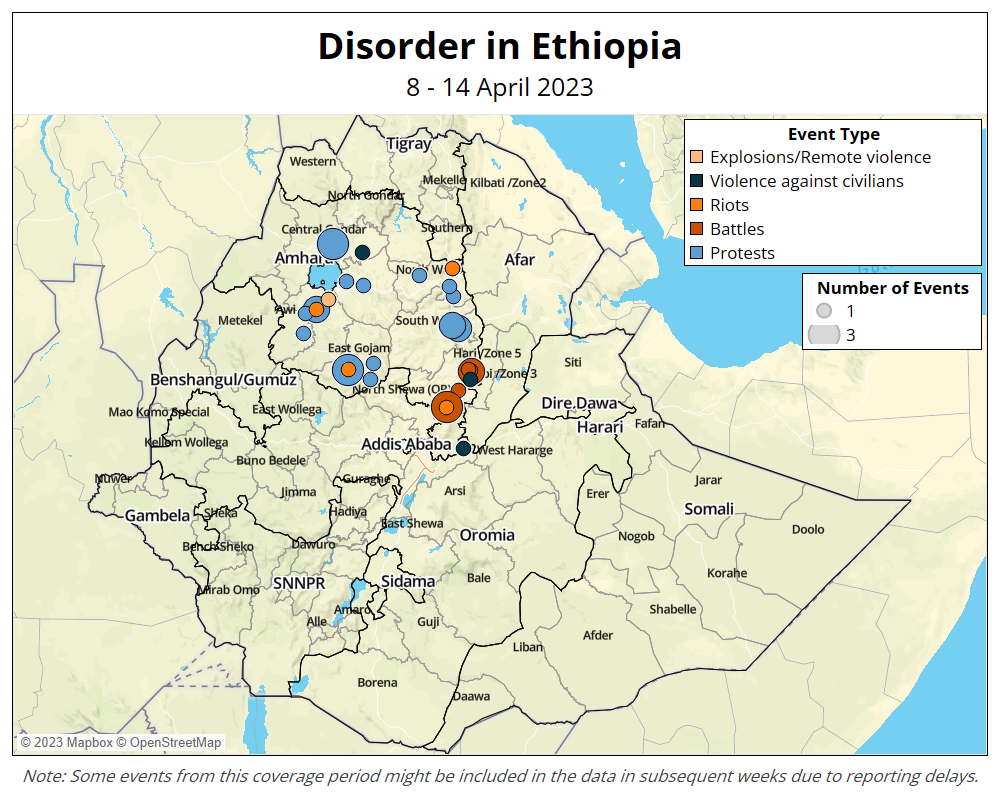 Ethiopia's constitution allows regional states the right to "establish and administer a state police force, and to maintain public order and peace within the State."5Constitute Project, 'Ethiopia's Constitution of 1994,' 27 April 2022 While all regions have police forces, the special police (called 'Liyu Hayl' in Amharic) was first established in Somali region in 2008 to combat the insurgent Ogaden National Liberation Front.6Addis Standard, 'NewsAlert: Somali state cabinet unanimously approves government's plan to dissolve, reintegrate regional special forces,' 10 April 2023; Human Rights Watch, 'Ethiopia: 'Special Police' Execute 10,' 28 May 2012 Since then, Somali regional special forces have been implicated in the killings of civilians, including in April 2021 during clashes along the Somali and Afar regional borders (for more on the Somali/Afar regional border clashes, see the EPO Afar-Somali Border Conflict page). On 10 April, the Somali regional cabinet voted unanimously to follow the federal government's directive and dissolve the special forces, integrating them "into various security structures, depending on their choices, of the Defense, the Federal Police or the Regional Police."7Addis Standard, 'NewsAlert: Somali state cabinet unanimously approves government's plan to dissolve, reintegrate regional special forces,' 10 April 2023
Regional special forces have become more actively involved in conflicts throughout Ethiopia since 2018. ACLED has recorded at least 270 instances of violence targeting civilians perpetrated by special forces, accounting for 16% of all violence targeting civilian events since 2018. The decision to dissolve special forces may result in a general reduction of state-sponsored violence, or violence may be simply shifted to another state-based actor. Authorities in Oromia region and Southern Nations, Nationalities, and Peoples region (SNNPR) have announced their intentions to comply with the federal government and reorganize their special force units.8Voice of America Amharic, 'Oromia region has announced that it has stopped the deployment of special forces,' 13 April 2023 At the end of last week, ENDF's Chief of Staff Field Marshal General Berhanu Jula stated that regional special forces no longer existed in the country's list of security sectors.9Federal Democratic Republic of Ethiopia Defense Force, 'Starting from today there is no regional special force – Field Marshal Birhanu Jula,' 15 April 2023
In Gurage zone in SNNPR, a stay-at-home protest was held in Welkite town after the administration closed shops and hotels whose owners were accused of not sponsoring the recent visit of Prime Minister Abiy Ahmed to the town.10Ethiopian Satellite Television, 'Esat amharic News April 10 2023,' 10 April 2023 On 25 March 2023, Prime Minister Abiy traveled to the administration center of Gurage zone, Welkite, to consult with local residents regarding their request for the zone to be recognized as a region. However, during the prime minister's visit, residents of Welkite town protested by staying at their homes after accusing the people selected for the consultation with the prime minister of not having "knowledge about the zone and the town" (for more details, see EPO Weekly: 25-31 March 2023).11Yonatan Zebdiwos, 'Residents stated a stay at home protest was held in Welkite,' VOA Amharic, 25 March 2023; Mahilet Fasil and Yohanes Gebre Egiziabher, 'The prime minister's visit in Welkite,' DW Amharic, 25 March 2023