By the Numbers: Ethiopia, 25 March 2022-31 March 2023
Total number of political violence events: 1,153
Total number of reported fatalities from political violence: 6,238
Total number of reported fatalities from civilian targeting: 2,634
By the Numbers: Ethiopia, 25-31 March 20231
Some events from this coverage period might be included in the data in subsequent weeks due to reporting delays.
Total number of political violence events: 9
Total number of reported fatalities from political violence: 6
Total number of reported fatalities from civilian targeting: 3
Ethiopia data are available through a curated EPO data file as well as the main ACLED export tool.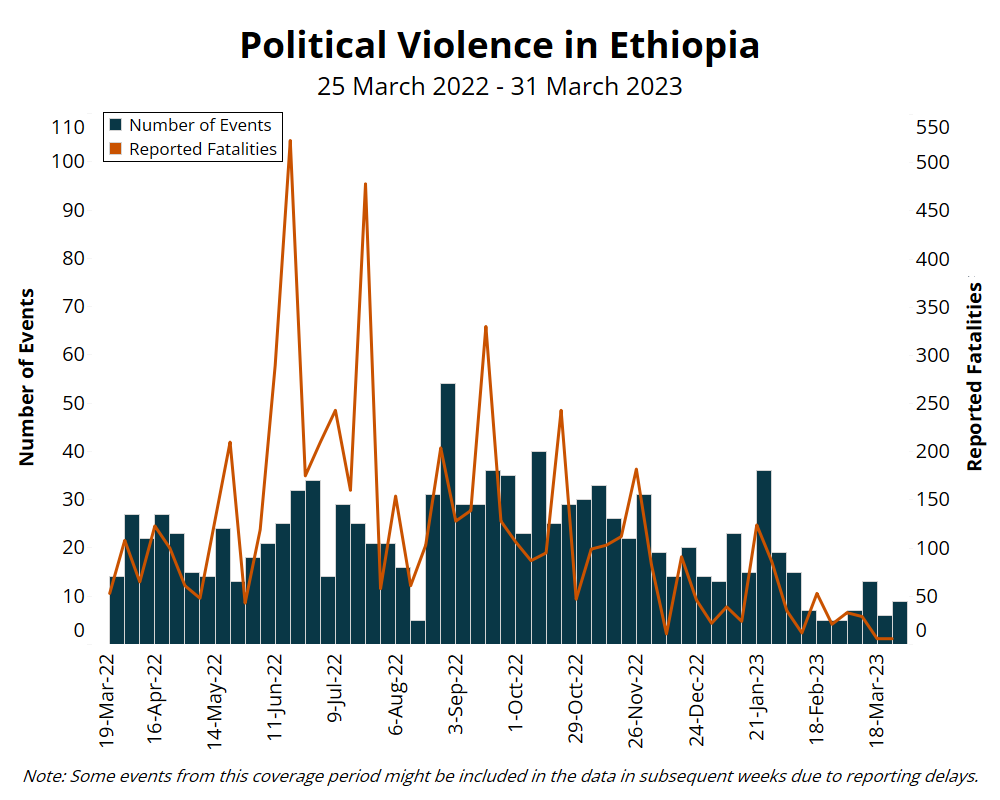 Situation Summary
ACLED records nine political violence events in Ethiopia last week, with eight of those being recorded in Oromia region (see map below). The political violence events in Oromia included three battle events and five violence against civilian events. Most of these incidents were concentrated in East Shewa and North Shewa zones.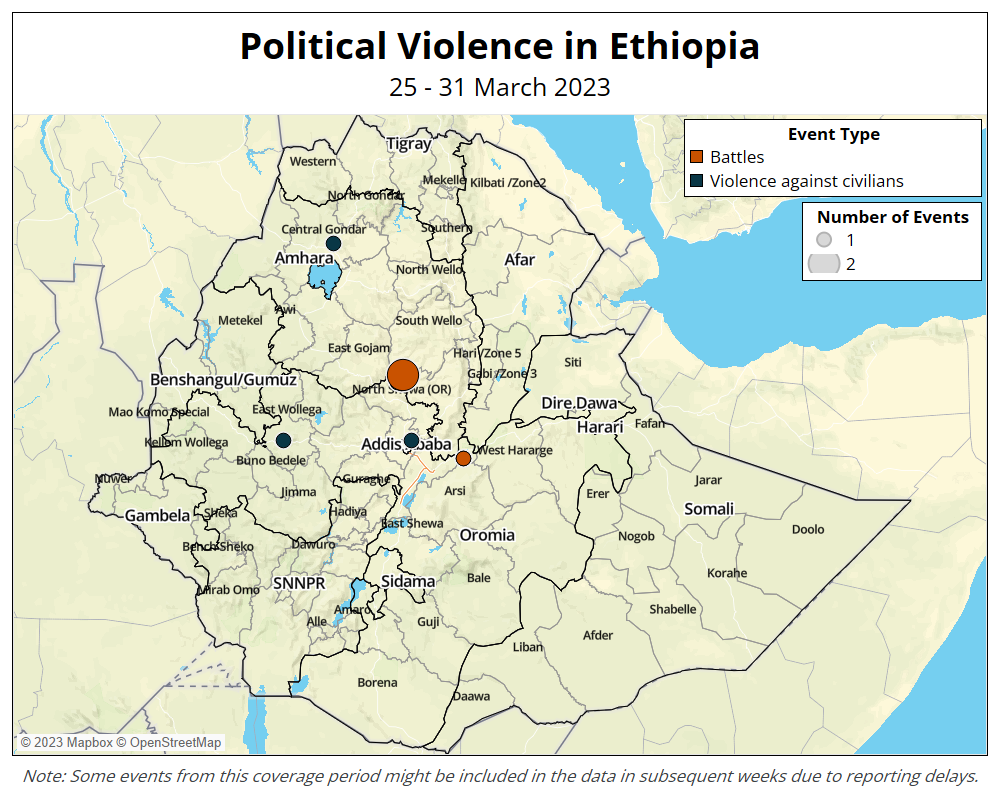 On 25 March, the Oromo Liberation Front (OLF)-Shane reportedly abducted over 100 civilians in Babu Dire, Mankat, Jiru, Ada Melke, Keru Siba, Harbu Dire, and Hamuma Gindo kebeles in Dera woreda, North Shewa zone, after destroying civilian homes.2Eyob Tikuye, 'It was announced that more than 100 people were abducted by the OLF-Shane in Dera Woreda,' Ethiopian Reporter, 29 March 2023; Addis Maleda, 'It was heard that the Shane militants are carrying out continuous attacks in Dera Racho area,' 29 March 2023 Two days later, on 27 March, the group also abducted three other civilians in the woreda. The abductees were released the same day after government forces clashed with members of the OLF-Shane in Jimma Ber area in Dera woreda. The armed clashes continued the next day in unspecified locations of the woreda. It is not known as of yet if these clashes resulted in any casualties.
In Fentale woreda, East Shewa zone, security forces beat 18 elders, including the current leader of Karrayyu Abbaa Gadaa (traditional leader of Karrayyu tribe), for an unknown reason in Arda Jila area on 25 March. Two days later, the leader of  Karrayyu Abbaa Gadaa died due to his injuries from the beating.3Voice of America Amharic, 'Residents stated that the leader of Karrayyu Abbaa Gadaa was beaten to death,' 1 April 2023 Two days before the attack, on 23 March, government forces and the OLF-Shane clashed in Bole area at the border of Boset and Merti woredas in East Shewa zone. The two sides also clashed in Fentale woreda on 26 March. Over two years ago, security forces shot and killed 14 members of Karrayyu Abbaa Gadaa in Fentale woreda on 1 December 2021. A day before these extrajudicial killings, an unidentified armed group had ambushed security forces in Iftu area in Haro Kersa kebele in Fentale woreda, killing 11 Oromia regional special forces members and injuring at least seven members of Oromia state police. The security forces were returning to Metehara after conducting a "security operation" in Fentale woreda when they were ambushed.4Ethiopian Human Rights Commission, 'Investigation report on the killings of members of Jillas in Karrayyu Michale Gadaa,' 2 February 2022
Furthermore, on 30 March, unidentified gunmen shot and killed the head of the ruling Prosperity Party office in Nekemte while he was heading to his office. Assassination of government officials and government supporters is common in the region, mostly in western Oromia. From April 2018 when Prime Minister Abiy Ahmed took power until March 2023, ACLED records 29 violence against civilian events targeting government officials in Oromia, with 66 reported fatalities. Several mayors, administrators, deputy administrators, and heads of government sectors have been killed by unidentified gunmen, likely linked with OLF-Shane's urban operatives known as Aba Torbe.5Borkena, 'Aba Torbe – Oromo clandestine assassin group – members captured, says gov.t,' 24 December 2018
Violence in connection with the recent demolition of houses in the newly established Sheger city – the former Finfine special zone – in Oromia region continued. Last week, individuals who confronted demolition crews sent to demolish their homes in Lege Tafo area were beaten by security forces – assumed to be members of the Oromia regional special forces. The security forces also opened fire and wounded at least one woman.
In Somali region, on 26 and 27 March, residents of Aysha town in Ayisha woreda, Siti zone, closed the Ethio-Djibouti highway and railway to demonstrate against the displacement of ethnic Somali civilians by Afar armed groups. The demonstrators demanded that the government return the internally displaced people to their original place of residence. Ethiopian National Defense Force (ENDF) commanders held discussions with community elders and convinced them to open the blocked highway. However, some demonstrators refused to open the highway and demanded that the government first "return Somalis to their land."6Ethiopian Media Services, 'EMS Zena Addis Thu 30 Mar 2023,' 30 March 2023 As a result, on 27 March, members of the ENDF reportedly shot and killed three civilians and wounded six others when the ENDF attempted to forcefully open the blocked highway.
Several new developments in connection with the northern Ethiopia conflict were reported last week. On 28 March, ENDF forces took control of the administration center of Abergele woreda, Niyer Aku town, in Wag Hamera zone in Amhara region. Since July 2021, parts of Abergele woreda have been controlled by members of Tigray People's Liberation Front (TPLF) forces and Agew Democracy Movement militias. ENDF regained control of the town after consultation with both armed groups. Tsagibji woreda of Wag Hamera zone is still under the control of TPLF forces. They took control of the woreda in July 2021 (for information on the recent armed clashes between TPLF forces and local kebele militias in Tsgibji woreda, see EPO Weekly: 4-10 February 2023).7Abebe Fikir, 'It was reported that more than 67 thousand people in Wag Hamera zone in Amhara region are facing famine,' Ethiopian Reporter, 4 January 2023; Deutsche Welle Amharic, 'Residents of Abergele and Tsagibji are pleading,' 29 December 2022
Additionally, on 30 March, the Ministry of Justice withdrew the lawsuit against the civil and military leaders of the TPLF.8Federal Democratic Republic of Ethiopia Ministry of Justice, 'Statement regarding the withdrawal of lawsuit files,' 30 March 2023 As a result, 36 members of the TPLF were released from prison in Addis Ababa.9G/Michale G/Medhin, '36 leaders of the TPLF released from prison,' Voice of America Amharic, 30 March 2023 According to the Ministry of Justice, the lawsuit was withdrawn because of a consensus reached to deal with this case "in the framework of transitional justice" based on the peace agreement signed between the Ethiopian government and the TPLF in November 2022 in Pretoria, South Africa.10FDRE Ministry of Justice, 'Statement regarding the withdrawal of lawsuit files,' 30 March 2023 Reports also indicate that the federal government has agreed to release federal budget support to Tigray region interim administration, starting from this week. It is not yet confirmed whether the budget was released this week.11 Amanuel Yilikal, 'Getachew Reda stated that the federal government agreed to release budget support to Tigray region,' Ethiopia Insider, 29 March 2023; Tesfalem Weldeyes, 'Starting from next week the federal government is going to release budget support to Tigray region,' Ethiopia Insider, 1 April 2023 While the peace process is proceeding, there are concerns that Eritrean forces are still occupying parts of Tigray region, in direct violation of the peace agreement.12Million Haileselase, Negash Mehamed, and Yohanes Gebreegiziabher, 'Irob is still under the control of the Eritrean army – residents,' Deutsche Welle Amharic, 31 March 2023
Lastly, on 25 March, Prime Minister Abiy traveled to the administration center of Gurage zone, Welkite, in Southern Nations, Nationalities and Peoples region (SNNPR) to consult with local residents regarding their request for the zone to be recognized as a region.13Office of the Prime Minister-Ethiopia, 25 March 2023; Office of the Prime Minister-Ethiopia, 25 March 2023 For years, residents in Gurage zone have been requesting to identify the zone as a region. However, the government has proposed establishing several 'cluster regions' in SNNPR consisting of multiple zones rather than establishing a region for one specific ethnic group (for more details, see EPO Monthly: July 2022). During the prime minister's visit, residents of Welkite town protested by staying at their homes after accusing the people selected for the consultation with the prime minister of not having "knowledge about the zone and the town."14Yonatan Zebdiwos, 'Residents stated a stay at home protest was held in Welkite,' Voice of America Amharic, 25 March 2023; Mahilet Fasil and Yohanes Gebre Egiziabher, 'The prime minister's visit in Welkite,' Deutsche Welle Amharic, 25 March 2023 In the past few months, residents have conducted at least five 'stay at home' protests in connection with the self-administration request.15Yonatan Zebdiwos, 'Residents stated a stay at home protest was held in Welkite,' Voice of America Amharic, 25 March 2023 An unidentified number of people, including members of zonal and regional councils, were arrested on accusations of organizing the protests.16Kenedi Abate, 'Youths reportedly arrested in connection with Gurage zone protest,' Voice of America Amharic, 23 November 2022; Amanuel Yiliqal, 'The court allowed seven days of investigation against the member of the South Regional Council of Gurage Zone who is in prison,' Ethiopia Insider, 1 December 2022 Since 24 November 2022, the area has been administered by a command post led by the federal police and the SNNPR regional special forces (for more information, see EPO Weekly: 19-25 November 2022).