July at a Glance
Vital Stats
ACLED records 93 organized political violence events and 1,110 reported fatalities in July.
Oromia region had the highest number of reported fatalities due to organized political violence, with 821 reported fatalities. Somali region followed with 214 reported fatalities.
In July, the most common event type was battles, with 50 events and 852 fatalities reported, followed by violence against civilians, with 41 events and 254 fatalities reported.
Vital Trends
In July, the Oromo Liberation Front (OLF)-Shane continued to clash with government forces – Ethiopian National Defense Force (ENDF), Oromia regional special forces, federal police, and kebele militias – in different parts of Oromia region.
Violence targeting civilians continued in Oromia region. In July, another high fatality attack against civilians was recorded in Mender 20 in Lemlem kebele in Hawa Galan woreda in Kellem Wollega zone. The attack was conducted within three weeks of the Tole massacre in West Wollega zone which claimed at least 338 lives of mostly ethnic Amhara civilians.
Al Shabaab and Somali regional special forces clashed in Somali region last month.
In July, another round of armed clashes erupted at the border areas of Oromia special and North Shewa zones in Amhara region.
In This Report
July Situation Summary

Monthly Focus: Is Pandora's box open in SNNPR?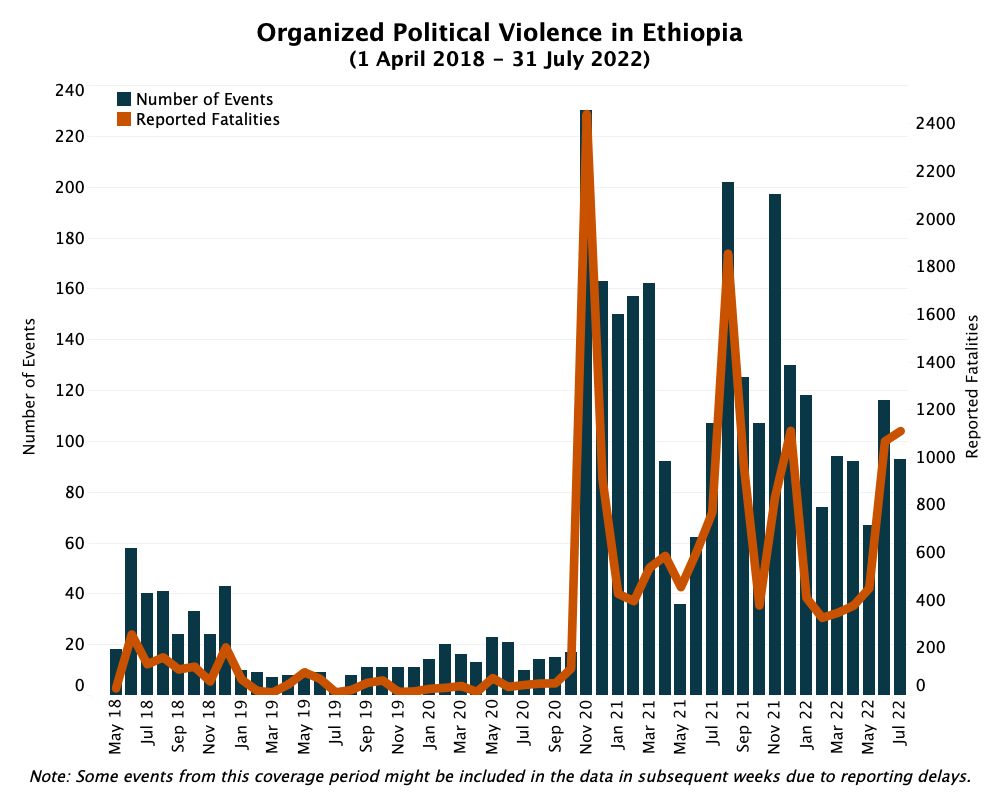 July Situation Summary
Last month, battle events were recorded in Amhara, Benshangul/Gumuz, Oromia, and Somali regions (see map below). The highest number of battle events was recorded in Oromia region, with 36 recorded events, a 33% decrease compared to  June. In Oromia, except for one battle event, the rest involved OLF-Shane and government forces – i.e., ENDF, Oromia regional special forces, Oromia state police, federal police, and kebele militias. Gimbi woreda in West Wollega zone had the highest number of battle events. Armed clashes were also recorded in Horo Guduru Wollega, East Shewa, Finfine special, Guji, Kellem Wollega, North Shewa, and West Shewa zones.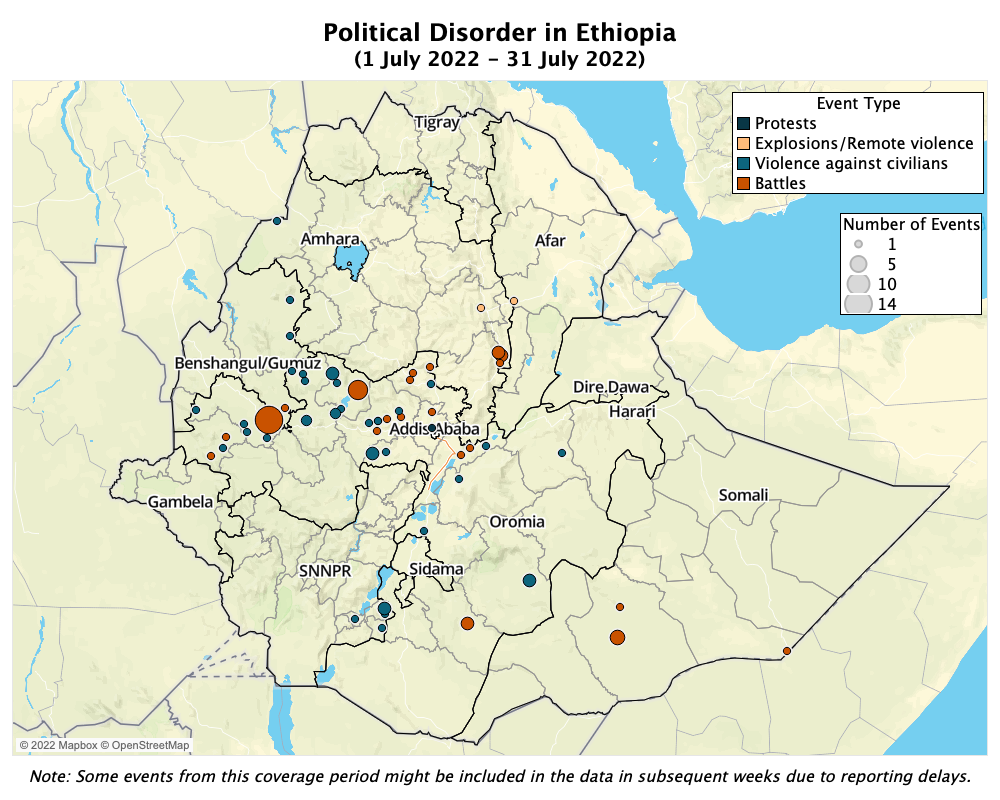 Violence against civilians also continued in Oromia region (for more information on violence against civilians in Oromia region, see EPO Monthly: June 2022). Like the previous month, the highest number of fatalities due to attacks against civilians in July were recorded in Oromia – 32 events with 231 reported fatalities. The highest number of fatalities was recorded in Mender 20 in Lemlem kebele in Hawa Galan woreda in Kellem Wollega zone where on 4 July the OLF-Shane attacked civilians and reportedly killed at least 150 people, mostly ethnic Amhara civilians, and injured over 45 others. The rebel group, however, denied responsibility and accused the local government militias of perpetrating the attack (DW Amharic, 5 July 2022; see also EPO Weekly: 2-8 July 2022).
In July, the majority of attack against civilians events in Oromia – 26 events with 68 reported fatalities – were conducted by government forces – i.e., ENDF and regional special forces from Oromia, Somali, and Amhara regions. These events were recorded in Arsi, Bale, East Shewa, East Wollega, Horo Guduru Wollega, South West Shewa, West Arsi, West Hararge, West Shewa, and West Wollega zones, with the highest number of such events occuring in East Wollega zone. Most of the victims were either accused of having links with the OLF-Shane or hiding members of the rebel group.
Border disputes reignited in Guradamole woreda in Bale zone which is located at the border of Oromia and Somali regions. In July, Somali ethnic militiamen from Somali region attacked Oromo civilians at least two times at different locations in Guradamole woreda. Further, on 28 July, Somali regional forces were reported to have opened gunfire on civilians for an unknown reason, killing an unidentified number of people in Habrona kebele in Guradamole woreda in Bale zone. Over 8,000 civilians were forced to flee their homes due to these attacks (Ethiopian Reporter, 3 August 2022).
The OLF-Shane was also involved in incidents that took place in Southern Nations, Nationalities and Peoples region (SNNPR). Last month, ACLED recorded six attack against civilians events in SNNPR with 14 reported fatalities. Except for one event, the rest of the attacks were conducted by the OLF-Shane, resulting in 10 reported fatalities overall. Most of these attacks took place in Amaro special woreda. Moreover, SNNP regional special forces carried out an attack against civilians in Gumayde Hayelegna kebele in Derashe special woreda for an unknown reason, killing four farmers and injuring two others.
In Amhara region, from 10 to 12 July, government forces and suspected OLF-Shane militants clashed in Berha Silase, Arso Amboa (Zembo), and Wayena kebeles near Ataye town in Eferatana Gidem woreda in North Shewa zone, and in Bete kebele in Jilye Tumuga woreda in Oromia special zone. Regional special forces and federal forces entered the area to control the armed clashes (for more information, see EPO Weekly: 9-15 July 2022).
In Benshangul/Gumuz region, on 11 July, ENDF, Benshangul/Gumuz regional special forces, and state police clashed with members of the Gumuz People's Democratic Movement (GPDM) in Dedesa kebele in Mizyiga woreda in Kamashi zone, taking control of the kebele shortly after. The GPDM had taken control of this kebele and five other kebeles in Mizyiga woreda in May 2021. Moreover, two attack against civilians events with three reported fatalities were recorded in the region. On 10 July, Fano militiamen allegedly shot and killed two members of the Agaw ethnic group in Birtukan and Sisay villages in Dangura woreda in Metekel zone. Around 13 July, government forces, presumably the ENDF, shot and killed a member of the GPDM in Debati woreda in Metekel zone. He had entered the town following the calls on the GPDM to negotiate with the government.
Lastly, in July, Al Shabaab and Ethiopian forces clashed in Somali region in Ethiopia and in a number of locations on the Somalia side of the border. On 14 July, Somali regional special forces engaged in clashes with Al Shabaab militants around Bula mountain in Elkare-Serer woreda in Afder zone, killing an Al Shabaab commander. A week later, on 20 July, Al Shabaab attacked the regional special forces camps in Yeed and Ato in Somalia, triggering clashes between the two groups. Fighting between Al Shabaab and regional forces and the ENDF continued until 23 July in Hulhul in Afder zone. The two sides also clashed in Al Kudun area in Ferfer woreda in Shabelle zone on 25 July (for more details on these armed clashes, see EPO Weekly: 16-22 July 2022 and EPO Weekly: 23-29 July 2022).
Monthly Focus: Is Pandora's Box Open in SNNPR?
Last month, the House of Federation announced that it was working to find solutions for over 30 self-administration and identity-related requests submitted to the House over the past year from nine regions. Out of these 30 requests, 24 are related to self-administration. Regarding the situation in SNNPR, the House of Federation indicated that the decision will be "based on the will of the people in the region" (Fana Broadcasting Corporate, 14 July 2022). Tensions in anticipation of restructuring have prompted security officials to warn residents of Gurage and Gedio zones against demonstrating or encouraging unrest. In late July, the Federal Security and Safety Joint Task Force and the regional government released a statement warning that they would take action against an unspecified group that they accused of conspiring to incite violence in Gedio zone over its request to form a regional state by itself (Ethiopian Broadcasting Corporation, 15 July 2022). On 2 August, SNNPR security officials warned that the government "will not tolerate illegal and irregular activities under the guise of the restructuring request of the Gurage zone" (Addis Standard, 5 August 2022). On 5 August, a command post was established in Bui town in Gurage zone and prohibited anyone from carrying or wearing a sign opposing the newly proposed cluster region (Tikvah Ethiopia, 5 August 2022). Residents of Welkite city who reject the proposed restructuring of Gurage zone and the formation of a new cluster region expressed discontent by "boycotting routine activities" and demonstrating in the town, chanting slogans like "no to cluster" (Addis Standard, 9 August 2022).
According to article 39 of the Federal Democratic Republic of Ethiopia (FDRE) constitution, any ethnic group has the right to establish its own regional state. Requests by qualifying groups must be approved by the concerned lower level of the relevant council, whose decision must be submitted in writing to the regional council. Then a referendum must be organized within one year of the submission of the written request (FDRE Constitution, Article 47). Sidama was the first ethnic group in SNNPR to successfully make such a claim since Prime Minister Abiy Ahmed's coming to power, and Sidama region split from SNNPR in November of 2019. Several claims like that of Welayta, and of Gurage have since been ignored or delayed by upper officials at the regional and federal levels.
SNNPR was established in the 1990s after the current constitution was adopted (see EPO's SNNPR page for more details). Fifty-six ethnic groups are recognized by the government as "indigenous" to the region (Beza Dessalegn & Nigussie Afesha, January 2019). For years,  ethnic groups with large populations like the Sidama, Welayta, Kefa, Hadiya, Gedio, and Gurage in SNNPR have made requests to establish their own regions based on the constitution. Others, like those residing in the Segen area, have requested to establish their own lower-level self-administration unit (see EPO's Segen Area Peoples Zone Conflict page for more information). The previous Ethiopian People's Revolutionary Democratic Front (EPRDF)-led government used force to silence such requests, arresting proponents of the creation of new regions. However, with the successful referendum and region status achieved by Sidama in 2019, many other ethnic groups have hoped to follow similar steps. Gurage, Welayta, Dawro, Gofa, Gedio, Keffa, Gamo, Kambata-Tambaro, Bench-Maji, Hadiya, and South Omo zones all have had their requests approved by their respective zone councils and submitted their decision to the SNNP Regional Council (Ethiopia Insight, 6 August 2021).
Facing an onslaught of regional/zone requests, Abiy appointed a team of experts to propose solutions to the requests of self-administration in SNNPR. The experts proposed three options: to keep SNNPR as is and make changes to the seats of the regional council, split Sidama region and keep the rest as part of SNNPR, or split the region into five "cluster" regions (The Reporter, 6 August 2022). Last month, the federal government proposed the establishment of cluster regions which will divide SNNPR into three smaller regions. These cluster regions consist of several zones and special woredas rather than one specific ethnic group. Based on this proposal, the 11th region – South West Ethiopian Peoples region (SWEPR) – was established in November 2021 following a referendum. SWEPR consists of 12 ethnic groups in five zones – West Omo, Bench Sheko, Kefa, Dawero, and Sheka zones – and one special woreda – Konta special woreda.
By the end of July, reports indicated that SNNPR will be divided into two other cluster regions. The current SNNPR consists of 11 zones and six special woredas. According to the new proposed arrangement, the first cluster region will consist of six zones and five special woredas – Welayta, Gedio, Gamo, Gofa, South Omo, and Konso zones, as well as Amaro, Basketo, Burji, Derashe, and Ale special woredas. The second cluster region will consist of five zones and one special woreda – Hadiya, Kembata, Halaba, Gurage, and Silte zones, and Yem special woreda. Should the proposal succeed, SNNPR will cease to exist. Except for the Gurage Zone Council, the remaining 10 zone and six special woreda councils voted to join new cluster regions on 30 and 31 July. This decision was presented to the House of Federation on 4 August to formally initiate the process of establishing these two cluster regions (House of Federation of Ethiopia, 4 August 2022). If this decision is approved, there will be 12 regional states in Ethiopia. Some ethnic groups, especially those who were requesting to establish their own regional state like Gurage, Gedio, and Welayta, expressed discontent about the newly proposed cluster region and stated its failure to answer their constitutional self-administration request (DW Amharic, 1 August 2022; Ethiopia Insider 16 August 2022; EMS, 16 July  2022).
Ethiopia's constitutional system is unique in its granting of "unconditional right to self-determination, including the right to secession" to every "Nation, Nationality and People."  Importantly, there are no economic, demographic, or other criteria specified by the constitution that need to be fulfilled before such demands can be made, only that the demanding group must be a recognized ethnic community. Additionally, Ethiopia's land system as inherited from the Derg (Military Junta) regime with its Marxist-Leninist ideology places "the right to ownership of rural and urban land, as well as of all natural resources … exclusively vested in the State and in the peoples of Ethiopia" (FDRE Constitution, Article 40). Administrative contests and requests for 'regional' or 'zone' status can be viewed as a bid by local elites for greater autonomy to control the resources claimed by their respective ethnic groups. Using this logic, local administrators of even some of the smallest areas in SNNPR can theoretically gain access to the benefits awarded to regional administrators. Prior to 2018, demands for region or new zone status were violently repressed by security forces. Abiy's administration has shown more leniency for these demands, opening a pandora's box of administrative bids for autonomous rule in a place like SNNPR where so many different ethnic groups reside.
Along with these demands have come violence. In 2022, most of the recorded political disorder events in SNNPR by ACLED are related to self-administration demands, new borders, or inclusion/exclusion from newly created zones. In April, youth from Ari ethnic group demanding the establishment of a separate zonal administration for their ethnic group attacked civilians and burned some houses in Ari woreda and Jinka town in South Omo zone. The reason behind the violence was the fact that the South Omo Zone Council failed to put demands by the Ari ethnic group as an agenda item for discussion during its session. The Ari ethnic group is currently administered under South Omo zone along with 16 other ethnic groups. Members of the Ari ethnic group want to establish their own zonal administration by including the South Omo zone administration capital, Jinka town. Similarly, starting from the end of April 2022, weeks-long unrest erupted in Derashe special woreda and Konso zone which claimed the lives of many civilians including the administrator of Derashe special woreda and four other high officials (VOA Amharic, 11 July 2022; see also EPO Monthly: April-May 2022 for more information on these incidents). For months, the woreda was being administered by security forces until a new administration was appointed in July 2022 (VOA Amharic, 11 July 2022).
In the coming months, there is a high chance of continued unrest in SNNPR from areas within or bordering the newly proposed cluster regions. The proposed regions may not have the political experience nor the security resources to address violent challenges that could erupt. This is especially true in Gurage, where on 11 August the majority of the zone council members voted against joining the newly proposed cluster region and instead advocated for a separate region, with 52 supporting and 40 opposing votes. However, on 13 August, four woreda and one city administration councils – out of six woreda and two city administration councils in Gurage zone – voted in favor of joining the cluster region. City and woreda councils as well as the Gurage Zone Council submitted their decisions to the House of Federation on 15 August (DW Amharic, 15 August 2022; DW Amharic, 15 August 2022). This is against the procedures listed in the constitution which clearly states that these requests should first be submitted to the zone council and then to the regional council. It is not yet clear how the government will impose the proposed re-arrangement in Gurage zone. Residents of Gedio zone have also expressed deep discontent at the new arrangement, even though the zone administration did agree to join the proposed cluster region (EMS, 16 July  2022). The same is true for the Welayta zone (DW Amharic, 1 August 2022; Ethiopia Insider, 16 August 2022). It is also unclear that such cluster regions will address the self-administration requests of different ethnic groups in SNNPR as there is no guarantee to halt such requests under the newly proposed re-arrangement of SNNPR. Proposed restructuring in response to demands for greater autonomy under the tenets of the constitution is a delicate issue in Ethiopia. Violence related to boundary changes is frequent. EPO researchers will be carefully monitoring updates and providing regular updates.