By the Numbers: Ethiopia, 1 April 2022-7 April 2023
Total number of political violence events: 1,150
Total number of reported fatalities from political violence: 6,195
Total number of reported fatalities from civilian targeting: 2,624
By the Numbers: Ethiopia, 1-7 April 20231
Some events from this coverage period might be included in the data in subsequent weeks due to reporting delays.
Total number of political violence events: 8
Total number of reported fatalities from political violence: 4
Total number of reported fatalities from civilian targeting: 2
Ethiopia data are available through a curated EPO data file as well as the main ACLED export tool.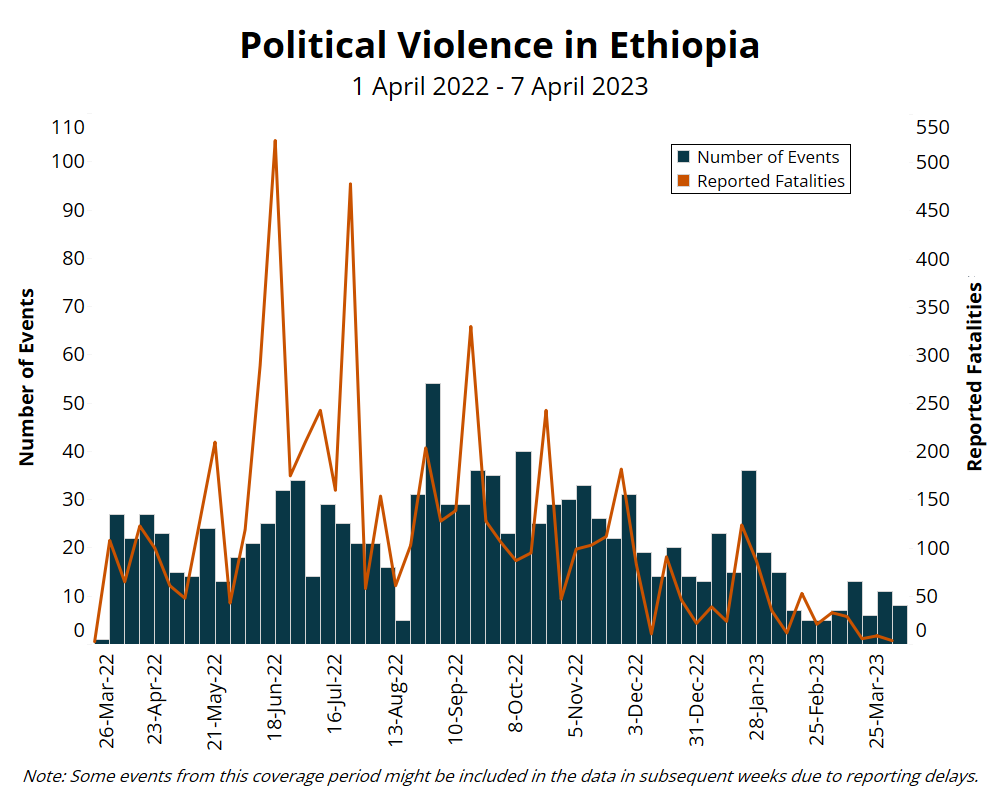 Situation Summary
In Ethiopia, tensions were high last week. Following weeks of relative peace, an increased number of disorder events were recorded last week compared to the previous two weeks, with several major events connected to the government's plan to reintegrate regional special forces into Ethiopian National Defense Force (ENDF), federal police, or state police.
The beginning of April marks five years since Abiy Ahmed was appointed as prime minister. His appointment came following five years of unrest in the country, especially in Oromia and Amhara regions, where over 1,000 demonstration events were recorded, demanding the ouster of the Tigray People's Liberation Front (TPLF)-led government and political changes in the country. On the day commemorating his appointment, 2 April, opposite reactions were observed in different regions of the country. In Oromia region, rallies in support of the government and Prime Minister Abiy Ahmed were held in "all parts of the region."2Oromia Communication Bureau, '"The Oromo people have shown that the journey to realize a national Ethiopia cannot be hindered by the shouts of the insurgents." Haylu Adugna, Oromia Communication Bureau,' 2 April 2023; Seyum Getu and Eshete Bekele, 'What was said in the rally held to commemorate the fifth year of Abiy holding the office?,' Deutsche Welle Amharic, 2 April 2023 On the other hand, in Amhara region, various protests against the government were reported in Kobo town, North Wello zone, and Merawi, Denebcha, and Jiga towns, West Gojam zone. The protesters asked the government to stop "the abuse against Amharas" and to release the arrested people.3Alemnew Mekonen, Azeb Tadesse, and Mantegafetot Sileshi, 'Asking the government to stop the abuse of the Amharic people,' Deutsche Welle Amharic, 3 April 2023 Similar protests were also reported in Raya Alamat zone in Southern Tigray zone, Tigray. Amhara residents in this area want to be administered under the Amhara region. The same day, residents of Ofela woreda, Korem town, and Zata woreda in Southern Tigray zone protested and asked to be administered under Amhara region and for "their identity to be respected."4Amhara Media Corporation, 'The identity question of residents of Ofela, Korem, and Zata,' 2 April 2023
In the past year, a rift within the ruling Prosperity Party (PP) has been observed between the Amhara PP and Oromia PP (for more details on the growing rift in the Prosperity Party, see EPO Weekly: 26 March-1 April 2022). In Amhara region, anger at the ruling government, and in particular, the Oromia PP, has been building for the past few years. This discontent emerged due to the ongoing killing of ethnic Amhara civilians in Oromia region, the constant closure of the main road connecting Amhara region to the capital Addis Ababa through Oromia region, and the demolition of houses in the recently established Sheger city in Oromia region – formerly known as Finfine special zone (for more details on the trends of violence against civilians in Oromia region, see EPO Monthly: June 2022; on the recent closure of roads, see EPO Weekly: 11-17 February 2023).
The discontent against the ruling party escalated in the region after reports of armed clashes between the ENDF and Amhara region special forces emerged on 6 April in North Wello zone. Fighting between the two parties was reported in Gobiye. Armed clashes between the ENDF and Fano militias were also reported in Kalim and Belago in Raya Kobo woreda (see map below). Moreover, the ENDF clashed against Amhara regional special forces and Fano militiamen in Gomata. These armed clashes reportedly erupted when the ENDF tried to "disarm" members of regional special forces.5Ethiopian Media Services, 'EMS Eletawi Thu 06 Apr 2023,' 6 April 2023; Al-Ain News, 'Following the decision to dissolve the special forces, protests broke out in Amhara region,' 7 April 2023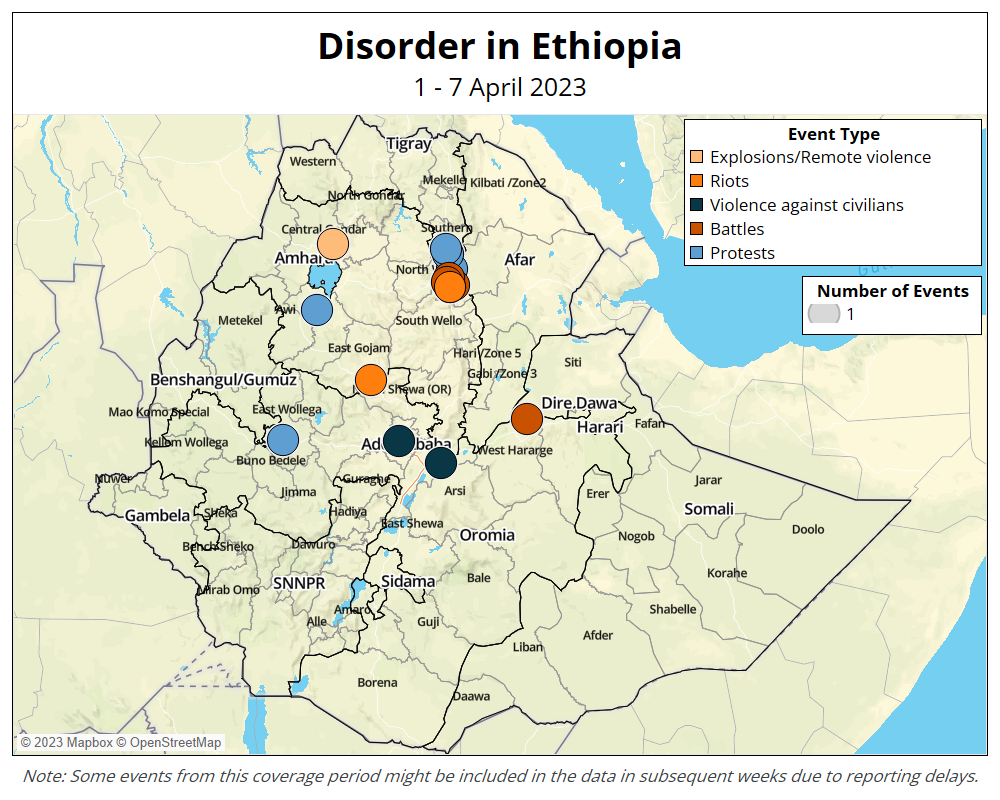 The Ethiopian government officially announced its plan to "reintegrate" regional special forces within each region of the country into various branches of the security sector on 6 April after reports of armed clashes in North Wello zone.6Federal Democratic Republic of Ethiopia Government Communication Service, 'A statement from the Government Communication Service on current issues,' 6 April 2023 Demonstrations opposing the decision to "disarm" regional special forces were also held in Woldiya town in North Wello zone.7Al-Ain News, 'Following the decision to dissolve the special forces, protests broke out in Amhara region,' 7 April 2023 An unknown number of Amhara special forces reportedly left their military camps and joined demonstrators who closed the main road. The next day, on 7 April, residents of Dejen town in East Gojam zone closed the main road connecting the capital of Amhara region, Bahir Dar, to the capital city, Addis Ababa, with stones. They also burned a vehicle that belonged to the federal police. Transportation services and other businesses in the town remained closed until the next day. The road was reopened on 11 April.8Amanuel Yilikal, 'Degen Road, which was closed due to protest was opened today for cross-country transport service,' Ethiopia Insider, 11 April 2023
Previously, there was no official report on this plan other than a statement by the state minister of the ministry of defense, indicating that research is underway to integrate regional special forces and militias as ENDF reserve forces. She indicated that this research was based on the role of regional special forces and militias during the northern Ethiopia conflict.9Sisay Sahilu, 'A study is being done to include the special force and militia of regions as the reserve force of the defense army,' Ethiopian Reporter, 19 February 2023 Nevertheless, around three weeks ago, rumors of a decision to disarm regional special forces emerged, especially on the platforms of Amhara ethno-nationalists who claim that the presence of Amhara regional special forces is necessary to secure Amhara region and interests more than other security forces which are under the federal government, citing ongoing threats from TPLF forces.10National Movement of Amhara, 'A statement from the Amhara National Movement (NaMA) on current issues,' 11 April 2023; Addis Maleda, 'TPLF is bringing many militants closer to Amhara region, gasoline is 200 Birr!,' 21 March 2023
In February, one report indicated that disagreement between the Amhara regional and federal governments arose after the federal government asked the regional government to stop training regional special forces. The regional government reportedly refused this decision, citing signs that TPLF forces might attack the region.11 Anchor Ethiopia, 'Anchor Media News: The reason for the release of Amhara's Prosperity Statement; home stay strike in Welkite, the continued displacement in Sheger City,' 22 February 2023 Moreover, some opposition politicians in Amhara region claim that this action against regional special forces is only being implemented in Amhara region,12NaMA, 'A statement from the Amhara National Movement (NaMA) on current issues,' 11 April 2023 while the government insists that it is simultaneously being implemented in all regions of the country.13Facebook @Abiy Ahmed Ali, 'No lasting benefit from a temporary solution!,' 9 April 2023; AMC, 'There is no specific decision to disarm and disband Amhara special forces,' 9 April 2023; Ethiopian Broadcasting Corporation, 'Interview with the Deputy Chief of Staff of the Armed Forces, General Abebaw Tadesse,' 7 April 2023 There are no further reports which confirm this statement. However, on 10 April, the Cabinet of the Somali Regional State approved the decision to reintegrate Somali regional special forces into various security sectors, including the ENDF.14Addis Standard, 'NewsAlert: Somali state cabinet unanimously approves government's plan to dissolve, reintegrate regional special forces,' 10 April 2023
In principle, most opposition political parties welcomed the idea of integrating regional special forces into the ENDF and other security sectors. However, pro-Amhara political parties questioned the timing and doubted if similar measures were being implemented in other regions.15Seyum Getu, Mantegafetot Sileshi, and Tamirat Dinsa, 'The issue of the regional special forces that raised the controversy,' Deutsche Welle Amharic, 10 April 2023 In response to the efforts of the federal government to integrate regional special forces, the Amhara Association of America released a statement signed by 47 other diaspora organizations calling on "Amhara people to rise up in a public struggle."16AAA, 'Statement,' 8 April 2023
Despite the warning of Prime Minister Abiy that he would use force against those who might oppose the decision,17 Facebook @Abiy Ahmed Ali, 'No lasting benefit from a temporary solution!,' 9 April 2023 and reassurance from authorities of the Amhara regional government that the decision would be implemented country-wide, and not just in Amhara region,18AMC, 'There is no specific decision to disarm and disband Amhara special forces,' 9 April 2023  demonstrations, as well as armed clashes, continued over the weekend and this week.19See for example Katharine Houreld, 'Ethiopian plan to disarm regional forces sparks protests in Amhara,' Washington Post, 10 April 2023; Dawit Endeshaw, 'Gunfire, protests in Ethiopia's Amhara over plan to disband regional force,' Reuters, 9 April 2023 As a result, various cities and towns within Amhara region, including Gondar, Dessie, and Debre Birhan, have imposed curfews.20Wazema Radio, 'For a quick morning! Tuesday 11 April 2023 Wazema daily news,' 11 April 2023; Wazema Radio, 'News Alert,' 11 April 2023; Addis Maleda, 'Various restrictions, including carrying weapons, was imposed in Gondar city,' 10 April 2023 EPO researchers are closely following these events, and a report covering these demonstrations and armed clashes will be published next week.
Elsewhere, in Oromia region, abductions and incidents of excessive force against people who opposed the demolition of their houses in Sheger city continued. On 3 April, an unidentified armed group kidnapped 15 heavy truck drivers in Aribona area near Welenchiti town in East Shewa zone, after stopping their vehicles. Five abductees were released later on the same day. On 4 April, Oromia region security forces tried to forcefully disperse people who opposed the demolition of their houses in Gefersa Nono Sena area in Gefersa in Sheger city. The unrest expanded to the neighboring Kolfe Compressive area in Addis Ababa. An unidentified number of people, including students and women, were reportedly injured. It was also reported that security forces of Sheger city looted 50 iron sheets after dissolving civilian houses in Mariam Sefer in Alem Bank area, which was previously under the administration of Addis Ababa city.
The arrest of two members of the recently established 'Holy Synod of Oromia and Nations and Nationalities,' representing East and West Wollega zones in Burayu town sparked a protest by thousands of ethnic Oromo Orthodox Christians in Nekemte town in East Wollega zone on 6 April. Demonstrators accused the government of intervention in issues related to their religion. The arrestees are likely among the remaining five bishops who have not yet reconciled with the Ethiopian Orthodox Tewahedo Church (EOTC). Out of the 26 bishops appointed by Archbishop Abune Sawiros and two other archbishops who formed the Holy Synod of Oromia and Nations and Nationalities, 21 bishops and three archbishops were reinstated to their former positions within the EOTC.21 EOTC Broadcasting Service Agency, 'Press statement from the Ethiopian Orthodox Tewahedo Church Synod,' 30 March 2023 The reinstatement came after they submitted a letter stating their agreement with the terms reached in mid-February after instability and violence due to a dispute between the EOTC and the Holy Synod of Oromia and Nations and Nationalities (for more information, see EPO February 2023 Monthly: Religious Disputes and Government Involvement in Ethiopia).
Lastly, on 6 April, Afar ethnic militiamen clashed with Somali ethnic militia members in Dabamara in Afdem woreda in Siti zone of Somali region, resulting in an unknown number of fatalities.