By the Numbers: Ethiopia, 11 February 2022-17 February 2023
Total number of political violence events: 1,226
Total number of reported fatalities from political violence: 6,475
Total number of reported fatalities from civilian targeting: 2,624
By the Numbers: Ethiopia, 11-17 February 20231
Some events from this coverage period might be included in the data in subsequent weeks due to reporting delays.
Total number of political violence events: 3
Total number of reported fatalities from political violence: 0
Total number of reported fatalities from civilian targeting: 0
Ethiopia data are available through a curated EPO data file as well as the main ACLED export tool.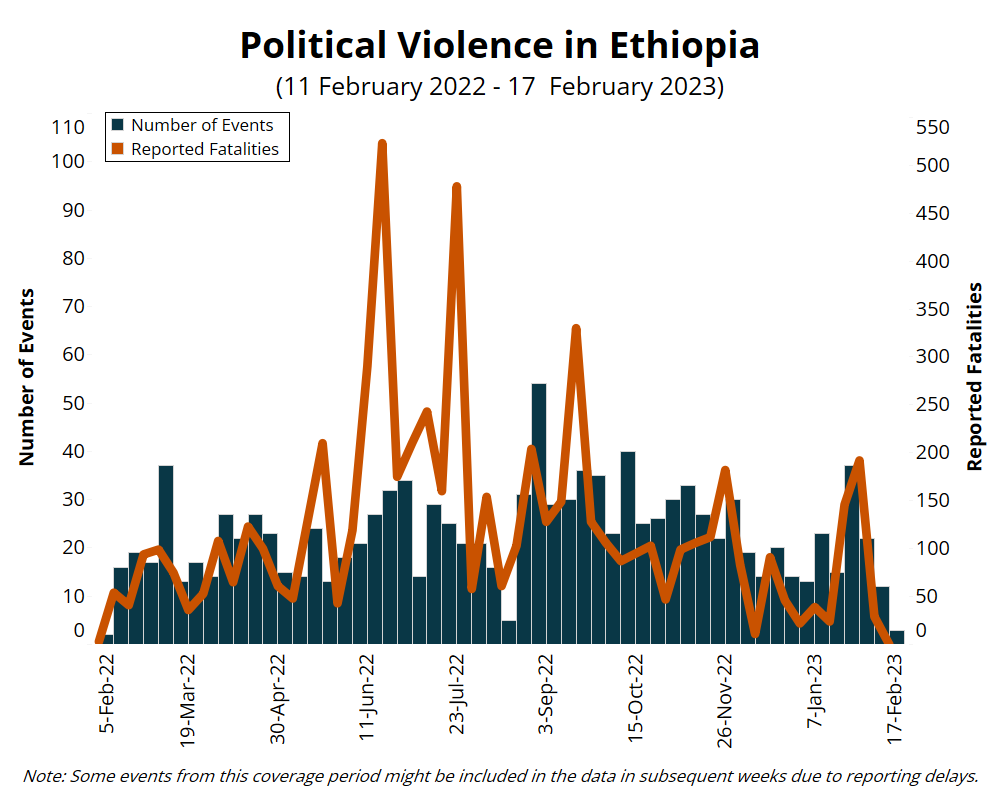 Situation Summary
Political tension in connection with the Ethiopian Orthodox Tewahedo Church (EOTC) decreased last week after the EOTC synod released a statement on 15 February, indicating that the problem had been "resolved based on the church's rules."2 EOTC Broadcasting Service Agency, 'Full statement of the holy synod,' 15 February 2023 The EOTC synod and the faction led by Abune Sawiros agreed on 10 terms, including strengthening the church's services in Afaan Oromo (Oromo language) and reinstating the status of the three archbishops and 25 bishops who had been excommunicated by the EOTC.3EOTC Broadcasting Service Agency, 'Agreement between holy synod and fathers who performed the illegal sacrament,' 15 February 2023 The two sides reached an agreement after consultation with Prime Minister Abyi Ahmed and the elders.4EBC, 'A discussion program prepared to resolve the disagreement between the fathers of the Ethiopian Orthodox Tewahedo Church Etv | Ethiopia | News,' 16 February 2023; EBC, 'A discussion program prepared to resolve the disagreement between the fathers of the Ethiopian Orthodox Tewahedo Church Part 2 Etv | Ethiopia | News,' 17 February 2023 The dispute began when Abune Sawiros, archbishop of South West Shewa, along with two other archbishops, appointed 26 bishops in Haro Beale Wold Church in Woliso town in South West Shewa zone of Oromia and announced the establishment of the 'Holy Synod of Oromia and Nations and Nationalities' without the knowledge of the Ethiopian Orthodox synod on 22 January.5OBSTV, 'The Tewahedo Orthodox Church leadership issues a statement,' 22 January 2023 The dispute escalated to violence on 4 February when the 'Holy Synod of Oromia and Nations and Nationalities' began to take over churches belonging to the EOTC in various areas within Oromia region (for more information, see EPO Weekly: 4-10 February 2023 and EPO Weekly: 28 January-3 February 2023).
Arrests of Orthodox Tewahedo believers and journalists continued in the country last week.6Addis Maleda, 'The dispute continued even after the agreement was made with the government on the current issue of the Church,' 14 February 2023; Addis Maleda, 'Oromo language journalist of EOTC TV, D/N Yosef Ketama has been abducted by security forces,' 13 February 2023; Deutsche Welle Amharic, 'Journalist Teodoros Asfaw was arrested,' 14 February 2023 It was reported that on 15 February 2023, Oromia state police arrested an unspecified number of Orthodox Christians, mostly Amhara and Gurage, in Welete in Sheger city in Oromia region.
In Oromia region, two incidents of violence against civilians perpetrated by the Oromo Liberation Front (OLF)-Shane (also known as the Oromo Liberation Army – OLA) were recorded (see map below). Last week, members of the OLF-Shane abducted an unspecified number of civilians traveling from Adama city, East Shewa zone, to Abomsa, Arsi zone, and from Abomsa to an unidentified location after stopping their vehicles in an area near Abomsa. Several incidents by government forces were also reported last week. In West Shewa zone, kebele militiamen burned several homes of civilians in Jirma Kophesa kebele in Ifata woreda after accusing them of collaborating with the OLF-Shane. Government security forces – assumed to be members of Oromia regional special forces – also arrested several youths in Alaga Dureti kebele in Jeju woreda in Arsi zone after accusing them of supporting the OLF-Shane.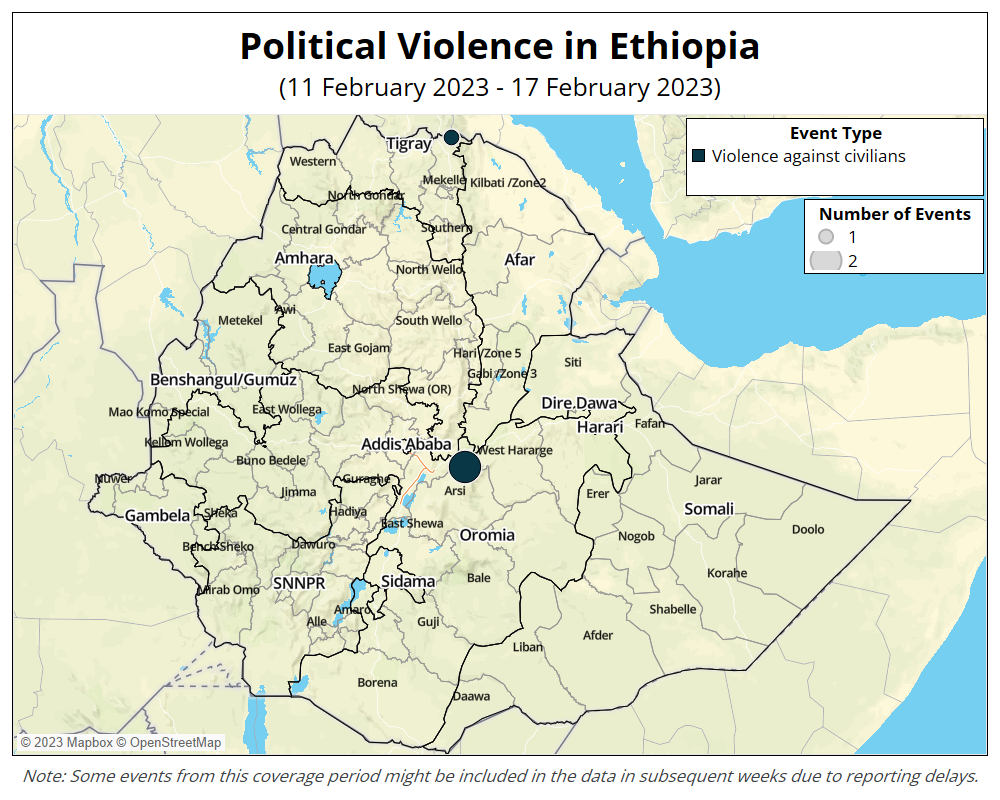 Oromia region has been the most volatile region in the country in the past four months due to the armed clashes between the OLF-Shane and government security forces. On 17 February, the Oromia regional president made an unprecedented call for the "OLF-Shane to peacefully end hostilities and start negotiations" during the fourth ordinary meeting of the Oromia Regional Council in Adama town.7 OBN Afaan Oromoo, 'Oromia Regional President Mr. Shimelis Abdisa makes a call for reconciliation with the OLF-Shane,' 17 February 2023 Previously, the government had stated it was unwilling to negotiate with the OLF-Shane (see EPO December 2022 Monthly: Conflict Expands in Oromia Region for more details). The OLA welcomed the call for peace but listed preconditions for joining the negotiations, asking, among other things, that the negotiations be led and guaranteed by international actors and that the negotiations be conducted directly with the federal government and not the Oromia regional government.8Oromo Liberation Army, 'Regarding the call for peace made by the regional government of Oromia,' 18 February 2023 A few days before the call for peace negotiations, some influential ethnic Oromo diaspora organizations indicated their support for peace efforts and requested that the government pursue negotiations.9Deutsche Welle Amharic, 'A call for a peace option for the Oromia conflict,' 15 February 2023
In Southern Nations, Nationalities and Peoples region, on 15 February, residents of Welkite town gathered in front of the Water and Sanitation Office in Welkite in Gurage zone to demonstrate against the lack of drinking water, which had been shut off in some parts of the city for over a month. Demonstrators blocked the road and threw stones at the building. The regional special forces reportedly fired live bullets at the demonstrators, killing at least three and injuring 30 people. Since then, the residents of Welkite town have closed all shops and are conducting a stay-at-home protest "until the security forces who killed the civilians are brought to justice."10Deutsche Welle Amharic, 'World News, Monday, February 20, 2023,' 20 February 2023 This stay-at-home protest continued for the sixth day on 20 February. In the meantime, reports indicate that government security forces continue to arrest civilians in the town to "intimidate the residents into opening their shops."11Deutsche Welle Amharic, 'World News, Monday, February 20, 2023,' 20 February 2023
Another demonstration was also reported in the capital city, Addis Ababa. On 15 February, youths staged a protest to condemn the demolition of their houses by the government around Ferensay Gurara Kidane Miheret Church near the border of the city and Sululta, Oromia region. Federal police and members of the Ethiopian National Defense Force fired tear gas and arrested an unknown number of protesters. The government had identified these houses as "illegally" built houses.12Wazema Radio, 'For a Quick Morning! Thursday, February 16, 2023, Wazema Main News,' 16 February 2023
In Amhara region, Amhara regional special forces and Amhara ethnic militia burned several civilian houses, health centers, and mosques in Wesen Kurkur kebele in Jilye Tumuga woreda, Oromia special zone. Several residents were forced to flee their homes. In January, this area was a center of violent conflict involving Amhara regional special forces, Amhara ethnic militias, Oromia ethnic militias, and the OLF-Shane (see EPO Weekly: 21-27 January 2023 for more information).
Furthermore, the road from Amhara region to Addis Ababa was closed for several days at Goha Tsion checkpoint in North Shewa zone in Oromia region by Oromia regional special forces.13ESAT, 'Ethiopia – Esat Amharic News Feb 14 2023,' 14 February 2023; Deutsche Welle Amharic, 'Harassment of passengers in Goha Tsion,' 13 February 2023; ESAT, 'Ethiopia -Esat Amharic News Mon 13 Feb 2023,' 13 February 2023; ESAT, 'Ethiopia -Esat Amharic news Feb 11 2023,' 11 February 2023 The road closure highly affected civilians, mostly people holding an ID from Amhara region, preventing them from entering Addis Ababa. As a result, hundreds of civilians were forced to take shelter in various areas, including mosques and churches, in nearby towns in Amhara for several days, hoping the road would soon open. The road was reportedly closed for several days, starting on 9 February. According to the head of the Amhara Regional State Communication Office, it is unclear why the road was closed for that long. He, however, admitted that the government agreed to strictly control checkpoints and close the road for one day in fear of a nationwide demonstration called by the EOCT synod on 12 February, which was postponed on 10 February.14ESAT, 'Ethiopia – Esat Amharic News Feb 14 2023,' 14 February 2023 This road has been closed several times in the past few months.