By the Numbers: Ethiopia, 21 January 2022-27 January 2023
Total number of political violence events: 1,273
Total number of reported fatalities from political violence: 6,552
Total number of reported fatalities from civilian targeting: 2,653
By the Numbers: Ethiopia, 21-27 January 20231
Some events from this coverage period might be included in the data in subsequent weeks due to reporting delays.
Total number of political violence events: 37
Total number of reported fatalities from political violence: 132
Total number of reported fatalities from civilian targeting: 18
Ethiopia data are available through a curated EPO data file as well as the main ACLED export tool.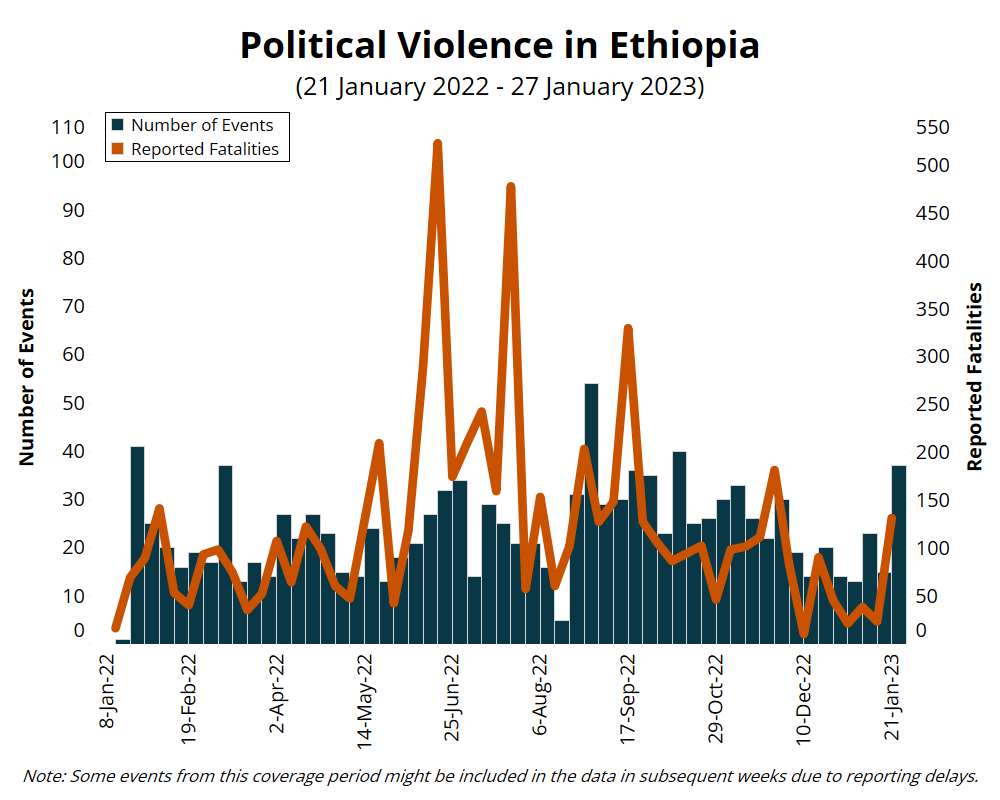 Situation Summary
Last week, week-long violence was reported in Amhara region, while only one event was recorded in Oromia region after four months of continued intense political violence in the region.
Violence erupted at the border of North Shewa and Oromia special zones in Amhara region last week, resulting in days of violence and at least 98 reported fatalities. According to a local administrator in Oromia special zone, on 20 January, Amhara regional special forces shot and killed seven ethnic Oromo youths in Muti Fata village (identified as Jawaa by some sources), near Senbete in Jile Timuga woreda, following a disagreement and accusation that they were connected with the Oromo Liberation Front (OLF)-Shane.2BBC Afaan Oromo, 24 January 2023 The next day, Oromo gunmen suspected to have links with the OLF-Shane attacked Jewaha Negeso kebele in Eferatana Gidem woreda, North Shewa zone. Clashes between the group and state security forces and their affiliated forces lasted for two days and reportedly resulted in the killings of at least 28 members of Amhara regional special forces and six members of the federal police.3Ethiopian Reporter, 25 January 2023 On 23 January, the conflict expanded to neighboring areas. In Oromia special zone, armed clashes between armed factions were recorded in Senebet, Majete, Chire, Chefa Robit, and around Kemise town, while in North Shewa zone, armed clashes were recorded in Ataye and Shewa Robit towns and their surrounding areas, as well as Balchit, Mesino Hagere Mariam kebele, Chekchek Kebele, Jewaha Negeso kebele, and Kewet (see map below). The fighting continued until 25 January. According to the administrator of Jile Timuga woreda, 98 civilians were killed, and 155 people were injured in Oromia special zone alone. Additionally, around 1,930 houses were damaged due to violence in the area last week.4DW Amharic, 28 January 2023
Following the violence, the Amhara regional government vowed to take retaliatory actions against the "anti-peace forces" that had attacked both security forces and civilians.5 Amhara Media Corporation, 25 January 2023 In a statement, the OLF party accused government forces of instigating the violence when they allegedly opened fire at farmers in Jile Timuga woreda in Oromia special zone. The OLF party representative called for a "political solution" as, according to the party, the conflict in this area is a "political conspiracy."6 DW Amharic, 26 January 2023 Moreover, the spokesperson of the OLF-Shane – also known as the Oromo Liberation Army (OLA) – stated that the OLF-Shane does not have forces in the area and refuted the accusation that forces from the group had attacked Amhara regional special forces. He also blamed Amhara regional special forces and Fano militias for instigating the violence.7VOA Amharic, 28 January 2023 Similarly, the National Movement of Amhara blamed "forces which are supported by government institutions" for attacking the security forces and condemned the Amhara regional government for failing to protect civilians and "for not finding a sustainable solution to resolving the conflict" in the area.8National Movement of Amhara, 25 January 2023 However, Enat Party, All Ethiopian Unity Party, and Ethiopian People's Revolutionary Party accused the OLF-Shane of instigating the recent round of violence in the region.9VOA Amharic, 28 January 2023
The Oromia special zone of Amhara region is a site of frequent violence. The special zone is inhabited and administered by ethnic Oromos despite being located within Amhara region, a point of contention between residents of nearby towns and villages. EPO has tracked and reported on multiple rounds of violence in this area since 2021 (see EPO Weekly: 16-22 April 2022; EPO Weekly: 10-16 April 2021; and EPO Weekly: 1-7 May 2021). In 2021, the area was briefly controlled by OLF-Shane and Tigray People's Liberation Front forces in a rare joint operation.10 Reuters, 31 October 2021
The full picture of the most recent round of violence at the border of North Shewa and Oromia special zones in Amhara remains incomplete due to reporting delays, but initial estimates indicate that hundreds of thousands of civilians were forced to flee their homes.11 VOA Amharic, 30 January 2023 The main road connecting Addis Ababa to Dessie (A2 highway) was closed for days. Reports indicate that the violence has since subsided and the area is currently calm.12 VOA Amharic, 30 January 2023
In Oromia region, on 24 January, an unidentified armed group burned Bato Degaga Saint Gorgis Church around Awash Melkasa in East Shewa zone. ACLED has recorded no other events in the region last week.
In Southern Nations, Nationalities, and Peoples region (SNNPR), on 25 January, the OLF-Shane entered and attacked Gedeb town in Gedeo zone, released prisoners from two prisons, looted weapons, and broke into six banks. The attack continued into the early morning hours of the next day. Five people, including a police officer and four civilians, were killed due to this attack. The spokesperson of the OLF-Shane (OLA) confirmed that OLF-Shane forces conducted an attack against the federal and regional forces' camp in Gedeb.13VOA Amharic, 26 January 2023
Lastly, on 27 January, a traditional conflict resolution ceremony was held between Burji and Borena communities. On 4 June 2022, ethnic Burji rioters beat to death 10 ethnic Oromo civilians from Guji zone and injured 20 others at Soyama town market in Burji special woreda in SNNPR. Since this incident, the road connecting the communities has been closed, and interactions between the two communities have been limited. During the ceremony, the traditional leaders agreed to open the road and allow the two communities to resume attending markets together.14VOA Amharic, 28 January 2023