By the Numbers: Ethiopia, 2 April 2018-7 May 20211

Figures reflect violent events reported since Prime Minister Abiy Ahmed came to power on 2 April 2018.
Total number of organized violence events: 1,518
Total number of reported fatalities from organized violence: 7,095
Total number of reported fatalities from civilian targeting: 3,948
Ethiopia data are available through a curated EPO data file as well as the main ACLED export tool.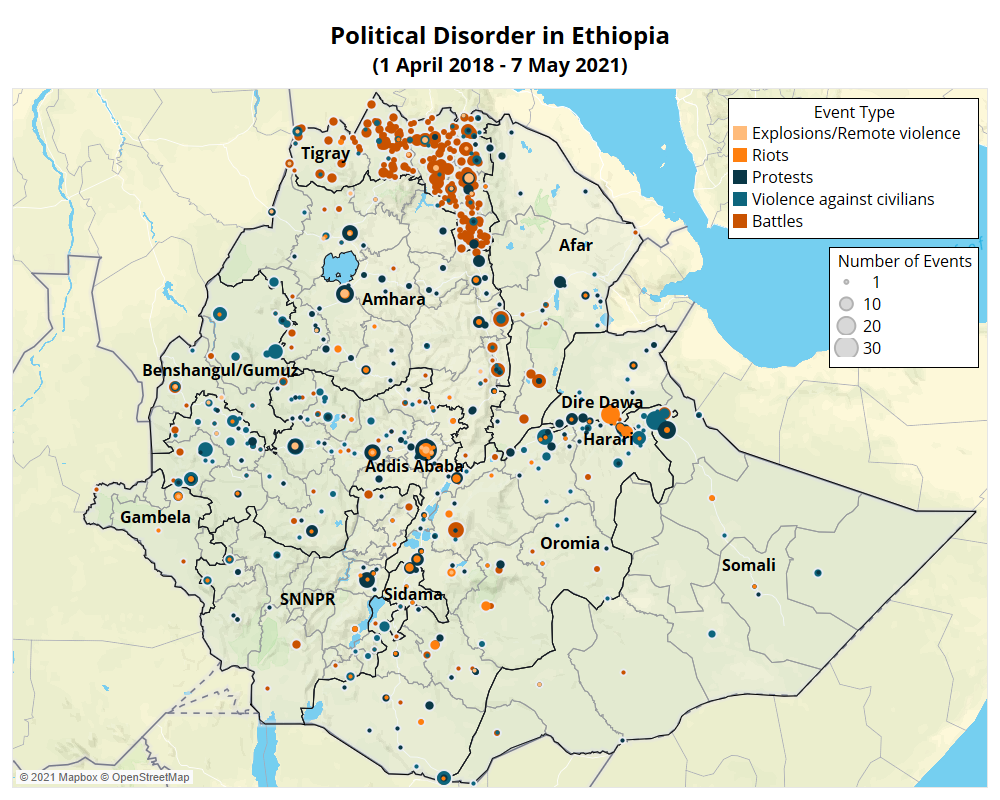 Situation Summary
Last week, there were fewer reports of political disorder in Ethiopia relative to the previous weeks. Despite a tense political atmosphere in the lead-up to the 2021 general elections, only one political disorder event — an incident of excessive force against protesters — was recorded by ACLED last week. 
On 3 May 2021, Addis Ababa police forcefully entered the residence of the Oromo Liberation Front (OLF) party chairman's house, arrested the security forces guarding the house, and confiscated the phone and computer devices of everyone who lived in the house (VOA, 7 May 2021; Addis Standard, 4 May 2021). Police also shot at and arrested youth who had gathered outside the house to protest the actions of the police (Addis Standard, 4 May 2021). 
Around 5 May 2021, federal forces carried out mass arrests of members of the Amhara Youth Association. They also arrested some Amhara regional special forces members, blaming them for violence that occurred in Bahir Dar city during demonstrations the week prior ( DW Amharic, 4 May 2021; EPO Weekly: 17-23 April 2021).
On 7 May 2021, the Federal High Court of Ethiopia repealed the National Electoral Board of Ethiopia's (NEBE) decision regarding the OLF general conference in March 2021 (DW Amharic, 8 May 2021). NEBE stated that this general conference, which was led by Ararso Bikila, was not conducted as per the bylaws of the party. Thus, NEBE rejected the newly elected leaders of the party and refused to register the party for the upcoming election (The National Electoral Board of Ethiopia, 28 March 2021). 
The OLF has been embroiled in a leadership crisis since July 2020 when members of the OLF Executive Committee voted to suspend the chairman, Dawud Ibsa. Ibsa was suspended in absentia. He had been placed under house arrest a few days prior following widespread violence in Oromia triggered by the assassination of a popular Oromo musician (Addis Standard, 30 December 2020).
Bikila's faction of the OLF had stated that if NEBE implements the latest court's decision, he would still be willing to participate in the upcoming election. Meanwhile, Ibsa claimed that the OLF was forced to boycott the election due to intimidation by the government (DW Amharic, 19 February 2021). Due to this internal struggle, the OLF was not able to manage to officially register as a party for the sixth general election of Ethiopia (The Reporter, 15 August 2020; The National Electoral Board of Ethiopia, 28 March 2021).
Meanwhile, the House of Peoples' Representatives has approved the Council of Ministers' decision to designate the Tigray People's Liberation Front (TPLF) and the Oromo Liberation Front (OLF)-Shane as terrorist organizations (FDRE House of Peoples' Representatives, 6 May 2021). According to the government, the decision will allow the government to prevent and suppress their actions as per the country's law (Office of the Prime Minister-Ethiopia, 1 May 2021).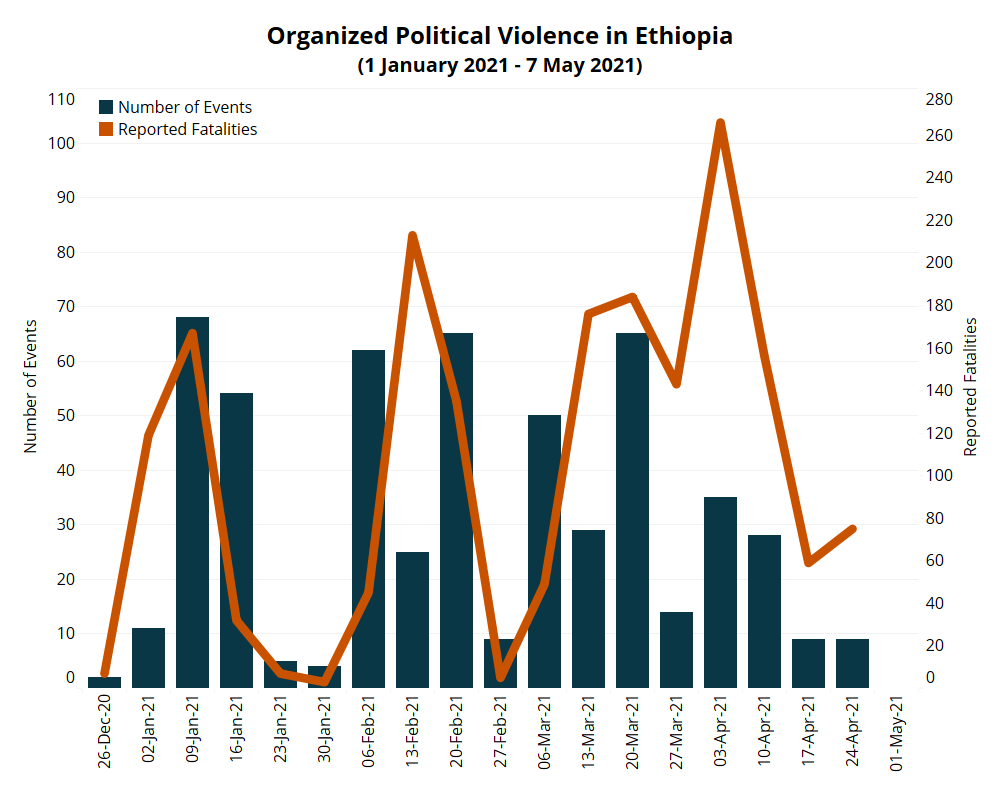 Humanitarian Activities in Tigray Region and Amhara Region
In the Tigray region, even though access for humanitarian organizations has significantly improved, the United Nations Office for the Coordination of Humanitarian Affairs (UNOCHA) stated last week that active conflicts in Central, North-Western, Eastern, South-Eastern, and Southern Tigray prevented humanitarian organizations from reaching people in need in rural areas of Tigray (UNOCHA, 7 May 2021). Furthermore, the lack of communication infrastructure in several areas in the region is delaying monitoring activities and efforts to assess the progress of aid distribution. The government announced that some areas are now accessible with a military escort (Office of the Prime Minister-Ethiopia, 8 May 2021). However, the government did not clarify which areas are now accessible with escorts.
Doctors Without Borders (Médecins Sans Frontières-MSF) also acknowledged that "rural areas are often left without any assistance and in recent weeks access for humanitarian organizations to various parts of Tigray has been further constrained" (MSF, 5 May 2021). Most health services are limited to cities. Healthcare centers in rural areas are not functioning because they are either destroyed or looted. Meanwhile, the government stated that "up to 60 mobile health teams" have been established in Tigray (Office of the Prime Minister-Ethiopia, 8 May 2021).
As well, it is estimated that 4.5 million people need food assistance in the region (UNOCHA, 7 May 2021). UNOCHA reported that 1.1 million people across the region have received assistance from three humanitarian organizations in 2021 thus far. The government puts this number closer to 2.7 million people (Office of the Prime Minister-Ethiopia, 8 May 2021). 
Internally displaced people (IDPs), who fled their homes due to fighting between OLF-Shane (accompanied by local Oromo militias) and Amhara regional special forces (accompanied by federal troops) in Ataye and surrounding areas in the Amhara region (EPO Weekly: 10-16 April 2021), are calling for more humanitarian assistance (Amhara Media Corporation, 5 May 2021; EBC, 6 May 2021). The exact number of IDPs from this area is unknown, but it is estimated that up to 50,000 people are internally displaced (EBC, 6 May 2021). Houses in Ataye city were critically damaged during the conflict and are uninhabitable. According to one witness, "01 Kebele of Ataye city is fully destroyed" (EBC, 10 May 2021). Fears of revenge attacks have prevented IDPs from returning to their homes (EBC, 7 May 2021).