IN THIS REPORT
March at a Glance

Vital Trends
Key Events in March

Monthly Focus: Political Violence Trends Decline Amid Opportunities for Peace
March at a Glance
VITAL TRENDS
In March, ACLED records 37 political violence events and 86 reported fatalities. It is the lowest number of political violence events recorded since the beginning of the northern Ethiopia conflict in November 2020.
Oromia region had the highest number of recorded events and reported fatalities due to political violence last month, with 32 events and 82 reported fatalities. Over 95% of reported fatalities were recorded in Oromia region.
In March, the most common event types were violence against civilians, with 25 events, and battles, with 11 events. The majority of these events – 22 violence against civilians and 10 battle events – were recorded in Oromia region.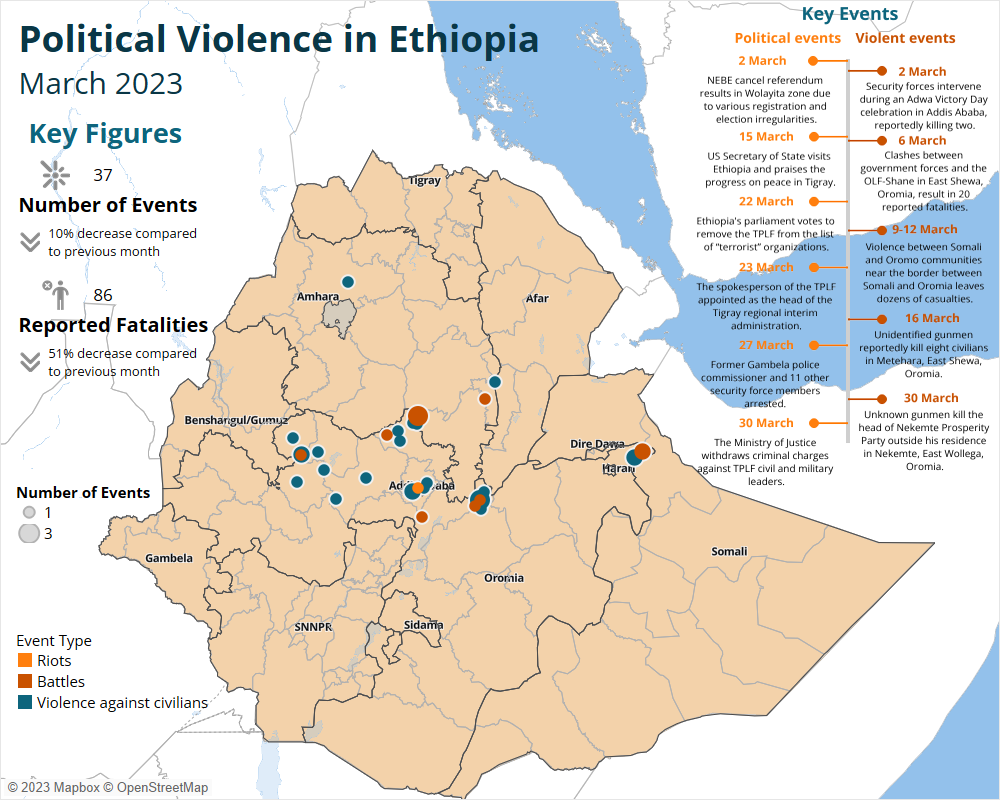 Monthly Focus: Political Violence Trends Decline Amid Opportunities for Peace
Trends of Political Violence in Ethiopia
Since October 2022, the number of political violence events recorded in Ethiopia has been trending downward. March 2023 records the least violence and least reported fatalities since October 2020, prior to the outbreak of the northern Ethiopia conflict in November of that year (see graph below). This positive trend can be attributed to a cessation of conflict in Ethiopia's north, a reduction of conflict in Oromia, and peace efforts in regions previously affected by conflict.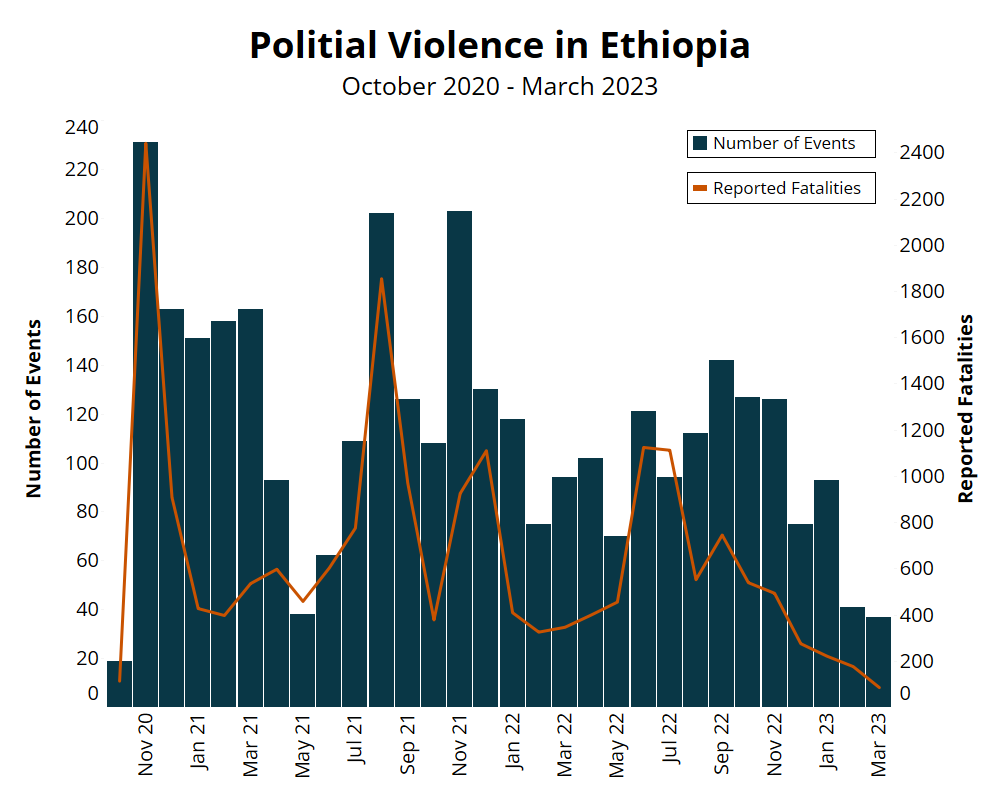 This monthly report details the dynamics of Ethiopia's ongoing peace processes and identifies new potential flashpoints. Overall, Ethiopia's trajectory appears to be positive. However, the ongoing peace processes are fragile, and new rounds of violence could occur.
Peace Processes in Oromia, Tigray, Amhara, and Benshangul/Gumuz Regions
Peace processes have dominated Ethiopian headlines throughout the past two months, with negotiations between the Tigray People's Liberation Front (TPLF) and the federal government taking center stage. Multiple other peace processes are likewise ongoing with other anti-government armed groups, with varied success. Despite positive trends, a change in political dynamics since the signing of the November 2022 peace agreement has led to new violence patterns evidenced by a shift in both the location of events (see map below), as well as the actors involved, compared with the same time period prior. Violence in the capital Addis Ababa has also been more frequent since December 2022 relative to the preceding four years. Similarly, violence in Oromia region has also appeared in the south and east, despite an ongoing insurgency by the Oromo Liberation Front (OLF)-Shane in the region's west.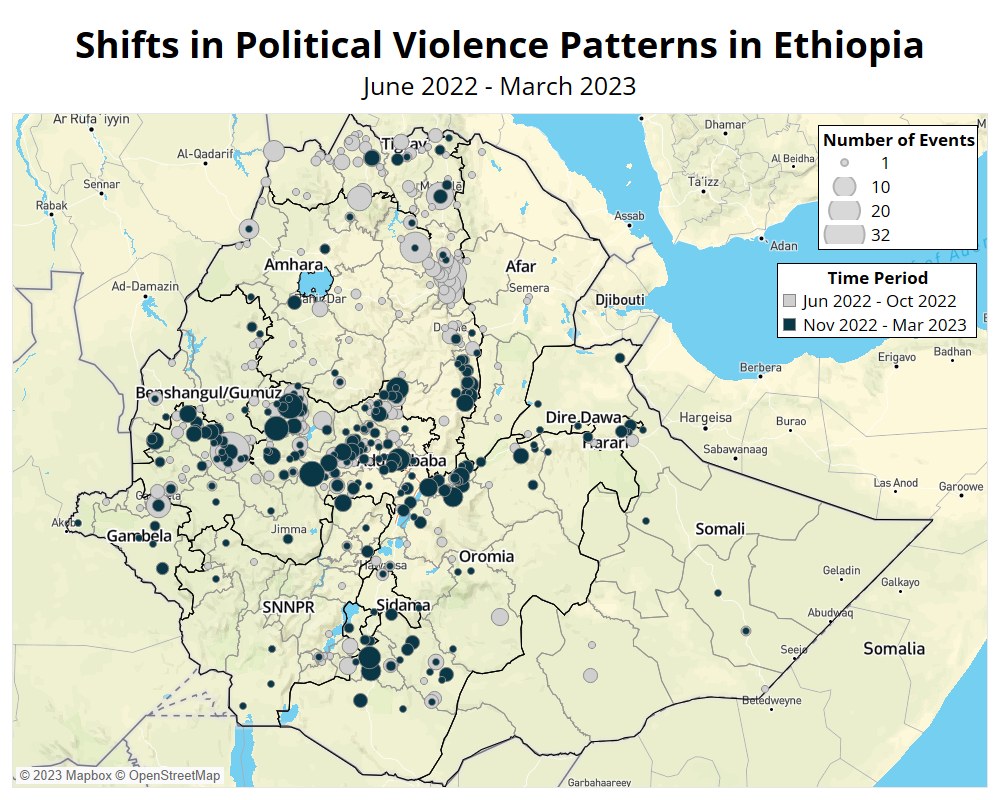 On 22 March, Ethiopia's parliament voted to remove the TPLF from the list of "terrorist" organizations.1Hamid Awal, 'TPLF removed from the terrorist list,' Ethiopia Insider, 22 March 2023 A few days later, the Ministry of Justice withdrew criminal charges against TPLF civil and military leaders.2Federal Democratic Republic of Ethiopia Ministry of Justice, 'A statement regarding the withdrawal of the filed lawsuit,' 30 March 2023 The Ethiopian government had declared the TPLF, along with the OLF-Shane, "terrorist" organizations on 1 May 2021.3Office of the Prime Minister-Ethiopia, 'Categorizing "Tigray People's Liberation Front (TPLF)" and "Shane" as Terrorist Organisations,' 1 May 2021 The decision was adopted by the Council of Ministers and was based on the government's assertion that both the TPLF and OLF-Shane had committed various acts of "terrorism," including attacks on civilians and infrastructure, and had attempted to overthrow the government through violence.4This decision was endorsed by the House of Representatives on 8 May 2021. See Sisay Sahlu, 'House endorses designation of TPLF, Shene as Terrorist groups,' The Reporter, 8 May 2021
The decisions to remove the TPLF from the "terrorist" organization list and drop criminal charges against the group have been met with opposition from some of Ethiopia's elected lawmakers. Opposition parties and members of the Prosperity Party who oppose the move want the TPLF to be held accountable for the human rights violations and damages committed over the course of the conflict.5Reuters, 'Ethiopia takes Tigray's TPLF party off terrorism list,' 22 March 2023 Despite this opposition, these are major steps toward normalizing the relationship between the federal government and the TPLF, reducing the likelihood that fighting will resume. At the end of March, the nominated officials for Tigray region – heavily dominated by the TPLF – were officially appointed by the federal government as the interim government of Tigray (for more on the composition of the Tigray interim administration, see EPO Weekly: 25 February-3 March 2023).6Office of the Prime Minister-Ethiopia, 'Establishment of the Tigray interim administration,' 23 March 2023
Peace processes in Oromia region have not progressed as much as in Tigray, although a reduction in violence over the past two months suggests that there could be an opportunity to bring the warring parties to the negotiation table. On 5 December, lawmakers from Oromia addressed a letter to the federal government, requesting that the ongoing peace process in Tigray region be replicated in Oromia region, and that the federal government negotiate with the OLF-Shane.7BBC Afaan Oromo, 'The reconciliation that was held in Tigray should be held in Oromia so that the Oromo people can rest' – Members of Parliament,' 13 March 2023 A similar letter was sent to the African Union, urging the organization to "intervene and negotiate to reach an agreement."8Addis Standard, 'News: Lawmakers from Oromia urge AU to "intervene and negotiate" to end conflict in Oromia, repeat call for warring parties,' 20 March 2023 Attempts to send local elders to negotiate with the group have thus far failed. In a statement released on 28 March, OLF-Shane (also known as Oromo Liberation Army) leaders denounced government attempts at negotiation as disingenuous and reiterated their insistence that an international third party mediate any talks that should occur.9Oromo Liberation Army, 'Regarding recent remarks made by Abiy Ahmed concerning peace talks,' 28 March 2023
Fundamental political differences on the country's future persist between Oromo and Amhara politicians and have also flared tensions in the communities. However, there are some indications that the violence these tensions manifest between ethnic militias has decreased over the past two months. Intense violence between Oromo and Amhara communities in East Wollega and Horo Guduro Wollega zones in Oromia that occurred in December 2022 and January 2023 have cooled, with no political violence events involving Amhara militias being reported in February, and four events in March (for more on Amhara and Oromo communal violence see, EPO Monthly: December 2022). Violence in Amhara region has likewise reduced after reaching a peak in January, when at least 98 people were reportedly killed over a six-day period of armed clashes at the border of Oromia special zone and North Shewa zones (for more, see EPO Weekly: 21-27 January). On 1 March, representatives from Amhara and Oromia regional governments met to discuss joint security issues, culminating in a joint statement indicating that a "common solution had been reached."10Federal Democratic Republic of Ethiopia Communication Service, 'Work is being done to solve the joint problems in the Amhara and Oromia regions,' 1 March 2023
In Amhara region, more than 1,000 militants from the Qemant armed group, "returned to peaceful living" in the past six months after a peace talk between the Amhara regional government and the armed group, which is mostly active in Gondar area in Amhara.11Deutsche Welle Amharic, '3 April 2023 World News,' 3 April 2023
In Benshangul/Gumuz region, peace talks and negotiations have resulted in the release of hundreds of former militants over the past few months as part of a peace deal signed in the second half of 2022 (for more, see the EPO Weekly: 11-17 March 2023). Violence in the region has reduced significantly over the past year, indicating the effectiveness of peace talks. In June 2021, instability in many parts of the region led to the cancellation of voting during the last national election; given the decrease in violence, the conditions may allow elections to be held this year.12VOA Amharic, 'Political parties of Benshangul Gumuz demand that disrupted elections be held in the region,' 29 March 2023
Potential Flashpoints for a Return to Violence 
Despite encouraging signs that peace processes are proceeding in Ethiopia, there are several potential flashpoints that could reverse current trajectories and return Ethiopia to higher levels of violence. Some of these flashpoints are a continuation of existing patterns – in Oromia region, for example – while others are new dynamics.
First, the peace process in Oromia region is officially non-existent. Despite both parties indicating an increased willingness to negotiate, political differences and unwillingness to compromise on even basic political arrangements means the road ahead will be long and difficult. While a reduction of violence in March is a positive development, the recent assassination of the head of the ruling Prosperity Party office in Nekemte on 30 March does not bode well. Unless official talks begin soon, Oromia region will likely return to a high rate of violence.
There are similar factors at play in Tigray region. Despite a positive peace process thus far, there is no clear path forward for the decision over the status of Western and Southern Tigray zones. Ethnic Amhara residents of Alamata town in Southern Tigray zone staged a protest on 19 March, calling on the government to officially remove the areas from Tigray region. Officials from the recently-appointed interim administration of Tigray region condemned the protest.13Borkena, 'Raya demands legal response from Federal gov't to the identity question,' 20 March 2023 In his first media briefing, the head of the Tigray regional interim administration stated that securing the region's territorial integrity is one of the priorities of the interim government.14Wazema Radio, 'Media Briefing by the newly appointed Tigray interim government president,' 24 March 2023 Western Tigray zone, specifically Welkait, Humera, and Tsegede areas, are still de facto administered by officials appointed by Amhara region, despite officially still belonging within the boundaries of Tigray region. Amhara regional forces took control of these areas at the outset of the northern Ethiopia conflict. Western Tigray zone has been contested for the last 30 years and became part of Tigray region after the implementation of ethno-federalism by the TPLF-led Ethiopian People's Revolutionary Democratic Front – the ruling coalition from 1991 to 2019. For residents of Amhara region, Western Tigray has become a nationalist rallying cry; rumors of a possible armed response should the government return the area to the TPLF are common across Amhara (for more, see EPO Weekly: 3-9 July 2021; EPO Monthly: February 2022; and EPO's special report The Northern Ethiopia Conflict: A Step Towards Peace?).
Furthermore, despite the peace agreement clearly stating that non-federal forces must withdraw from Tigray region, both Eritrean and Amhara forces were active in Tigray region in March, indicating a lack of willingness or control by the federal government to order their removal.15Ethiopia Insider, 'The United Nations Deputy Commissioner for Human Rights criticized the withdrawal process of Eritrean soldiers from Ethiopia,' 6 March 2023
Overall, violence patterns in February and March 2023 in Ethiopia have been markedly different from the months prior, indicating a shift in violence that could grow. At the center of this shift is the emergence of new alliances and realignment of security and political cooperation between major religious, ethnic, and ideological groups in Ethiopia. Prime Minister Abiy Ahmed and the ruling Prosperity Party are being increasingly accused by pan-Ethiopianist and Amhara regional political actors of catering to Oromo ethno-nationalist political demands and allowing those demands to dominate the government.16Borkena, 'Yes! Abiy Ahmed Must Resign,' 5 April 2023 Violence involving the Ethiopian Orthodox Tewahedo Church in Addis Ababa and in Oromia region is one example of how these realignments can manifest into violence (for more on these dynamics, see EPO February 2023 Monthly: Religious Disputes and Government Involvement in Ethiopia). March being the least violent and deadly month since the start of the northern conflict in Ethiopia is a positive sign, among others, that the country may continue to stabilize and peace processes may succeed in bringing warring parties together. Yet, there remain serious issues that threaten to upset the delicate balance struck over the past few months, making a return to violence possible.