February at a Glance
Vital Stats
ACLED records 74 organized political violence events and 326 reported fatalities in February.

Oromia region had the highest number of reported fatalities due to organized political violence in February with 180 reported fatalities. Amhara region followed with 116 reported fatalities.

In February, the most common event type was battles with 41 events and 189 fatalities reported.
Vital Trends
Armed clashes between the Tigray People's Liberation Front (TPLF) and Afar regional special forces and Afar militias continued in Kilbati Rasu-Zone 2 in Afar region.

The Oromo Liberation Front (OLF)-Shane continued to clash with the Ethiopian National Defense Force (ENDF), Oromia regional special forces, and Oromia militias in different parts of Oromia region.

Murle ethnic militias from South Sudan continued to attack civilians in Gambela region.
In This Report
February Situation Summary

Monthly Focus: A Rock and a Hard Place? The Political Complexity of the Negotiation Agendas for Tigray Conflict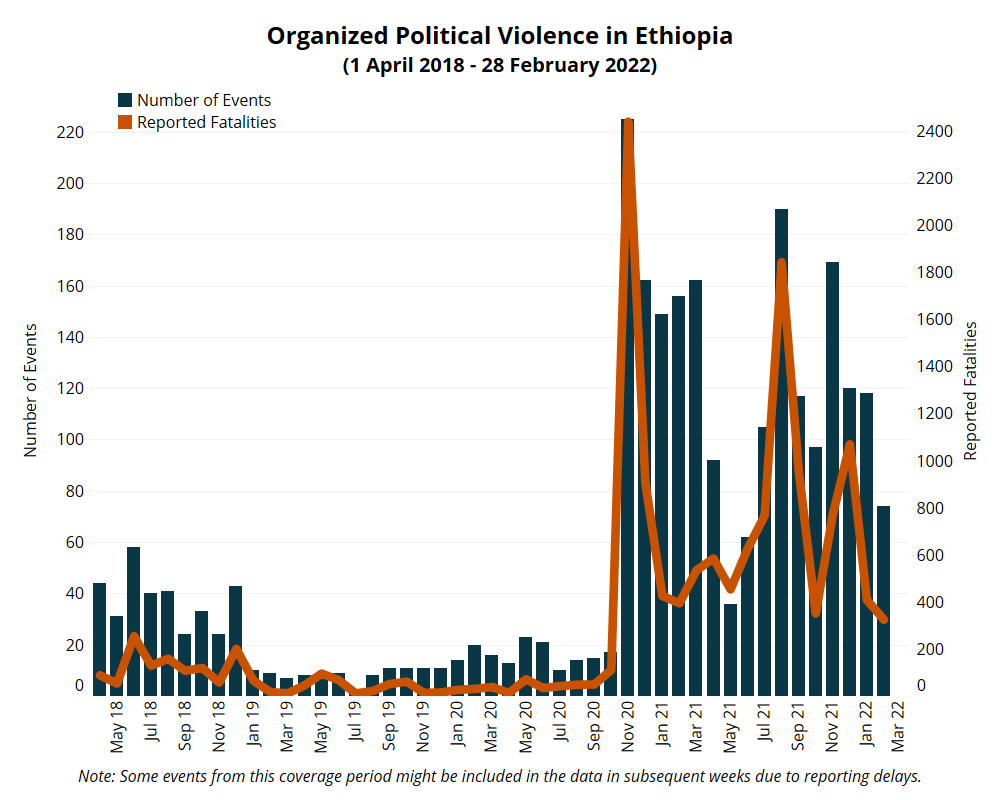 February Situation Summary
Last month, clashes between the TPLF and Afar regional special forces and Afar militias continued, with fighting concentrated in Berahle, Konneba, Magale, Erebti, and Abala areas of Kilbati Rasu-Zone 2 in Afar region. Along with clashes, warring parties also used remote violence, which led to civilian fatalities in at least one event. In addition to an airstrike conducted by the Ethiopian military on 9 February targeting TPLF forces, 10 members of an Afar family were killed while 13 others were injured by shelling in a location around 15km from Berhale town on 16 February. It is unclear which side fired the fatal shell. The same day, the TPLF shelled Afar regional special forces and Afar militias in Erebti woreda.
Authorities in Afar region estimate that as many as 430,000 people have been displaced since renewed fighting began last month, many as a result of heavy shelling that destroyed residential buildings (DW Amharic, 9 February 2022). Eritrean refugees, who were settled in Kilbati Rasu-Zone 2, were also affected by the renewed clashes. On 3 February, during ongoing fighting between the TPLF and Afar forces, unidentified armed gunmen attacked a refugee camp hosting Eritrean refugees in Berhale, killing at least five refugees (Reuters, 18 February 2022). Witnesses stated that TPLF forces conducted this attack. The group also abducted an unknown number of women refugees and looted the camp. Around 34,000 Eritrean refugees were displaced due to this attack (VOA Amharic, 18 February 2022). As a result, the government built a new refugee camp in Serdo and transferred all Eritrean refugees from Berahle to Serdo refugee camp (Addis Maleda, 8 March 2022).
Furthermore, people continue to be internally displaced from some kebeles in Zeqwala, Tsagibji, and Abergel woredas of Wag Hamra zone, located on the Amhara/Tigray regional border, which is still under the TPLF control. These internally displaced people are taking refuge in Sekota town. Additionally, Sekota and Kobo towns are also hosting internally displaced people from Alamata, Korem, and Zata in Tigray region. For instance, Sekota town is hosting more than 53,000 internally displaced people from these areas (Amhara Media Corporation, 15 March 2022).
In Oromia region, OLF-Shane forces continued to clash with government security forces. In February, ACLED recorded 24 battle events between the two groups in East Wollega, Guji, North Shewa, West Guji, West Hararge, and West Shewa zones. The OLF-Shane claims to have captured Bandira kebele in Leka Dulecha woreda in East Wollega zone (Oromia Media Network, 26 February 2022). The number of casualties resulting from these clashes is unknown due to the lack of reports.
Last month, attacks on civilians by different actors continued in Oromia region. Amhara militias conducted 13 attacks on civilians in East Wollega, Horo Guduru Wollega, and West Shewa zones, killing at least 83 people (see map below). Eight of these attacks with a total of 52 reported fatalities were in Horo Guduru Wollega zone. Previously, most attacks on civilians in this area were conducted by the OLF-Shane, and most of the victims were ethnic Amharas. On 16 February, ethnic Amhara militias raided the homes of civilians identified as relatives of OLF leaders and abducted eight people from Gudina Abuna kebele in Horo Buluk woreda in Horo Guduru Wollega zone.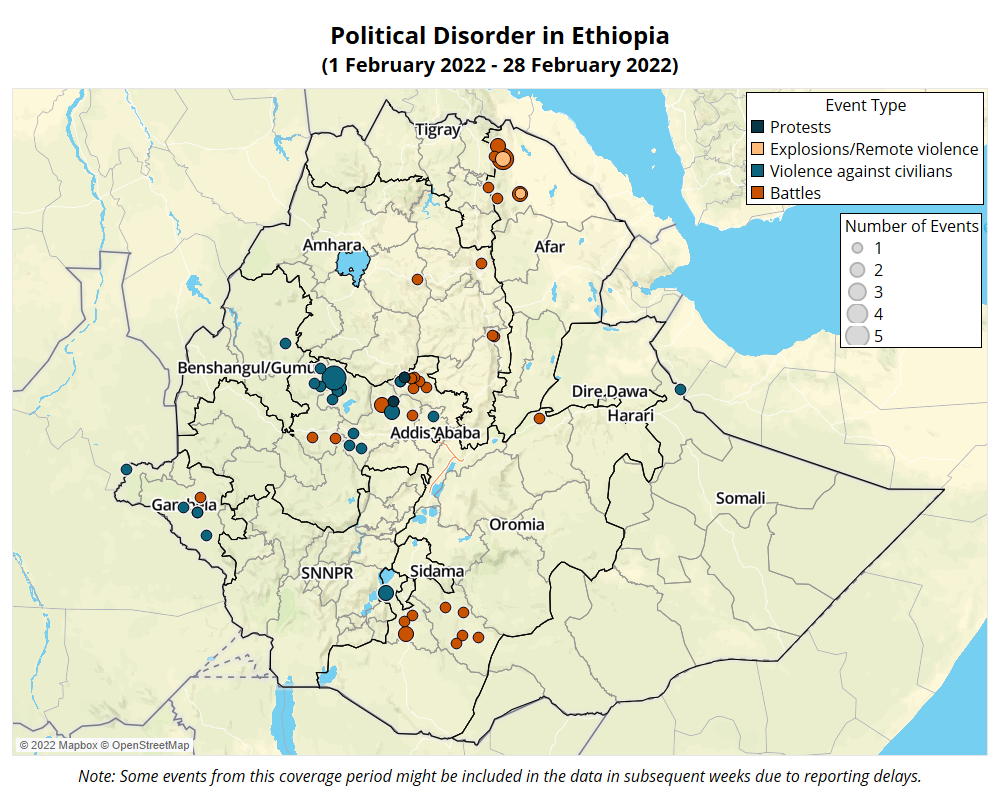 On 9 February, the OLF-Shane abducted at least 18 Amhara farmers in Shenkora Shesheng kebele in Wara Jarso woreda of North Shewa zone and killed seven of the abductees who were unable to pay the ransom. On the same day, the group attacked a transport truck as it passed through Koticha area in Wara Jarso, killing the driver. The attack prompted clashes with local police forces who exchanged fire with the militants throughout the night. In addition, on 7 February, an unidentified armed group attacked three trucks and killed three civilians and injured four others in Yemekera Daget (Ershan Ano) area in Gelana woreda in West Guji zone. The armed group also looted the products that the trucks were transporting. Moreover, the Gumuz Liberation Front and suspected associates from the OLF-Shane burned civilian homes and killed three people in Addis Alem kebele in Bulen woreda in Metekel zone of Benshangul/Gumuz region.
In February, a mass grave containing the remains of 87 people was discovered in Gidami woreda in Kellem Wollega zone. Government officials indicated that several dozen other people were still missing throughout the area (Ethiopian Broadcasting Corporation, 7 February 2022; VOA Amharic, 10 February 2022). This area was reportedly controlled by the OLF-Shane for two months. Most of the victims are believed to be ethnic Amhara civilians who were relocated to these areas in the 1980s from the drought-affected parts of Amhara region. Additionally, the OLF-Shane abducted 105 and 63 civil servants respectively from Gidami and the neighboring Kondala and Begi woredas when the group controlled these areas (DW Amharic, 14 February 2022). In an interview with the DW Amharic, the head of Kellem Wollega zone indicated that the abductees might have been killed by the OLF-Shane (DW Amharic, 14 February 2022). The OLF-Shane spokesperson denied this allegation (Twitter @OdaaTarbiiWBOi, 8 February 2022).
Last month, two protests against the OLF-Shane were held in Oromia region. On 16 February, a protest was held in front of the Goha Tsion police station to denounce the abduction and killing of farmers in Shenkora Shesheng kebele in Wara Jarso woreda. The protestors blocked the Abay Berha main road connecting Goha Tsion to Bahir Dar city in Amhara region for several hours. The second protest was held on 18 February when Abuna Gindeberet residents demonstrated against OLF-Shane rebels in Awara in West Shewa zone and asked the group to stop killing civilians and destroying property in the name of the "struggle for Oromo people" (Oromia Communication Bureau, 18 February 2022).
Extrajudicial killing by security forces also continued in the region. In February, ACLED recorded four attacks targeting civilians by security forces in West Shewa zone of Oromia region. On 12 February, the Oromia special police, federal police, and ENDF fired live bullets at civilians in Shikute town in Jeldu woreda after accusing local residents of feeding OLF-Shane members. Two children were killed, and a civilian was injured due to this attack. On the same day, Oromia regional special forces shot and killed a prisoner in Awara. The victim was one of the 20 youths who had been arrested a day earlier on the accusation of supporting the OLF-Shane. Two days later, members of the ENDF shot and killed a high school student in Shikute town in Jeldu woreda. The reason for the killing, however, is unknown. Lastly, on 19 February, the ENDF shot and killed 11 people in Tullu Aliyo kebele in Illu Galan woreda after accusing them of attacking civilians.
In Amhara region, the ENDF and federal police attacked OLF-Shane training camps in Duwe Hara in Dewa Cheffa and Sinqele in Oromia special zone, reportedly killing 100 fighters. More than 600 OLF-Shane fighters were also reported to have been arrested following the destruction of these camps (Ethiopian Broadcasting Corporation, 7 February 2022). Dozens of civilians were killed during a government crackdown on individuals with suspected ties to the OLF-Shane after the TPLF withdrawal from Oromia special zone in December 2021 (Addis Standard, 15 February 2022). In August 2021, the OLF-Shane announced its alliance with the TPLF in fighting the federal government (Aljazeera, 11 August 2021).
Moreover, on 7 February, a group of unidentified gunmen attacked a prison, a police station, and a local militia office in Nefas Mewcha woreda in South Gondar zone in Amhara region, looting weapons and breaking prisoners out of jail. Sixteen members of the unidentified gunmen were killed, and 20 others were captured. Three members of government security forces were also injured (DW Amharic, 8 February 2022).
In Gambela region, cross-border attacks by Murle ethnic militiamen from South Sudan continued. In February, four attacks were conducted, reportedly resulting in six civilian fatalities. On 9 February, the group attacked a refugee camp in Ukubu area in Dimma woreda of Agnewak zone, injuring two women and abducting three children. The next day, they shot and killed one civilian in Gog woreda in Agnewak zone. On 11 February, members of the group attacked civilians and killed three people in Jangjor kebele in Gog woreda. On the last day of the month,  Gambela regional security forces clashed with Murle ethnic militias after the group raided 220 cattle from Mender 11 and 12 areas in Abobo woreda in Agnewak zone. Two militiamen were killed during the clashes (Gambella Regional Government Press Secretariat Office, 1 March 2022). The two groups also clashed in Ubuwa village in Gog woreda, resulting in the deaths of one Murle ethnic militia member and one member of the regional security forces. Another Murle ethnic militiaman was injured. Furthermore, last month, unidentified assailants attacked a truck and killed the driver and his assistant while traveling from Gambela city to Nuer zone. Since the beginning of this year, the number of events involving Murle ethnic militias from South Sudan has increased compared to the previous year. In 2021, ACLED recorded only one armed clash involving the group, while from the beginning of this year until the end of February, ACLED recorded five attacks, two abductions, and two armed clash events involving Murle ethnic militias from South Sudan in Gambela region.
In Somali region, on 15 February, Somali regional special forces opened fire on a passenger vehicle in Aw Bare in Fafan zone after the vehicle failed to stop at a checkpoint. Two students were killed. Following the incident, demonstrators blocked roads with burning tires to demand justice for the victims. Last month, security forces dispersed and arrested several former members of the ruling Prosperity Party and three journalists in Jigjiga where they had gathered to hold a meeting at a hotel. According to the former members of the party, they were going to "discuss the politics of the region and find solutions to challenges facing the people of the region" (Addis Standard, 7 February 2022). Except for the three journalists and a former member of the party, the others were released an hour after their arrest.
Although armed clashes are going on in different parts of the country, the Federal Democratic Republic of Ethiopia (FDRE) House of Representatives lifted the state of emergency on 15 February with 63 members voting against and 21 abstaining from voting (House of Peoples Representatives of FDRE, 15 February 2022). Members of the House of Representatives who opposed the decision to end the mandate insisted that serious security threats still existed, pointing out the ongoing violence involving the TPLF in Afar and Amhara regions, and the OLF-Shane in Oromia region (Fana Television, 15 February 2022).
Monthly Focus: A Rock and a Hard Place? The Political Complexity of the Negotiation Agendas for Tigray Conflict
It has been one and a half years since the armed conflict between TPLF and government-affiliated forces began in northern Ethiopia (see EPO's Tigray Conflict page). Until June 2021, the conflict was contained within Tigray region. Following the withdrawal of federal troops from Tigray on 28 June 2021, the conflict expanded south and eastward to the neighboring Amhara and Afar regions (see map below). By the beginning of November 2021, the TPLF controlled Dessie and Kombolcha towns in Amhara region, located around 257km away from the capital city, Addis Ababa. The speed at which the TPLF moved southward prompted the government to declare a state of emergency, stepping up recruiting efforts to expand the national army and regional special forces. On 22 November 2021, Prime Minister Abiy Ahmed announced his decision to lead the ENDF from the conflict front lines (Facebook, Abiy Ahmed Ali, 22 November 2021). By the end of December 2021, government forces managed to regain control of almost all territories of the two regions.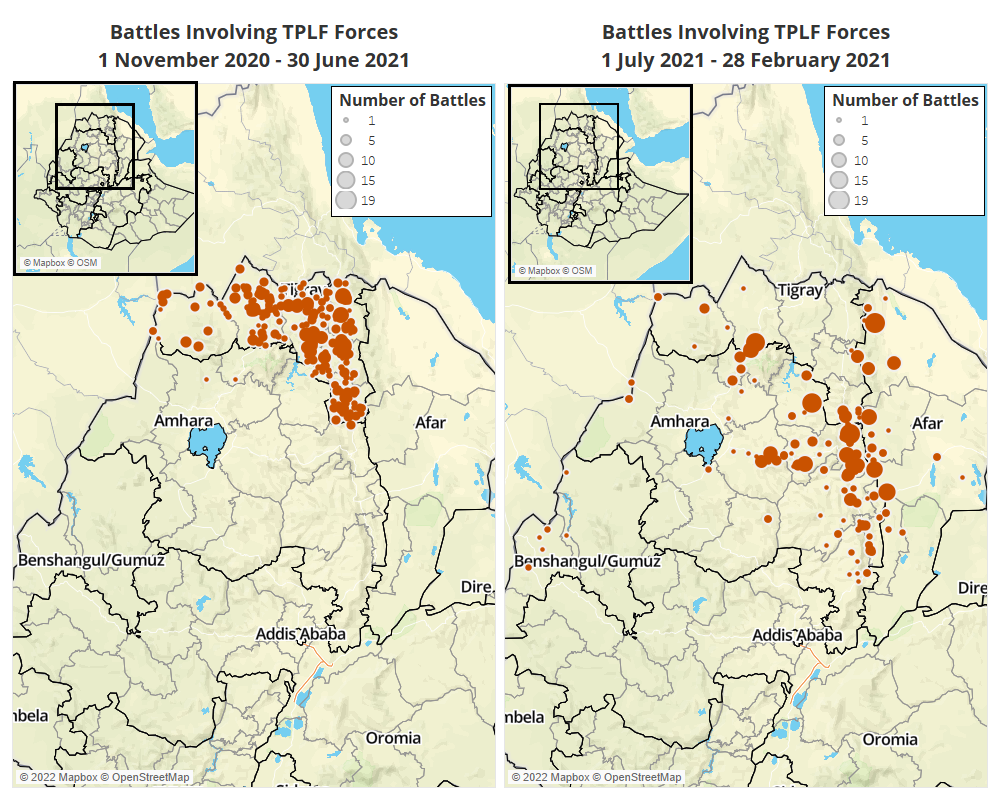 Last month, there were rumors that the two conflicting parties had begun negotiations, prompting an outcry from the groups that want to see the TPLF completely dismantled. The leader of the TPLF, Debretsion Gebremichale, stated that "we [TPLF] have started talking with the federal government force. There are shuttle communications and discussions" (BBC, 4 February 2022; VOA Amharic, 18 February 2022). During an emergency session of the House of Representatives on 22 February, Prime Minister Abiy stated that "there has been no negotiation until this moment." He went on to say that the previous lack of negotiations "does not rule out the possibility of discussions with the TPLF" (Fana Television, 22 February 2022). In another indication that Ethiopia's federal government could be preparing for negotiations, the ruling Prosperity Party announced that it would use "every available peaceful means" to resolve the conflict during the party's general meeting in March 2022 (VOA Amharic, 13 March 2022).
Even though there is no official negotiation between the two parties, it appears that shuttle diplomacy has played a major role in bringing about the relative calm in Ethiopia's north for the time being. Even if clashes are ongoing in Afar region, the federal government's heavy involvement and the previously high number of airstrikes conducted by the Ethiopian airforce against TPLF targets decreased in February. In shuttle diplomacy, a third party or a diplomat attempts to bring a settlement between the conflicting parties that are unable to directly communicate or sit at a negotiation table. In Ethiopia's case, the TPLF's official classification as a "terrorist" organization makes it difficult for elected officials to engage in direct talks. 
Several international actors, including the African Union (AU), UN, and US dispatched their representatives to bring the conflicting parties to the negotiation table in 2021 and 2022 (VOA, 8 November 2021; Reuters, 15 January 2022). The AU High Representative for the Horn of Africa, Olusegun Obasanjo, talked to the TPLF, federal government, and regional governments in hopes of bringing about peace. According to him, both conflicting parties listed conditions for peace talks (AU, 14 November 2021; see also UN, 19 January 2022). Despite this, both sides have indicated a willingness to continue fighting over what they deem as "non-negotiable issues." 
Last month, Debretsion Gebremichale, the Chairman of the TPLF, listed the non-negotiable issues for the TPLF (VOA Amharic, 18 February 2022; BBC, 4 February 2022; BBC Amharic, 19 February 2022). These issues include the withdrawal of non-Tigrayans forces, i.e. Amhara regional forces and Eritrean forces, from Tigray region, a referendum for Tigray secession, the continuation of Tigray armed forces, and bringing those responsible for destruction in Tigray region to justice. This list is shorter than a list of preconditions for a peace agreement previously released on 4 July 2021 (for more details on the latter, see EPO Weekly: 3-9 July 2021).
The federal government is also grappling with its own non-negotiable issues, which are politically complex given the makeup of the federal government's political power base. Since the beginning of the conflict, the government labeled it as a "law enforcement mission," with a goal to apprehend individuals who are responsible for the attack on the north command centers of the ENDF in Tigray region at the outset of the conflict (Facebook, Abiy Ahmed Ali, 8 November 2020). However, many believe that Abiy might be willing to forgo this goal for a peaceful solution. On 7 January 2022, the government gave amnesty to and released six top leaders of the TPLF, including one of its founding members, Sibhat Nega, who were captured during the first few months of the conflict (Ethiopian Broadcasting Corporation, 7 January 2022). This angered many Ethiopians who want to see these individuals held accountable. Three opposition parties – Ethiopian Citizens for Social Justice party (EZEMA), National Movement of Amhara party (NaMA), and Enat Party – stated that the government must reverse its decision and apologize as the decision to release the TPLF top leaders is a "sign of disrespecting Ethiopians" and is "against the decision of the House of Representatives which designated the TPLF as a terrorist organization" (DW Amharic, 10 January 2022). Government support among parts of the population has waned as a result. The prime minister, however, defended this decision as, according to him, it will support Ethiopia's long-term advantage, national interest, and contribute to bringing sustainable peace in Ethiopia (Facebook, Abiy Ahmed Ali, 9 January 2022; Facebook, Abiy Ahmed Ali, 17 January 2022).
The status of Welkait, Humera and Tsegede areas in Western Tigray zone is another issue that is challenging the federal government. The Amharas living in these areas have wanted to be part of Amhara region for decades (Foreign Policy, 28 April 2021;  Amhara Media Corporation, 8 July 2021). TPLF leaders, who governed the area as part of Tigray region since the 1990s, did not tolerate calls for administrative change and forcefully quelled calls for change in political leadership. At the outset of the Tigray conflict, Amhara regional forces quickly took military control of these areas, establishing an administration loyal to the Amhara regional government. At the moment, the Amharas living in Western Tigray zone insist that they are residing in their "rightful" place (Bloomberg, 16 March 2021; Amhara Media Corporation, 8 July 2021). Western Tigray zone is populated by both ethnic Tigrayans and Amharas, and has been the site of some of the worst cases of displacement and targeted violence in the conflict. Since the conflict began, Amhara regional security forces, Fano militias, and TPLF forces have been implicated in several instances of massacres of civilians (Ethiopian Human Rights Commission, 24 November 2020). Samri group which is affiliated with the TPLF is accused of killing at least 600 people in Mai Cadera (Ethiopian Human Rights Commission, 24 November 2020; Reuters, 7 June 2021). Groups associated with Amhara region have also been implicated in forcibly removing ethnic Tigrayans from the zone (AP News, 7 April 2021; Reuters, 7 June 2021). Given its background and violence during the past one and a half years, most Amhara nationalist associations view the status of Western Tigray zone as a non-negotiable issue (Amhara Media Corporation, 26 February 2022; DW Amharic, 28 February 2022). 
Amhara ethno-nationalist groups with deep attachments to Western Tigray zone insist for these areas to be united under Amhara region, rather than a special zone status under Tigray region or holding a referendum (Amhara Media Corporation, 26 February 2022). In February, the appointed "Welkait-Tsegede-Humera Zone Deputy Administrator" requested from the federal government to release a budget for the proper administration of these areas (Amhara Media Corporation, 20 February 2022). If the government decides to return these areas to be administered by Tigray region, there might be armed resistance against this decision. Similarly, Rayas residing in South Tigray zone also wants to be administered under Amhara region (Amhara Media Corporation, 3 March 2022). It is not clear how the government will address these demands and sit for negotiations with the TPLF at the same time. Last month, the Government Communication Service Minister indicated that the government would not negotiate about these areas (DW Amharic, 28 February 2022).
The withdrawal of Eritrean forces from Tigray region is also another controversial issue. At the moment, because of a lack of information, it is hard to confirm which areas of the region are controlled by Eritrean forces. However, some evidence indicates that Eritrean forces control the disputed border town, Bademe. In June 2018, the Ethiopian government decided to accept and implement the 2002 decision of the Eritrea-Ethiopia Boundary Commission which placed Badme in Eritrea (The Washington Post, 5 June 2018). The TPLF's call for Eritrean forces to withdraw to their pre-Tigray conflict positions disregards the federal government's decision to respect the outcome of the Commission.
The Tigray people have the right to hold a referendum to secede. According to Article 39 (1) of the FDRE Constitution, "every Nation, Nationality and People in Ethiopia has an unconditional right to self-determination, including the right to secession" (Constitution of the FDRE, 1995). However, holding a referendum to secede is also complicated because of two factors. First, the federal government does not recognize the TPLF government as legitimate, thus Tigray region does not have a legally elected legislative to process the referendum. According to the constitution, the question of secession must be approved by a two-thirds majority of the concerned legislative council of the region (Ibid., Article 39 (4); see also EPO Weekly: 13-19 November 2021 for more details on Tigray secession). Tigray region officials held a regional election in September 2020 without the federal government's approval. According to the constitution and other electoral regulations, only the National Electoral Board of Ethiopia (NEBE) has the authority to conduct federal and regional elections (see Constitution of the FDRE, 1995, Article 102 (1); National Electoral Board of Ethiopia Establishment Proclamation No. 1133/2019, Article 7(1)). Second, the complex nature of Tigray region and whether or not it would include Southern and Western Tigray zones make succession very tricky. 
Given the number of non-negotiable issues and further complicated conflicts in northern Ethiopia, any official negotiations between the TPLF and federal government are likely to be stalled. Since there is no cease-fire agreement, there is a high chance for conflict in northern Ethiopia to resume, with deadly repercussions for warring parties and civilians who live in the conflict area.