By the Numbers: Ethiopia, 8 July 2022-14 July 2023
Total number of political violence events: 1,068
Total number of reported fatalities from political violence: 4,634
Total number of reported fatalities from civilian targeting: 1,965
By the Numbers: Ethiopia, 8-14 July 20231
Some events from this coverage period might be included in the data in subsequent weeks due to reporting delays.
Total number of political violence events: 16
Total number of reported fatalities from political violence: 25
Total number of reported fatalities from civilian targeting: 11
Ethiopia data are available through a curated EPO data file as well as the main ACLED export tool.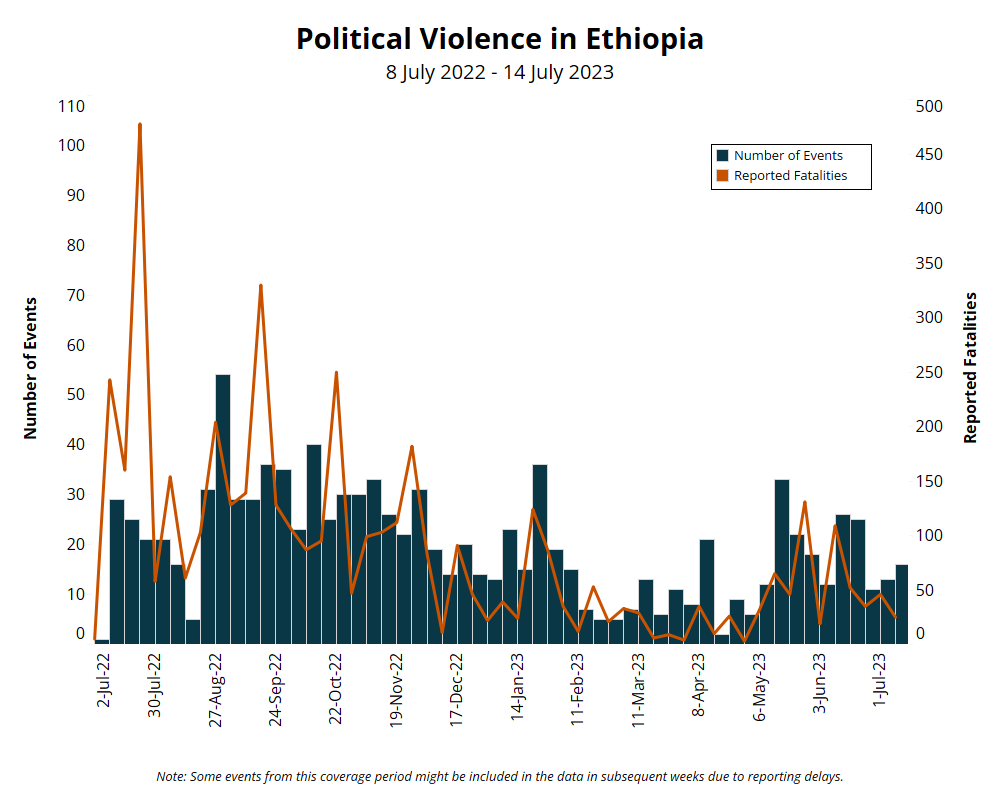 Situation Summary
Clashes between Fano militias and the Ethiopian National Defense Force (ENDF), as well as targeted assassinations of security officials, continued in Amhara region while Oromo Liberation Front (OLF)-Shane forces clashed with government forces in Oromia region. Violent incidents were also recorded in Gambela region and Southern Nations, Nationalities and Peoples region (SNNPR) (see map below).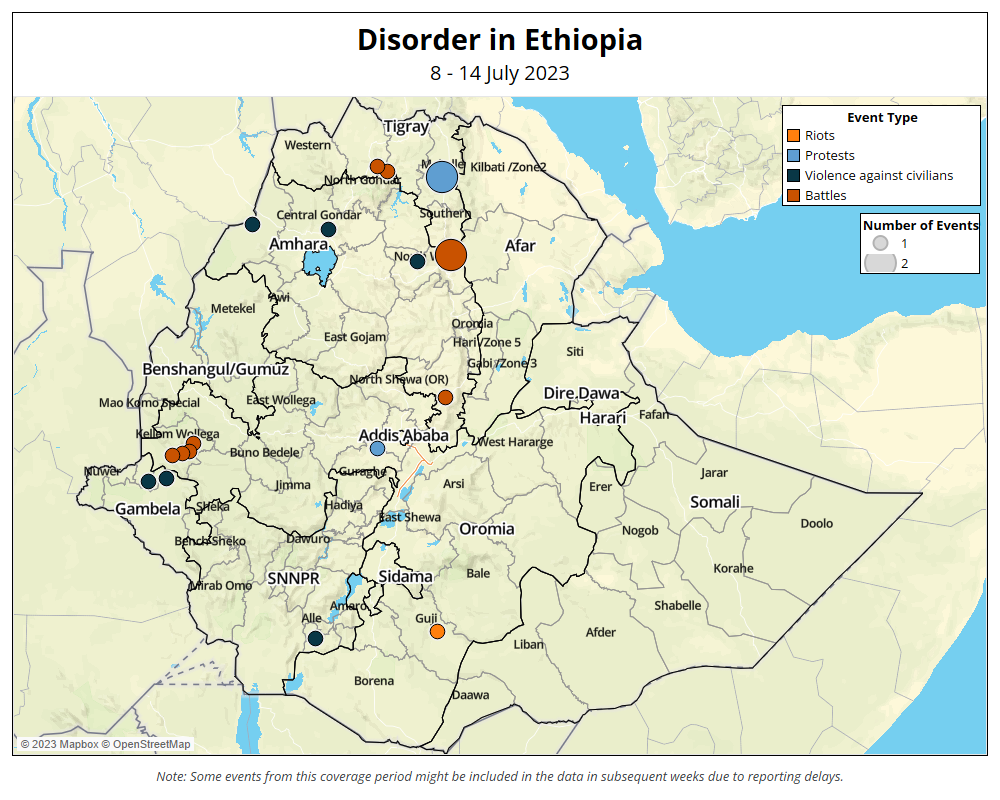 In Amhara region, clashes between Fano militias and ENDF forces were reported on 13 July in mountain areas near Kobo town in North Wello zone, resulting in at least two reported fatalities. Three days prior, Fano militia members also reportedly threw grenades at a police station in Kobo town, releasing prisoners being held at the police station and sparking clashes with ENDF forces. On 14 July, unidentified gunmen, with suspected links to Fano militias, shot and killed an on-duty police commander in Debre Berhan town in North Shewa zone. In a speech held in Jimma city during a celebration of the country's armed forces on 11 July, Chief of the General Staff of the Ethiopian National Army, Field Marshal Berhanu Jula, asked that Fano militia members return to their homes, stating that the ENDF "does not have an agenda to fight Fano militias"2Ethiopia Insider, 'Field Marshal Brihanu Jula said that the Defense Army "does not have an agenda to fight with Fano",' 11 July 2023 (for more on political violence in Amhara region, see the EPO June 2023 Monthly).
Meanwhile, in Oromia region, OLF-Shane forces clashed with ENDF forces in Chanka, Mechiara, Rob Gebeya, and Gabo Robi towns in Kellem Wollega zone. Several combatants from both sides, as well as at least seven civilians, were reportedly killed as a result. On 12 July, rioting youths in Guji zone burned vehicles and blocked roads to oppose the government's new zonal administrative structure and the arrest of local officials by security forces. According to local residents, the riot started when the local leadership traveled from Goro Dola to Negele for a meeting, after which they were arrested by regional forces3Seyum Getu, Eshete Bekele, and Negash Mohamed, 'The conflict created a security threat in the Guji zone,' Deutsche Welle Amharic, 14 July 2023 (see the EPO Weekly: 25 February-3 March 2023 for more details on demonstrations against the creation of the East Borena zone).
Two protest events were recorded in Tigray region last week, both in the capital Mekele. The first, held on 9 July, denounced sexual violence in Tigray, with protesters asking that government officials do more to hold perpetrators accountable. The second protest, held the next day, denounced a visit by the Holy Synod of Ethiopian Orthodox Tewahedo Church to a refugee camp in Tigray. Protesters accused the church leadership of abandoning its members during the conflict.
In Gambela region, on 13 July, suspected Agnwa ethnic militiamen fired on a public bus as it was traveling to the capital city, Gambela, resulting in at least three reported fatalities and 23 injuries. Another attack on a bus occurred on the same day in Itang special woreda by Murle ethnic militiamen from South Sudan. Gambela has been one of the most peaceful regions in Ethiopia over the past few years; however, it has been more volatile and violent since June 2022.
Finally, in SNNPR, unidentified gunmen reportedly shot and killed three individuals as they were headed home from a market in Ale special woreda. Violence over issues related to ethnicity and boundaries flares periodically in Ale special woreda (for more information, see the EPO Segen Area Peoples Zone Conflict page).