By the Numbers: Ethiopia, 21-27 October 20231
Some events from this coverage period might be included in the data in subsequent weeks due to reporting delays.
Total number of political violence events: 21
Total number of reported fatalities from political violence: 50
Total number of reported fatalities from civilian targeting: 8
By the Numbers: Ethiopia, 21 October 2022-27 October 2023
Total number of political violence events: 1,178
Total number of reported fatalities from political violence: 3,784
Total number of reported fatalities from civilian targeting: 1,477
Ethiopia data are available through a curated EPO data file as well as the main ACLED export tool.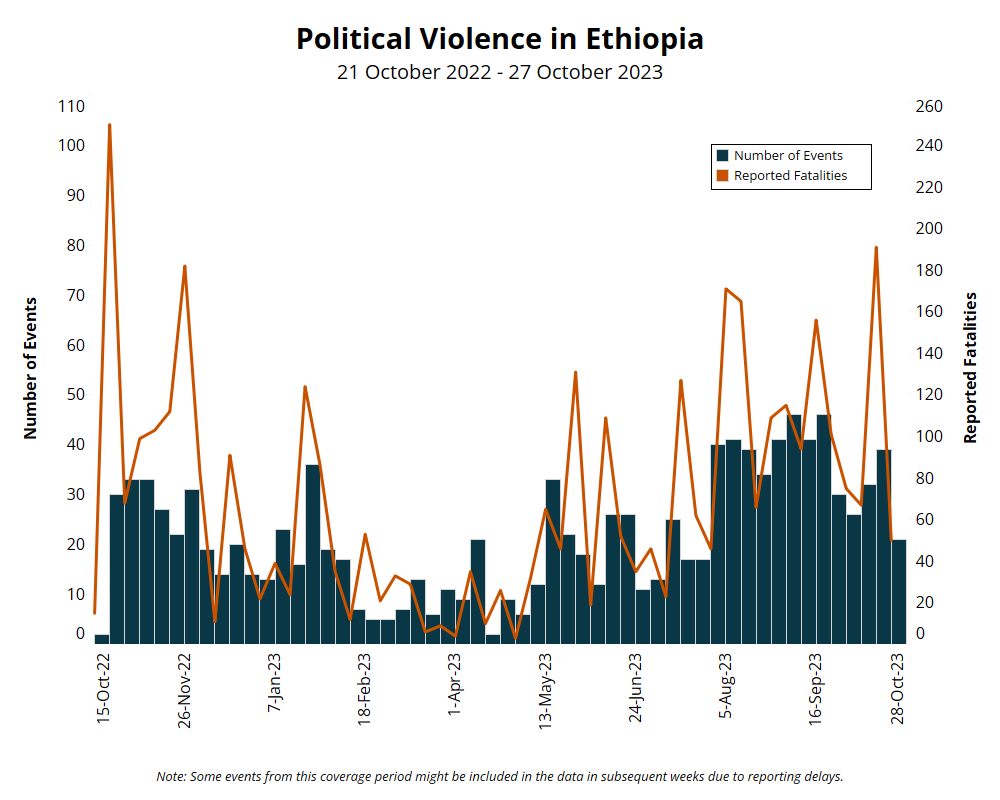 Situation Summary
Last week, clashes continued to be recorded in Amhara and Oromia regions while significant political developments were reported in Tigray region.
In Amhara region, Fano militias clashed with the Ethiopian National Defense Force (ENDF) in Bure woreda in West Gojam zone, Enarj Enawga woreda in East Gojam zone, Debre Birhan and Mehale Meda towns in North Shewa zone, and Habru, Mersa, Guba Lafto, Woldiya, and Raya Kobo woredas in North Wello zone. The two groups also clashed in Weygid woreda in South Wello zone, and Menshiti area near Bahir Dar city.2VOA Amharic, 'It has been reported that the ongoing conflict in Amara region is causing great damage to human life and property,' 27 October 2023 On 23 October, the ENDF regained control of Kuch town in Bure woreda after clashing with Fano militias. While clashes have continued, there are some indications that the security situation has begun to improve as officials in Bahir Dar, Gondar, and Debre Birhan cities lifted some parts of the curfew that was imposed after the declaration of the state of emergency in the region on 4 August 2023.3Amhara Media Corporation, 'Evaluation of the state of emergency command post,' 22 October 2023; Ethiopia Satellite Television (ESAT), 'Ethiopia -ESAT Amharic News Oct 22 2023,' 22 October 2023
Clashes between the ENDF and the Oromo Liberation Front (OLF)-Shane also continued in Oromia region. Most of these armed clashes – eight out of nine – continued to be recorded in North Shewa zone (see map below). Since the beginning of October, a high number of political violence has been recorded in this zone. A study by the Center for Development and Capacity Building indicated that as many as 1.3 million people have been displaced as a result of conflict in the region, and hundreds of healthcare facilities have been damaged or destroyed.4Center for Development and Capacity Building (CDCB), 'Policy Brief on creating a sense of urgency for intervention in conflict areas of Oromia Ethiopia,' 17 October 2023 Moreover, violence against civilians continued in the region. Last week, OLF-Shane reportedly abducted 21 individuals while they were returning from a market at an unidentified place in Wara Jarso woreda in North Shewa zone. Incidents involving the kidnapping for ransom of civilians, including foreign workers, in Oromia have been rising in the past couple of months, signalling a worrying trend.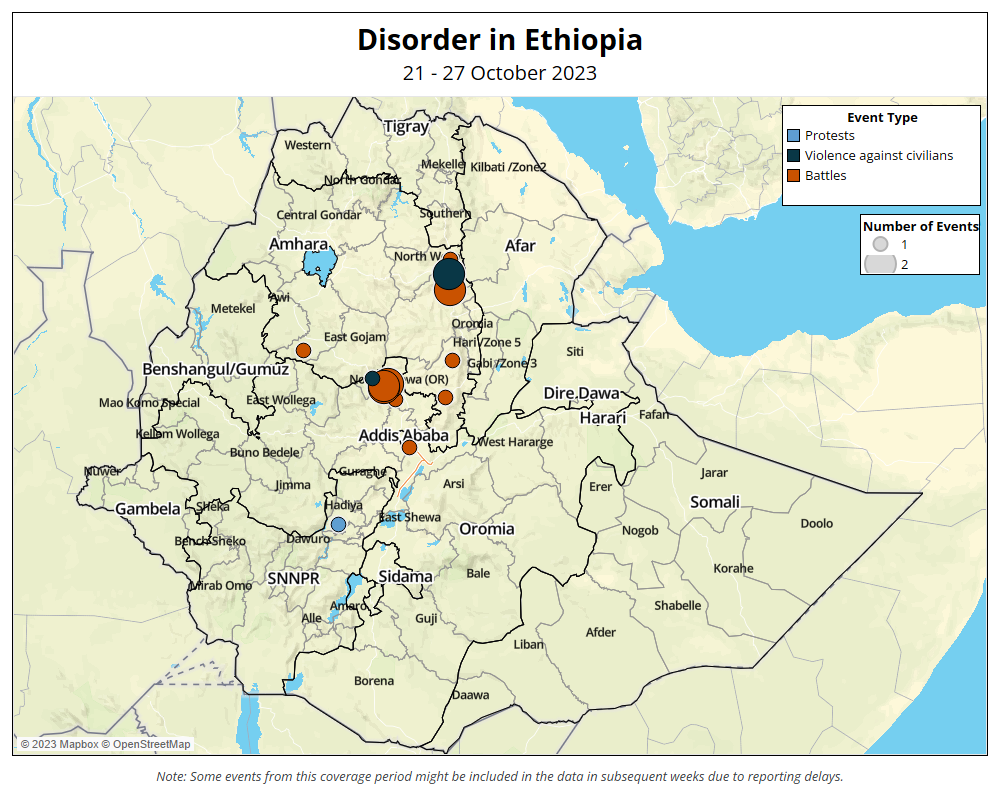 In Tigray region, the Tigray Interim Regional Government removed six local officials who were serving as the heads of Zonal Public Relations Offices in East, South, Central, Southeast, Northwest, and West zones. These officials were accused of "violating procedures" after arriving in Mekele to attend a conference called by the Tigray People's Liberation Front (TPLF) – the ruling party in the region.5Addis Maleda, 'The interim administration of Tigray region has announced that a meeting that the government is not aware of has been called in Mekele city,' 28 October 2023 In September, in response to a protest led by three opposition parties, the head of the interim regional government, Getachew Reda, indicated that there was an "unidentified group" working against the interim government from gaining support in rural areas.6Tigrai Tv, 'Press statement of the president of Tigray interim government, Mr. Getachew Reda,' 6 September 2023 The TPLF party planned to hold a conference for its cadres on 28 and 29 October, which the interim government leadership denied. Reportedly, this conference aimed to evaluate Getachew Reda and the interim government.7BBC Amharic, 'What was the main agenda of the reportedly illegal meeting of TPLF cadres?,' 30 October 2023 However, the conference ended without achieving this goal, and plans to arrange another round of meetings in two weeks. Tensions within the administrative structures of Tigray region – specifically between the TPLF leadership and the interim government – are likely to continue to play out and could lead to some violence returning to Tigray region.
Finally, in Gambela region, thousands of recently displaced refugees from South Sudan reportedly arrived at the Pugnido refugee camp in Gog woreda in Agnewak zone.8Gambella Regional Gov't Press Secretariat Office, 'The Gambela Branch Office of the Refugees and Returnees Service announced that more than 8,500 asylum seekers have entered the Gambela region due to a conflict in the Puchala area of South Sudan,' 19 October 2023 While no violence in relation to the newly arrived refugees was reported, the area is remote, and some instability involving South Sudanese actors in refugee camps along the border has been reported in the past.