By the Numbers: Ethiopia, 2 September 2022-8 September 2023
Total number of political violence events: 1,136
Total number of reported fatalities from political violence: 4,034
Total number of reported fatalities from civilian targeting: 1,797
By the Numbers: Ethiopia, 2-8 September 20231
Some events from this coverage period might be included in the data in subsequent weeks due to reporting delays.
Total number of political violence events: 28
Total number of reported fatalities from political violence: 85
Total number of reported fatalities from civilian targeting: 19
Ethiopia data are available through a curated EPO data file as well as the main ACLED export tool.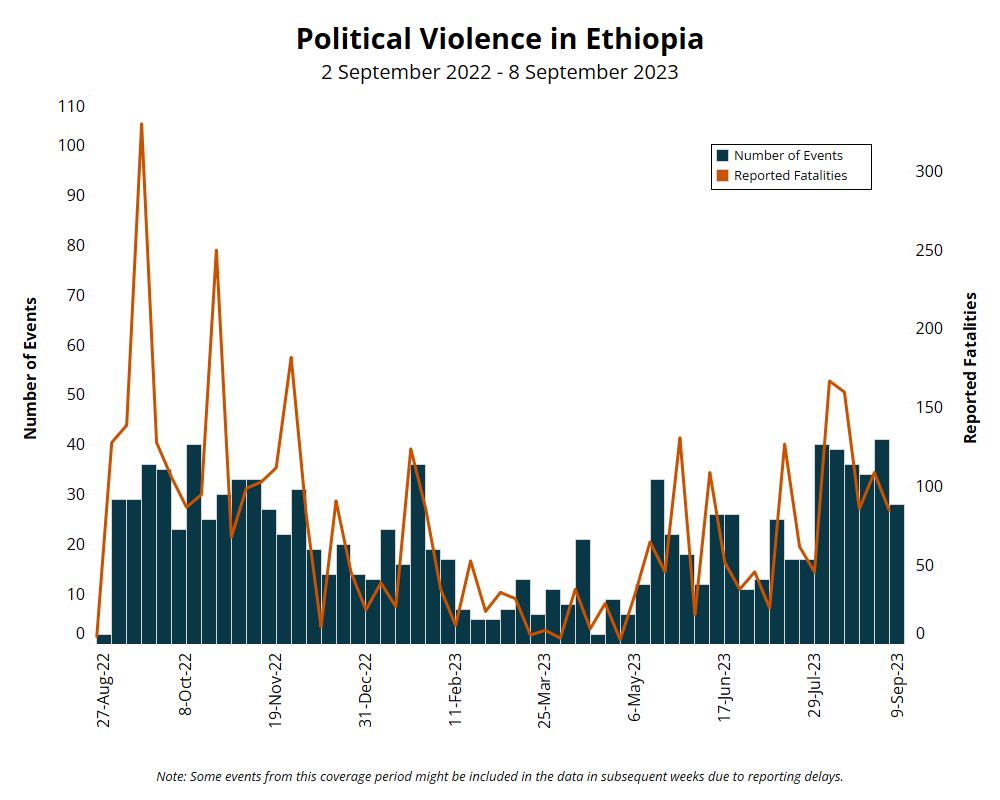 Situation Summary
Armed clashes between the Ethiopian National Defense Force (ENDF) and Fano militias continue in Amhara region. ACLED records 18 battle events between these actors and four drone strikes by the Ethiopian Air Force last week. Most of the armed clashes were concentrated in Bibugn woreda in East Gojam zone and Dega Damot woreda in West Gojam zone. Drone strikes were recorded in Arefa Medihanialem in Dega Damot woreda, Weyn Wuha and Moseba Shime Abo (Adarash) kebeles in Bibugn woreda, and Majete town in Antsokiya woreda in North Shewa zone (see map below). Due to these strikes, over 50 people were reportedly killed.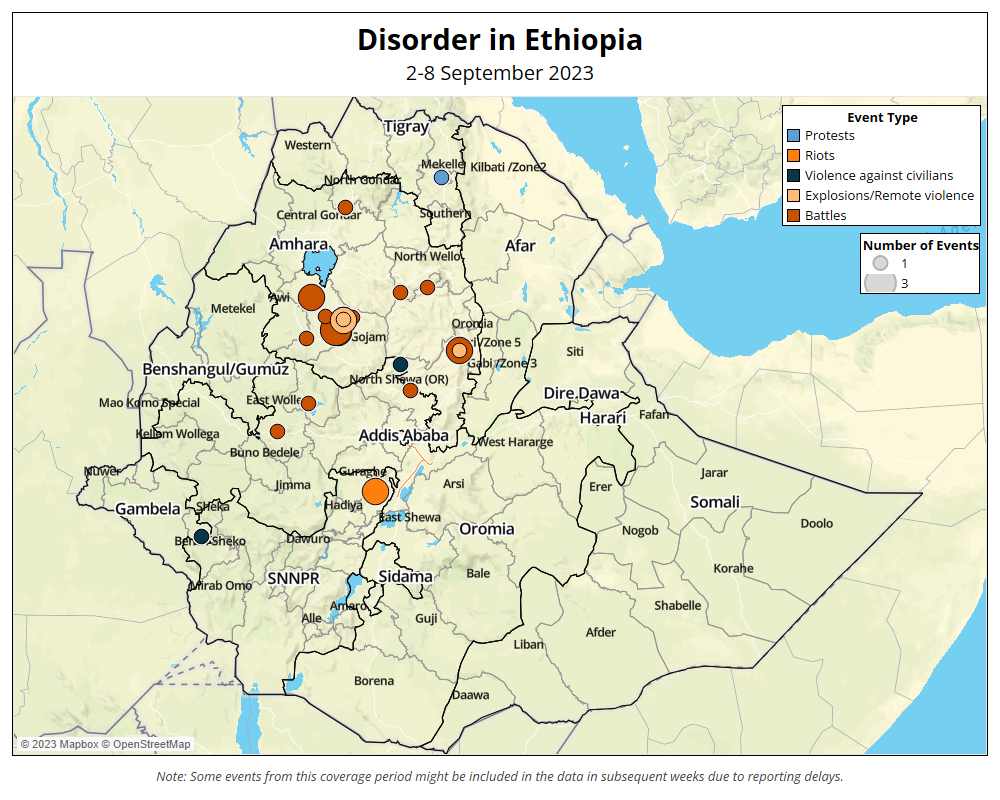 Amhara region has become one of Ethiopia's most volatile regions in the past five months. There are several reasons for the conflict between the federal government and Fano militias – many Amharas view a recent decision to integrate regional special forces into other security sectors as a threat to their security. Amhara's regional special forces acted as protectors of the Amhara people and Amhara region – as did the regional special forces across all regions in the country. Fano militias justify their use of violence as being in the interest of the Amhara people, while the government accuses them of looting and disturbing the region's peace. At the beginning of August, full-fledged armed clashes erupted between Fano militias and the ENDF in Amhara region, although tensions had been growing at least since April when the federal government announced its plan to integrate regional special forces into various security sectors. The local administration and security officials were unable to control the recent round of political violence in the region. Consequently, the federal government declared a state of emergency in Amhara region on 4 August (for more on the current situation in Amhara region, see the EPO Monthly: August 2023; the EPO Monthly: July 2023; and the EPO Weekly: 29 July-4 August 2023).
By the end of August, the regional government was reorganized – the State Council appointed a new regional president and 12 other officials, including a deputy regional administrator, and established a new regional cabinet.2Sisay Sahilu, 'Amhara region, which is under a state of emergency removed its regional president,' The Reporter (Ethiopia), 27 August 2023 This was done to improve the region's governance capacity. The new regional president was the fifth regional president since Prime Minister Abiy Ahmed took office in April 2018. Following the killing of the head of the Amhara Prosperity Party in April, an estimated 13 political and security officials were targeted in armed attacks across the region (for more, see the EPO Monthly: July 2023). This forced many local and security officials to leave their homes and towns, creating governance and security vacuums in various locations of Amhara region.3Ethiopian Human Rights Commission, 'The human rights impact of the armed conflict on civilians in Amhara Regional State,' 14 August 2023; Addis Maleda, 'Reportedly government officials of Shewa Robit town fled to Debre Berhan and Addis Ababa,' 18 July 2023 The new regional president, Arega Kebede, continued to appoint officials after assuming office. Last week, he appointed 26 officials, including some zonal administrators and deputy administrators, on 8 September.4Amhara Media Corporation, 'Regional president Arega Kebede gave various appointments,' 8 September 2023 All regions in Ethiopia have a state council, and zone, woreda, and kebele administrations. Except for the zone level, each level of governance consists of executive and judicial bodies in addition to a council (legislative). Members of the regional state, woreda, and kebele councils are elected by the local people. Since there are no such branches of government at the zone level, the regional president appoints zone administrators and officials after the approval of the State Council, while officials in various positions at the woreda and kebele levels are appointed by the chief of woreda/kebele administrator after approval by the woreda/kebele council.
Compared to the previous weeks, Oromia region is in a period of relative calm. On 2 September, the Oromo Liberation Front (OLF)-Shane abducted an unknown number of civilians who were traveling to a market in Gundo Meskel in Dera woreda, North Shewa zone. The ENDF stated that an unidentified number of OLF-Shane members were captured with their weapons after members of the Republican Guard unit conducted an operation against the insurgent group in Horo Guduru Wollega and East Wollega zones. The Republican Guard unit was established after Prime Minister Abiy came to power. Its main duties are to protect the constitutional order and high-level officials and their families.5Daniel Mimbere, 'Photos: 'Republican Guard' demonstrates readiness to protect Ethiopia PM,' Africanews, 23 December 2018 However, the unit has also been involved in various battle events in the country.
On 7 September, in the Romanat Square area in Mekele city, Tigray, the regional police beat and arrested at least 150 people, including 50 members and leaders of opposition parties, who had gathered to hold a peaceful demonstration against the Tigray's interim regional government.6Million Hailesilase, Negash Mohamed, and Hirut Melese, 'The peaceful demonstration of Mekele, which the police violently dispersed,' DW Amharic, 7 September 2023 The demonstration was organized by three opposition parties – Salsay Weyane Tigray, National Congress of Greater Tigray (Baytona), and Tigray Independence Party – under the slogan "Alliance for Radical Change."7DW Amharic, '5 September 2023 World News,' 5 September 2023 The three parties had called for a three-day demonstration in Mekele city starting on 7 September.8Borkena, 'Protesters to take to streets in Mekelle Town with demand for new political system,' 5 September 2023 However, the interim government informed the organizers that they could not hold the demonstration as there were not adequate security forces available due to the Ethiopian New Year's celebration, and the ongoing security threat within the region.9TIKVAH-Ethiopia, 'The Mekele City Administration announced that it will not be able to accommodate the request for a peaceful demonstration in Pugme month,' 1 September 2023 Reportedly, security forces began to arrest supporters and leaders of the opposition parties days before the demonstration day.10Million Hailesilase, Tamerat Dinsa, and Hirut Melese, 'In Mekele, members of the opposition party who were promoting a peaceful demonstration were arrested,' DW Amharic, 5 September 2023; Ethiopian Media Services, 'EMS Special About Tigray demonstration with journalist Yishak Welday Sep 2023,' 7 September 2023
The "Alliance for Radical Change" movement accuses the Tigray People's Liberation Front-led interim regional government of incompetence in dealing with insecurity in the region. The organizers claim that people in the region are unable to conduct their day-to-day activities without fear of being robbed or killed.11Million Hailesilase, Hirut Melese, and Azeb Tadese, '"Tigray Independence Party"'s accusation against the TPLF,' DW Amharic, 17 August 2023; EMS, 'EMS Special About Tigray demonstration with journalist Yishak Welday Sep 2023,' 7 September 2023 Recently, a study by the Physicians for Human Rights and the Organization for Justice and Accountability in the Horn of Africa reported that "[a]t least 128 sexual assaults occurred after the peace agreement was signed" in November 2022 "often by multiple men alleged to be combatants."12Cara Anna, 'Scores of women and girls were sexually assaulted after peace deal in Ethiopia's Tigray, study shows,' Associated Press, 24 August 2023 Recently, there have been several reports of widespread crime and lawlessness, including robbery and rape.13VOA Amharic, 'A high number of killing of women has been reported due to the worsening security problem in the Tigray region,' 30 August 2023; BBC Amharic, 'Mekele was shocked by the murder of the young woman Zewdu and the unanswered questions,' 1 September 2023; EMS, 'EMS Special per day the youth of Tigray migrates, according to the former administration of Tigray Mr Atakilti Hailesilase Sep 2023,' 8 September 2023 Getachew Reda, the head of the interim regional government, admitted the lack of security and his government's inability to expand services and protection to rural areas. He blamed an unidentified organized group within the interim government, claiming that this group was working against the interim government, affecting the regional government's activities and acceptance within the region.14Tigrai Tv, 'Press statement of the president of Tigray interim government, Mr. Getachew Reda,' 6 September 2023
On 4 September, in the recently established Central Ethiopia region – formerly known as Southern Nations, Nationalities, and Peoples' region – Muslim youths threw stones against local security forces who tried to prohibit their Quran recitations across the town of Kibet. The recitations were meant to remove bad spirits or witchcraft that they believed had caused some women to get sick. The local police opened fire and killed one youth and wounded four others. The youths closed the main road connecting the surrounding areas to Addis Ababa until the next day. After the incident, Muslim youths also burned down at least 13 residential houses and "many" businesses belonging to Orthodox Christians, as well as an Orthodox church in the town from 4 to 5 September.15 Addis Maleda, 'It was reported that 13 houses and many commercial shops were burnt in Silte zone,' 6 September 2023 They accused the Orthodox population of casting a spell that they believed made women sick. Hundreds of Orthodox Christian followers were forced to flee their homes.